Fitbit Charge 4 was an excellent fitness tracker, but this year the upgraded version is here with more exciting features. With an AMOLED colour touch screen and a metal case, the Charge 5 is hard to pass up for the price. If you are planning to buy it, here is everything you need to know about the Fitbit Charge 5.
What you will see?
Features at a glance:
Colours:

Black / Graphite Stainless Steel
Lunar White / Soft Gold Stainless Steel
Steel Blue / Platinum Stainless Steel

Built-in GPS
1.04 inch Amoled Touch screen
Stress management
Heart health
Always On display
Health metrics
2X brighter than Charge 4
Stainless steels panels on the side
Sleep tracking
Smart notifications
Slimmer then previous models
Water resistant upto 164 feet
20 Exercise modes
No voice assistant.
Tracks your heart rate 24/7
Track your sleep stages
EDA sensor on the Charge 5 measures small electrical changes in your skin.
Take an ECG test
Last up to a week on a single charge
Design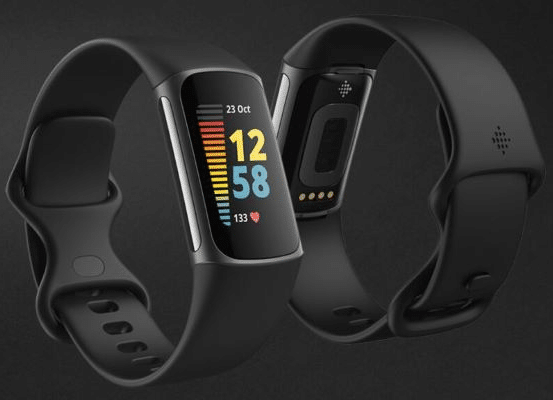 Among all the Fitbit's current fitness tracker lineup, the Charge 5 is the best fitness tracker. It gives you a more advanced alternative to the other fashion-forward or budget-friendly brands. With the built-in GPS, you see your real-time pace and distance on your band. It comes in handy while tracking an outdoor workout without your phone. The increased price than the predecessor can be justified with the design improvements and new health-monitoring features. You can choose from black/graphite, steel blue/platinum, or white/gold for colour options.
Measuring 1.44 by 0.89 by 0.44 inches (LWD), the Charge 5 is the widest fitness tracker from Fitbit. It comes with a bright colourful 1.04-inch AMOLED touch screen. This is a major upgrade from the grayscale Charge 4. Moreover, the always-on display option lets you simply glance down at your wrist to check the time. The Fitbit Charge 5 comes in an aluminium case that gives it a classy look. With no buttons, it features stainless steel panels on the sides. These are sensors for the ECG and EDA apps. The Charge 5 is slimmer than its predecessors, giving it a more streamlined look and making it more comfortable to wear to bed. The Charge 5 has a silicone band, that is water-resistant to 164 feet. So you can wear it in the rain, pool, or at the beach.
Set up and Navigate
For getting started, you need to charge your Fitbit first and wait for it to reach 100% battery life. While it gets charged you can download the Fitbit app and create an account. Here is how to set up your Fitbit:
Click on your profile icon in the top left corner of your device.
Click on Set Up a Device in the tab and select Charge 5.
Further, click on Set Up then accept the Privacy Policy.
When you click on Next, the app will begin searching for your tracker via Bluetooth.
You will see a 4-digit code on your device. You need to type it in the app and then accept the Bluetooth pairing request.
Select Allow/Don't Allow and you are all set.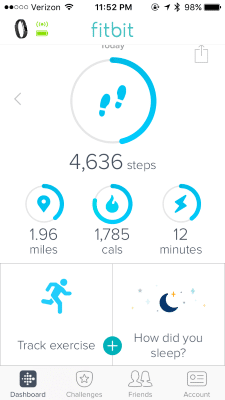 If you already have the Fitbit app on your Android phone, then you can use the Google Fast Pair. It will automatically bring you to the pairing screen when you take the Charge 5 out of the box.
When you rotate your wrist toward your face or firmly double-tap the screen will wake up. The always-on display option drains the battery faster but you can see the time without waking the screen. You even get the option to set off-hours for your device when you are enabling the always-on display. During the off-hours, the screen will automatically go dark. The default settings turn off the device between 10 p.m. and 6 a.m. to save battery life. This helps you to get an undisturbed sleep at night. Moreover, you can even customize or disable the off hours.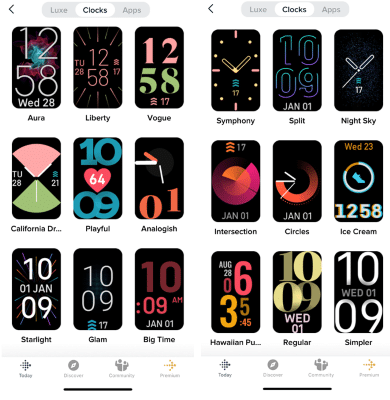 You get a variety of clock faces for your Fitbit. Here is how you can change the clock face:
In the Fitbit app, click on the Charge 5 icon.
Click on Clock Faces then select All Clocks.
Without physical buttons, navigating through the Charge 5 can feel difficult. You can navigate it with swipes and taps on the screen. Navigation is simple with a well-organized interface. When you swipe left or right from the clock face you can access apps like Alarms, Exercise, EDA Scan, Notifications, Timers. Whereas swiping up from the clock face will let you access the Today app. In this app, you can see the date and your battery percentage, along with stats such as your Active Zone Minutes, calories burned, heart rate, hourly activity, resting heart rate, sleep duration, sleep score, SpO2 percentage, step count, and more. When you swipe down from the clock you can go to Fitbit Pay, Do Not Disturb, Sleep Mode, the Water Lock, and Settings.
Basic smart features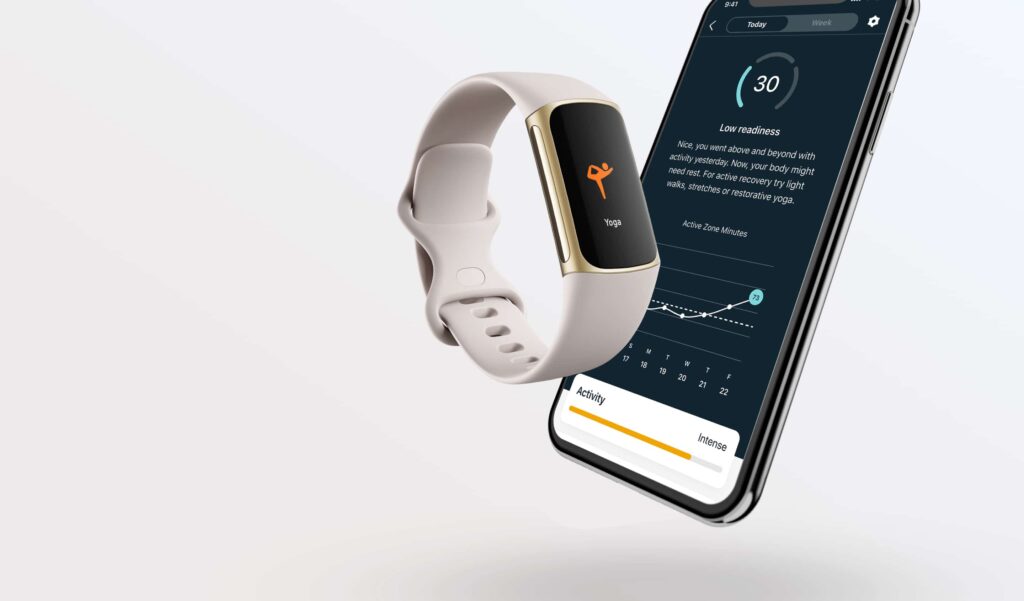 Working with both iOS and Android gives Fitbit an upper hand. It will not only notify you when a call or text message comes through, but you can even choose which apps can push notifications to your wrist. Although Android users can send quick replies to notifications, iPhone owners can only see notifications on their wrists. You can even access mobile payments with Fitbit Pay. The Fitbit Charge 5 does not support music storage, music playback control, a speaker and a mic. Thus restricting you from taking quick calls from your wrist and no voice assistant. Moreover, you can't have third-party apps. But considering it is a fitness tracker, not a smartwatch, it is not a big setback.
Track your health
With the Fitbit Charge 5, you get 20 exercise modes, SmartTrack automatic exercise recognition, Fitbit's Active Zone Minutes metric, a GPS to map your route during outdoor exercises. Also, there are workout intensity maps that show your pace and heart rate zones throughout your route. It even tracks your heart rate 24/7 and can alert you if it's unusually high or low.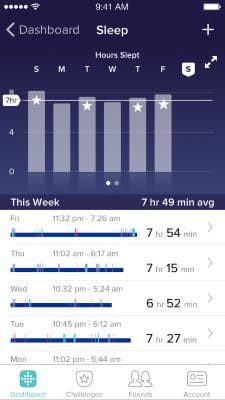 Your Fitbit Charge 5 will track the duration and quality of your shut-eye. Not only this, it will even track your sleep stages (light, deep, and REM), breathing rate (the number of breaths taken per minute, heart rate variability, skin temperature variation, and blood oxygen saturation (SpO2). After tracking all these throughout the night, it will give you stress management and sleep scores in the morning.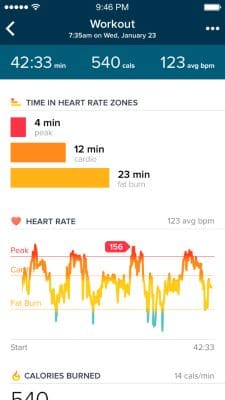 In the Exercise app, you get default tracking options- bike, interval workout, run, swim, treadmill, and weights, and you can even edit this list in the app. The exercise shortcuts are Bootcamp, circuit training, elliptical, golf, hike, kickboxing, martial arts, outdoor workout, pilates, spinning, stairclimber, tennis, walk, workout, and yoga. At a time you can have up to six workout-tracking shortcuts on the watch, you can customize it accordingly. It can get a bit disappointing as it is a fitness tracker after all. The SmartTrack feature automatically recognizes and records certain types of workouts. This includes walking, running, aerobic and elliptical sessions, outdoor cycling, continuous high-movement sports.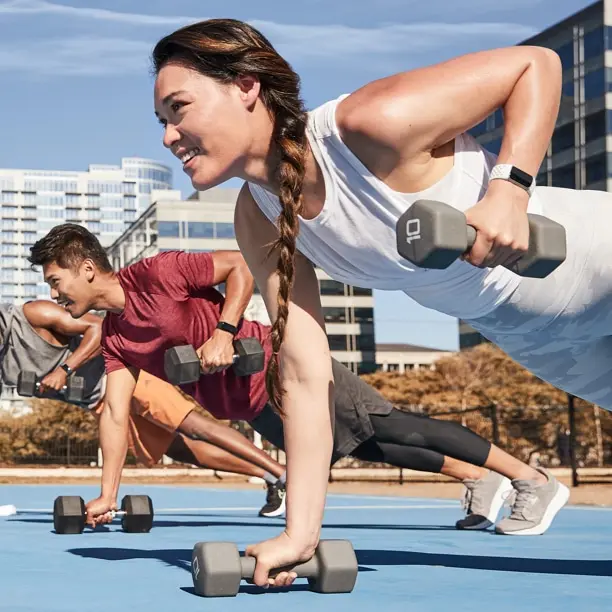 Health Insights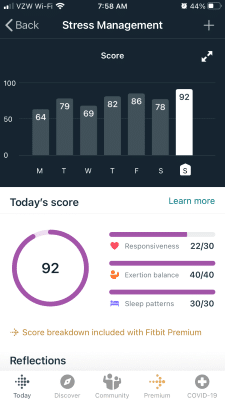 With the Charge 5, you no longer get Spotify support, but there are added health insights that make the fitness tracker one of the best. The EDA sensor on the Charge 5 measures small electrical changes in your skin. This tracks your body's response to stress, the fewer EDA responses recorded, the calmer you are. If you want to take an EDA scan, simply swipe to the app and gently hold the stainless steel panels on the sides of the device with your thumb and pointer finger for two minutes.
When the scan starts, you'll see a countdown timer left for the scan. After the EDA scan, it asks you to tell how you're feeling (very calm, calm, neutral, stressed, or very stressed). Moreover, you can customize the session timings from two to seven minutes for a meditative break. The Fitbit app keeps a record of your scans, which you will find in the Mindfulness section.
You can even take an ECG test on your Charge 5 from your wrist. Currently, the ECG app is not available on the Charge 5, but Fitbit is going to launch it soon. It will also launch a new metric for Premium members called Daily Readiness Score. This will help you to quickly check whether your body is ready for a workout or needs a rest day. This can be tracked from your activity level, sleep stats over the past few days, and overnight HRV. If you get a high score, you're ready for a good workout, whereas if the score is low you should prioritize recovery. The app will then suggest workouts or meditations, depending on your bodily needs.
Battery
The Charge 5 is expected to last up to a week on a single charge, just like its predecessor. This is quite an impressive thing as the Charge 5 has a colour display, bump in screen brightness, and slimmer design. Features like GPS and the always-on display affect the battery life. According to Fitbit, if the GPS is continuously on for tracking a workout the Charge 5 will last up to five hours or up to two days with the always-on display turned on. The battery life will depend on how you use your watch and the display settings you use. If you use basic settings, like notifications, step tracking, sleep tracking and some EDA scans, it will last up to seven days with the display set to raise-to-wake.
Conclusion
If you are planning to buy a fitness tracker, the Fitbit Charge 5 is the best in the series. It is an excellent investment that offers fitness, sleep, and stress tracking features. Not only this, it will help you to meet your fitness goal and improve your sleep schedule. With a better design than its predecessors, it has an always-on colour touch screen and a slim metal case. Moreover, it has built-in GPS, an EDA app to measure your stress, an ECG app and mobile payment support. Also, the battery life is long enough to last for a week on a single charge. There are features that may consume more battery, but it is still long-lasting considering all the features it offers.
If you have any questions, you can ask us in the comments section below.
Read More!