Amazon has launched its latest version of Kindle, and readers cannot be any more excited. But before getting it for you or your family, make sure it is worth the purchase. Here is a review of the Amazon Kindle Paperwhite 2021.
Amazon Kindle Paperwhite 2021
Amazon's 2021 Kindle Paperwhite is bigger and uses a new E Ink panel to display more words per page than its predecessor. It has a larger display, a screen feature formerly reserved for the high-end Kindle Oasis, and a new charging connector. The Kindle Paperwhite Signature Edition has upgraded the version with a higher-storage configuration. Although, the higher price for the latest version is somewhat worrisome. Smaller bezels surrounding the screen and a larger 6.8-inch display are visible enhancements over the 2018 e-reader in both variants are quite a good upgrade. According to Amazon, the battery life has been improved to 10 weeks, which is much greater than the 2018 Paperwhite. Also, it comes with 8GB of storage and another option for 32GB storage.
Pros
Bigger screen size
Longer battery life
USB-C is convenient
Perfectly even backlighting
Waterproof
Flat-front design
Cons
Wireless charging is lacking
High price
Slow page turn speed
No cellular option
No Immersion Reading mode
| | |
| --- | --- |
| Display size | 6.8-inch |
| Resolution | 300ppi |
| Storage | 8GB/ 32GB |
| Battery life | Up to 10 weeks |
| Size | 6.9 x 4.9 x 0.3 inches |
| Weight | 7.2 ounces |
| Ports | USB-C |
| Wireless charging | No |
| Extras | Display warmth settings |
Price and Configurations
It is somewhat disappointing that Paperwhite is now more expensive than it was previously. The Kindle Paperwhite 2021 starts at $139 and is $10 more than the previous model. Also, Amazon still charges $20 for an ad-free experience, bringing the total to $159. Moreover, Amazon no longer offers a model with a cellular modem. The Kindle Paperwhite 2021 is Amazon's mid-tier e-reader, sitting between the basic Kindle and the Kindle Oasis, with the Signature Edition costing $189. You get more internal storage, 32GB, and premium features like wireless charging and auto-adjusting brightness. Given these additions, it's understandable that the Signature Edition costs more than the 2018 Kindle Paperwhite. The Signature Edition is still more expensive than the normal Kindle Paperwhite 2021 with 8GB of storage. But if you want more room for books and a larger display for reading them, it's the ideal choice.
Design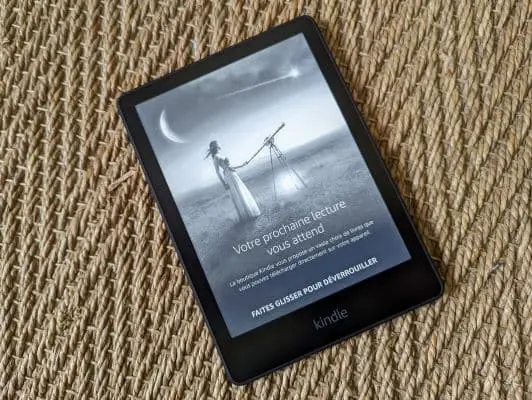 The Kindle Paperwhite 2021 has a matte-black shell encasing an e-ink display. However, this time it has lower bezels and a larger screen, a 6.8-inch panel. The new edition weighs 7.2 ounces. You even get a USB-C connector in the latest 2021 Paperwhite model. Although, Amazon hasn't made any claims about fast charging. According to Amazon, it can be fully charged in under 2.5 hours with a 9W USB power adapter. Moreover, for wireless charging, you'll have to get the $189 Kindle Paperwhite Signature Edition. Also, you might feel that the bezels are too little and might end up mistakenly activating the touch screen controls too often while gripping it from the slim side bezel.
The new Paperwhite has a 6.8-inch panel with a 300ppi resolution. The front light has also been brightened by 10%. The entire device still has an IPX8 rating, which means it can withstand an hour of freshwater immersion or a three-minute submersion. Two sliders on the new Paperwhites and Oasis allow you to change the color of the front lights from blue-white to yellow. The yellowness can also be linked to a clock. This will make the screen yellower as the night progresses. The 17-LED system is far more even than the four LEDs on the Kindle's base model.
With heavy usage, the new Paperwhite lasts roughly a week. You can boost battery life by turning off the front light and Wi-Fi. Even though you get a power cable, but not the power adapter. You'll have to swipe and touch your way around the screen because it's still a flat slate with no buttons. Although the page transitions are sluggish and can be bothersome for some. If you want buttons, you can get the Kindle Oasis. However, the Oasis hasn't been updated since 2019, it doesn't have the latest features that you get with the 2021 model.
Display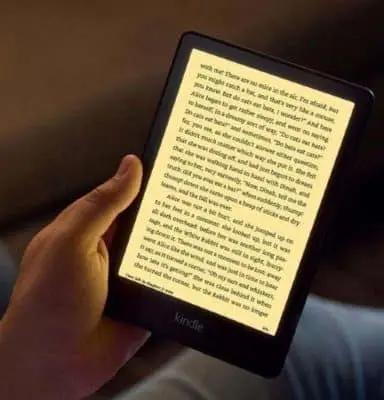 The Paperwhite's 6.8-inch, 300 PPI display is not only larger than its predecessor, but it's also brighter. Moreover, the 2021 model has 17 LED backlights, as compared to the 4 in the previous model. The text is super-crisp, something the Paperwhite has excelled at for a long time. The main new screen feature on the Kindle Paperwhite 2021 is Display Warmth. Although don't confuse this feature with a blue light filter. This feature, only available on the Kindle Oasis, is just a decorative choice.
The front light on the Paperwhite allows users to read in the dark without being blinded by strong blue light. Furthermore, the Paperwhite has an IPX8 waterproof rating, which means it can be submerged for up to an hour at a depth of two meters. Thus, it is safe from spills or dips in the pool, but not for too long.
Reading Experience and Content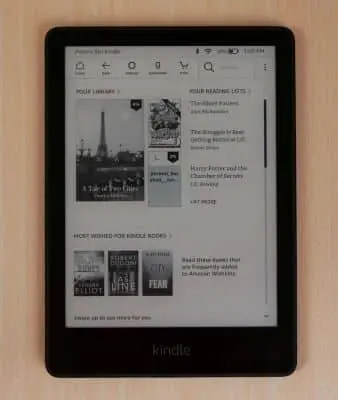 The Kindle Paperwhite 2021 has a non-glossy E Ink display that appears like paper. This means that reading on a Kindle is less taxing on the eyes. The Paperwhite is extremely comfortable to hold, around the same weight as most smartphones. It even has streamlined swipe navigation and page-turning animation, unlike other e-readers that feature buttons you'll only be able to swipe. Moreover, you get Amazon's suite of reading tools with Kindle. This includes the ability to look up word definitions, sync pages between Kindle devices and applications via Whispersync, and use X-Ray to keep track of characters and phrases. Although, these features are only for e-reader formats. Other file types, such as PDFs, have restricted format, sizing, and font options.
The Kindle Paperwhite Signature Edition has a storage of 32GB. However, some of the space is used up by the operating system and other fundamental data using up space. Thus, you'll only have roughly 27GB available for media storage. Still, books are typically around 1MB in size, so you could theoretically store tens of thousands of them without any problems.
While Amazon does not provide exact figures, estimates put the number of titles at around 9 million. Kindle Unlimited, a $9.99 service that offers over 2 million books and hundreds of audiobooks. This even includes three magazine subscriptions. If you don't want to spend money, you can even borrow books from public libraries for free through the Overdrive service. Prime members have access to First Reads, which gives them first access to the editor's picks. Moreover, you can also access two free Kindle books per month and discounted print editions.
Interface
The Kindle has also had an upgrade to make it easier to use. Although, this update is available for base-model Kindles, some earlier Paperwhites, and the Oasis, not just the new Paperwhite. The most noticeable change is a new icon on the home screen. This allows you to quickly return to the book you're reading. If you have a Kindle with no advertisements, the lock screen will show the cover of the book you're reading. Some new features assist reduce clutter from the Kindle library. The series are automatically filed under a single cover, so you don't have to sift through your library. All of the standard Amazon features are available. The X-Ray feature identifies characters, the dictionary defines words, and the Goodreads integration allows you to share what you're reading with others. Kindles operate best with ebooks from Amazon or the public library.
Wi-Fi
The improved Wi-Fi functionality also confirms that you won't need the Signature Edition's 32GB of storage. Audiobooks take up significantly more space than text-format Kindle novels. You may even synchronize your audiobook listening to start up where you left off in a text-format book. Although, wired USB-C headphones will not function. The E-Ink Kindles lack built-in speakers and Immersion Reading, you'll need an Android or iOS or tablet with the Kindle app for this.
Battery Life
The Amazon Kindle Paperwhite 2021 can last up to 10 weeks on a single charge. You can even conserve battery by turning down the brightness and activating the Power Saver mode to make the battery last longer. It comes with a USB-C cable but not an adapter. Although the maximum charge speed of 9W isn't particularly quick in comparison to other devices. Wireless charging is only available with the Signature Edition and is compatible with any Qi charger. If you read for 30 minutes per day with, Wi-Fi turned off and brightness set to medium, the battery will probably last for about 10 weeks. When tested per 30 minutes of reading, with Brightness set at multiple levels and Wi-Fi on, 1.5% of charge was drained.
Bonus Features
The little changes that Amazon made to the Kindle OS interface appear to be for the better. The "Home" and "Library" areas of the home screen are now separated, also, the recommended books and items for you from Amazon. The Search bar occupies a larger portion at the top of the screen. However, it is no longer included in the menu that shows when you are reading a book. The best part is that now Amazon provides an option to turn off Goodreads. You can even prevent the page of "about this book" text that pops up. For this, you will have to open an ebook, click on the Font option at the top of the screen, select More, and then turn off About This Book.
What you will like?
Sleek e-reader with less bezel– With lower bezels and a larger 6.8-inch display, the Amazon Kindle Paperwhite 2021 is a step up over the previous edition. The new model also appears to be a little sharper.
More storage space– While the 8GB basic Kindle Paperwhite 2021 can certainly hold a lot of books, the Signature Edition's 32GB storage capacity allows for lots of audiobooks and graphic novels.
More premium ereader perks– The Signature Edition boasts some features that even the more expensive Kindle Oasis lacks. This includes USB-C, wireless charging, and an auto-adjusting display, making it a more appealing option.
What you might not like?
Read comics (or anything in color) on your ereader-The Signature Edition's E-Ink screen is monochrome, which is fantastic for battery life but not for anything that requires colour, such as comic books.
Not easy to hold in one hand– The Signature Edition has a symmetrical design that is attractive but difficult to operate one-handed.
Conclusion
The latest edition of the Amazon Kindle Paperwhite is here with small changes that are intriguing. However, all this comes with a price increase. It has a slightly larger screen, USB-C charging, and display warmth and costs $10 more than its predecessor. Also, Amazon isn't giving it cellular connectivity. The Kindle Paperwhite Signature Edition has wireless charging and a display that eliminates the need to fiddle with brightness settings. Although, it costs an extra $50. Overall, the experience with this upgraded version is quite good. You get a battery life of about 10 weeks and even save it in the battery saver mode. You can also listen to audiobooks with your Bluetooth earphones. The features like X-Ray, dictionary, and Goodreads are still available to aid you in reading.
If you have any questions, you can ask us in the comments section below.
Read More!