In a market with few headsets that can be used while swimming, this new device competes with a comparable specification but at a more fantastic price. It comes with IPX8 protection, 16GB storage, and 10 hours of playback duration. The Naenka Runner Diver is likely to outperform its opponent. It does have one extremely essential feature that its rival does not, which explains the increased price – it adds Bluetooth.
However, based on bone conduction technology, it delivers vibrations straight to your inner ear. It produces bass-heavy audio with little treble detail. That limits music's appeal, though it's unlikely to be a deal-breaker for swimming when any diversion suffices.
The Naenka Runner Diver waterproof headphones, which can carry an astonishing 16GB of MP3s, are an ambitious gadget whose minimalist design necessitates a few long pressing buttons to navigate between modes and music. Learn them well, and the Naenka Runner Diver waterproof headsets will take you far.
Specs at a glance:
Battery – 180 mAh
Playtime of 10 hours
Charging time – 1.5 hours
Standby time- 240 Hours
Silicone skin-friendly and Titanium materials
Also compatible with specs and glasses
Open air design
Waterproof: IPX8
16 GB Storage
Bluetooth mode and TF Mode
5.2 Bluetooth
Price & Availability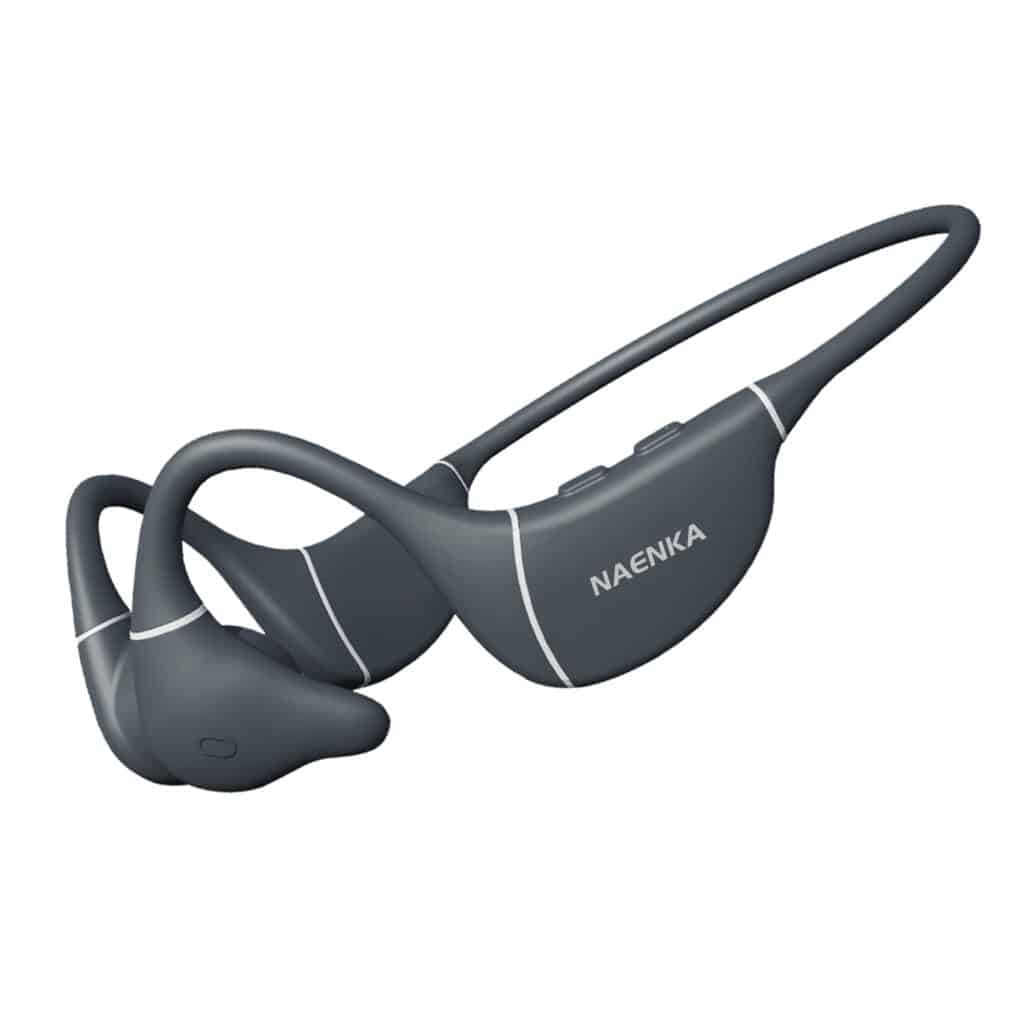 Naenka is a competitor brand in the bone conduction headsets market, and this unique gadget costs $169.99 / £135. It's made in Shenzhen, China, by Shenzhen Mengqu Life Technology Co. and offered on Naenka's website. They are only available in grey. These prices aren't highly competitive with the Shokz OpenSwim, this product's major competitor and the dominant player in bone conduction headsets.
Nevertheless, they have something that most competitors do not: a Bluetooth module. It doesn't operate underwater, so you can't stream to them from your sunbed, but you can switch to it on dry land.
Design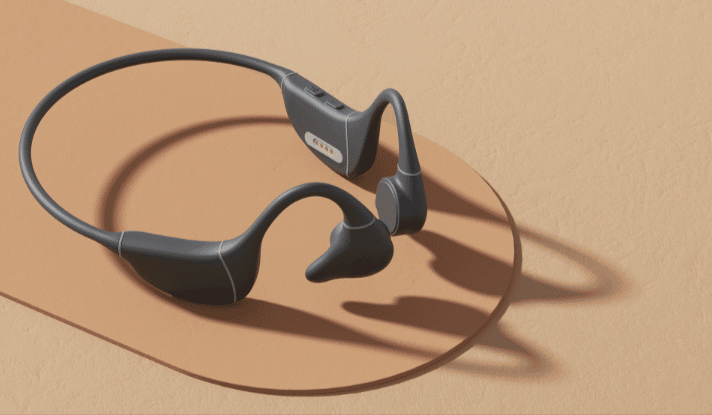 The Naenka Runner Diver uses bone conduction technology, which directs vibrations to your inner ear. While the top bone conduction headsets are mainly intended for runners, gym goers, and cyclists who want something that doesn't put directly in their ears but still allows them to hear what's happening around them. The Naenka Runner Diver is a little different. The Naenka Runner Diver's transducers are tear-drop shaped and relatively oversized, although having the same fundamental construction as other bone conduction headsets. Screw-style ear plugs are in the box to improve sound clarity when swimming.
The transducers are also held in place by an ear hook design. This is significant because they lay against the tops of the cheekbones to guide sound waves to the inner ear. They're formed like teardrops here.
The Naenka Runner Diver water-resistant headphones, like other new bone conduction headphones, have a unique charging wire that magnetically links to the battery through four gold attachment points.
Performance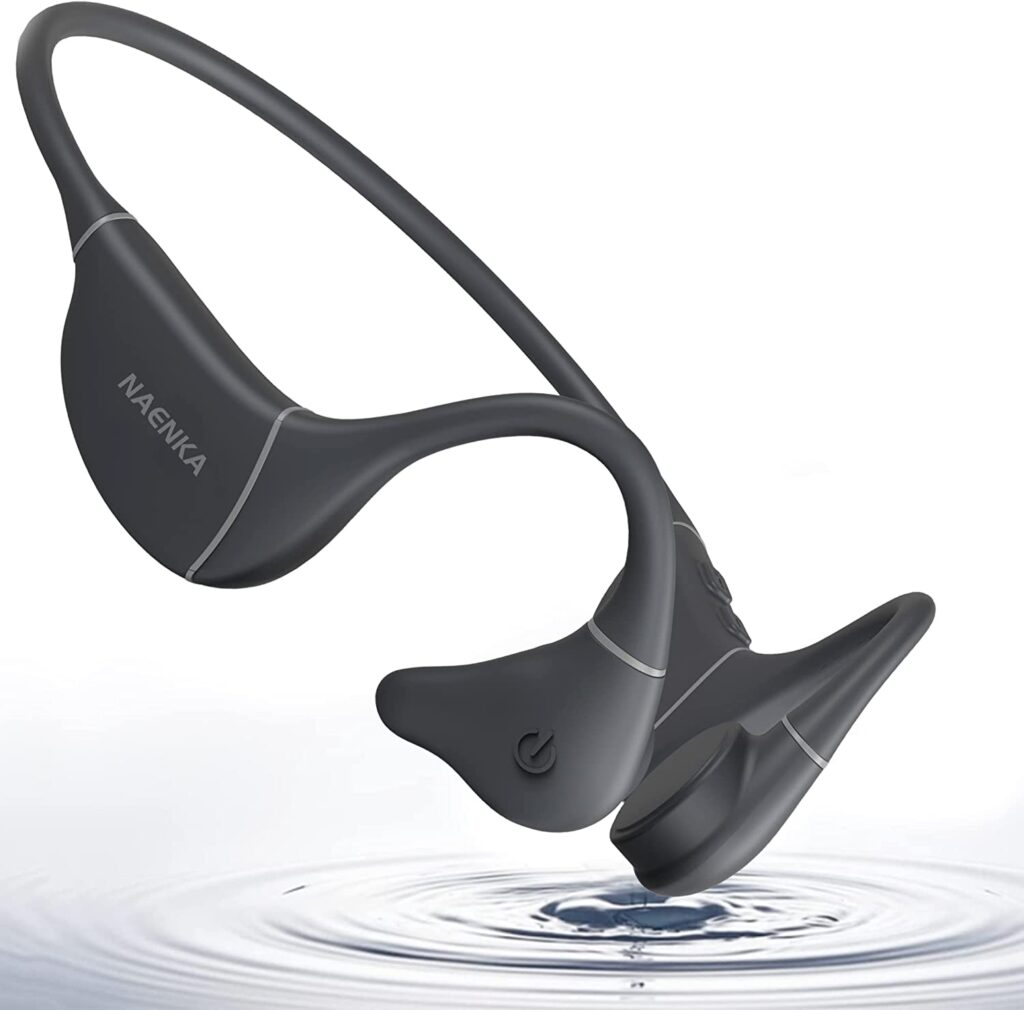 The Naenka Runner Diver headphones are the pinnacle of adaptability. They're actually at their finest when used in 'music mode' or 'Bluetooth mode,' blowing everything else out of the water. When used outside or in the workplace, you get the unique 'open ear' design that allows you to hear what's happening around you. That may be just as useful inside the house as out on the run, although the design has clear safety benefits for the latter.
When used outside of water, the sound quality is decent. However, the maximum volume is a touch low. You won't feel any bassy 'tickle' in your cheekbones, but it's near. The sound quality is always good, but not great. There are a lot of basses but not a lot of treble detail. It won't make a difference if you only listen to podcasts or audiobooks.
However, the Naenka Runner Diver requires a little assistance for their main attraction. They do not come with a bag but include a little box of earplugs. Because the transducers may execute their bone conducting function in aural quiet by closing your ear canals while swimming. The outcomes are considerably better than if you don't wear the earplugs and merely listen to music in the water. The sound quality underwater differs from that above it, with more robust bass – assisted by those ear plugs – however, low loudness is a concern.
Features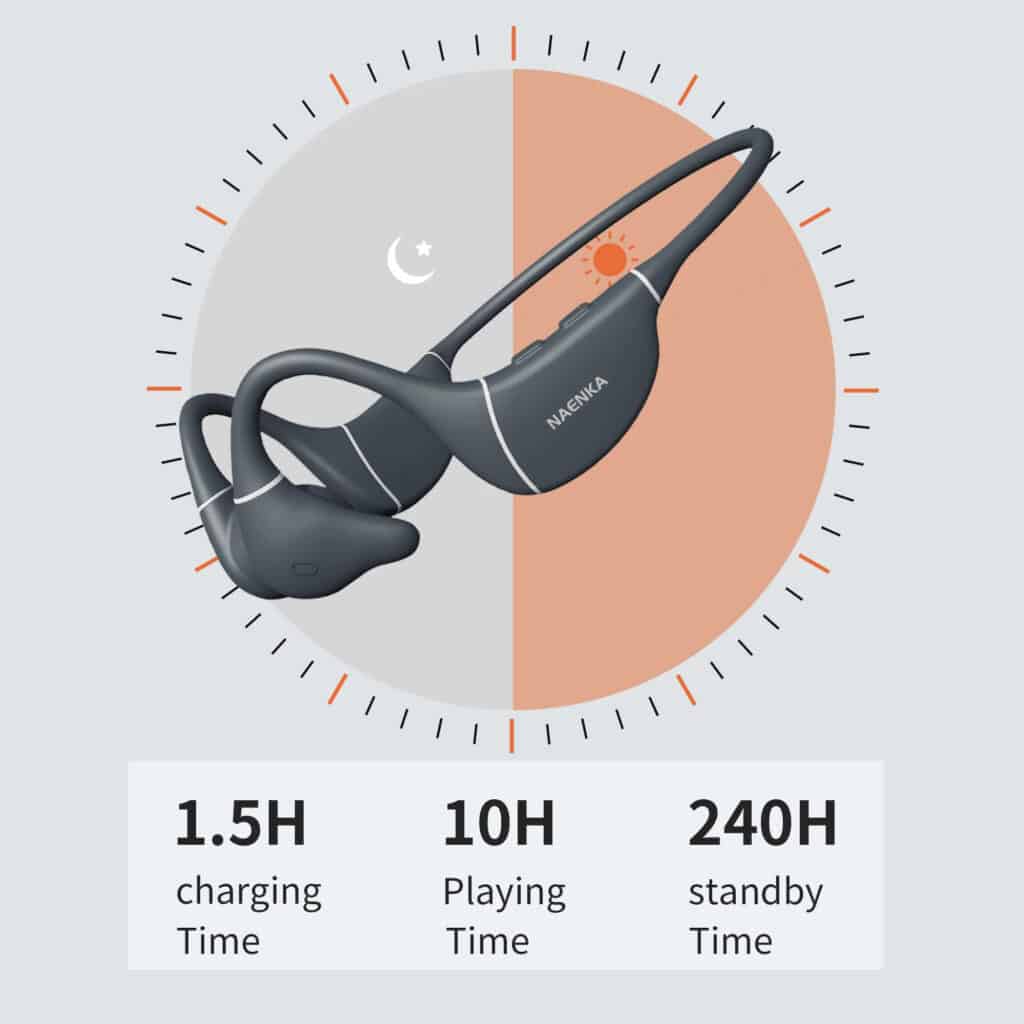 The Naenka Runner Diver is IPX8 rated for water resistance down to 5m. However, they are also sweating and dust-proof. A 180mAh battery and a flash drive can store up to 16GB of MP3 & FLAC files.
Although comparisons to its competitor brand are unavoidable, the Naenka Runner Diver is an incremental enhancement of the Naenka Runner Pro, another pair of bone conduction headsets with waterproof construction and Bluetooth connectivity. Because the latter is a lossless high-definition format, it produces huge files. However, given the Naenka Runner Diver waterproof headphones' essential sound quality. In any case, having to drag and drop things onto the flash drive is inconvenient, and you need a pc to do it.
Despite Bluetooth, the original Naenka Runner Pro would frequently lose connectivity when paired with a smartphone and a PC. That was not always the case with the Naenka Runner Diver, which adhered to the newest Bluetooth 5.2 protocol and maintained a consistent connection.
Alternatives to Naenka Runner Diver
For a set of bone conduction headphones that are remarkably similar but lack Bluetooth. Choose the Shokz OpenSwim, which weighs 29g and uses a unique charging cradle. For a somewhat different waterproof choice for the pool, the Zygo Solo headset gets music through a radio transmitter that is Bluetooth-connected to a smartphone. It's a little more tech to have poolside, but it works wonderfully.
The Naenka Runner Diver costs more than the market leader's Shokz OpenSwim, which costs $149.95/£139.95. They are, however, less expensive than the Zygo Solo, a premium set of waterproof headsets and coaching software that costs $299/£218.
Does Naenka Runner Diver have a leaking sound problem?
Runner Pro employs the patented OT sound leakage reduction 2.0 technology, which can successfully minimize 90 percent sound leakage, reduce bone conduction sound vibration, and increase sound quality.
How to download a song into Naenka Runner Diver?
The headset has 8GB of capacity, allowing you to download music locally to the headset and play them in MP3 format. Attach the original charging data cord to both the computer and the earphone. You may read the U disc, copy the music from your computer to the U disc, and finish downloading the songs.
Conclusion
The Naenka Runner Diver bone conduction headset is fantastic. This headset is a must-have if you want to listen to audio content both in water and on land. It is incredibly comfortable to wear for more extended periods, and the battery life will carry you through at least a marathon. You may not require the onboard music storage capabilities, but it is best for the most incredible underwater audio experience.
The Naenka Runner Diver isn't the best-sounding waterproof headphones on the market, but it is the most adaptable. It's just as useful for jogging and working around the office as it is for swimming, and its bone conduction technology provides plenty of basses but little treble detail.
Read More: