Lenovo ThinkPad Z13 is a stylish ultraportable Laptop with long battery life. Lenovo's ThinkPads impressed me with their designs, from the affordable E-series to the high-end X-series. They are typically nondescript, with simple (occasionally boxy) frames and bland black finishes.
Beginning in 2022, Lenovo released a ThinkPad Z subseries and a flagship lineup powered by cutting-edge AMD hardware and proprietary AMD technology.
In addition, to a 16-inch ultraportable model built on AMD Ryzen Pro 6000 H hardware and an optional dedicated AMD GPU, Lenovo also offers a small 13-inch Lenovo ThinkPad Z13 series powered by an AMD Ryzen Pro 6000 U platform specifically designed for this laptop series, Smart Shift, and a few other AMD intelligent technologies. Both versions additionally contain a Microsoft Pluton security processor.
Lenovo ThinkPad Z13 has excellent designs for business users. It has faux-leather material, a distinctive appearance (and feel), and is even cheaper than the standard ThinkPad.
Overall Summary
Lenovo ThinkPad Z13 Gen 1
Lenovo ThinkPad Z13 has a Powerful 13.3" business laptop with AMD RyzenTM PRO 6000 U Series, the alternative between used PET leather and recycled aluminum, Microsoft Pluton's ultra-secure chip-to-cloud technology, Outstanding video calls with AI-based audio and improved images, refined keyboard with a glass haptic TouchPad and a dual-function TrackPoint. Lenovo ThinkPad Z13 has excellent designs for business users. ThinkPad is the best ultraportable lightweight notebook with having long battery life. The keyboard is surprisingly comfortable to use. The key travel isn't intense, but individual key pushes are distinguishable, and the full-size keyboard layout is easy to use. There is even a fingerprint reader key included for simple biometric security. The last bit of experimentation worth mentioning is the touchpad. This is the first ThinkPad with a haptic feedback touchpad, which lacks a physical click mechanism.
This one employs haptic feedback to simulate the sensation of a click even when no button is pressed. As a result, the left and right trackpad buttons, which are meant to be used with the TrackPoint, are even less useful. Lenovo was trying to outdo the rest of the high-price, thin-and-light ultra-portable laptop crowd. The ThinkPad Z13 has two display options: an IPS LED and a more expensive OLED. Both have 13.3-inch displays with 16:10 aspect ratios. They even achieved the same 400 nits of brightness. The distinction is in contrast and colour.
Pros:
Outstanding battery life

The footprint is small.

The webcam is reliable.

Design that is one of a kind.

Excellent performance.

With a weight of 2.76 lbs.

Fantastic Keyboard as usual.

Touch Display with 16:10 aspect ratio and 1200p resolution.

Very quiet with a nice surface.

Reasonably priced
Cons:
The touchpad is not working properly.

The battery life falls short of expectations.

There is no Thunderbolt 4 and only limited USB expandability. The display could be brighter.

Vegan leather does not feel soft.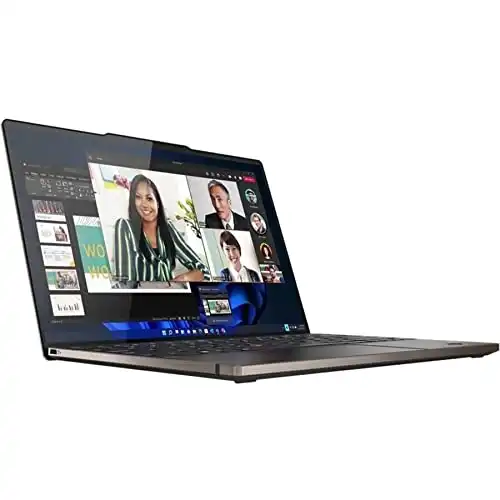 Design
Lenovo ThinkPad Z13 is slim and lightweight. The style is elegant and appealing. The lightweight chassis has a bronze brushed metal finish made from recycled metal. If you choose another Z13 configuration, you get a grey aluminium lid.

The ThinkPad Z13 Gen 1 is in line with the rest of the Lenovo ThinkPad lineup's reputation for high-quality keyboards. The keys have a precise 1.35mm travel distance and are well-balanced and enjoyable. Moreover, If you want to prevent wobbling, you don't need to press the keys in the middle as you would on some laptop keyboards. When there is inadequate illumination, edge-to-edge backlighting aids in essential visibility. The Lenovo Commercial Vantage software that comes with the computer lets you change the settings for Power, Audio, Display & Camera, and Input & Accessories.
Even additional shortcuts' actions can be changed.

By double-tapping the TrackPoint, you can quickly get a handy display overlay that lets you change the camera's brightness and contrast and its mute detection, microphone effects, and Microsoft Dictation option. Microsoft Dictation is a remarkable rapid launch feature that lets you instantly dictate your speech into a Notepad document thanks to the microphone array on the ThinkPad Z13 Gen 1 computer.

A vast 4.7in (120mm) wide touchpad may be found below the left centre of the keyboard. It has haptic feedback, similar to a smartphone or tablet, which creates a slight vibration when specific actions are carried out, earning it the name "ForcePad." The ForcePad's surface seems less smooth than other trackpads I've used on recent MacBooks or Lenovo's Yoga 7i 14-Inch laptop, which somewhat negates the improved functionality. It unquestionably represents a step up from the bulk of other laptops.
Display
Given that the ThinkPad Z13 that Lenovo handed me has an FHD+ screen, the screen is perhaps the least exciting aspect of the device to discuss.  The more thrilling configuration is the lovely 2.8K OLED.  But for the time being, we have the FHD+ model, which I'm beginning to believe Lenovo shipped to improve battery life. Having fewer pixels than more results in longer battery life.
The screen is so good, and there are no limitations about the screen. It supports 84% Adobe RGB, 100% sRGB, 79% NTSC, and 100% P3. Once more, I'm confident that every OLED model is in the 90% area. Lenovo had only promised 400 nits of brightness. Therefore, the maximum brightness achieved was an incredible 466.9 nits. The maximum contrast ratio was 1,670:1. They are all excellent results. The 2.8K OLED version is also available; however, the FHD+ type is the standard.
Even for someone who frequently favours 100% brightness on other laptops, the screen's default 80% brightness is more than bright enough. I lowered the illumination to 60% before realizing that the screen was too dim for my taste. Of course, this display looks fantastic with 100% brightness and 400nit capability. Going as low as 50% is feasible if you're aiming to maximize power life, depending on your taste and outside lighting conditions.
The display's viewing angles are good, even from an extreme side, with no obvious loss of clarity or brightness. Even though the screen is a little glossy and reflective, it has effective anti-reflection capabilities. Surprisingly, I found the display completely readable outside in a relatively sunny situation.
Keyboard and Touchpad
In Lenovo ThinkPad Z13, the Keyboard keys are 1.35 mm thick. It has a haptic touchpad instead of buttons. The ThinkPad Z13's keyboard is fully functional and well-spaced. However, despite having sufficient travel, the keys only produce a mild thump when you push them. My expectations for a ThinkPad keyboard are a little higher.
On the 10 fast fingers typing test, I received a score of 61 words per minute (wpm) with a 97.12% accuracy. That is somewhat in line with the 60-wpm score I typically achieve when typing on laptops. I test my typing skills on this Lenovo ThinkPad Z13. It was faster compared to my previous Laptops with more accuracy.
Lenovo ThinkPad Z13 has a track point between G, H, and B keys. In front of the keyboard, facing the user, are the control buttons. Pushing the TrackPoint in the approximate direction the user desires to move, the cursor moves it. Lenovo still includes this key on every ThinkPad. Microphone, mute, or flying mode can be launched by double tapping the red dot.
Performance and Battery Life
Lenovo ThinkPad Z13 is an excellent little laptop. It wasn't made with intensive workflows. This laptop features AMD's newest business processor, the Ryzen 7 Pro 6850U, instead of the standard Intel fare. If you operate primarily in Microsoft Office or web apps, these 8core CPUs are excellent for multitasking and more straightforward applications. You shouldn't purchase this if your full-time job involves Photoshop, web design, or programming, but doing any of those things on the side is still possible.
The Ryzen 7 Pro 6860Z from Lenovo is an exclusive U-series AMD CPU with 16 threads, eight cores, and a slightly higher maximum boost speed of 4.73 GHz. A 512 GB SSD and 16GB of LPDDR5 RAM were also features of the Z13 that we evaluated.
Lenovo ThinkPad Z13 CPU cores from the 5000 series are updated in Ryzen 6000 to be more power-efficient. They are coupled with improvements from the future 7000 series, such as required DDR5 RAM compatibility and integrated GPUs built on AMD's most recent RDNA2 graphics architecture. A quick, power-saving CPU with respectable graphics performance is the result. In many cases, the processor is speedier than the laptop CPUs from Intel's 12th generation and outperforms them in terms of battery life. Though the Lenovo ThinkPad Z13 has 32 GB of RAM and 1TB of storage, there are fewer customisation options than on previous ThinkPads.
Beyond performance, the Ryzen Pro chips are also efficient in terms of Battery. Lenovo ThinkPad Z13 has a great Battery Life and lasts for more than 16.5 hours in light web browsing. This is the best result compared to other Laptops.
Lenovo ThinkPad Z13 Webcam
The Webcam is very prominently placed on the display cover. The Webcam on the Lenovo ThinkPad Z13 has generous 1080p clarity, but it doesn't capture little details on the face and hair, and the image doesn't accurately capture skin tone. The Z13 has a "communications bar" on top of the display, dual-array microphones, and a large sensor FHD camera with IR functionality for facial recognition.
The Webcam on most laptops falls short of the capabilities of the cameras on our list of the finest webcams. However, Lenovo ThinkPad Z13 supports Windows Hello facial recognization, and the F9 key has an inbuilt shutter that immediately turns it off.
Lenovo ThinkPad Z13 Audio
Voice Dolby-certified built-in microphones on either end of the webcam's top are intended to enhance audio and video conferencing. The built-in microphone offers excellent clarity and background noise reduction while wearing a decent headset is always advised.
Security Feature in Lenovo ThinkPad Z13 Gen 1?
Lenovo ThinkPad Z13 Gen 1 is made to protect your privacy and documents. You can quickly access your system with a fingerprint reader that has a touch interface. When not used, a shutter on an embedded IR camera interacts with Windows Hello to protect your privacy. Additionally, you have a separate TPM 2.0 security chip, which instantly recognizes any hardware alterations and blocks startup in the event of unauthorized access.
How can I enable the touchpad?
Press the Windows key, enter the Touchpad, and then press OK. You can also open Settings with the Windows key +I, select Devices, and Touchpad. Turn the Touchpad switch to the On position in the Touchpad settings box.
Is Lenovo ThinkPad spill-proof?
Lenovo ThinkPad Z13 spill-proof keyboard, a feature of ThinkPad keyboards, can resist unintentional liquid spill thanks to its MIL-STD 810G durability certification. It can withstand some bumps and drops.
Conclusion
Competing against the greatest of the best is the Lenovo ThinkPad Z13 in the high-end ultraportable market, which still excels. The design is a striking improvement over the boring bare-mental laptop.
The Lenovo ThinkPad Z13 is a superb ultraportable notebook that weighs well under 3 pounds and has a battery life of about 18 hours. Lenovo covers everything in black leather and bronze brushed aluminum, giving it equal amounts of both style and substances without sacrificing either.
Lenovo ThinkPad Z13 is a real option if you want a lot of battery life but are ready to sacrifice top-notch performance to achieve it, especially if you like how it looks. People who prefer greater power or something a little more conventional should stick with the X1 Carbon. However, doing so will reduce battery life.
Read More:
Lenovo ThinkPad Z13 Review:  Most Stylish ultraportable Laptop.