An e-commerce website is essential for anyone looking to sell products and services. Over the internet, today, opening the door to business growth and increased product sales. Choosing the best e-commerce website builders will give you a place to showcase your products, assist with online transactions, and track your financial progress most conveniently.
Some elite e-commerce website builders are ideal for multichannel selling. Others are ideal for beginners. And, of course, top-tier affordable options for small businesses. Setting up your e-commerce website is as simple as selecting a design theme, adding your products, customizing your shopping cart, configuring shipping and taxes, and then selecting the preferred payment method.
If you are not comfortable with coding, there is a wide range of e-commerce website builders that offer drag-and-drop page editors, allowing you to quickly and easily create an entire website. They also make it simple for you to manage orders and shipping.
With so many options available, it can be difficult to choose the best one for your needs. Fortunately, we've summarised a list of the best e-commerce website builders available.
What Will we see here?
Wix eCommerce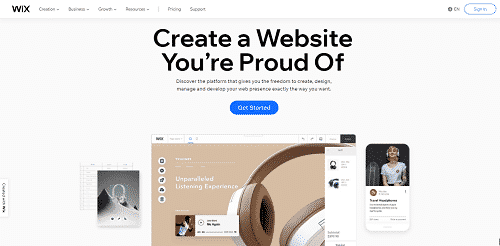 Wix is among the most well-known e-commerce website builders. The company has attempted to make the process of creating a website as simple and enjoyable as possible. It's no surprise, then, that their web store solution, Wix e-commerce, makes it just as simple to get started selling online in no time.
Wix has grown in recent years by beefing up the e-commerce capabilities it provides users. Wix eCommerce is more than just a store extension for their regular e-commerce website builders; it's a fully integrated e-commerce solution with a slew of impressive features and tools.
If you're building your first e-commerce site, Wix's ease of use will make your life much easier. Its incredibly versatile platform is practically designed for someone with no prior web development experience. But just because Wix eCommerce is simple to use doesn't mean it's lacking in important features.
Wix eCommerce is brimming with features that will help you grow and nurture your online store. From the Wix dashboard, you can easily track and manage orders, payments, inventory, conversion rates, and revenue.
In addition to selling your products, every eCommerce package allows you to sell subscriptions and implement pricing plans. You can also save loyal customers' payment methods and delivery addresses to make the checkout process easier for them.
Wix eCommerce pricing is divided into three plans:
$23/month for Business
$27/month for Unlimited
$49/month for VIP
BigCommerce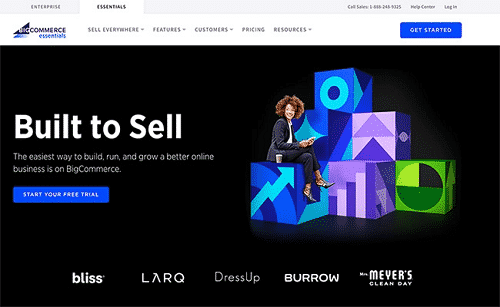 BigCommerce is a well-known and dependable e-commerce website builder. It's also very adaptable. It has business-to-business features such as bulk pricing rates, quote management, customer groups, and custom price lists.
BigCommerce is an expert in multi-channel selling. Every plan includes the ability to sell on Facebook, Instagram, Pinterest, Google Shopping, eBay, Amazon, and Point of Sale. BigCommerce must be at the top of your list if you want to leverage omnichannel sales.
However, there is a catch: it is not the most user-friendly e-commerce website builder. This is since additional features tend to make things more complicated. The platform is intended to assist larger e-commerce sites in rapidly scaling. As a result, if you're just starting, you'll almost certainly be paying extra for features you won't use.
BigCommerce stores all have enterprise-level security and high uptime rates. You'll also have access to customer service via phone, live chat, and email 24 hours a day, seven days a week.
Here are the BigCommerce pricing options:
Regular — $29.95 per month
Plus — $79.95 per month
Pro — $249.95 per month
Squarespace
Squarespace includes e-commerce functionality in all of its plans, which most traditional e-commerce website builders do not. However, the reason most people adore them may be because of their beautiful, award-winning template designs.
It makes no difference whether you're a seasoned pro who enjoys jumping in and crafting a website to your exact design specifications or a complete beginner who simply wants a fantastic-looking website right out of the box. Using Squarespace, anyone can create a modern and visually appealing e-commerce store.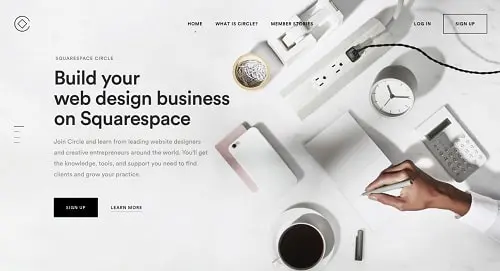 The Squarespace mobile app lets you manage and edit your website while you're on the go. If you have physical locations, you can also use them as a POS solution.
Squarespace comes with hundreds of built-in apps. There is, however, no app store or marketplace for one-click installations. As a result, if you want to install a third-party app that isn't already built into Squarespace, you'll need to use code injection.
Squarespace offers four different plans, three of which include fully integrated e-commerce:
Individual — $12 per month
corporate— $18 per month
Basic Business — $26 per month
Enhanced Commerce — $40 per month
All plans include customer service that is available 24 hours a day, seven days a week.
Square online
Square is best known for its POS software. They do, however, have a fantastic e-commerce website builder that is loaded with features and is completely free.
It's especially useful if you already use Square for your POS system in-store. The e-commerce website builders will be able to integrate with Square POS seamlessly. You will also be able to accept all major credit cards, sync with your existing Square POS, and simplify inventory management.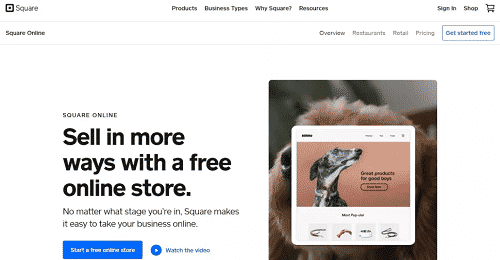 It's so good that we highly recommend both of their services for physical stores. It provides an excellent means of seamlessly integrating your website with your current POS system.
However, You'll be able to easily sync your inventory with Square POS. And their e-commerce website builders also allow you to see your real-time stock. This helps to avoid overselling and keeps customers satisfied.
Prices begin at 2.9 percent + 30 cents per transaction. The following is the complete pricing:
Free: $0 per month, with a 2.9 %+ 30-cent transaction fee.
Professional: $12 per month,and2.9% + 30-cent transaction fee.
Performance:$26 per month and 2.9 % + 30-cent transaction fee.
Premium: $72 per month and 2.6% + 30-cent transaction fee.
Zyro
Zyro is an e-commerce website builder that provides a very newcomer experience at a very low cost, as well as 24/7 support for all users.
You'll be able to layout precisely how you want your website to look using drag-and-drop tools and watch it change in real-time.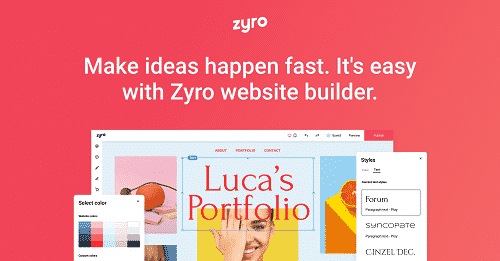 This is also referred to as the "What You See Is What You Get" method of website development. You don't need any coding experience. You don't have to alternate between preview and edit mode. All you have to do is move the components to your exact specifications.
One feature that distinguishes Zyro e-commerce website builders from the competition is its powerful AI business tools. These tools use artificial intelligence and machine learning to assist you in developing your brand identity A business name generator, a slogan generator, a logo maker, an AI content generator, and an AI heatmap are all available.
The following are the Zyro prices and plans:
Website — starting at $2.90 per month
Business —starting at $4.90 per month
Online Store — starting at $8.90 per month
Advanced Store —starting at $15.90 per month
As you've seen, even the most expensive plan is reasonably priced.
Shopify
One of the most well-known e-commerce platforms is Shopify. This is since it is easily the most powerful e-commerce website builder on the market today. Everything that you need to design and manage your online store is included in this web-based content management system (CMS).
To begin, select one of Shopify's 70+ free and premium themes.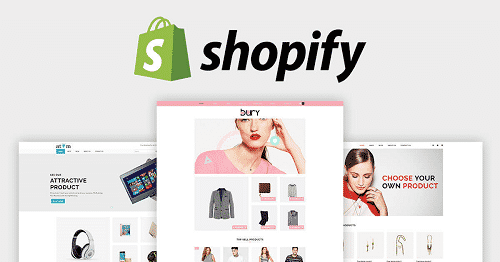 Each theme includes settings that allow you to tailor everything to your preferences. Download applications from the Shopify App Store to enhance your store's features and functionality.
We appreciate the fact that all payments are processed directly through the platform. You won't need to connect any third-party processors to accept payments if your plan includes the Shopify Payments gateway. As a result, you can begin selling right away.
Remember that you can always use a different payment gateway by selecting one of the over 100 payment processors that integrate with Shopify.
For optimal performance, all plans include web hosting, unlimited email forwarding, unlimited bandwidth, and a content delivery network. You'll also gain access to marketing and SEO tools, as well as mobile optimization and analytics.
Shopify provides customer service via phone, email, and live chat 24 hours a day, seven days a week.
You can use Shopify to set up drop shipping, customer accounts, target abandoned carts, POS software, and manage shipping rates. There is a robust Shopify App platform where you can add any feature you want.
Here's a breakdown of Shopify's plans and pricing:
Basic — $29 per month
Advanced — $299 per month
If you're creating a high-volume e-commerce store and require an enterprise-level solution, speak with a Shopify sales expert. Shopify is available for free for 14 days.
Conclusion
That ends our article here!
Nowadays, if you want to grow your business, you must have an online presence. Even traditional physical stores should have a system in place to answer customer questions, provide valuable business information, and provide users with the option to shop online. Using one of the best e-commerce website builders, you can also create a store that appeals to customers while also showcasing your product catalog. All while maintaining an easy-to-use design. Wix is our recommendation for the majority of users. However, as you search for the right builder for your new e-commerce store, keep the criteria we discussed in mind.
Do comment and share. Likewise subscribe to remain refreshed with all the Latest News, Offers, and Special Announcements.
Read More!