Whenever Roborock introduces a new product, it works diligently to solve a challenging cleaning problem. One of the main drawbacks of current competent vacuum cleaners is their inability to perform a complete cleaning. While they can suck the dirt and debris off your floors, they can't mop them perfectly. The S5 Max, at the same time, has advantages and disadvantages, as well as plenty of competition. Rivalry is crucial for the Roborock S5 Max, given its prohibitively expensive $429.99 price tag. However, the following are all the advantages, disadvantages, features, functions, cleaning modes, battery life, etc., to consider before buying!
Overall Summary
Roborock S5 MAX
The Roborock S5 Max is a merged robotic cleaner and mop from Roborock. The brand's 1st robot vacuums worked with Xiaomi's Mi Home app, but there is now an entirely devoted Roborock app that is well-designed and simple. The S5 Max isn't the most recent, consequential, or feature-rich device in the lineup, but it's far from essential. It's an excellent all-around robot vacuum with every cleaning option imaginable. One of its main benefits is its large water tank and customizable mopping settings, allowing you to appoint mopping zones and choose how much water the S5 Max uses to clean.
Pros:
Effective Navigation

Big water Tank

Clever Mapping System

On-Board Camera
Cons:
Requires High recurring expenses

Small Dust Cup

Noisy

No additional pad or side brush.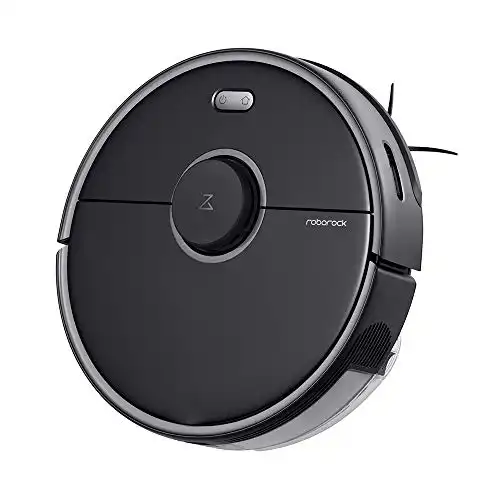 Specifications Chart
| | |
| --- | --- |
| Price | $429.99 |
| Dimensions | 353 x 350 x 96.5mm |
| Weight | 3.5kg |
| Voltage | 58W |
| Navigation system | Laser Distancing Navigation with 14 sensors |
| WiFi connectivity | 2.4GHZ |
| Form Factor | Robotic |
| Compatible Devices | Smartphones, Amazon Echo and Google Home |
| Functions | Smart navigation with mapping, Voice control, Carpet Detector, and Water level control. |
| Run time on balance mode | 150 minutes |
| Charging Time | Under 6 hours |
| Noise | 60 dB |
| Features | App control, 2-in-1 Vaccum / Mopping, Smart sensors, 6 cleaning modes and Self-adjusting brushes. |
| Battery | 5200mAh |
| Ability to Cross Obstacles | Up to 2cm |
| Dustbin capacity | 460ml |
| Water Tank Capacity | 290ml |
| Colors | Black and white |
Design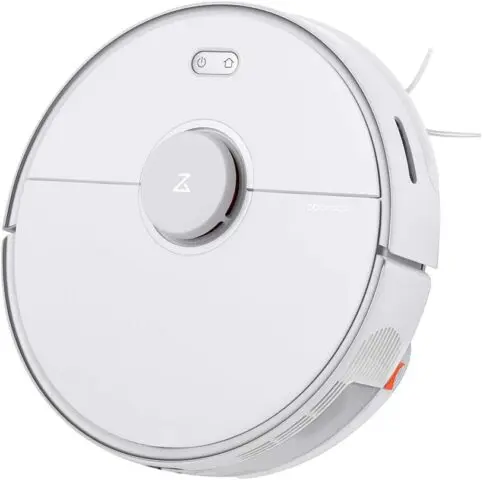 With a 360-degree onboard camera and simple controls, the S5 Max is a 350 x 350 x 97mm round and thin robot cleaner. The S5 Max features the same single-side and combination sweeps as the Roborock S5 and high-quality glossy plastic construction. Because of its design concept and precise laser system, the robot is controllable through an app. It is disc-shaped, available in white or black, and has a rising Lidar tower in the middle.
The 0.46l bin is lifted out for emptying when the top of the lid is opened. This container also has a helpful sweep and razor for removing hair from the roller underneath. A pull-out water tank for mopping with a capacity of 280ml is located at the back. The microfiber cloth is positioned below this and clips using a different plastic holder. The Robot S5 Max has simple, contemporary controls on top. The vacuum's top includes the two most basic setups, clean and home. The roborock can wash to the end of the room due to a single spinner on one side that collects hair and fluff.
Components with regular cleaning
Dirt container
The dirt container of the Roborock S5 Max is a respectably sizable size. It has more capacity than more expensive ones. The ideal practice would be to empty it once every week or as soon as you detect that it is complete. When the robot cleaner is full, the slider to compare the accompanying software will play an audio alarm to let you know. You can also wash the dirt container under running liquid to remove any stuck-on material.
Sensors
The Roborock S5 Max's intelligent sensors increase the washing cycles' effectiveness. There are bumpers, a wall sensor, an odometer, a trapped wheel sensor, a cliff sensor, a gyroscope/accelerometer, and a compass. These sensors allow for more intelligent tracking and contribute to the safety of wide-risk washing areas. When requested, use a dry, lint-free cloth to wipe the sensors. You can use a dry towel to clean the sensors if dust and dirt have accumulated.
Water Tank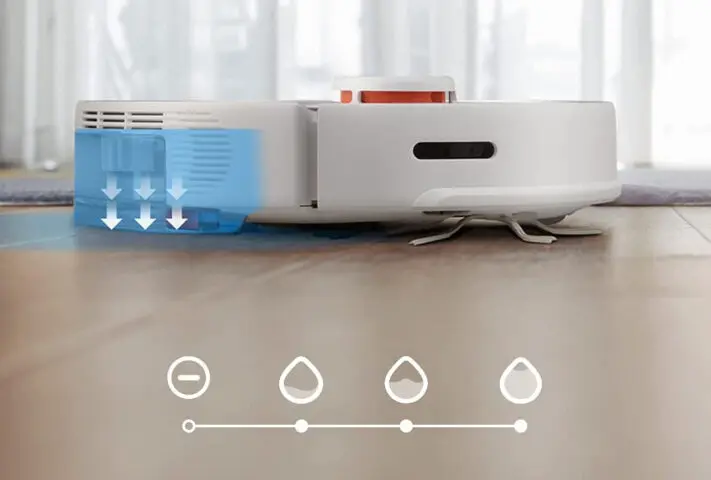 At the back of the robot is an electrical water tank that can change the water volume. It has a 290ml water tank capacity, and the water flow may be adjusted using an app. The container may be removed from the vacuum's rear. You may clean it as needed by giving it a thorough rinse with fresh water. The box contains pairs of tank filters, a container, and a waterproof cushion.
Wheels
The S5 Max has two substantial, long-lasting rubber wheels on either of the robot's sides to aid in navigating challenging flooring changes. It has to be cleaned once a month, and it makes your robot vacuum cleaners operate more efficiently.
BrushRoll and Side brush
A spinning sweep is located on the left side and aids in bringing debris and dirt from corners and edges into the vacuum's washing path. The side sweep is entirely made of rubber and has no bristles. A spiral-shaped bristle brush roll occupies the vacuum's center. Using the included tool, clean the sweep roll and cut any knots as necessary. The bot notifies you through the companion software and with an auditory signal if the main or side brushes become tangled or clogged.
Filter
Unlike earlier cleaners, Roborock decided not to supply replacement filters with this bot, but you may clean them. To save maintenance expenses, there includes a washable filter. A HEPA filter located behind the dustbin can helps keep allergens there.
Advantages
The S5 Max boasts powerful suction, extended battery life, excellent build quality, cutting-edge automation, and superior quality characteristics. It offers an improved mopping system with a handy wiping attachment, an incredibly clever mapping system, and remarkable debris pickup efficiency on bare floors. It has the two-in-one capability for vacuuming, the ability to save different maps, effective GPS tracking, a bigger container, a reasonable price-performance ratio, and the ability to manage the liquid intensity using the software. The lowest setting can run for up to 150 minutes, and an onboard camera helps with tracking. Digital no-go and no-mop zones also provide the user with a great deal of convenience and hassle-free washing.
Disadvantages
It has a limited delivery range, a tiny dust cup that can only hold 490ml of dirt, a confusing variety of power options, and huge recurring expenses. The mop function is only moderately effective, it is rather pricey, has a more basic spiral bristle roll that struggles with small dirt, is noisy, and many parts require regular washing. It also doesn't come with an additional pad or side sweep.
Features and Functions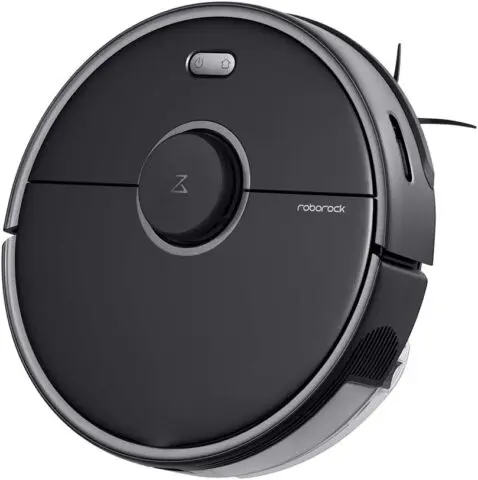 Mapping
The Roborock S5 Max characteristics superior digital mapping technology since it includes wifi connectivity. You may alter the map using this clever mapping technology, down to tiny details like instructing the bot to clean a specific location in a particular property section. You may designate no-go and no-mopping zones once the robot has mapped your house, and you can regulate it via software.
Laser Distancing Navigation System
One of the best features of Roborock products is its intelligent navigation system, which uses a laser sensor to determine the best washing path for each space. The robot will navigate the obstacles when the first mapping is finished. Multiple sensors make up the laser distance system of the Roborock S5 Max. A laser distance meter fires a laser pulse at the target, timing how long it takes for the reflection to come back. Due to its precise laser navigation, the robot may be managed via software. The Roborock S5 Max's top navigational features are SLAM/LDS, Anti-Collision, Jam Resistant, and Anti-Falling.
Water level control
Through the platform, you may regulate the levels in the Roborock S5 Max. There are four different level options offered. Users may use only once/off or low mode to clean wet stains, while the medium and high modes are ideal for dried stains.
Only Once/Off: The flow is lowest when the mop is connected.
Low: The next-lowest setting is the one for cleaning up liquid spills.
Medium: The middle setting is excellent for removing dried stains
High: The water flow is the maximum and works well to remove tough stains like juice.
Mopping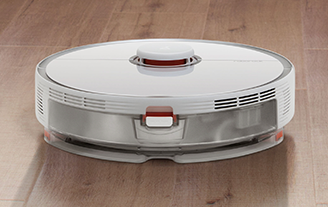 The mopping function, which includes a microfiber mopping map and a tiny reservoir, is also good. It drags a microfiber cloth across the clean hard floor. Users can set different mop zones. Install the reservoir into the robot vacuum cleaner and fill it with clean water to begin a mopping cycle. Verify that the pad is firmly connected. Only when the mop is connected can no-mopping zones prevent the robot from entering. Unfortunately, you still need to receive an additional cloth in the box, which is unexpected given the price.
Audio Levels and cleaning modes
Comparatively, the Roborock S5 Max is a reasonably quiet model. The washing mode impacts the Roborock S5 Max's noise level the most. The S5 Max only generated 62.4 decibels, comparable to listening to a typical conversation, even at the highest volume level. The motor is scarcely audible at its lowest setting. Even though the silent setting is great for the evening, some noise may still be heard. Even though the soft setting is tranquil, not much can be heard. A discussion cannot be heard above the noise of the higher settings, turbo, and Max.
Cleaning Modes:
Gentle: The least noisy option is a single pass.
Silent: Operates at the quietest volume
Balanced (55 dB): Suction power, loudness, and other variables may be changed.
Turbo (60 dB): The suction that is more than balance but less than the maximum is an excellent middle-ground choice to assist in extending battery life.
Max (65 dB): Use the most powerful suction possible for the thorough and loudest cleaning procedure.
Battery Life
The Roborock S5 Max features a robust 5200 mAh battery that can operate in Quiet mode for up to 180 minutes. It takes around 5 hours to charge to 100%. With a maximum duration of almost four hours, the charger offers excellent performance and provides plenty of Time for cleansing incredibly sizable areas. The app estimates a comprehensive 103-square-meter home will take 127 minutes.
After losing 20% of its charge, it stops washing. Due to the Recharge and Resume function, once the status is restored at about 90%, it starts again to pick up where it left off with the washing process. Customizing the settings for certain rooms helps extend battery capacity.
Is the Roborock S5 Max superior?
Although the two vacuums are comparable overall, the Roborock S5 Max is somewhat superior to the Roborock Q5. The S5 max vacuum cleaner is better constructed and more effective in dealing with dirty hard floor. Although the S5 also features a mopping mode, it isn't particularly good at removing dried-on grime areas.
Can the Roborock S5 Max function at night?
Yes, the S5 Max and S6 MaxV can mop in low light. The S5 Max can recognize the arrangement of the space thanks to its sensors and laser system. The vacuum will subsequently be able to determine an effective washing path without needing to look in its immediate vicinity.
Conclusion
Roborock S5 Max can successfully mop big homes while regulating the liquid flow and avoiding carpets. Its excellent navigation capabilities let you create incredibly exact schedules for various washing areas, times, and suction force and flow levels. As a result, you may mop and vacuum the entire house without monitoring. Roborock S5 Max estimates how long it'll take to complete the remainder of the areas and then recharges until it reaches the required battery level. However, compared to other vacuum cleaners, due to their excellent mapping, navigation system, and various cleaning and water level modes, it is worth purchasing!
Read More
Roborock S5 Max - A Robotic Mop With Dual Nature!
Design

Battery

Suction Power

Cleaning

Easy to Use