Samsung is here with another edition to its flagship TV, and it can't get any better. If you are planning to buy the Samsung QN95A Neo QLED 4K TV, here is a review of the TV.
Samsung QN95A Neo QLED 4K TV
Samsung's new flagship Neo QLED 4K TV is the first to include a Mini LED backlight. Mini LED, not to be confused with Micro LED, which is an entirely separate self-emissive display technology. It employs a newly created backlight that is smaller and more efficient. Thus, allowing for more dimmable zones and thinner panels. With stunning SDR and HDR images that benefit from deeper blacks and brighter highlights, quantum dot technology produces vivid images. The QN95A comes with a long list of features. The most notable of which is a well-designed and comprehensive smart platform that incorporates all of the major streaming apps. There is also an array of cutting-edge gaming features. Unfortunately, there is no integrated Dolby Atmos decoding for this new Samsung TV.
Pros
Amazing picture quality
Impressive sound system
Fantastic gaming features
Cons
No Dolby Vision or Atmos
Freeview Play would be nice
Price and Availability
The Samsung QN95A comes in screen sizes of 55, 65, 75, and 85 inches. The 65-inch model costs £2,999. You won't be able to acquire it in the United States, as its predecessor, the Q95T, never did. But you will be able to get it in the United Kingdom, and it will arrive in Australia soon.
Design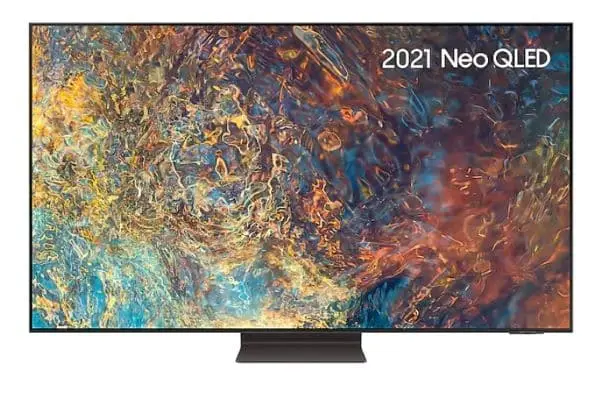 With a narrow panel and almost no bezel, the Samsung QN95A maintains a sleek and minimalist design. It's amazing the company managed to fit everything into a chassis that's only 15mm deep. It has a full-array Mini LED backlight and eight speakers below the panel. The stand is simple to put together and matches the whole look. You may use the optional 'No Gap' bracket to wall mount the TV. This can be done with the single wire from the innovative One Connect box making installation simple, attractive, and tidy.
One Connect box

The One Connect box has been shrunk down and redesigned to be more sleek and attractive. The box's smaller size allows it to be easily hidden if necessary. The textured matte black finish replaces the previous glossy black boxes, which were a magnet for fingerprints and smudges. Four HDMI inputs are available on the box, one of which (HDMI 3) supports eARC. All of the HDMI inputs can handle up to 40Gbps, which means they can handle 4K/120Hz, VRR, and ALLM content. Although, these are not full HDMI 2.1 connections. But they provide enough bandwidth for gamers who want to use their new console or consoles. Two USB 2.0 ports, twin tuners for terrestrial and satellite feeds, a CI slot, an optic digital output, and an Ethernet port round out the features. You even get a great range of wireless connectivity, with Wi-Fi, Bluetooth, and compatibility for Apple AirPlay 2.
Remote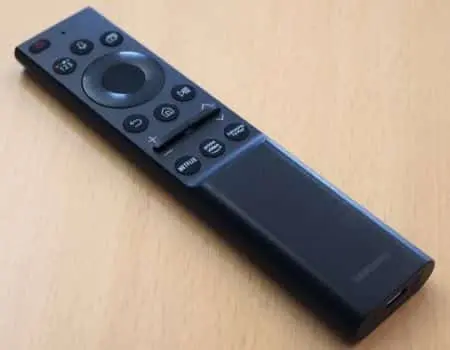 A conventional black plastic zapper and the new sleek metal Solar Cell remote are included. This streamlined wand is easy to use with one hand and has all of the primary controls. It also has a few specific buttons for popular streams. A solar panel on the back recharges the batteries, making the remote more eco-friendly.
Features
The 3840 x 2160 4K resolution, 120Hz panel, and Mini LED arrangement are the highlights of the Smart TV. The ports in the One Connect box are all set to a 2.1, 4K @ 120Hz standard. This means the company delivers the absolute finest performance for your next-generation gaming console. You can even change the refresh rate to your liking. Not only this, but it also has an auto-low latency mode and tone-mapping by HGiG. Moreover, you get guaranteed FreeSync performance with HDR content with FreeSync Premium Pro. The QE65QN95A has response rates ranging from 5.6 to 9.3 milliseconds.
The QN95A, like all of Samsung's HDR TVs, lacks Dolby Vision dynamic metadata HDR. This is a big setback when it comes to a three-grand display. Netflix supports Dolby Vision, so Dolby Vision HDR should be on every Smart TV. Samsung has given the TV the latest iteration of its Object Tracking Sound+ arrangement. This produces audio quality that is commensurate with its visuals. This uses a pair of tweeters hidden at the top of the frame, one on per side, and a couple of full-range drivers along the bottom to move the sound in reaction to the on-screen action. They're powered by a total of 70 watts of power.
Smart TV -Tizen OS
The Tizen-powered Smart TV is one of the best in terms of the user interface, responsiveness, and functionality. A launcher bar runs along the bottom, and a second layer above it gives you faster access to more material. It's simple to navigate, and you can even use voice control if you like. Every major streaming provider is accessible through the app. You have the option of watching Netflix, Amazon, Now TV, Disney Plus, Apple TV Plus, Rakuten, YouTube, and all UK TV catch-up services. Although, the only disappointment for UK viewers, is the absence of Freeview play support.
The amount of content available can be confusing at times, but Samsung's Universal Guide makes it easier for users. The guide employs AI machine learning to analyze your viewing habits and build a single 'For You' page with material tailored to your preferences. By automatically scanning for nearby devices, recognizing them, and depicting them with easy-to-understand graphics, the Digital Butler allows for rapid and easy connection. Bixby and Alexa are built-in, and you can use Apple's AirPlay 2 to access Siri. Also available is the SmartThings app, which allows for quick and easy setup as well as some control.
Picture Quality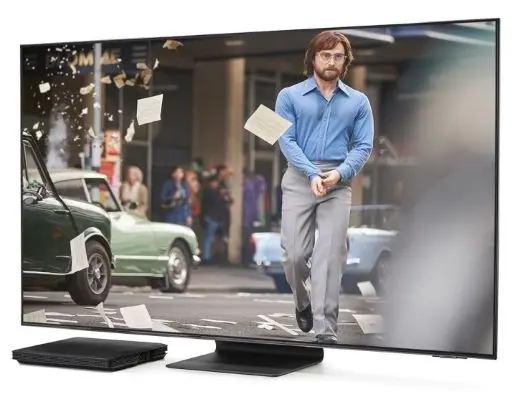 The Samsung QN95A is a Neo QLED TV with a Mini LED backlight. This makes use of a newly built microlayer with LEDs that are much smaller than prior models. The protective packaging and lens around the diode are removed with these LEDs. Thus, allowing for thinner panels and more dimmable zones. The Quantum Matrix system is intended to coordinate the additional zones, while the Black Detail Boost function enhances shadow detail perception.
Processor
The new Neo Quantum Processor uses multi-intelligence deep learning to improve processing capability. Instead of using a single neural network, this processor uses 16 to produce a neural analyzer that is optimized for video upscaling and processing. All of this extra power is designed to give you the greatest possible experience. The Samsung QN95A Neo QLED 4K TV supports HDR10, HLG (hybrid log-gamma), and HDR10+ Adaptive. The latter leverages a sensor to modify the performance. It is based on the ambient lighting conditions in your space and uses dynamic metadata to adapt the tone-mapping on a scene-by-scene basis. Moreover, it uses AI to provide the best upscaling results. If you feed in Full HD 1920 x 1080, the Samsung does sterling work keeping detail levels high and edges smooth.
Picture Quality in Different Modes
There are several Picture Modes to choose from, with Standard mode being the default. You can even choose Filmmaker Mode to make photos exactly how the content creators intended. Natural colors, clear whites, rich blacks, dazzling highlights, and plenty of shadow depth make for outstanding results. This Mini LED TV has set a new standard in the market. The order of black levels and backlighting control is reversed here. The black tones are deeper than those used in other LED/LCD setups. There is no visible backlight 'bleed' or haloing around areas of high contrast. Contrasts, illumination, and black detailing are all features that are more commonly associated with OLED technology. When you use it with 4K HDR10+ content, it pretty much completes the set of picture quality pros.
Detailing
Edge definition is solid, detail levels are amazing, and the color palette is as diverse and lifelike as it gets. Naturalistic skin tones and textures, which every observer instinctively understands, are also vital. On-screen motion is handled with great authority. Remember that, none of this happens if you use Samsung's default settings. With the default settings, you'll be squinting due to the brightness of the white tones and the vividness of the colors. But if you customize the setup settings, you will be able to create graphics that are engaging. There are setbacks too with the picture quality. Once you get down to DVD-standard resolution or lower, the picture becomes soft and looks indistinct.
The images produced by this TV, whether SDR or HDR, are likely to satisfy. Upscaling is impressive due to the clever processing, which squeezes every last pixel out of lower resolution video. Of course, once you upgrade to native 4K, your TV can really show you details.
Colours
All of the streaming apps look fantastic, with crisp 4K visuals and stunning HDR where available. The Samsung QN95A Neo QLED 4K TV also performs admirably with HDR10's expanded color gamut, thanks to the quantum dot's better color brightness. With their purposefully over-saturated color palettes, films actually burst off the screen in a brilliant display of primary and secondary colors.
Finally, when it comes to motion management, the Samsung is equally impressive, with 24p content looking smooth and free of undesirable aberrations. The Picture Clarity motion options use frame interpolation to smooth out the image. This is useful for sports. The LED Clear Motion setting uses black frame insertion to darken the image while improving the motion.
Gaming
The TV has an LCD panel, so there's no risk of screen burn if you play for long periods of time. VRR (Variable Refresh Rate), 4K/120Hz playback, and AMD Freesync Premium Pro and Nvidia G-Sync compatibility are available for gamers. ALLM identifies a console and switches to Game mode. The Game Motion Plus mode is designed to smooth motion without dramatically increasing lag. It even supports the extremely wide aspect ratio options such as 21:9 and 32:9.
Moreover, there are so many gaming options these days that Samsung created the Game Bar to help you keep track of them all. When a game source is recognized, this feature appears and shows you all of the important gaming details. This includes HDR, frame rate, VRR, and more. It also displays all of the important picture adjustments and settings for gaming. All of these elements create a highly pleasurable and responsive gaming experience. Moreover, it gives extremely low input lag and no screen tearing. The images are crisp and precise, the HDR is vibrant, and the action is fluid and clear. The Dynamic Black Equaliser lets you alter the darker sections of the image.
Audio Performance
The company smoothly inserts eight speakers into the TV cabinet's exterior edge, resulting in a 4.2.2-channel system with 70W of amplification. The top speakers give a broad and immersive soundstage. OTS+, on the other hand, doesn't just add more channels; it also analyses the audio signal and matches sound to specific graphics on the screen. This is quite effective, resulting in a more engaging experience with enhanced directionality and immersion.
Furthermore, the dedicated center speakers assure excellent speech, while the subs provide a nice low-end presence. It's disappointing that, despite the inclusion of height speakers, Samsung doesn't have Dolby Atmos support. However, as it supports eARC, the Samsung QN95A Neo QLED 4K TV may also send lossless audio back to a compatible soundbar or AV receiver via HDMI. In terms of audio quality, Samsung outperforms the vast majority of large, costly televisions, and is no match for a half-decent soundbar.
What you would like?
Superior HDR performance– More adjustable zones and better dimming algorithms provide deep blacks and dazzling highlights.
Comprehensive smart platform– Samsung's platform is unrivalled in terms of selection, with every major streaming service and many useful features. Moreover, the interface is a well-designed, easy-to-use, and responsive UI.
Extensive gaming features– The QN95A has 9.2ms input lag, support for all the latest features, and a handy Game Bar that shows all the settings at a glance.
What you might not like?
No Dolby Vision– According to the company, greater HDR performance eliminates the need for Dolby Vision. But this dynamic metadata standard is used by practically every video streamer and supported by almost every other TV manufacturer.
No Dolby Atmos– Atmos can be output via ARC, it would be ideal if the TV's 4.2.2-channel system could utilise Atmos' height channels.
Does not support Freeview Play– Although, the TV has all of the UK catch-up services, they aren't integrated into the EPG (electronic programme guide).
Conclusion
If you are planning to buy the latest Samsung QN95A Neo QLED 4K TV, it is definitely a great choice. The TV has everything sorted, from the highest picture quality to extensive gaming features. It features Neo Quantum Processor, which uses multi-intelligence deep learning. Thus, improving the processing capability of the TV. The various Picture modes let you customize the image quality according to your desires. Moreover, the black tones used by this TV is higher than other models available in the market. Thus, giving you superior image quality. If you are planning to connect your new console with the TV, the latest features are to look forward to. With 9.2ms input lag and a Game Bar that shows all the settings at a glance, you can enjoy an amazing gaming experience.
If you have any questions, you can ask us in the comments section below.
Read More!