Ionos web hosting solution is packed with features and website creation tools. So, if you are looking for a reasonably priced web hosting solution with great features, you should check out Ionos. Here is a review of Ionos for you.
Ionos Web Hosting
Ionos is a good option for businesses looking for a feature-rich, low-cost hosting solution. The web host offers a variety of appealing services. This includes shared, virtual private server (VPS), WordPress, and dedicated hosting, among others. However, one of the best things about Ionos is its cloud hosting plans and robust packages that cater to both small businesses and enterprise-class consumers.
Pros and Cons
Pros
Dependable uptime
Excellent cloud hosting packages
Linux- or Windows-based servers
Easy-to-use website creation tools
Clear and simple pricing
Speedy server response times
30-day money-back guarantee
Cons
Lacks reseller hosting plans
Relatively sparse email options
Awkward non-standard control panel
Few introductory discounts
Limited configuration options with VPS and dedicated plans
Plans and Pricing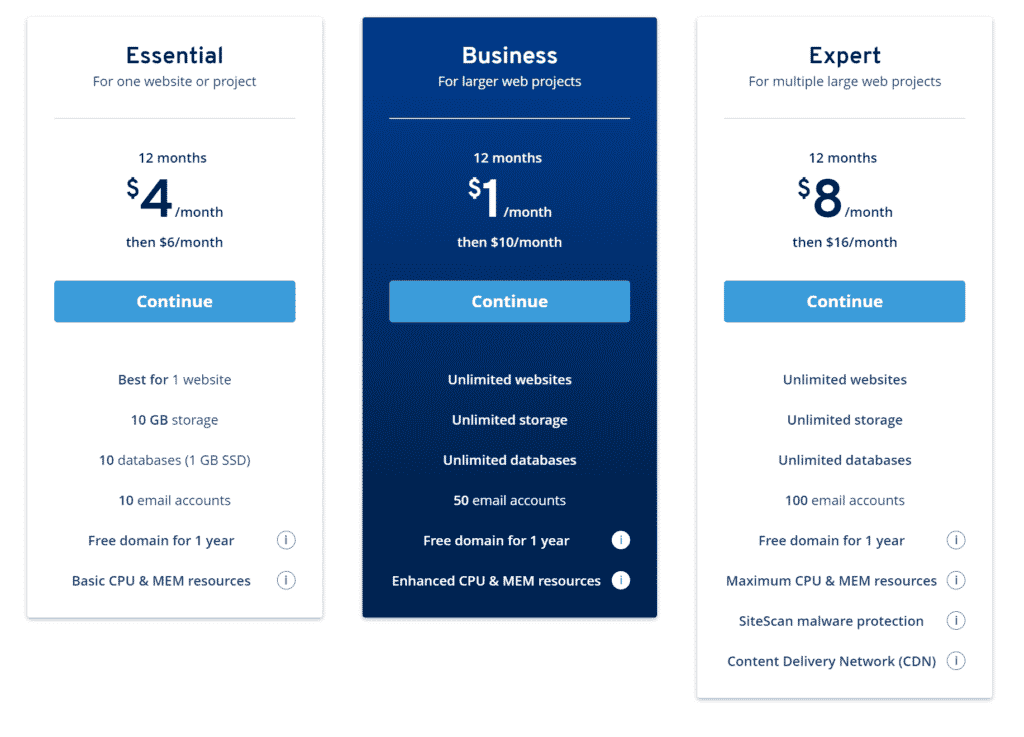 The pricing is refreshingly straightforward. There are no long contracts or convoluted introductory reductions, so your costs won't double when you renew.
If you sign up for a 12-month plan, the entry-level Essential package, beginning at $4 per month, provides a free domain name. It costs $6 per month if you choose to renew on a monthly basis. With a per-month renewal, you lose the free domain, however, Ionos offers a domain name add-on with private registration for a one-year introductory charge of $1. In addition, the package includes 10GB of storage, 1 email account, and 10 databases, as well as the ability to manage around 50 visitors per minute on a single site.
The Business tier includes a limitless website, unlimited storage, and one email account. This tier is optimized for 200 visitors per minute and costs $0.50 a month if you sign up for a 12-month subscription. Otherwise, the Business increases to $10 per month, and after the initial $0.50 pricing expires, it renews at $10. The Expert plan, beginning at $8 per month and rising to $16 after a year, includes the same unlimited websites, unlimited storage, and unlimited databases as the Business plan. Moreover, it also includes one email account, stronger virus protection, and the ability to handle nearly 500 visits per minute. The limited email account options are especially restricting for larger businesses; Ionos' shared hosting plans only include an email account.
The top-tier Expert plan costs $14 a month and provides unlimited storage and 100 email addresses. SiteLock malware protection and an integrated Content Delivery Network that boosts performance are also valuable extras.
Shared Hosting
IONOS shared hosting stands out for some unexpected but useful features. These are included in even the most basic $4-per-month Essential plan. This plan has a storage restriction of 10GB, but it also includes 10 email addresses with up to 2GB of storage each, unlimited traffic, auto-installation of WordPress and 70+ other popular web apps, and a free domain for a year. Daily backups, which are usually a pricey add-on, are included as standard. Furthermore, all shared hosting plans include a free SSL certificate. This allows you to secure all of your site's subdomains. The $8 a month Business shared hosting plan boosts performance. It includes unlimited storage, 50 email addresses, and the ability to host an infinite number of websites.
Shared Hosting
Due to its low cost, shared hosting is one of the most popular types of web hosting. When you use shared hosting, your website shares system resources and the expenses associated with them with the other websites on the server. Although shared hosting isn't as powerful as dedicated hosting, it is a less expensive option. Ionos charges a monthly fee for site hosting, but you can save money if you buy a multi-month or annual plan. You can choose from any package tier as well as a one-month subscription. The Linux operating system is used on shared web hosting servers.
VPS Web Hosting
VPS hosting is an advanced version of shared hosting. It's a more powerful hosting option, allowing your site to take advantage of additional server resources. VPS hosting isn't exactly cheap, but it's also not prohibitively expensive. Because other sites that share the server take a penalty, you're less likely to notice a slowdown (something that often happens with shared hosting). The basic tools for developing a website that can bear the rigors of the internet better than typical shared web hosting are available with Ionos' cloud-powered VPS solutions. It starts at $2 per month for 512MB of RAM, 10GB of SSD storage, and unlimited data transfers.
VPS Plans
With the company's top-tier $35-per-month VPS XXL package, you can configure the Linux or Windows-based servers with up to 12GB of RAM and 240GB of storage. If you choose Windows, keep in mind that license fees, $10 per vCore every month, can significantly increase the total cost of your package. IONOS offers a fair selection of five VPS services, all of which come with unlimited traffic. With only a 1vCore CPU, 512MB RAM, and 10GB storage, the low-end VPS S plan is severely underpowered. However, it is a good deal for $2 a month billed monthly. Other plans range from two to six cores, 2GB to 12GB RAM, and are invoiced monthly for $10 to $40. The operating system (CentOS, Debian, Ubuntu, or Windows) and data center are the only configuration possibilities (US, UK, Germany, Spain.)
Backups start at $0.12 per GB per month, and the Plesk control panel costs an extra $5 per month. These packages offer excellent value, and the monthly subscription model, in particular, allows you to check them out for free. However, because there isn't an introductory price, you might be able to find better offers elsewhere, especially if you're ready to join up for long periods of time. IONOS appears to be a good place to start if you're just getting started with dedicated servers.
Cloud Web Hosting
Cloud hosting is becoming more and more popular. It differs from typical hosting in that it distributes resources among numerous servers rather than relying on a single server for power. Ionos has embraced this sort of hosting enthusiastically, providing different tiers of managed and unmanaged cloud hosting with Linux or Windows operating systems. Plans with a single-core CPU, 512MB of RAM, 30GB of SSD storage, and unlimited monthly transfers start at $0.0056 per hour (with a maximum of $4 per month). A 24-core CPU, 48GB of RAM, 480GB of SSD storage, and unlimited monthly data transfers are available for $0.44 per hour. There are managed and unmanaged plans available, as well as plans that can be customized. Simply told, the cloud hosting services offered by Ionos are great. Ionos Web Hosting is the way to go if you want enterprise-class cloud hosting.
Dedicated Web Hosting
You won't find anything more powerful than dedicated hosting when it comes to non-cloud hosting. This hosting type allows your site to fully utilize a server's resources because it is hosted entirely on the server. There is no sharing of system resources here. Dedicated hosting should be considered by serious, goal-oriented site operators as soon as they can afford it. Ionos offers four Linux-based dedicated hosting levels with Windows as a hidden option. These levels are A8i, L-16, XL-32, and XL-64. Traditional hard disc drives (HDDs) or solid-state drives (SSDs) are available with the plans, which affects the pricing. The SSD-based A8i plan starts at $45 a month, growing to $65 after a year. It includes a 2.4GHz Intel Atom C2750 CPU, 8GB of RAM, 240GB of storage, and unlimited monthly data transfers.
The HDD-based version costs $47 per month and comes with a 1,000GB hard drive. The XL-64, $140 per month plan includes a 20-core Intel Xeon E3-1270 v6 CPU, 64GB of RAM, an 800GB SSD, and unlimited monthly data transfers. Sitelock virus protection and the RailGun content delivery network (CDN) are included in all dedicated hosting services from Ionos.
WordPress Web Hosting
On an Ionos server, there are two ways to get WordPress up and running. You can either install WordPress on a normal server or use a managed WordPress service. The Essential plan ($3 per month for the first year, then $4 per month) and the Business plan ($0.50 per month for the first year, then $8 per month). Whereas, the Pro plan ($8 per month for the first year, then $16 per month). These are the Linux-based WordPress packages offered by Ionos. Because the plans are controlled, Ionos treats them like royalty when it comes to handling backend issues.
Essential tier comes with 25GB of SSD storage, 1 email account, hosting for a single domain, and one free URL. 100GB of SSD storage and 100 email accounts are included with the Business package. Unlimited includes unlimited SSD storage, 10 email accounts, and unlimited WordPress projects, making it the most feature-rich of the three options. Automatic malware detection and removal, WordPress updates, a Wildcard Secure Socket Layer (SSL) certificate, and a curated collection of recommended WordPress themes are all included in all plans.
Managed WordPress Services
Ionos Web Hosting also offers powerful managed WordPress services. These start at $3 a month billed monthly ( standard price, so it won't double after a year or two) and include easier setup, preinstalled and suggested plugins, automatic updates, and improved support. Low-level performance optimizations (Varnish-based caching, CDN), intelligent automatic updates, staging environments to test updates without affecting the live site, and more are all planned for IONOS WordPress Pro. Monthly fees range from $18 for one site with 10GB of storage to $120 for up to ten sites with 100GB of storage. The simple managed plans offer excellent value and, at least in terms of the fundamentals, outperform many competitors. WordPress Pro comparisons are more difficult, as professional users will have very specific requirements.
Reseller Web Hosting
Reseller hosting is the way to go if you want to get into the web hosting business but don't want to deal with infrastructure issues. Unfortunately, Ionos Web Hosting does not offer reseller hosting, so you'll have to look elsewhere. For reseller hosting, you can check Hostwinds. Unlimited email, storage, and data transfers are included in Hostwind's plans, which start at $3.29 per month.
User Interface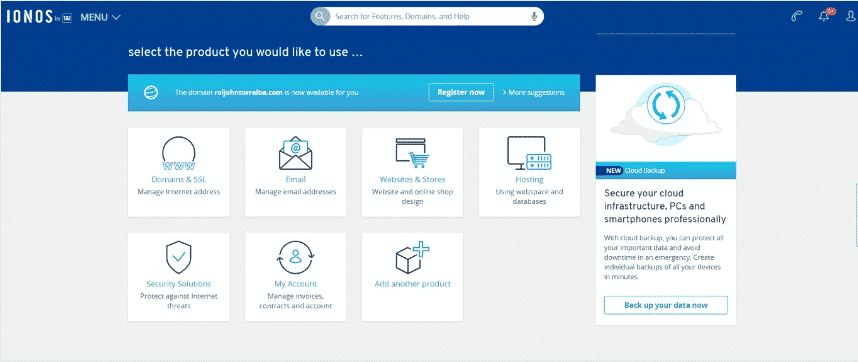 Ionos Web Hosting does not use the standard cPanel interface. Instead, they created their own proprietary backend. For people who are used to cPanel, it may be perplexing at first and take some time to get used to, but it is relatively simple to use in the end. You may manage domains, SSL certificates, email addresses, monitor your site's statistics, and more from the dashboard. IONOS has also enhanced the search bar, making it easier to find settings and switch between products. Other users have had mixed emotions regarding IONOS's interface, particularly its lack of intuitiveness when compared to cPanel. IONOS, on the other hand, appears to have made an effort to improve the dashboard's usability and make it more rational to use.
Setting Up Shop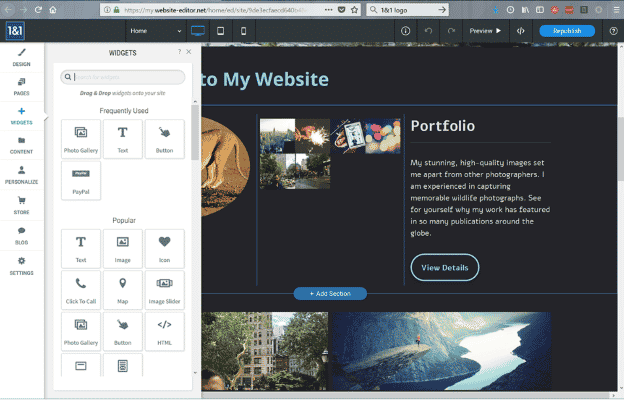 Ionos Web Hosting offers MyWebsite, a web construction tool if you're looking to create and personalize a website. MyWebsite has a more traditional appearance, with the primary toolbar on the left-hand rail and drag-and-drop functionality for simple website editing without coding knowledge. The Starter bundle costs $1 per month for a 12-month subscription and $5 per month thereafter. You'll get a free domain and email address as a result of this. You can upgrade to the Plus tier ($5 per month for 12 months, $10 per month renewal) for a more versatile toolkit. It includes multilingual website options as well as dynamic site features with video backgrounds and animations.
For $10 per month for 12 months ($15 per month renewal), the Pro tier provides specific, dynamic content distribution choices for your visitors. If you wish to sell things, you may use the Ionos e-commerce builder. It starts at $1 per month for a year and you can choose from a variety of layouts and themes. There's a lot of dragging and dropping and prefab parts to add, there isn't much you can manually alter. Ionos asks you to enter your sales tax ID (optionally) and whether you wish to show items with or without sales tax included in the pricing. You can add products, specify delivery options, and accept various payment ways, among other things.
There's also a customer database to keep track of who you're dealing with. Amazon Deals, Square point-of-sale, and Pricegrabber are among the dozens of apps accessible on Ionos. However many are only available on the top-tier Online Store Expert ($50 per month) plan.
Free SSL Security
Another key feature of a hosting service is security. Fortunately, IONOS excels in this area. A GeoTrust Dedicated SSL Certificate and a Wildcard SSL Certificate are used by the service. This encrypts your website for increased security, which should give you peace of mind when doing business online. To have an HTTPS website, you'll need an SSL certificate. If your website's URL begins with HTTP, Google will flag it as insecure. SSL certificates also protect the data sent back and forth between users and the website. This increases your customers' faith in you, which is the foundation of any successful company partnership. The server, Developer Shared Hosting, and Developer eShop packages all offer a GeoTrust Dedicated SSL Certificate. All Linux and Windows shared hosting plans include a Wildcard SSL Certificate as standard.
Performance
Even with budget-shared hosting, speed is important. During the test, the server's average response time was a faster-than-average 248 milliseconds. The best providers are only a few milliseconds slower, at roughly 200 milliseconds. Whereas the worst providers can take up to 400 milliseconds. However, there are just a few significantly slower responses in the graph, and the server consistently managed timings of around 400ms, which is better than most. These results only apply to basic shared hosting plans when testing them.
Account Registration Possible in some Countries
One of the first things you would notice with IONOS is that you can only register for an account in a limited number of countries. The majority of nations are represented, but if you live in China and wish to join Ionos Web Hosting, you won't be able to because China isn't on their list. Most European countries are also not available. Despite the fact that IONOS was founded in Germany and that its offices are still there, only a few European countries are represented on the list. Here are a few examples of places you won't be able to join up with IONOS:
China
Iran
Egypt
Morocco
Myanmar
Europe (Poland, Romania, Netherlands, Portugal, Sweden, Finland, Belgium, Czech Republic, etc)
So, before you join up, double-check to see if you can even continue the registration in your nation.
How to transfer a domain to Ionos?
As an existing customer
Log in to IONOS and go to the Domains area of your account to begin the domain transfer.
Go to the Domains tab.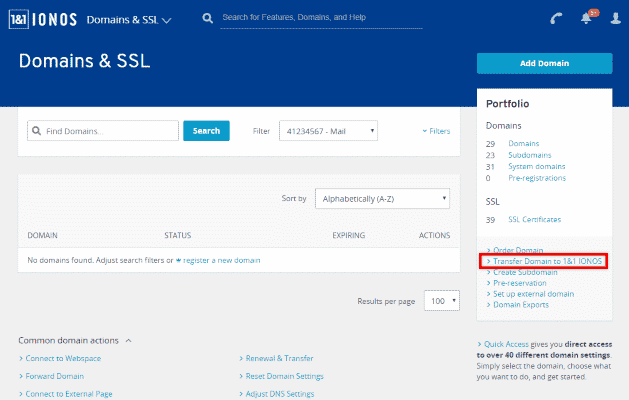 Choose which contract you want to transfer your domain to.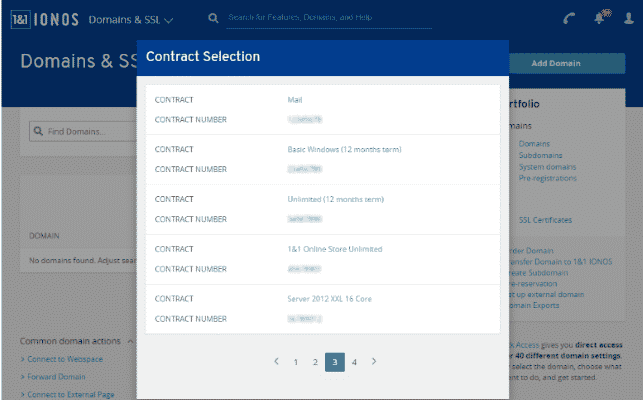 For instance, the destination could be a contract including a certain product or a free included domain slot. This allows you to better organize your domains in order to keep track of them and take advantage of the other contract's advantageous pricing.
You'll be taken to the IONOS Shop, where you can finish the domain transfer.
Click Transfer after entering your domain in the text box.
Enter the permission number for your domain that you got from your old provider in the Authorization section.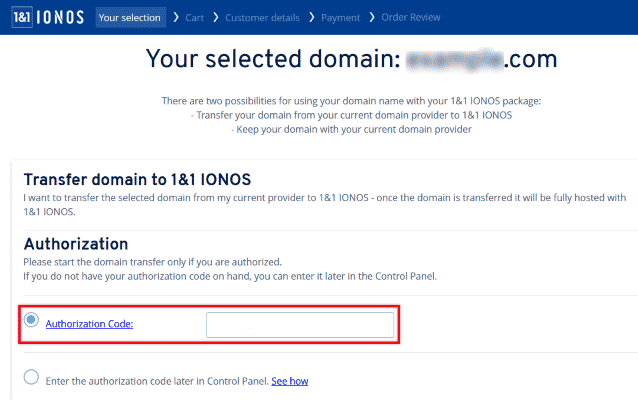 In the Select your name server settings section, you can change the DNS settings for your domain.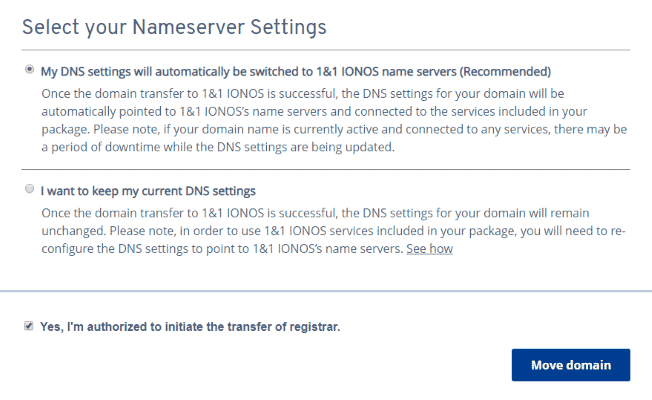 Select the checkbox next to Yes, I am authorized to initiate the transfer of registrar.
Select Move Domain from the drop-down menu.
You can review your order and customer information on the next page.
Check your order, then proceed to the next step by scrolling to the bottom and clicking Next.
After you've double-checked your client information, click Continue to Checkout.
A summary of your purchase will now be sent to you.
Check the box next to I have read the General Terms & Conditions… after reading the Terms and Conditions (including the cancellation instructions).
To place an order, go to Order Now.
As a new customer
Go to the IONOS Domains and then to the Domain Transfers page.
Click Transfer after entering your domain in the text box.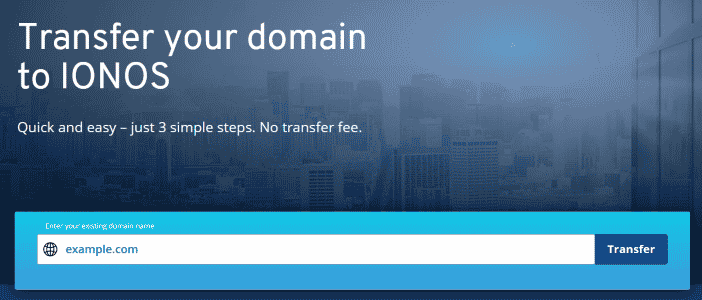 The domain transfer helper will appear on the screen. Enter the authorization number for your domain that you got from your old provider in the Authorization section.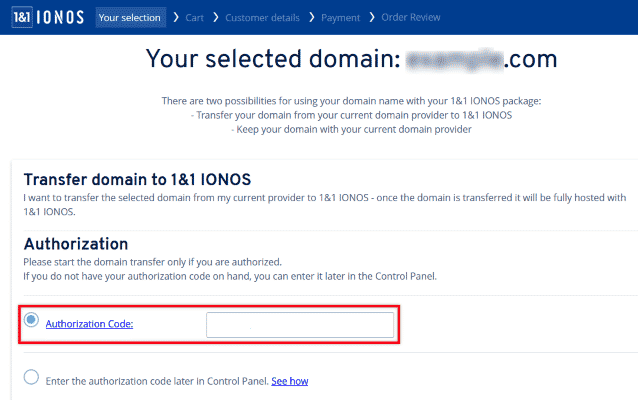 In the Select your Nameserver Settings section, you can change the DNS settings for your domain.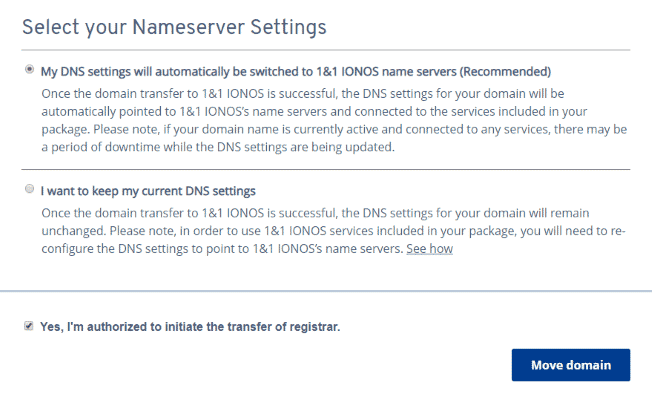 Select the checkbox next to Yes, I am authorized to start the registrar transfer process.
Select Transfer Domain from the drop-down menu.
The window for contract selection will appear. In the Domain only section, click Continue to cart to finish the domain transfer.
Start with simply the domain transfer if you're unsure; you can always add to your account later.
In the shopping cart check your selection and, if necessary, add more items.
Click Next.
In the Customer Information, you can create an IONOS account.
Click Create a new account.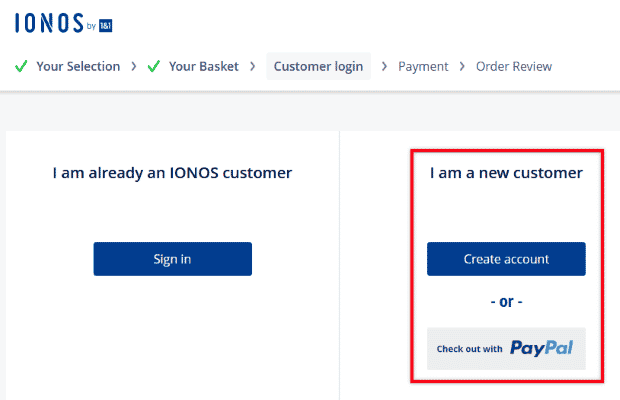 On the following pages, fill in your client information and payment information.
A final order review will be sent to you.
Check the box next to I have read the General Terms & Conditions… after reading the Terms and Conditions (including the cancellation instructions).
To place an order, go to Order Now.
How to create a website?
It's simple to join Ionos Web Hosting. All you need to do is choose a plan, fill out a few forms with your information, and then pay with a credit card or PayPal. You don't have to worry about any kind of hidden fees. In less than 60 seconds the website will activate your account and send you to your control panel, and issue you a Welcome email. The IONOS web dashboard offers a basic front end to your account, with huge tiles connecting to important functional areas such as Domains, Email, Websites, Hosting, and My Account. Your options are limited because shared hosting packages do not include cPanel. There's a file manager, FTP support, phpMyAdmin for database management, and the ability to alter your domain's PHP version in the Hosting area, but that's about it. These aren't the most powerful tools, but they'll get the job done.
When you click Upload in the file manager, you will get the option to 'Add files using drag & drop.' However, you can only transfer one file at a time. It's not quite practical, though you can utilise FTP to upload as many files as you need. WordPress installation is simple using IONOS. All you need to do is enter the name of your site, select an admin login and password, and the firm will get everything up in a matter of minutes. If you need something different, the IONOS Installatron-powered App Center lets you install 75 additional popular apps. This includes Joomla!, Drupal, PrestaShop, MediaWiki, Magento, and more. For its other shared hosting administration tools, the corporation takes the same 'enough to get by' strategy. If all you want to do is upload a static site or start a WordPress blog, you shouldn't have any issues.
Backup Website
WordPress is a bottom-up dynamic content management system. Websites built with it have two basic components:
WordPress site files – The theme, all plug-ins, and photos are all part of the WordPress site files.
WordPress site database – Comprises dynamic blog content or merchandise from an online store.
It's not enough to just back up all data if you need to restore a WordPress site. You should also make a backup of the WordPress database that powers the website. Creating a complete backup of a WordPress site, on the other hand, only takes a few minutes. There are four methods for backing up a WordPress website in general. The approach you choose is mostly determined by your IT expertise, your provider, the scope of the website, and your budget. The two options that allow website owners the most control over the backup process and their data are manual backups and backups utilizing a plug-in. Creating a backup via a reputable Internet provider is a cost-effective, convenient, and simple alternative.
Cloud backup services are normally highly safe, but they can also be quite pricey. When creating a backup via a plug-in, the following extensions are recommended:
VaultPress – a plug-in that automates backups and integrates them with the cloud.
BackWPup – a well-known plug-in that is simple to set up and free in its simplest edition.
UpdraftPlus – One of the best-rated backup plug-ins.
Manual Backup
Save WordPress files with an FTP program (FileZilla)
Using a free FTP application, you can effortlessly back up the data on your WordPress website and save them locally on your computer's hard drive or in the cloud.
Back up the WordPress database
You can back up the WordPress database for your website once you've saved the files for your WordPress website. To administer WordPress databases, almost all providers use the phpMyAdmin user interface.
Create Ionos email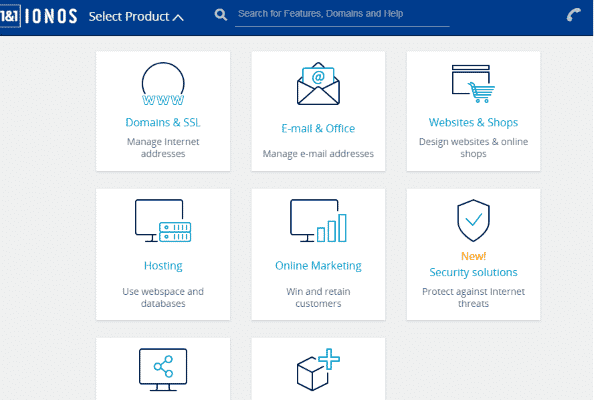 Go to the Email & Office panel in IONOS after logging in.
Select the desired IONOS mail product, such as Mail Basic, and click Create email address.
Please note that if your contract no longer has a free mailbox of the chosen type, you will find the Order button here. You'll be taken to the order page after clicking this. After that, you may go ahead and set up your email address.
Fill in the following fields:
Enter the desired email address name and a domain in the Email field.
Enter the appropriate password in the first field and then again in the second field.
Select your security settings if desired. To do so, select the appropriate check box.
Anti-SPAM: Protect your mailbox from SPAM for free.
Premium virus protection from IONOS: Virus protection is available as an add-on for some contracts. If you select the check box, you will be taken to the IONOS Shop's product page.
Security Features
With its Server, Developer Shared Hosting, and Developer eShop packages, Ionos delivers a free GeoTrust Dedicated SSL Certificate. It is encrypted website security that safeguards data exchanges between users and your site. If you don't already have one of these plans, a GeoTrust Dedicated SSL Certificate costs $20 per year. It comes with a full GeoTrust True BusinessID Extended Validation SSL Certificate costing $200 per year. Ionos provides free SSL Wildcard and Site Scan from SiteLock to safeguard your website from hackers, malware, and unwanted access. Your visitors will receive real-time certification that the site is secure if you choose to show the SiteLock Trust Seal on your website.
Uptime
The uptime of a website is an important aspect of web hosting. Clients and consumers will be unable to locate you or access your products or services if your website goes down. Finding a dependable web host that can keep your site up and running is in your best interest. Customers may go elsewhere if you don't take care of them, and they may never return. Ionos was highly stable during our tests, according to the data. It didn't even go down once. As a result, Ionos will provide a solid foundation for your website.
Customer Service
You can rest easy knowing that Ionos offers 24/7 email, web chat, and phone assistance if you have any issues with your hosting plan or simply have a hosting-related query. Because how a company's customer service department reacts to your complaint or inquiry is critical. Unfortunately, support is only available via phone or by logging into an Ionos user account. Many competing firms offer open online help, such as email or online chat. Anyone who has signed up for hosting with Ionos has access to a personal consultation service. The free service links you with a representative who can provide you with hosting ideas and assistance.
You can also discover how to boost your audience by getting your business listed on Google Maps. It's a useful service that more businesses should offer. The personal consultant can be reached through web chat, email, or phone. Ionos has a reasonable 30-day money-back guarantee and allows you to cancel at any moment.
Support
IONOS' website isn't always the most user-friendly, and even seasoned users are likely to require assistance from time to time. Thankfully, the corporation appears to be aware of this, and it has taken some proactive steps to steer perplexed users on the correct path. You don't have to go to a separate help site to discover answers if you can't find a feature or aren't sure how something works. Simply type a keyword into the search box at the top of the control panel, and you'll be directed to some generally well-chosen matches. This is a good way to quickly access generic help documents.
All articles are neatly placed in a sidebar rather than on a separate page. Thus, allowing you to read detailed instructions alongside whichever portion of the IONOS interface you're attempting to grasp. Moreover, the IONOS site search feature may also assist you in navigating the site's features. If you can't remember your FTP password, need to restore a backup, or want to create a subdomain, just type a keyword like 'FTP,' 'backup,' or 'subdomain' into the search box and you'll get relevant results. When you select one, you will be directed to that section of the website.
This holds true for account management activities as well. IONOS also allows you to explore a central help site if you like. There's a lot of useful information here, although it's largely about setting up and configuring common features. When you search for 'WordPress,' you'll get articles on how to install WordPress, plugins, and themes. IONOS also provides a variety of ways to contact its customer service team, including phone and live chat.
Conclusion
Ionos provides feature-rich hosting, especially in the cloud hosting department, as well as outstanding uptime, reliable customer care, and a helpful website builder. However, Ionos' plans have limited storage capabilities. However, this service is quite secure thanks to SSL security. Furthermore, IONOS provides a consistent uptime as well as a faster loading time. The major drawbacks are that in most European countries, you can't join up with them. Also, the $0.50/month promotion renews at a significantly higher $10.00/month. You get good customer support and a 30-day money-back guarantee. Ionon is a dependable hosting company that will get the job done.
What are your thoughts about Ionos web hosting? Tell us in the comments section below.
Read More!