The new Asus RT-AX86U is an effort to bring a high-performance router appropriate for gaming as well as other demanding applications to a more affordable price point.
Asus already offers a line of dedicated gaming routers known as Rapture. The Rapture routers seem fast, but they're also enormous, bulky, and pricey, so the Asus RT-AX86U is a good alternative.
What you will see here?
Asus RT-AX86U: Price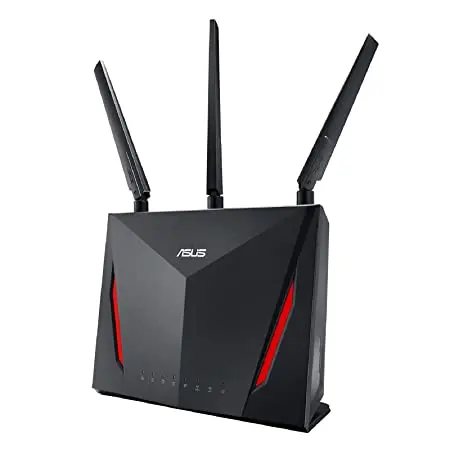 Asus RT-AX86U is not cheap, at £229.99 ($249.99; AU$536.00), but it's a good deal for a high-performance dual-band router with support for Wi-Fi 6. There's also a top-of-the-line variant, the Asus RT-AX88U. That's even quicker and has more ports for network connection, but it'll set you back over £350 (about $460/AU$640).
Design and Features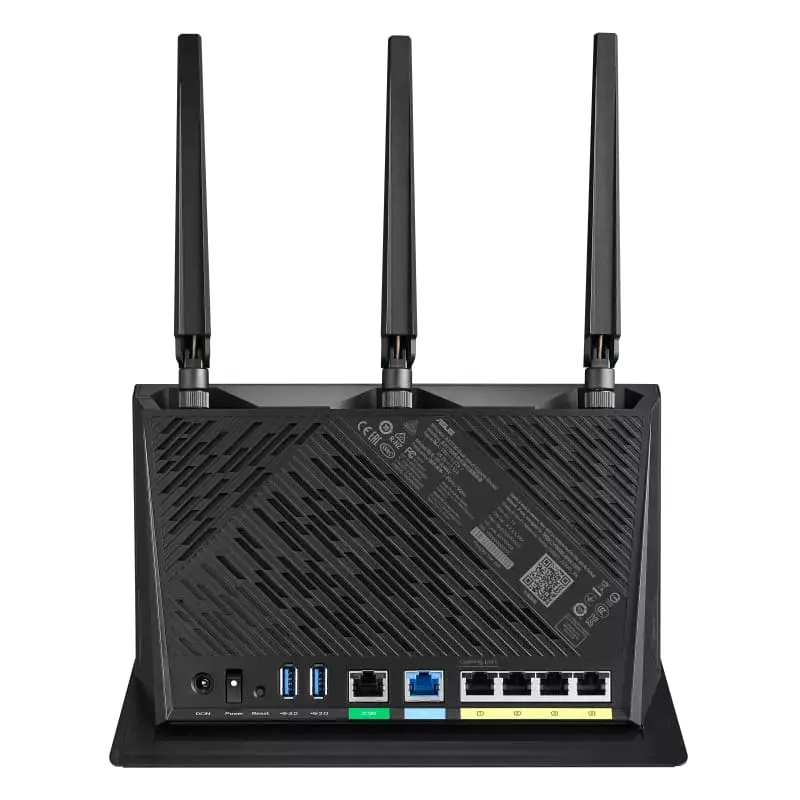 With a width of 242mm and a depth of 100mm. The Asus RT-AX86U seems to be smaller than many gaming routers. However, because of its upright design & three enormous antennas that jut straight out from the top panel. It stands a full 320mm tall, so you'll need a lot of areas to allow those transmitters room to breathe (plus there's a fourth antenna concealed inside the router).
It's a dual-band router that supports Wi-Fi 6 – also known as 802.11ax – on both the 2.4GHz but also 5.0GHz bands, and has a peak speed of 5700Mbps, which should be plenty fast for gaming, video, and music streaming over most residential internet plans. Wi-Fi 6 not only provides extremely fast speeds, but it also incorporates new technologies like OFDMA (orthogonal frequency division multiple access) that increase dependability while delivering data to a large number of devices at once.
To get the full benefit of those advanced features, your computers & mobile devices will need to support Wi-Fi 6, but Wi-Fi 6 routers are always compatible with current devices which use 802.11ac Wi-Fi, so you didn't have to worry about technical glitches when purchasing a new Wi-Fi 6 router like this.
Future-Proof
The Asus RT-AX86U is also future-proof since it comes with two WAN ports for Internet connections: a normal Gigabit Ethernet port and a speedier 2.5 Gigabit Ethernet port (for high-speed links that most UK households can only dream of…). There are also four more Gigabit Ethernet connectors for devices that require a wired connection, as well as two USB 3.2 connections for attaching USB storage devices to your home network.
The Asus RT-AX86U, like many other routers, includes a 'quality of service' (QoS) option in its mobile app that allows you to prioritize performance for certain activities like gaming or streaming video.
The router, on the other hand, designates one of the Ethernet ports as a dedicated 'gaming port,' giving priority to any device with a wired connection to such port.
Asus RT-AX86U: Mobile Gaming Moods
The software also includes a Mobile Gaming mode that allows you to prioritize up to 4 mobile devices for Wi-Fi gaming. If you're bold enough to enter the router's web browser interface. You'll find a unique GeForce Now option built by Asus in collaboration with Nvidia.
This is aimed to boost performance while utilizing streaming games services like Nvidia's GeForce Now game streaming platform, by dedicating up to 90% of the router's available bandwidth to specified devices to deliver the greatest gaming experience possible.
Performance and Setup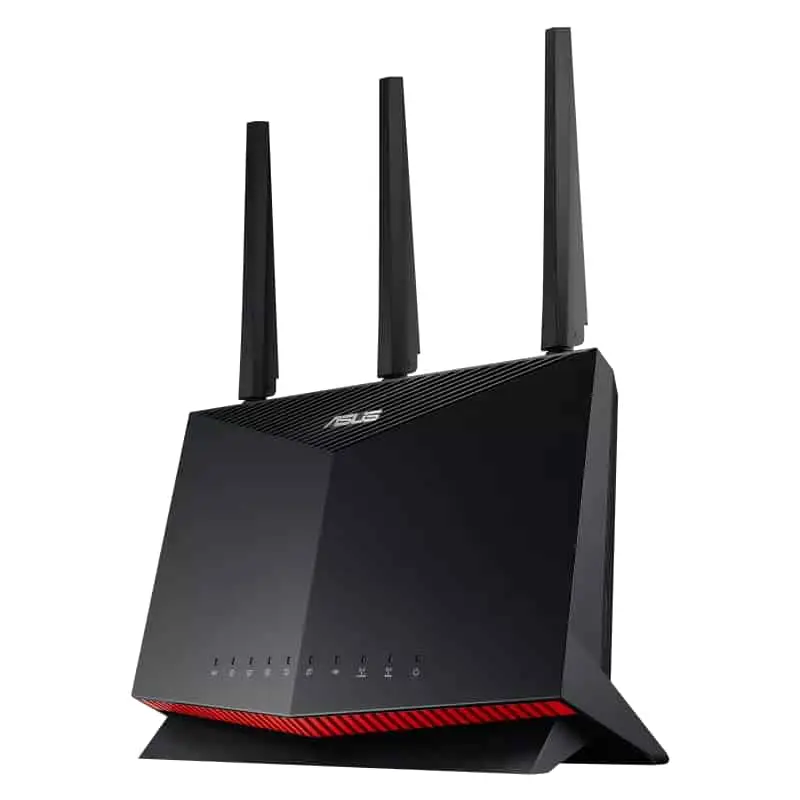 But it's not just about games. The Asus app also provides a straightforward setup procedure that begins with the choice of creating a single network that incorporates the 2.4GHz and 5.0GHz bands or dividing the 2 bands into separate networks using distinct passwords.
Advanced users may fine-tune their network setup using an internet browser UI on a Mac or PC instead of the Asus app for Android or iOS.
Trend Micro offers virus protection as well as a comprehensive set of parental controls, featuring content filters for objectionable content and a scheduling tool for limiting Internet access to specified hours. These security & parental controls are superior to those supplied by some of Asus' router competitors, and you're delighted to note that Asus doesn't try to charge extra for these capabilities.
Whenever it comes to performance, the Asus RT-AX86U does not disappoint. It managed to shove our 50Mbps Connection to the internet to its limits, obtaining 59.3Mbps for gadgets in the same room as the primary broadband router.
You have an office in the rear of the house that has terrible Wi-Fi reception. However, the RT-AX86U handled it admirably, maintaining a steady 58.9Mbps. As a result, the Asus RT-AX86U is an excellent all-around Wi-Fi upgrade. With a strong range and coverage as well as fast speeds for gaming, video, and other bandwidth-intensive online chores.
Asus RT-AX86U: Configuration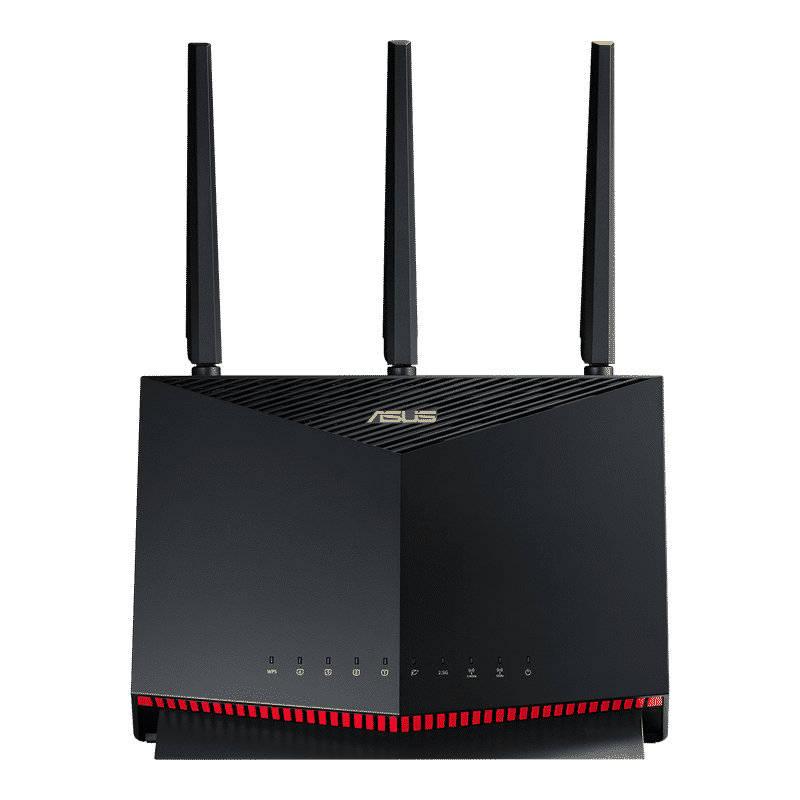 Configuring, optimizing, and tweaking the RT-AX86U may be done using the Asus Router application or the internet interface, exactly as during the setup. The app is more visually appealing. But the browser method opens up a world of possibilities, like using it as a router, access point, or component of a mesh network.
The RT-Network Asus RT-AX86U Map panel uses the web connection. It has a less visually appealing blue and grey color scheme than the Nighthawk XR1000's DumaOS Dashboard. But it is just as functional. It displays if you're connected to the web, the encryption technique used, and the number of customers online. You may also redo the setup procedure or reset the router at any moment.
A large vertical column of Menu choices runs along the left, ranging from utilizing the router through an AIMesh configuration with other Asus hardware to setting up a guest network. There are displays for configuring and monitoring the AI protection of Pro malware shields on the router. That employs Trends Micro security software to protect your network and PCs. The package contains a complete intrusion prevention function. As well as the capability to prohibit botnets & zombies from assaulting your computers. In addition to a quarterly security assessment as well as the option to block harmful Web sites. The best aspect is that, unlike Netgear's Armor, it comes with lifetime upgrades that protect you from new threats.
Router Wireless Customization
The router's wireless customization is extensive and excellent for fine-tuning. Change the encryption method and password, as well as enable 802.11AX mode & 160MHz channel widths, are among the choices available. It is the Professional page, which is genuinely helpful for skilled individuals looking to improve their router. It may change esoteric settings like the RTS threshold, beacon interval, and whether or not TX bursting mode is enabled.
The Gaming Page should assist intrepid players using a Gaming Accelerator which prioritizes data for your PC. It not only includes a mobile gaming mode that can aid with phone or tablet apps. But it can also be set to Open NAT mode. That allows you to circumvent the router's Network Address Translation firewall without putting the rest of your system or network at risk.
The RT-AX86U is a great high-performance router that falls short when it comes to gaming. That's because it lacks the Ping heat map showing worldwide server latency provided by the Nighthawk XR1000. As well as the option to geofence servers that seem to be simply too far away for a decent response.
The great news seems to be that the Asus RT-AX86U is covered by a two-year guarantee that includes servicing and support. That's at minimum two steps ahead of Netgear's 1-year warranty & 90-day support; two years of support & warranty protection costs an additional $80. More to the point, unlike Netgear's offerings, AIProtection Pro security upgrades are free, not $70 for a year.
Asus offers a wealth of DIY help in the form of drivers and downloads. As well as a comprehensive FAQ area. You can talk to a professional about a problem at any time.
Conclusion
The Asus RT-AX86U is a star performer that gets near to the magical 1Gbps mark. It may not check well all boxes for obtaining the best gaming router. But it is a top performer that comes close to a magical 1Gbps mark. The RT-AX86U is an equal parts gaming router and a home router. It not only adds Multi-Gig inputs & port aggregation to a gaming party but also boosts phone and tablet games. This is a significant advantage while it can certainly improve your gaming experience. The Asus RT-AX86U also can secure your family's devices and network with built-in virus and hacker protection. Unlike rivals, the program comes with lifetime upgrades, ensuring that you are always one step ahead of cybercriminals. All of this adds up to the Asus RT-AX86U this one of the best Wi-Fi routers worldwide and the best gaming router.
However, to push the online gaming boundaries, the Asus RT-AX86U lags behind Netgear Nighthawk XR1000. While the RT-AX86U shines at transferring raw data around and includes 2 years of warranty protection, support, and security upgrades (for which Netgear costs $150). It falls short on geofencing as well as latency maps of gaming servers. Nonetheless, the Asus RT-AX86U is a bargain for people who need to save money when working here on a virtual farm or visiting a new Pokemon gym.
Read more: