The Best HomeKit light bulbs are a simple way to make your house smarter. HomeKit bulbs, like HomeKit light switches, can be controlled via the Home app and Siri, without the need for an electrician. You may also combine HomeKit lamps with other accessories to achieve your smart home goals. Because there are so many alternatives, we've compiled a list of the best HomeKit light bulbs to help you choose the right ones for your home.
Nanoleaf Essentials A19 Smart Thread Bluetooth LED Bulbs – White and Colors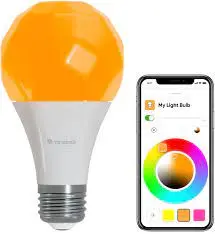 Nanoleaf's Essentials A19 light bulb has it all: millions of colors, 1,100 lumens of peak brightness, and HomeKit Adaptive Lighting, Apple's newest feature. That's not all: this light functions without the use of a Bluetooth or Thread-enabled hub. While Bluetooth is fantastic, if you have a HomePod mini, Thread improves response times and provides rock-solid reliability.
Meross Smart WiFi LED Bulbs Compatible with Apple HomeKit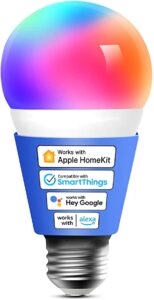 The meross Smart Wi-Fi LED Bulb combines the ease of HomeKit with Siri commands at an affordable price. This bulb has a maximum brightness of 810 lumens and a color range of 16 million. It also uses Wi-Fi, so you don't have to bother about setting up another hub. You can get a two-pack for less than the price of a single bulb from some of its competitors if you want to get the most bang for your buck.
LIFX Color A19 800 lumens Smart LED Light Bulb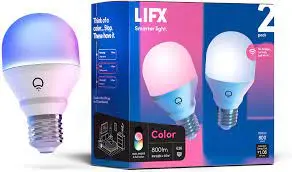 One of the smallest HomeKit-enabled smart lights on the market is the LIFX Color A19. Don't be fooled by its diminutive size: this tiny bulb produces 800 lumens of illumination delight, which is the equivalent of a 60-watt bulb. This bulb can also be programmed to accommodate millions of different color combinations, allowing you to create almost any hue you can imagine. While it isn't as bright as some other bulbs on the market, it doesn't require a bridge to work.
SYLVANIA SMART+ Bluetooth Clear Filament Soft White A19 LED Bulb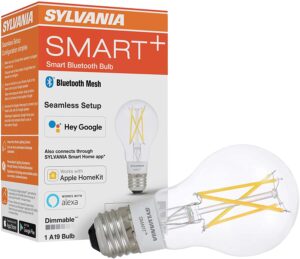 Filament lighting has made a great comeback, and what better way to celebrate than by including some smarts? Sylvania's Soft White Filament Bulb does this by combining Bluetooth wireless technology with the original light bulb's attractive stylings. This bulb, however, is more than simply a decorative piece; it emits 650 lumens of light and has a color temperature range that can be adjusted, making it suitable for use almost everywhere.
LED Smart Light Bulb 60W Equivalent, YEELIGHT A19 LED Wi-Fi Smart Bulb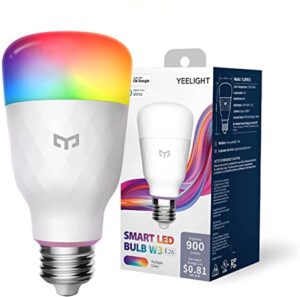 The multicolor LED bulb from Yeelights uses Wi-Fi to connect to your home network with a simple scan of a pairing code. It provides up to 800 lumens of multi-color goodness via the Home app and Siri, but the Yeelight app adds even more fun with a variety of dynamic scene settings that bring your home to life.
Philips Hue White and Color A20 High Lumen Smart Bulb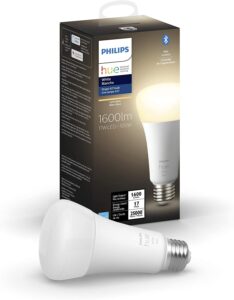 Because of its realistic color reproduction, quick response times, and high reliability, Philips Hue has become synonymous with smart lighting. With a staggering 1,600 lumens of colorful delight, the current model 100-watt A19 Hue bulb is also the brightest HomeKit light bulb on the market. The Hue range is also quite compatible, as it works with Alexa and Google Assistant in addition to HomeKit.
Wyze bulb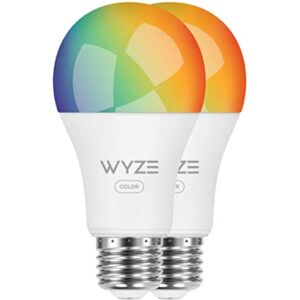 The Wyze Bulb Color connects to your home Wi-Fi and produces 1,100 lumens, the equivalent of a 75-watt bulb. It's one of the brightest bulbs most bulbs emit around 800 lumens. Despite the bright light, it features a low price, an easy-to-use interface, and an excellent color-temperature range, as well as the ability to dim as low as you require. It has dependable timers and scheduling, as well as cool features like the ability to simulate sunrise and sunset light, Vacation Mode, and Power Loss Recovery, which lets you specify what settings your bulb will have after a power outage.
Conclusion
The best HomeKit light bulbs are some of the simplest ways to enhance and expand your smart home, with a simple plug-and-play design. Siri becomes your butler after you've set it up, turning on your lights whenever and wherever you choose. These bulbs also integrate with strong HomeKit automation, allowing them to switch on at sunset. When motion is detected by one of your HomeKit cameras.
Look no farther than the Nanoleaf Essentials A19 Bulb if you're seeking the best smart light bulb on the market. This bulb has a brilliant brightness of 1,100 lumens and can display millions of colors. If you have a HomePod mini, we also like how this lamp uses Thread technology, which provides lightning-fast reaction times and excellent reliability.
Want to add some smart functionality to your filament bulbs without sacrificing their vintage charm? Then Sylvania's Soft White Filament Bulbs are for you. These lovely bulbs have a trendy filament design with Bluetooth capabilities. It allows you to take advantage of all of HomeKit's features. Without the need for a separate hub. Regardless of the bulb you choose, the finest HomeKit light bulbs will provide you with all of the benefits of a HomeKit light switch without the hassle of wiring.
Read more: