The Samsung Galaxy Buds 2 are here with huge improvements from the original ones. It comes with active noise cancellation, better sound quality, and a great fit. If you are not sure if it is worth buying, here is a review of the Samsung Galaxy Buds 2 for you.
Samsung Galaxy Buds 2 Overview
Samsung always comes up with new truly wireless earbuds in rapid succession, and the Samsung Galaxy Buds 2 is the latest. The original Samsung Galaxy Buds were released in 2019. The recent model has numerous upgrades, ranging from sound quality and fit up to active noise cancellation. All of these make them the best choice for the original Galaxy Buds owners searching for a newer pair of fully wireless earbuds. The Buds 2 has two-driver architecture and a well-balanced soundscape. Although, their noise cancellation isn't exceptional, and the frequency range only extends to roughly 80Hz, so you won't be able to hear (or feel) any of the thumping bass.
None of these is deal-breakers, but they do make the Samsung Galaxy Buds 2's audio and ANC performance lesser than other truly wireless earbuds in the market. Samsung is particularly motivated to compete with Apple in other categories, such as personal audio, as the company's main competitor in the smartphone industry.
Pros and cons
Pros
Active noise-cancellation
Balanced sound
Improved call quality
Galaxy Wearable app is useful
Compact design
In-app ear tip fit-test
Sound quality
Bluetooth 5.2 with SBC, AAC, and Samsung Scalable codec
Fast and wireless charging
Cons
ANC could be stronger
No sub-bass response
No always-listening Assistant
Only IPX2 rating
No iOS app support
Not compatible with Samsung 360 Audio
Sensitive touch controls
Price and Availability
The Samsung Galaxy Buds 2 were announced alongside the new Galaxy Z Fold 3 at Samsung's online Unpacked 2021 event. They cost the same as the original Samsung Galaxy Buds when they were released in 2019. They're just as good as the Studio Buds and even better than Apple's most popular earbuds, the AirPods. However, these aren't the only earbuds Samsung has released over the years. Along with their predecessors, Samsung Galaxy Buds, Samsung Galaxy Buds Live, and Samsung Galaxy Buds Plus, it might be confusing when looking for a new pair of truly wireless earbuds.
Design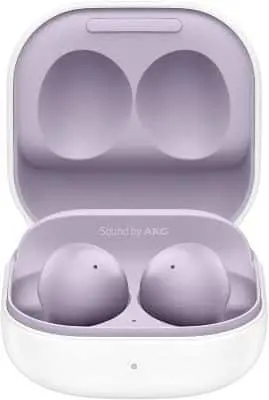 The design of the Galaxy Buds 2 distinguishes it from other Samsung earbuds. The Samsung Galaxy Buds 2 are most like pebbles, they're small, generally round, and extremely smooth. They slide effortlessly into a circular plastic case that also fits into a pocket.
You can choose from different colour options- lavender, olive, white, and graphite. However, while the Buds and the interior of the case will be coloured differently, the outside of the case will remain white. Samsung claims that the Galaxy Buds 2 are 15% smaller and 20% lighter than the Galaxy Buds Plus. Thus, making them more comfortable to wear for extended periods of time. The disadvantage of being smaller is that they're a little more difficult to grasp and can easily fall out of their case and your ears.
Design Features
Fortunately, because the Buds are magnets to hook onto the metal charging pins in the case, this won't happen very often. Although, you should be cautious while pulling them out or putting them back in their case. One of the major setbacks is that they're just IPX2 water-resistant. So they're only suitable for exercises that don't require a lot of perspiration. You may use the Galaxy Buds' built-in touch controls or your smartphone to control them. Moreover, the recent software update has enhanced the buds even more in this area.
Two spare silicone ear tips and a USB-C charging cord for the Buds are included in the box. The silicone tips aren't as comfy as some foam ear tips you've used before, but they do provide a good seal that you can test with the Galaxy Wearable app on Android. Also, they are inexpensive to replace if you lose them. Like the Galaxy Buds Pro, the Galaxy Buds 2 sports a dual-driver architecture with a single mid-range speaker and a separate tweeter for the upper registers. There are microphones inside and outside the earphones. The Buds utilise these to suppress noise and improve call quality.
Features

Holding the touchpad of either earbud for a few seconds activates noise cancellation. You can change that function in the Galaxy Wearable app to anything else. You can even make it an action to summon your virtual assistant, but it is recommended that you maintain at least one of the settings set to noise cancelling. A recent firmware update also introduced the option to use ANC even when only one earphone is plugged in. Unfortunately, Samsung didn't include an always-listening assistant in the Galaxy Buds 2. This could have made them less appealing to people who don't want to have to press a button to activate their voice assistant. When you press the noise cancellation button again, the Buds will convert to ambient mode. It allows you to listen to sounds from outside, this is really useful when you want to conduct a conversation without taking out your Buds.
The software upgrade also included the ability to use ambient mode while on the call, allowing you to hear what's going on around you while on the phone. However, the control settings aren't the only things you can tweak in the Galaxy Wearable app. You'll also be able to adjust the EQ and monitor how much battery life the case and earphones have left. There's also an Earbud Fit Test and a Find My Buds option, albeit the latter requires you to check in with a Samsung account. Although, many of these capabilities are only available on the Android version. As the iOS version of the app hasn't been updated yet, personalization isn't possible. Furthermore, if you're connected to a Samsung device, you'll be able to use both the standard SBC and AAC codecs, as well as Samsung's proprietary Scalable Codec.
User Experience
From the hardware to the software, those who currently possess a pair of Galaxy Buds will feel right at home with the Galaxy Buds 2. Both the earphones and the USB-C casing of the Galaxy Buds 2 have a whimsical, rounded style. It's bad Samsung didn't provide detachable wingtips in this model, as the fit is less secure than the Galaxy Buds Plus. The IPX2 water resistance allows these to be used as workout earbuds. Samsung headsets are known for having a lot of modern technology and sensors. When you remove the buds, a proximity sensor activates automatic play/pause, and it works extremely well. When you re-insert the earbuds, playback does not resume, instead, you must tap either touch panel. The touch controls, like those on prior Samsung earphones, are both intuitive and hypersensitive. When adjusting the earbuds, the Galaxy Buds 2 frequently catches unintentional taps, which causes the music to go into a frenzy of skips and pauses.
The charging case is the same design as the Galaxy Buds Pro and the Galaxy Buds Live. The well-defined lip divides the lid from the base and is easy to open with one hand. Internal magnets hold the lid tight, and they work well. On the case, there are two LEDs, one on the exterior and one on the interior. The outside LED shows how much battery life is left in the case. Whereas, the inside LED shows how much battery life is left in the earphones.
Audio Performance

Samsung and AKG are getting closer and closer to that sonic sweet spot with each version of the Galaxy Buds. The audio has a great sound curve that boosts the bass, mids, and highs while leaving out the sub-bass (below 80hz) and upper registers (11,000Hz and above). This can get a little harsh at higher levels. Most of the time, though, you'll hear surprisingly clear audio with a significant bass boost when listening to EDM and rap, and a crisp mid-range when listening to rock and R&B. With the Galaxy Buds 2, you get a pleasant frequency response that accurately reproduces a wide range of music genres. Unless it's a particularly busy song with bassy instruments, you'll hear the slightly increased sub-bass notes. The improved sense of clarity from strings and small woodwind instruments, as well as better speech intelligibility, will appeal to the majority of listeners.
Noise Cancellation
Regardless of those tiny quibbles, these are fantastic-sounding earphones. The active noise cancellation of the Samsung Galaxy Buds 2 still has a lot of space for development. You won't be able to hear someone talking to you in the same room if you have music playing with ANC turned on. However, you will hear any loud noise coming from outside your home. They're adequate for ordinary office work, but not for long journeys or very hectic job locations. While ANC still has room for improvement, Samsung has had some success with its earbuds in terms of call quality. Low-frequency sounds are quieted by Samsung's ANC, which makes them one-quarter as loud as they would be without the earphones. When you toggle noise cancellation on and off, you'll notice a change. However, this is entirely dependent on your ability to acquire a decent fit with the provided silicone ear tips.
Although most listeners will find one of the three ear tip options to be pleasant, not everyone will. This is another situation when having wingtips that keep the earbuds steady would be beneficial. To block out the largest amount of noise and let the ANC shine, a good physical seal between the ear tips and your ear canal is essential.
How do you control the Samsung Galaxy Buds 2?
Controlling the Samsung Galaxy Buds 2 isn't difficult. If you launch the Galaxy Wearable app and go to the Touch controls menu, you can adjust the function of the touch controls. To a certain extent, you can change the voice assistant, ANC, and music playback controls. With a single tap on either of the bud, you can play/pause the music. Whereas, with a double-tap, you can either play the next track or answer/end a call. If you tap and hold, you can play the previous song. You can even customize it for any other action.
Phone Calls
You can definitely use the Galaxy Buds 2 to make phone conversations, but don't expect it to be as good as an external boom mic. Samsung's triple-microphone technology appears to be remarkable. During phone calls, the Galaxy Buds 2 employs machine learning to remove background noise, and the sound is considerably cleaner than a conventional smartphone. They work substantially better than other earbuds available on the market and should be ideal workplace companions if you make a lot of phone calls. The Galaxy Buds 2 outperforms the Galaxy Buds Pro in terms of noise cancellation and passive isolation.
Galaxy Wearable app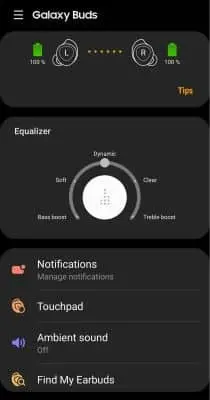 If you have an Android phone, you can download the Samsung Galaxy Wearable app. However, if you have an iPhone, you can try, but Galaxy Buds 2 compatibility is not available on iOS. Those with access to the Buds 2's software features will be able to choose between ANC and Ambient Sound mode. Ambient Sound Mode sends background sounds through the earphones to keep you aware of your surroundings. Samsung has released a pleasant environmental passthrough that isn't overly robotic. However, if you feel this function to be too synthetic, you can reduce the app's intensity. Samsung's app features an ear tip fit test to ensure you've chosen the right ear tips. This not only ensures a snug fit but also improves sound quality by blocking out as much background noise as possible.
EQ Settings
Other features include an array of EQ settings (normal, bass boost, soft, dynamic, clear, treble boost) that satisfy the majority of listeners' needs. Although Samsung does not completely relinquish control, so no custom EQ is possible. Some users will be relieved to learn that they can activate Bixby using only their voice. However, others can use a custom control to reach a different assistant, such as Google or Siri. In the app, you can also enable seamless earbud connection (quick switching), which works on all OS systems. Without having to disconnect from your current phone, you can rapidly switch between an iPhone and a Samsung phone. You can do this by selecting "Galaxy Buds 2" from the list of Bluetooth peripherals.
The "game mode" found on the Galaxy Labs menu decreases audio-visual latency. Moreover, gaming mode isn't just for mobile gamers, it's also useful for anyone who watches a lot of movies on their mobiles. Samsung offers software upgrades for its headsets on a regular basis, extending the life of your purchase. The Galaxy Buds 2 firmware version R177XXU0AVC8, adds 360 Audio to the headset's capabilities.
Bluetooth codecs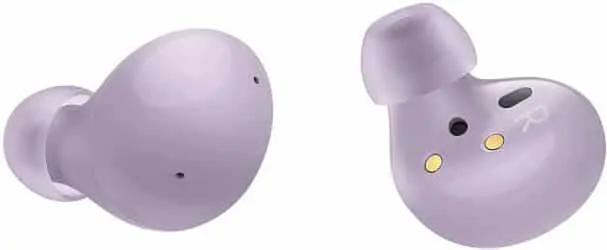 The Galaxy Buds 2 supports SBC, AAC, and the Samsung Scalable Codec, just like the rest of Samsung's headphones. The proprietary codec, like aptX Adaptive, consistently balances connection and sound quality while dynamically altering the bit rate from 88 to 512kbps. AAC is variable across Android hardware. This makes the Galaxy Buds 2 a fantastic choice for Samsung smartphone owners. However, iPhone users will get the full benefits of AAC support. The earbuds feature Bluetooth 5.2. It allows for LE Audio and the LC3 codec to be supported. The connection is stable whether you're inside or outside, and whether you're using an iPhone or a Samsung smartphone.
Battery Life
The Samsung Galaxy Buds 2 should last roughly five hours if you use them nonstop with active noise cancellation switched on. It would last a little longer if you turn ANC off. There are at least three more charges inside the case, for a total of 20 hours with ANC on or 29 hours without it. The battery life completely depends on how you use the earphones. The addition of a proximity sensor on the inside of the buds helps to optimise battery life. It automatically pauses the audio when it detects that the earbuds are outside your ear canal. You'll save some battery life by pausing music automatically like this. Moreover, you won't have to charge them as regularly. Support for wireless charging with a compatible Qi charger is also new for this version. That's a wonderful feature if you have a phone that supports wireless charging and already has a charging pad. Although, it's not a deal-breaker if you need to utilise the case's conventional USB-C port.
The only thing lacking is rapid charging, but you'll still be able to charge at a reasonable rate. After 10 minutes on the charger, you can get a 12 per cent charge in the case. This equates to nearly an hour of listening. That may not be as fast as other rapid-charging earbuds, which may reach a charge of 25% or 50% in 15 minutes, but it's not bad. You have several options for charging the boxy case, the most flashy of which is Wireless Powershare. You can enable PowerShare on your Samsung device and set the case on top of it.
Pros and cons
Pros
Active noise-cancellation
Balanced sound
Improved call quality
The Galaxy Wearable app is useful
Compact design
In-app ear tip fit-test
Sound quality
Bluetooth 5.2 with SBC, AAC, and Samsung Scalable codec
Fast and wireless charging
Cons
ANC could be stronger
No sub-bass response
No always-listening Assistant
Only IPX2 rating
No iOS app support
Not compatible with Samsung 360 Audio
Sensitive touch controls
What you would like?
If you already own a Galaxy smartphone– The Galaxy Buds 2 are a great addition to your collection. They work well with Samsung Galaxy phones and other Android devices. They have a quick connection and the Galaxy Wearable app. You'll need to modify the earbuds' EQ and control scheme. Samsung devices can also utilise Buds' proprietary Scalable Audio Codec for improved sound quality.
If you're still using the first-generation Galaxy Buds– The Galaxy Buds 2 is a worthy upgrade due to the numerous upgrades in the audio quality and feature set.
Can be worn at work– The Samsung Galaxy Buds 2 work well as a pair of office headphones. They have enough noise cancellation that you won't be able to hear what's going on around you. Moreover, their battery life should last two or three days in the office before needing to be recharged.
What you might not like?
If you're a frequent traveller or commuter who requires industry-leading noise cancellation, you might want to check some other earbuds.
If you're looking for a hands-free assistant– You'll have to seek elsewhere if you're searching for an always-listening assistant who isn't Bixby. Android users can get Google Assistant compatibility with the Google Pixel Buds, while iOS users can have the same experience with AirPods or AirPods Pro.
If you already have the Galaxy Buds Live or Buds Plus– The last reason you might not want to upgrade is if you already have the Galaxy Buds Live or Buds Plus. Each offers either noise cancellation or noise reduction, and both have many of the same features available on the Galaxy Buds 2.
Conclusion
If you are looking for reasonably priced truly wireless earbuds with solid sound quality and fast charging, Samsung Galaxy Buds 2 is for you. Although a greater rating than IPX2 would be nice, this is a minor drawback that wouldn't affect many people. The design is smaller than the original and looks like small pebbles. It comes in four different colour options, lavender, olive, white, and graphite for you to choose from. The touch panel sensors are amazing, sometimes a tad bit extra sensitive. Ultimately, the Samsung Galaxy Buds 2 has quite a lot of improvements over its predecessor. Moreover, it performs admirably and offers excellent noise cancellation for the price.
Are you planning to buy the Samsung Galaxy Buds 2? Tell us in the comments section below.
Read More!