While looking for the best earbuds, you might have come across Samsung Galaxy Buds Pro. If you are planning to buy them, you would want to know everything about them. Here is a review of the Samsung Galaxy Buds Pro.
Samsung Galaxy Buds Pro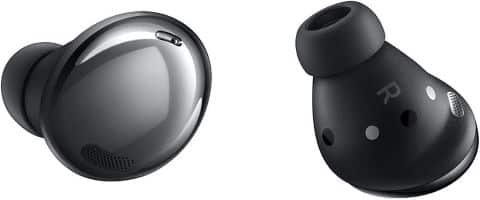 The Samsung Galaxy Buds Pro is equipped with Active noise cancellation and also offers spatial audio capabilities. This allows TV shows and movies to seem even more immersive. They have a battery life of five hours before they need to be recharged. For consumers who own a Samsung phone or tablet, however, the Samsung Galaxy Buds Pro provides more and goes beyond these crucial functions. However, the Galaxy Buds Pro is no longer Samsung's latest, the Samsung Galaxy Buds 2 provides a number of enhancements over the Buds Pro.
Samsung's patented Scalable Audio is also used in the Galaxy Buds Pro. This includes SmartThings Finder, UHQ audio streaming over Bluetooth at up to 24-bit / 96kHz, and multi-mic recording, which allows you to utilize the Buds as a lapel mic stand-in when shooting movies on your Samsung phone. Fortunately, the Galaxy Buds Pro ups the ante with improved noise cancellation and sound, as well as several additional functions and a more traditional style. However, some flaws prohibit it from being an excellent multi-platform solution, such as Galaxy-exclusive features and limited battery life with ANC enabled.
Pros
IPX7 waterproof
Noise cancellation
Simple touch controls
Exceptional audio performance
Lots of personalized features via companion app
Relatively affordable
Cons
Flat, cramped sound
No Google Assistant / Siri support
Bulge out of the ear
Some features are exclusive to Galaxy devices
Less battery life
Price and availability
On January 14, 2021, the Samsung Galaxy Buds Pro went on sale alongside the Samsung Galaxy S21 smartphone on Samsung's website. It became generally accessible on the next day. The Galaxy Buds Pro costs about $199. That's a lot of money, but it's understandable given that they're more expensive than their predecessors. They're well worth the increase, given how much better they are. Of course, Samsung is putting us in an awkward situation by releasing two true wireless earbuds so close together. It's unclear why Samsung is in such a hurry to get these out in the market. Still, these earbuds are worth the purchase.
Design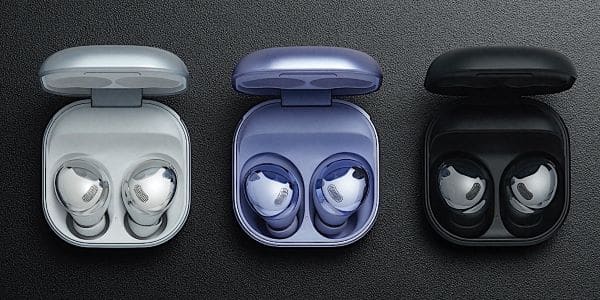 The Samsung Galaxy Buds Pro is available in three colors to match the new Samsung Galaxy S21. This includes Phantom Black, Phantom Silver, and Phantom Violet. Moreover, the color of the Buds matches the color of the charging case that comes with them. The case is in the shape of a little treasure box, with a concave lid that unhinges in the middle and flips open. The small size makes it convenient for carrying in your pocket. It features a status LED on both the inside and outside of the case that changes colors depending on how much battery is left in the case. The Samsung Galaxy Buds Pro have returned to their original shape as sound funnels with ear tips. They require all the space for their array of sensors, pogo pins, and microphones. The Buds have a touch-capacitive glossy, shiny plastic coating on the outside.
Wearability and Comfort
Moreover, there are two additional microphones with wind protection to suppress ambient noise when going outside. All of this houses the 11mm woofer and 6.5mm tweeter. Despite their somewhat futuristic appearance, the earbuds look large and unpleasant because they protrude from your ear. Moreover, as they don't have a way to 'lock' them into your ear, they will shift over time, requiring you to reposition them. Otherwise, the seal will weaken and noise cancellation will gradually reduce as you wear them. Two additional sets of ear tips are included in the box to aid you to create a better seal. You'll also discover a USB-C charging cable without ahead, which is part of Samsung's effort to decrease waste. Although this is a great effort, it could be a stumbling block for someone buying their first pair of earbuds.
The default controls include a single touch to play/pause your music, a double touch to play the next song, or answer/end a call. Other controls include a triple touch to play the previous track, and touch and hold to activate your preset feature, which by default switches between ambient and noise cancellation modes. You may personalize that last command, but you'll need the Samsung Wearable app to do so. Overall, they're surprisingly pleasant to wear for long amounts of time and don't suffer from pressure build-up. This is due to the external vent. While the bright gloss finishes attract fingerprints, they generate a lovely shine that gives the product a premium appearance.
The Galaxy Buds Pro is made of durable plastic that complies with IPX7 water resistance standards. There are minor design tweaks, such as the outside mics on the top and bottom of each bud, as well as the top-mounted air vent on the top inner part of the buds.
Features
The Samsung Galaxy Buds Pro's Active Noise cancellation and IPX7 waterproofing make them the highest grade for Samsung earbuds to date. The Samsung Galaxy Buds Pro is protected against freshwater immersion for 30 minutes at a depth of up to one meter. So you don't have to worry if they fall into the bathtub for a minute or if you wish to clean them under running water. It's a significant step forward for Samsung, and it competes with the best earbuds on the market. The three built-in microphones help the Galaxy Buds Pro shut out noise better than the Galaxy Buds Live. You won't be able to hear adjacent conversations in another room, but anything louder than someone speaking will be audible through the ANC.
Audio amplification, commonly known as audio passthrough, is the polar opposite of active noise cancellation. You can access it by pushing and holding the touch-capacitive panel. The earbuds can take external audio and pump it into your ears, boosting it by up to 20db. Thus, making them ideal for wearing in airports or at the deli counter. There are a few Samsung-specific features on the Samsung Galaxy Buds Pro. There is a hands-free Bixby mode, as well as a SmartThings Find, powered Find My Earbuds feature. SmartThings Find is a part of the SmartThings app that can display you a map of where your devices are, even if they're not connected to Bluetooth or are offline. That should provide you peace of mind in the event that they are stolen, or at the very least, assist you in locating them if you forget where you left them.
The Auto Switch feature allows you to smoothly switch devices with the Buds Pro if you have numerous Galaxy products. The earbuds can be utilized automatically for a phone call and then reconnect to the tablet after the call is finished.
Touch controls and Digital assistant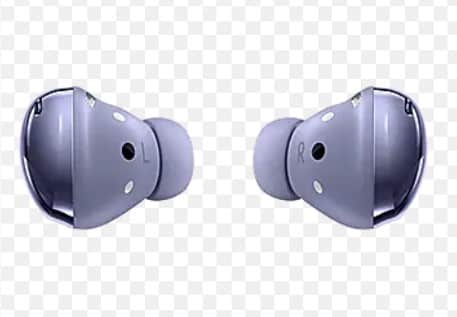 The Galaxy Buds Pro comes with a number of smart controls, including tap and holds gestures as well as on-ear recognition. The controls are responsive in general, and Samsung has improved them further with post-release firmware patches. You can now increase the level by double-tapping the earbuds' edges. However, previously, volume controls had to be bound to the tap-and-hold gesture. This meant that if you needed quick volume adjustment, you had to sacrifice other inputs such as switching between sound modes. Moreover, the accompanying app allows you to lock the touch panels so you don't accidentally end a call or turn on the wrong feature.
When one bud is removed, the music on the adjacent bud is immediately paused and Ambient Sound mode is enabled. Re-inserting them into your ears will not resume playback. Voice Detect is another creative control option. This feature reduces the volume of what you're listening to while increasing audio passthrough volume. Thus, allowing you to interact with others without taking off the buds. It works fine for the most part, although there is some lag while properly registering the user's vocals and enabling the mode. Bixby provides hands-free digital assistance. Moreover, the buds also function with Google Assistant and Siri. Samsung's three-mic array has excellent speech recognition, making it simple to activate Bixby with its activation phrase and voice commands, with all three AI bots responding rapidly to questions.
Audio performance
The Samsung Galaxy Buds were not created solely by Samsung. Audio producer AKG, a subsidiary of Harman (which is, in turn, a subsidiary of Samsung), also assisted in fine-tuning the headphones' EQ. The Buds Pro offers a balanced sound quality that isn't very sibilant in the trebles or overly bloated in the bass. But they lack clarity in the mids and highs and have a narrower, isolated soundstage. The flat sound is very focused and not nearly as rich as you would like. You will be able to hear both the smooth bass lines and the hi-hats, but the sounds will only have left-right directionality. If you prefer to fiddle with the EQ of your Buds, the Samsung Wearable app allows you to do so.
Samsung's 360 Audio support allows you to listen to any track in virtual surround sound. However, if you don't have a Samsung Galaxy handset, the sound will be sent via SBC or AAC, which are both lossy codecs. That means there's a significant difference between using them with Samsung's Scalable Codec devices and using them with a device that utilizes SBC. While this is another benefit of the headphones for Samsung smartphone customers, it puts the earbuds in a difficult position on other platforms. More HD support would be available if Samsung had also licensed Qualcomm's aptX HD or used the newer Bluetooth LE codec. Deep bass and clean mids are pumped out by Samsung's big two-way speakers. Despite the fact that the audio on Galaxy smartphones is scaled up, you can still enjoy exciting music on non-Samsung handsets thanks to the brand's unique Scalable Codec.
Active noise cancellation
Although the ANC on these buds is far superior to that on its predecessor, it does really remove all the background noise as Samsung claims. There are two ANC levels on the Galaxy Buds Pro: Low and High. Each is designed for a distinct environment. The Low level is designed for tiny spaces like an office. Whereas the High level can tolerate louder ambient traffic. This prevents you to get distracted from whatever music is playing in the background.
Battery life and charging case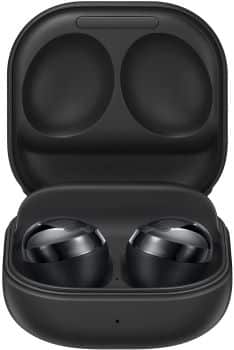 The battery life of the Samsung Galaxy Buds Pro is adequate for active noise-canceling earphones. However, it falls short of the Samsung Galaxy Buds Plus, which provides 11 hours of listening time on a single charge. ANC and Bixby, both consume a lot of power. Samsung claims that one charging cycle would provide five hours of listening, with the charging case providing an additional 13 hours if ANC is enabled. If you turn it off, the buds will last seven to eight hours. Moreover, the case's battery can last up to 20 hours. In our testing, Galaxy Buds Pro lasted roughly three days of continuous use (more than five hours of listening per day). If you run out of power, it enables quick charging, and after just five minutes on the charger, you should have enough battery for an hour of listening.
By turning off ANC and Bixby, you can get up to 8 hours of battery life. In a similar manner, the charging case can last up to 28 hours. The USB-C connector allows for fast charging. The Galaxy Buds Pro supports wireless charging, so you can charge them without being attached to any cables. You can place the charging case on any Qi-enabled wireless charging pad. You also have PowerShare at your disposal.
App and special features
The Galaxy Wearable app gives a number of options for customizing the buds. Depending on your device, you may configure the controls, tweak the sound, cycle through the different levels of each listening mode, and access a variety of other features. The EQ has six presets that are designed to complement different music genres. Normal is the default and if you want extra low-end punch, Bass Boost is the way to go. Soft, Dynamic, Treble Boost and Clear are the other options. The latter is best for podcasts and other dialogue-heavy content. Find My Earphones option and SmartThings Find, are two ways to locate misplaced earbuds.
When gaming on Galaxy devices, Gaming Mode in the Labs setting reduces audio lag. Auto Switch allows you to switch between Galaxy devices immediately. PowerShare allows you to charge the buds wirelessly by placing the charging case on the back of a compatible Galaxy smartphone.
The Galaxy Buds Pro, like other Samsung earbuds, does not work with the Galaxy Buds app for iPhone. To put it another way, iOS users can still use the earphones, but they won't be able to adjust or update their settings. The current software update includes two performance improvements for listeners with hearing problems. This includes better Bixby voice wake-up response and left/right sound balance adjustment.
Call quality and connectivity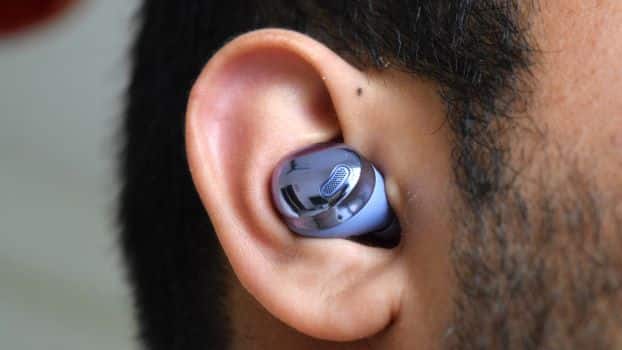 With the Galaxy Buds Pro, not much has changed from its predecessors. Although, Skype connections are excellent, with voices clear and loud on both ends. However, phone calls need some improvements. The superior connectivity provided by these buds compensates for the poor call quality. Pairing to devices is easy and super quick, with devices promptly recognising the earphones and maintaining a stable wireless range of 35 feet. Auto Switch is simple to use, and business users with at least two Galaxy devices will appreciate it when switching between models. Although, it is not compatible with every Android and iOS smartphone. Another setback is the lack of multipoint technology, as you can only pair to one audio source at a time.
What you would like?
Samsung Galaxy series– If you love your Samsung Galaxy phone, the Samsung Galaxy Buds Pro should be just up your alley.
Waterproof– If you've ever ruined a set of earphones due to their lack of water resistance, the IPX7-rated Galaxy Buds Pro are for you. They can withstand rain and sweat and are a great companion for outdoor adventurers.
Easy to locate– If you've ever misplaced your headphones, the SmartThings Find feature is incredibly useful. It displays the location of both left and right earbuds, regardless of whether they are on or off.
What you might not like?
Not so great Noice cancellation– The Samsung Galaxy Buds Pro aren't particularly good in noise cancellation. They do a good job at noise suppression, but they're never completely silent.
No captivating sound quality– AKG has done a great jobb in fine tuning these headphones, they're well-balanced and quite pleasant to listen to. The sound quality, though, isn't really captivating. The soundstage is very small and lacks details.
Using Google Assistant or Siri– Currently, Bixby is the sole smart assistant supported by the earbuds. So, you won't be able to use a hands-free device to control Google or Apple products.
Conclusion
Galaxy Buds Pro is a significant improvement over the Galaxy Buds Live. It is one of the best truly wireless earphones for Android users, and particularly for Samsung Galaxy smartphones. The major assets are its audio and wireless capabilities. They give the listeners an exciting sound that complements most music genres and over a solid connection. The Galaxy Wearable app adds to the capabilities, but iOS users are left out of this area. The Galaxy Buds Pro is the ideal companion for Samsung's latest flagship smartphones. Although, features like 360 Audio are only available on Galaxy devices. The battery life isn't that great, still, when you consider performance and pricing, these are a great buy for any Android user.
Which are your favorite wireless earphones? Tell us in the comments section below.
Read More!