Apple's wireless headphones, AirPods Max is a new product in the Apple series. With Active Noise Cancellation, Transparency Mode, Adaptive EQ, and spatial audio, you might think if it is worth the investment. Here is everything you need to know before you decide to buy AirPods Max.
Features at a glance
High-fidelity audio
Active Noise Cancellation
Transparency Mode
Spatial Audio with dynamic head tracking
Cushion over- ear headphones
Canopy spanning the headband
Stainless steel frame
Telescoping arms
Digital Crown to control volume, skip between tracks, answer phone calls, and activate Siri.
Five colors : Space Grey, Silver, Pink, Green , Sky Blue
Total of six outward-facing microphones to detect noise
Apple-designed dynamic driver
Distortion less playback
Apple‑designed H1 chip in each cup
Adaptive EQ
On-head detection
Announce Notifications with Siri
Always-on Siri
Smart case with staying power.
20 hours of listening time.
Lightning to USB-C Cable
AirPods Max Overview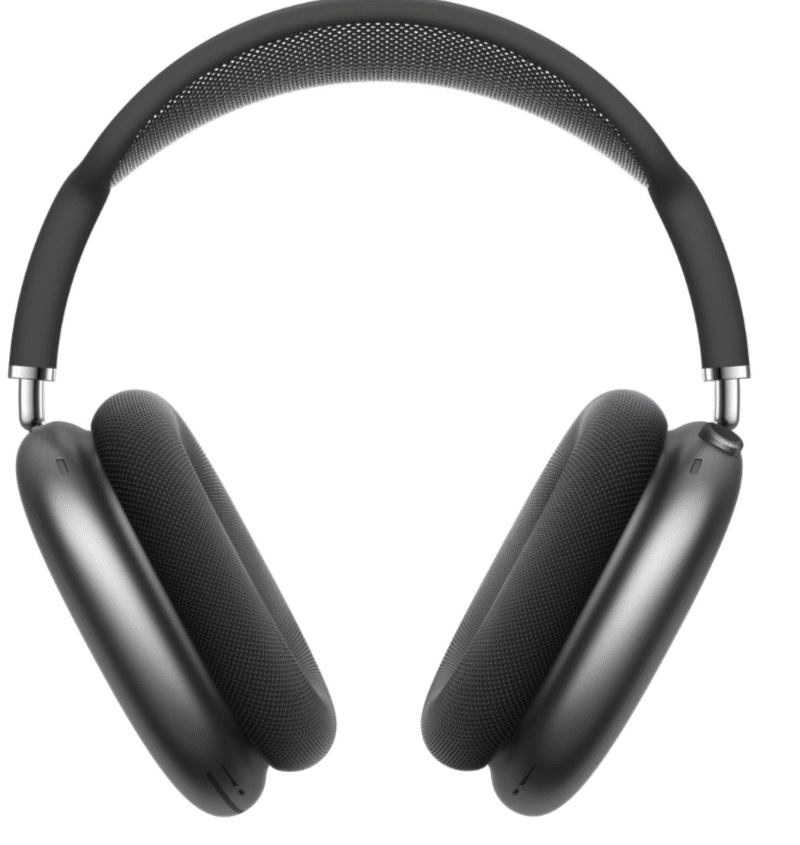 With only one predecessor, AirPods Max is second in the line with no update about any other future releases. Now can be the best time to buy the AirPods Max without any direct competitors. With oval-shaped ear cups inverted knit mesh headband and knit mesh ear cushions, the headband allows it to evenly distribute weight and reduce on-head pressure.
Pros
Good design and solid build quality
Active noise cancelling and transparency mode
Comfortable ear pads and fabric headband
Battery life
Button and digital crown
Good sound quality with no distortion
Great connection strength with Bluetooth 5.0
Cons
No 3.5mm headphone jack
Proximity sensors and voice assistant activation not for Android or Windows
No aptX or LDAC high-quality codec support
Spatial Audio not supported with Apple TV
Design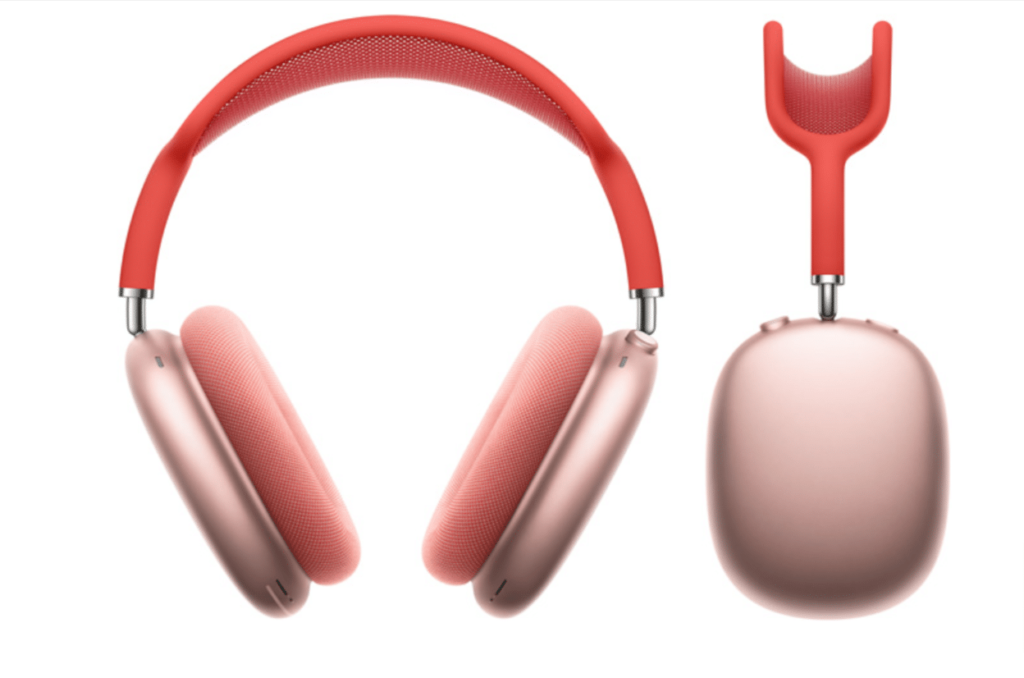 The wireless headphones have oval-shaped brushed aluminium ear cups attached to a retro-style U-shaped curved canopy. The mesh ear cups are made from an acoustic fabric. Also, the headband has a breathable knit mesh material between a stainless steel frame. This distributes the weight of the headphones across the head. Also, there is a soft-touch material that covers the frame. You can remove the headband simply with a standard SIM card ejector tool. Thus allowing you to interchange headbands possibly in the future, and allowing easy headband repairs. With the small Lightning-like connector you can connect each ear cup together.
According to Apple, the design creates an "optimal acoustic seal" for most head shapes. You can rotate each ear cup independently on the frame. You can choose from five colour options- silver, space grey, sky blue, pink, and green. The colours are the same as the 2020 iPad Air. Also, the ear cushions are interchangeable and you can even find standalone ear cushions for $69 per pair. So you can mix and create different colour combinations. As compared to other noise cancelling headphone sets this set is somewhat heavier, weighing 13.6 ounces or 384.8 grams. Although, the headphone set is not waterproof or water-resistant.
Sound quality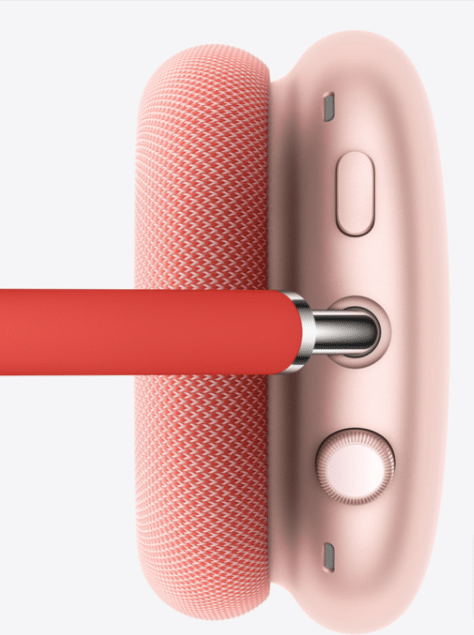 With the AirPods Max, you get high-clarity audio with Active Noise Cancellation giving you a wonderful listening experience. The customized driver present in the headphone produces ultra-low distortion sound covering the audible span. Moreover, you get rich bass, accurate mids, and crisp, clean highs, even at the highest volumes. The driver has a dual-neodymium ring magnet motor. This minimizes total harmonic distortion giving you the clearest possible sound. The active noise cancelling prevents outside noise from reaching your ear. So whenever you want to concentrate, it will completely block out almost every other sound. Although, you can't turn ANC off unless you have an iOS device. The button on the headphones switches between transparency mode and active noise cancelling mode. If you have an iOS device, this can be customized.
Spatial Audio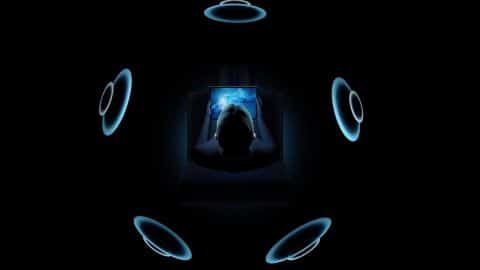 Recently Apple added a new feature, Spatial Audio with Dolby Atmos feature to Apple Music. This allows AirPods Max users to listen to specially designed Spatial Audio tracks. It is designed to give you an immersive, multi-dimensional audio experience. Also, it makes you feel like the notes are coming from all around you. This feature puts directional audio filters and cautiously adjusts the frequencies that each ear receives. It uses sensors present in the headphones as well as in the iOS device and tracks the movement of your head and the device's position. After collating your motion data and it redraws the sound field and keeps it connected to the device even with your head's movement.
When you use Apple Music it automatically plays Dolby Atmos tracks on all AirPods and Beats headphones and even in the newest iPhones, iPads, and Macs, plus the HomePod. It even works with the Apple TV app and third-party apps, giving you an experience like a movie theatre.
Battery life
The battery for AirPods Max lasts up to 20 hours of listening to music, watching movies, or talking on the phone with both Active Noise Cancellation and spatial audio enabled. You can charge it with a Lightning cable, and a five-minute charge gives you 1.5 hours of listening time. To charge to full it takes about two hours, also without any power button, it relies on different power modes to save battery life. The AirPods go into low power mode after five minutes of are removing but not being placed into a Smart Case. If you don't use your headphones, the battery lasts 72 hours and after that, it enters into ultra low power mode. The ultra low power mode disables Bluetooth and Find My location features to retain a charge.
When you put the headphones into the Smart Case, they go into low power mode to save battery. If they remain in the case for more than 18 hours in the Smart Case, they go into the ultra low power mode. Also, you can't replace the batteries in the AirPods Max easily.
LED Light
The LED light on the bottom of the right ear cup can be used to determine the charge level. The light is green when the charge is above 95 per cent and turns to amber when below 95 per cent charge. If you press the button on the AirPods Max when the headphones are not charging and it shows a green light, then there's more than 15 per cent battery life remaining. Whereas, if it shows an amber light, then there's less than a 15 per cent charge.
Digital Crown and Button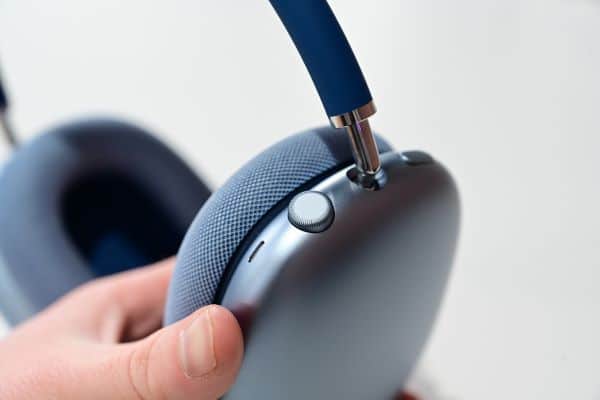 Same as the Apple Watch, the Digital Crown in AirPods Max is for control purposes. You can use it to adjust the volume, skip tracks, answer phone calls, and activate Siri by rotating and pressing gestures. You can control ANC and switch between ANC and Transparency Mode with the button next to the Digital Crown. If you turn the Digital Crown you can control volume, by pressing it once you can answer a call or play/pause a song. Moreover, if you press it twice, it skips forward one track, and if pressed thrice, it skips back one track. Also, to activate Siri, press and hold the Digital Crown.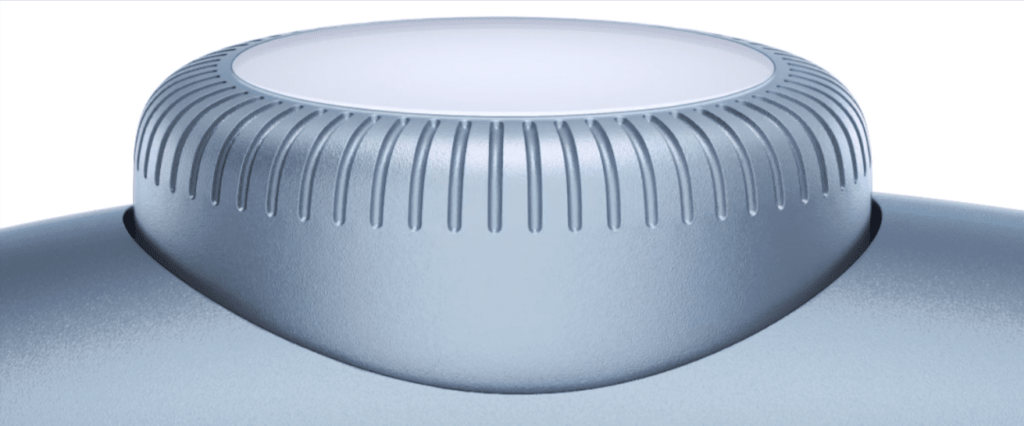 Features
H1 Chip Features
You get two H1 chips in the AirPods Max, with one chip on each ear cup, and the 10 audio cores for computational audio capabilities. The computational audio aids features like Active Noise Cancellation, Transparency mode, hands-free Hey Siri functionality, also quick paring and device switching, and more.
Active Noise Cancellation
For the ANC feature, the system has six outward-facing microphones that detect noise in the environment. Also, there are two inward-facing microphones that measure what the user hears. The microphones allow the headphones to determine and mitigate the outside noise level while fine-tuning the audio that you are listening to. Also, one additional microphone makes sure Siri can be activated for voice commands even with music playing by keeping the voice calls clear even when it's windy.
Transparency Mode
If you are worried that ANC would not let you hear what's important, then you can use the Transparency Mode. This feature turns down the ANC so that you can listen for traffic, flight announcements, and more. With this, you don't have to turn off the audio to listen to something important. You can start the Transparency mode by pressing the noise control button that you will find at the top of the headphones.
Adaptive EQ
With Adaptive EQ you get better sound quality. It tunes the music to the individual fit and seal of the headphones on the head. The inward-facing microphones calculate what you hear and then regulate the frequencies of the music.
Always- On Siri
The AirPods Max support the always-on "Hey Siri" feature. So you can ask Siri to change the music or ask a question. You can activate Siri with the "Hey Siri" wake phrase.
Pairing, Switching, and Sharing
AirPods Max connects automatically to other Apple devices with a one-tap setup. You even get quick device swapping capabilities that help you to quickly and easily switch use AirPods Max on any device they're signed into. With Automatic Device Switching, you can automatically switch between iPhone, iPad, Mac, and Apple Watch with no need to access Bluetooth controls to swap devices. You can share the audio on iPhone, iPad, and Apple TV with two sets of AirPods Max.
Sensors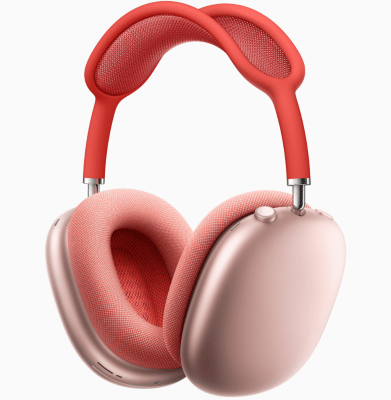 The sensors present in the AirPods Max detects when the headphones are on the head. Thus the audio pauses when you remove the headphones and resumes when placed on the head again. You can even lift one ear cup to pause the music. On each cup, you will find an optical sensor, position sensor, case detection sensor, and accelerometer. Also, you will find a gyroscope in the left ear cup. Although, there is no U1 Ultra Wideband chip in the AirPods Max. With the U1 chip, you get better spatial awareness than Bluetooth.
Smart Case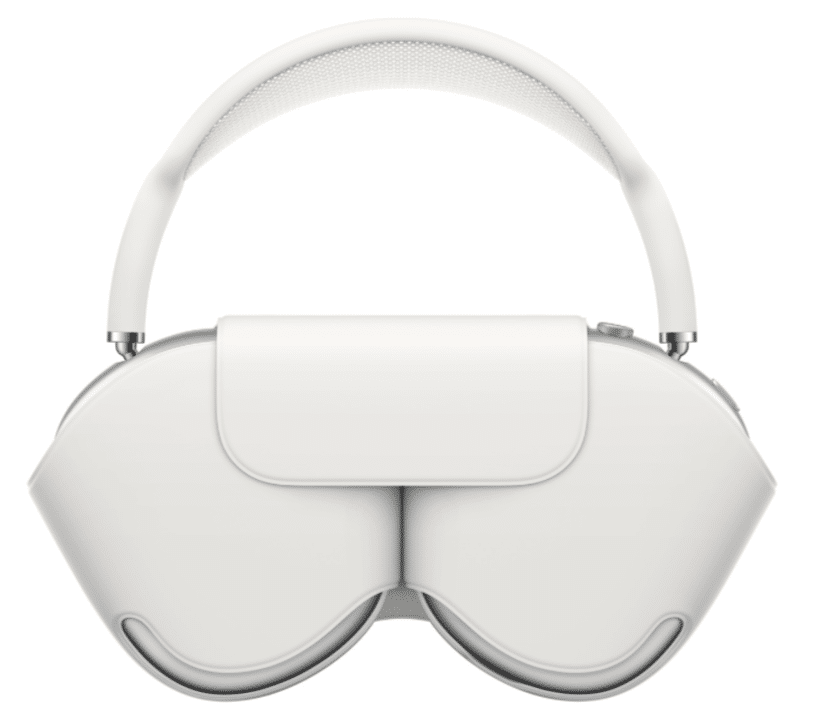 You get a soft Smart Case with your AirPods Max that wraps around the ear cups. Although, it does not provide any protection for the headband. The case basically puts the headphones into an ultra low power mode to preserve battery life. If you want some actual protection for your headphones you can get a case from third-party manufacturers. The Smart Case is like a skin that protects the metal from minor scratches. Although, the metal headband won't bend or break in most situations, the soft fabric might get damaged.
Software and device requirements
If you want to enjoy all the features of AirPods Max, you will require macOS Big Sur 11.1 or later, iOS 14.3 or later, iPadOS 14.3 or later, watchOS 7.2 or later, or tvOS 14.3 or later. Moreover, it is compatible with the iPhone 6s and iPhone SE and later, the iPad mini 4 and iPad Air 2 and later, Apple Watch Series 1 and later, and the Apple TV 4K. Also, it is compatible with machines dating back to 2012, and pairs with any device that supports Bluetooth 5.0.
Conclusion
Before deciding to buy the AirPods Max, you need to know if the $549 are worth it. The AirPods Max is a great pair of headphones with smart features like auto-pause and transparency mode. Moreover, the sound quality, design and battery life are also amazing. But to get the maximum out of it you will need the Apple ecosystem. Currently, the AirPods Max is the best noise-cancelling headset out right now. Also, before buying the headphones, remember that you don't get a headphone jack and the Smart Case are just not for protection. If these are not a deal-breaker then, you should go for the AirPods Max.
If you have any questions, you can ask us in the comments section below.
Read More!