iOS 15 was launched this year to create a better iPhone experience with lots of improvements in the previous operating system. Here is everything you need to know about the latest iOS operating system.
iOS 15
In June 2021, Apple released iOS 15, the most recent version of the iOS operating system, which was launched on September 20, 2021. Redesigned FaceTime capabilities, tools to decrease distractions, and more are all included in the latest system. The improvements and modifications appear to be a natural extension of what's currently in place. It improves certain built-in apps that needed updating, like FaceTime and Maps, adds some useful new features like the ability to store ID cards in Wallet. Moreover, it boosts your iPhone's on-device intelligence with new features. Although not all of these changes are entirely polished, the upgrade is something to look forward to.
Pros
Focus mode can quiet distracting notifications
Upgraded Maps app looks better than ever
Changes in Photos, Notes and other built in apps
Live Text and Visual Look Up showcase on-device intelligence
Cons
Some features only work on newer iPhones
SharePlay isn't live in this release
It is difficult to employ immersive walking guidance
Availability and Supported Devices
Since the end of June, iOS 15 was available as a public beta, but now it is available as a download that anybody may install. All you have to do is to go to your phone's Settings app and select General and from there, click Software Update.
Availibilty:
iPhone XR, XS and XS Max
iPhone 11, 11 Pro, 11 Pro Max
The iPhone SE (2020)
iPhone 12, 12 Mini, 12 Pro Max
iPhone 13, 13 Mini, 13 Pro, 13 Pro Max
FaceTime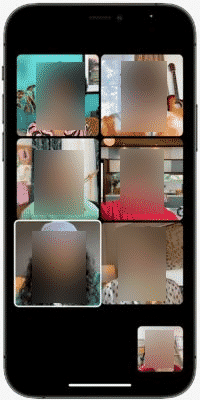 One of the most notable upgrades is the overhaul of the FaceTime video messaging app. The update introduces a grid view option that neatly arranges everyone's faces who is present in the call. Moreover, if you have an iPhone XR or later, you can use FaceTime with iOS 15 to make use of the spatial audio. You'll hear the person's speech emanating from the region of the screen where their square is positioned with spatial audio. Even though it may appear to be a minor change, it makes a significant impact in making video calls feel more natural.
There is more to FaceTime's audio advancements. There are Voice Isolation and Wide Spectrum functions, the former can filter out background noise on calls, allowing your voice to be amplified, and the latter can gather up all ambient sounds around you. Moreover, FaceTime can now introduce a background blur when you're on camera. This Portrait mode for video conversations allows users to blur out their background and put themselves in focus, as well as mute alerts, which make it easier to hear when you're on mute.
Also, FaceTime will assist those who do not own an iPhone. FaceTime is coming to Android and Windows as well, however with a browser-based interface rather than a dedicated app. You can now create shared URLs to arrange FaceTime calls with your friends who don't own an iPhone. Moreover, you can not only control who can join the call, but you can also kick them out 30 seconds after they join.
SharePlay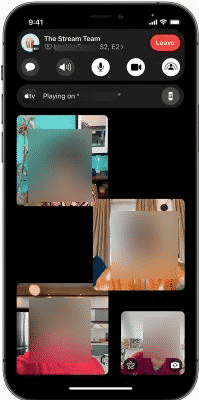 With SharePlay you can stream music or video on a FaceTime conversation with the other individuals on the call. Also, the playback is synchronized so that everyone is seeing or listening at the same time. You can even use it to share the screen of your iPhone. Paramount Plus and Showtime are supported in SharePlay. There are more apps using SharePlay's screen-sharing functionality, such as Redfin, Night Sky, and the Heads Up game. Support is being added to more apps all the time.
You could all control the playback from your various devices. Also, you can even resize the video window to make it easier to observe the video while shrinking the FaceTime window. You can switch to text or audio discussions when FaceTime arrives, but the video playback takes precedence. SharePlay does a good job of dropping the audio from whatever you're watching or listening to, allowing you to continue your discussion. Audio controls on SharePlay appeared to be universal, you can't increase the volume of what you're playing back. Everyone in the session can play, pause, skip and contribute to a shared queue.
In a FaceTime call, participants can now share their screens to watch apps together via SharePlay. Disney+, ESPN+, HBO Max, Hulu, MasterClass, Paramount+, Pluto TV, TikTok, Twitch, and other third-party apps are going to integrate SharePlay. SharePlay works with the iPhone, iPad, Mac, and Apple TV, allowing users to connect over FaceTime while watching shows or movies on a larger screen. SharePlay also has a function called in-app Messages controls.
Focus Mode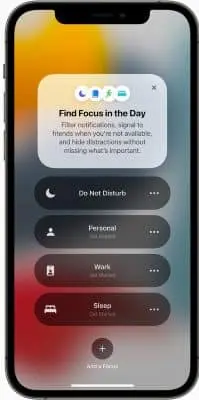 The new Focus feature is here to liberate us from distractions and time suckers. You can consider Focus to be a more polished version of Do Not Disturb, excluding all but the most important notifications. Moreover, it also limits your home screen to only the apps you need for the task at hand. You can select Work Focus to limit notifications from streaming apps and social networking tools, as well as incoming messages from people you haven't whitelisted. You can create a home screen that solely shows your work-related apps to further reduce distractions. Other iOS 15 users will be able to see your Focus status in Messages, which should make them less likely to ping you. Third-party chat applications can also show your Focus state, which is a great addition.
Focus Mode Settings
Furthermore, while iPadOS 15 and macOS Monterey both support this, your Focus setting follows you from device to device. You can easily set this up and activate it. You can set your focus by swiping down from the upper corner of your iPhone screen to the Control Center. To turn it off you can click on the icon that shows on your phone's lock screen. Moreover, Apple lets you name and modify any focus mode you choose, whether it's for gaming, family time, driving, sleeping, or whatever else. The Only drawback is that the home screen function in Focus is a little limited. You don't make a new home screen that appears only when you activate a specific focus mode and then fades away when you're done. Instead, you choose from a list of pre-made home screens. This can conflict with your way to organise your apps.
Also, if you swipe left till you reach the App Library, you can open apps you've left out of focus. So it's not like you can't play a game when you really should be working. To make Focus fully effective, you must change your working habits and remember to turn Focus modes on and off.
Notification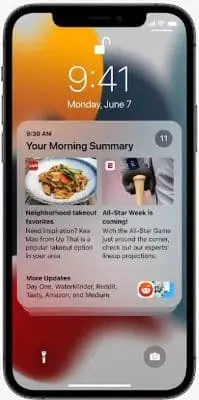 Apple's new notifications summary is the most significant improvement to notifications. You can set it up in the Notifications section of the Settings app. When you set up a Notifications Summary, you can choose which app notifications you only want to see at certain times of the day, such as in the morning or evening. These will appear in the on-screen summary at the time you specify. Thus, allowing you to skim through updates you may have missed without feeling bombarded throughout the day.
The most relevant alerts are displayed first in the summary, which is sorted by priority using on-device intelligence that analyses the user's interactions with apps.
Emergency messages and notifications that are time-delicate will in any case be convened immediately. The outline is an inventive strategy for you to discover when new podcast episodes are free without having that information intrude on your workday.
Furthermore, iOS 15.2 improves the summary of the notification system and has made it less cluttered.
Apple's efforts to eliminate distractions do not end with Focus. In iOS 15, Apple is taking another try at simplifying alerts. Incoming messages will show the contact photo you've allocated to a person in the Contacts app. Also, app icons on alerts are now larger, making them easier to identify at a glance so you can decide if you want to check the notification. You can also choose to temporarily disable notifications for an hour or a day. To do this, you can swipe left on the alerts to bring up the options. These options now include more muting options. If you haven't replied in a while, iOS 15 will advise that you mute the discussion.
Map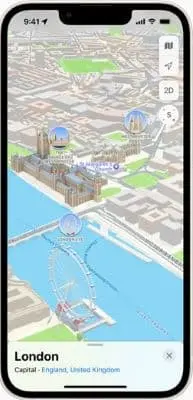 Maps have constantly improved in recent years. In iOS 15, it provides more comprehensive 3D representations of cities, including better landmarks, 3D buildings, clearly identified commercial districts, and more detailed roads and trees. Initially, the feature was only available in a few locations – San Francisco, Los Angeles, New York, and London. Everyone with an iPhone XR or later will be able to enjoy the new interactive globe in iOS 15. When you zoom out, you'll get an actual star field and a perspective of the planet from space. Whereas, when you zoom in, you'll notice defined details, such as mountain ranges, deserts, and ocean depths, giving the impression of an interactive relief map.
The 3D driving view offers you a driver's eye viewpoint on highways near complex interchanges. 3D renderings of roadside structures are helpful in orienting. It works on both the iPhone and Apple CarPlay and includes road elements like turn lanes, medians, bike lanes, and pedestrian crosswalks. Maps now incorporate significant bus routes. You may also pin your favourite transit lines to keep track of when they depart. Maps will track a user's chosen transit route and notify them when it's appropriate to disembark.
Immersive walking directions
Immersive walking directions are still limited and are the least developed feature in iOS 15. Although it's a sensible addition, as you're walking, Maps will superimpose arrows and street names to check you're on the right track. In actuality, however, the feature is inconvenient to utilise. You must first use your phone to examine the surrounding area. The overlay directions will then appear, but if you turn to walk in that direction, they will only reappear after you turn your phone 90 degrees away from where you're heading. At the same time, your iPhone will warn you about the dangers of walking while gazing at your phone. In comparison to the other more refined Maps expansions, it's a bit of a shambles.
New road colours and labels, custom-designed landmarks, and a new "moonlit" Night Mode have all been added to neighborhoods, business districts, elevations, buildings, and other elements. Information about businesses, locations, and physical elements are now easier to access and engage with thanks to redesigned place cards. The Guides Home features editorially curated information about new places. There are new options to filter results by criteria while looking for a new place. Maps will refresh search results as you move about, and the most-used settings are now all in one location.
Safari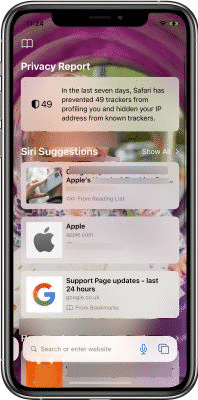 The new appearance of Safari in iOS 15 shows Apple's efforts to streamline the browser in macOS Monterey. In the new look, Safari's tab bar is located at the bottom of the screen by default. This was done keeping in mind that positioning the tab bar near your thumb makes navigating the browser with one hand easier. The tab bar is unobtrusive, as it slides down to the bottom of the screen when you scroll down a page. When you tap the bottom of the screen, it pops back up.
Moreover, Safari now uses a new grid layout to provide you with a quick overview of all your open tabs. This view is more convenient than the stacked windows present in the previous version. This tab overview grid was designed to help accommodate grouped tabs. Also, you may group relevant browser tabs together on your Mac or your iPhone. Swiping right or left on your iPhone screen will take you to the next page. You can even save your tabs in a folder and sync them across their iPhone, iPad, and Mac with Tab Groups. You can refresh a web page by just pulling it down, and voice search is now supported. Moreover, Safari now has a customised start page and mobile web extensions.
Intelligent Tracking Prevention is one of the new privacy features in Safari in iOS 15. This prevents trackers from profiling you based on your IP address, and Safari will automatically upgrade sites that support HTTPS from insecure HTTP.
Live Text and Visual Look up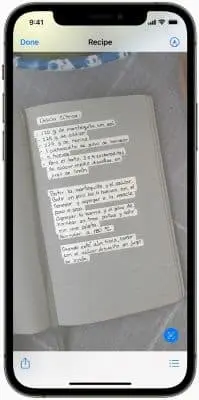 Google Lens has been offering AI-powered tools that allow you to use your camera for everything. It has everything from learning more about the world around you to capturing and acting on text in images for a time now. Following suit, iOS 15 adds Live Text and Visual Look Up to your iPhone's new features.
With Live Text, you can tap on text in a photo to capture and copy it. The generated content can then be pinned in a note, email, or SMS. This works best with clearly printed text rather than handwritten notes. The Notes app now includes Live Text functionality. This allows you to summon the phone's camera from within the note-taking app and record text immediately. The ability to call phone numbers or search up addresses directly from images is an even better feature of Live Text. Simply long-press a phone number to bring up a pop-up menu with options. These options include making a phone call, sending a text message, adding a number to your contacts, and so on. When it comes to addresses, the results have been more hit-or-miss. Live Text may pick up the street number but not the city, resulting in incorrect directions.
With Visual Look Up, Siri recognises certain things but not others. When you swipe up on images Visual Look Up will properly identify. The feature is still lacking, but it's quite useful when it has additional information to share about your photographs.
Shared with You
Messages have undergone a lot of changes, as Apple's chat app has evolved into a place where many iPhone users spend the majority of their time. The major upgrades are in new Memoji outfits and accessibility options. Shared With You has implications for a number of other built-in apps. When you get a web link, photo, song, or podcast, it will now appear not only in Messages but also in the Shared with You section of the associated iOS app. Shared with You is available in Safari, Music, Podcasts, News, Photos, and TV, among other apps. The idea is that you may not always have time to look at what someone is sharing with you right now, but you will be glad you did when you do.
When your friends find an online item they think you'll like, the link will appear in a Shared with You section of Safari's start page, underneath frequently viewed sites, and over the browser's privacy report. Similarly, images sent to you via text now have a Shared with You section on the Photos app For You menu. Moreover, you can also pin these articles in Messages to make them simpler to locate. Also, you can even respond to all of that shared content from within the applicable app. A reply box allows you to respond to web links that your friends send you or photos that you've received.
It's a little difficult to reply to shared information from group messages. You have to tap the name of the person who shared it with you to bring up a reply box. The image in your Messages chat now has a save symbol next to it. You can click on it, and the image will be saved to your Photos library.
Photos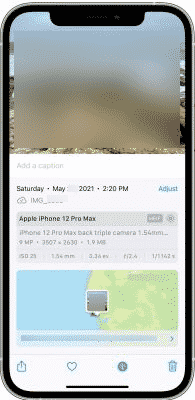 Although Photos doesn't see a lot of changes in this upgrade, the improvements to the Memories feature are the highlight. Photos will still auto-assemble collections of photographs into a slideshow based on a date, place, vacation, or event. However, now you can even include songs from Apple Music as well. It will recommend songs based on your Apple Music listening history, which will sync with movies and photographs to provide a more personalized experience. When you swipe through a Memory you can customize it by selecting different tracks with a distinct pace and atmosphere. You may alter both the song that plays and the filter that appears on your photographs by tapping on the Memories as they play. After that, you can click on an icon that looks like a music note. Although, the icons have a habit of disappearing while you're still trying to figure out everything.
Memory Customization
There are now 12 Memory styles that add mood to photos and videos by evaluating and applying contrast and color correction for a consistent look. This dramatically improves the Photos app's usability. There is some extra detail to the info panel that shows when you swipe up on an image to see when and where it was taken. The new information includes the lens used as well as the shutter speed. By selecting a Feature Less option, you can tell Photos to show certain persons or memories less frequently. The people recognition features have also improved and include a shortcut for entering the names of people who appear in your photos. Other improvements include additional international holidays, child-focused memories, trends across time, and better pet memories with the ability to recognise particular dogs and cats.
A bird's-eye view of all the content from a Memory is also available. Also, the Watch Next section suggests relevant memories to watch. You can also change the date or location of the photo, add a caption, and learn more about the items that Visual Look Up has recognised. Also, you may select images in a certain order for sharing in the Photos image picker in the Messages app. When you allow access to certain content in the Photos library, third-party apps can also offer simpler selection methods. According to Apple, the sync of iCloud Photos on a new device is faster.
Notes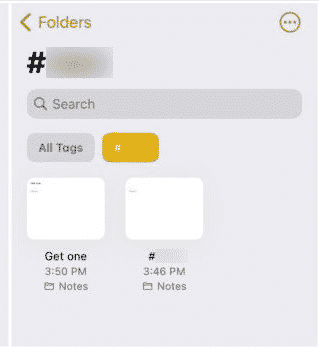 Even Notes does not have major updates, but you get new productivity-boosting additions. The Tagging Tool helps you manage notes by putting related tagged items together. Simply input a hashtag and the word of your choice, such as "#homework" for study notes. Also, there are new custom folders that automatically collect notes depending on tags. The Shared Notes has been available in Apple's built-in note-taker for a while. You can now assign tasks to people simply by typing their name followed by a @ symbol. Furthermore, a brand-new Activity view shows the most recent edit history.
Digital Wallet
Using the Wallet app to store credit cards, arrange electronic passes, and manage Apple Pay is quite easy. Apple aims to transform this function into a genuine digital wallet that can store electronic ID cards and even digital keys. Moreover, it accepts more sorts of keys, including key cards for the home, business, corporate, or hotel accommodation. It is also adding support for automobile keys, allowing you to open, lock, and start your car without taking your iPhone out of your pocket utilizing Ultra Wideband.
Ultra-Wideband also provides exact spatial awareness. This means iOS will prevent you from locking your car while it is inside or starting it while it is outside. Remote Keyless Entry controls allow you to lock or unlock your car, honk the horn, pre-heat your car, or open your trunk. Expired boarding passes and event tickets can be automatically archived in the app. Instead of manually adding one pass at a time, Safari allows you to add multiple passes to Wallet in one step.
Spotlight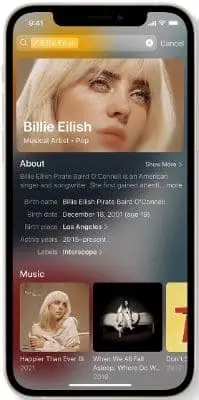 With Spotlight, you can now search for photographs by location, people, scenes, or objects. Moreover, it can even find text and handwriting in photos using the Live Text feature. It allows web image searches, which yields more information about actors, singers, TV series, and films. Contact cards with enhanced results display recent discussions, shared photos, and location if it's shared via Find My. You can access it from the Lock Screen, allowing you to swiftly install apps from the App Store without having to leave Spotlight. The Action Button on the Maps results in Spotlight for businesses that support App Clips.
Messages
You can see the content sent to you via Messages in the "Shared with You" area. Photos, Safari, Apple News, Apple Music, Apple Podcasts, and the Apple TV app all have been Shared with You. Depending on how many pictures you received, they appear as a swipeable stack or a glanceable collage in Messages. You can even search for pictures sent via Messages using a contact's name. On iPhones with Dual SIM, users can smoothly swap between phone numbers in the middle of an iMessage discussion. In iOS 15, Messages receives various localized enhancements. In Brazil, for example, unwanted SMS filtering is available, as are notification options in India and China, which allow users to disable notifications for specific categories of messages.
Weather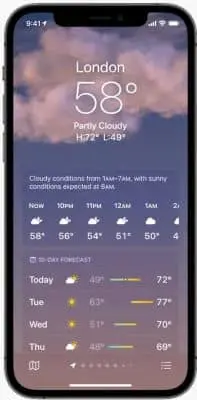 In iOS 15, the Weather app has more graphical representations for weather data. Also, a full-screen map and a dynamic layout that changes depending on outside circumstances are the new changes. The animated backdrops have been modified to more properly reflect the sun's current position and precipitation conditions. There are also notifications that show when it starts to rain or snow and when it stops.
Health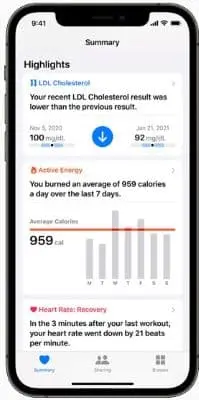 The Health app now features a new Sharing Tab that allows you to share your health data with family or anyone else. Descriptions, highlights, and the ability to pin results for quick access are now present in lab results. Trends can be detected by Health, alerting users to significant changes in their personal health parameters. Walking Steadiness assists reduce fall risk. COVID-19 vaccinations and test results can be saved in the Health app with a QR code from a healthcare provider. Blood glucose highlights now include interactive charts and show levels throughout sleep and exercise.
Find My
New features have been added to the Find My app to aid in the recovery of a lost device that was turned off or deleted via the Find My network. A family member or friend who chooses to share their location with you will now be able to provide you with a sense of direction and speed by continuously live-streaming their location. The company has added Find My network to the third-generation AirPods, AirPods Pro, and AirPods Max. Also, the new Find My widget gives a quick glimpse of where you are. Separation Alerts alerts you if someone leaves an AirTag, Apple device, or Find My Accessories network behind.
Reminders
Tags in Reminders help with organizing. You can use these tags to search and filter reminders. A new Tag Browser allows you to rapidly view tagged reminders by clicking on combinations of tags. There are also new personalized smart lists that group reminders together automatically based on tags. Natural language support was improved with quick-access options for deleting completed reminders.
Siri
The Neural Engine in iOS 15 is used to interpret Siri requests on the device. This improves security and responsiveness while eliminating the need for an internet connection. The on-device voice recognition and interpretation increase as you use your smartphone. To deliver better responses, Siri can also learn about the contacts you connect with the most, new phrases you write, and topics you read about. Now you can even send a screenshot with the help of Siri. Or you can share onscreen elements like images, web pages, content from Apple Music or Apple Podcasts, Apple News stories, Maps locations, and more in a Message. Furthermore, Siri also can send a message or make a phone call based on the information displayed onscreen.
Siri has improved its ability to keep context between requests. Thus, allowing you to refer to what you asked earlier in a conversation. Siri can also be asked to control a HomeKit gadget at a given time or even under certain circumstances. On AirPods and in Apple CarPlay, Siri may also Announce Notifications, like Reminders. Moreover, you can also ask Siri what's on your screen. In the update, Siri has added more languages to its neural text-to-speech voice, including Swedish, Danish, Norwegian, and Finnish. Siri also supports native Indian languages, as well as Mixed English, Indic, and a mix of Indian English and a native tongue.
Child Safety Features
Apple has teased new child-safety measures that will be available in future software upgrades for its devices. The functionalities will initially be available solely in the United States.
Communication Safety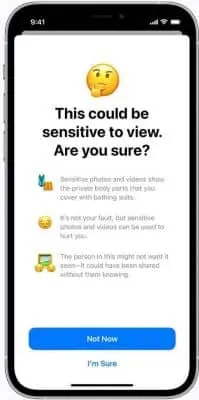 The iPhone, iPad, and Mac versions of the Messages app will get a new Communication Safety feature. This will alert children and their parents when they receive or send sexually inappropriate photographs. According to Apple, the app will assess image attachments using on-device machine learning. If a photo is discovered to be sexually explicit, it will be obscured right away, and the child will be informed. When a kid tries to see a sensitive photo, they will receive a warning that the photo may reveal private body parts and that it could be harmful.
Parents will also have the option of being notified if their child sees the sensitive picture. They will receive notification if the child chooses to share a sexually explicit photo with another contact after the warning. This will depend on the child's age. End-to-end encryption will continue to protect iMessage chats, ensuring that Apple will be unable to access private messages.
Detect Child Sexual Abuse Material (CSAM)
Apple will be able to detect known Child Sexual Abuse Material (CSAM) images stored in iCloud Photos using a new feature. This will allow the company to report these instances to the National Center for Missing and Exploited Children (NCMEC).
Expanded CSAM Guidance in Siri and Search
Apple will provide more resources in Siri and Spotlight Search across devices to assist children and parents stay safe online and receiving help in dangerous situations. If someone asks Siri how to report CSAM or child exploitation, it will direct them to resources that explain everything.
Widgets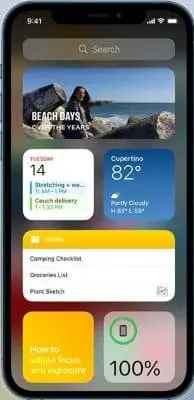 The Find My widget displays where friends and personal stuff are located. With the Contacts widget, you can reach your family and friends via Phone, Messages, FaceTime, Mail, or Find My. Additional options, such as approving transactions or requesting Screen Time, are available with Family Sharing. The Continue Playing widget shows you the most recently played games across all of your devices. Whereas with the Friends Are Playing widget you can see the games your friends are playing. App Store widget displays Today tab news, collections, and app events. The Sleep widget will show you information about your sleep patterns and allows you to review your sleep schedule. Moreover, the Mail widget displays your most recent emails and allows you to quickly access one of your mailboxes.
When you first upgrade to iOS 15, you'll see a new default layout with widgets from the apps you use the most arranged in Smart Stacks. Intelligent widget suggestions are based on your previous activity. You can add the widget to your stack as an option to keep it there indefinitely. With new controls, you can more easily reorder the widgets in their Smart Stacks right from the Home Screen.
Translate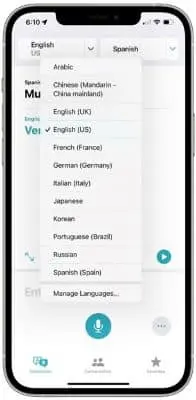 System-wide translation – With iOS 15, you can translate any text across the entire system by choosing it and clicking Translate. Moreover, you can then copy, save, replace, or open the translation in the Translate app. You can also translate text in photographs that they have picked.
Auto Translate – When you start speaking, the Translate app detects it and can translate your speech. You don't need to press the microphone button in the middle of a discussion.
Face to face view – When conversing face to face, users can modify the discussion view so that each person can experience the dialogue from their own perspective.
Redesigned conversations – You can start conversations using the Conversation tab in landscape or portrait mode. It then displays a revamped conversation view with chat bubbles to make it easier to follow along.
Language selection – Made easier with the addition of new drop-down options.
TV
For All of You – The TV app now has a new "For All of You" row that recommends a selection of episodes and movies. These suggestions depend on the interests of a group of people or a whole household.
Shared with You – In the TV app, all of the episodes and movies that friends and family have shared in Messages are now highlighted.
SharePlay – The TV app integrates with Messages and FaceTime to allow users to watch content with friends and family in real-time.
Streaming apps in Japan – The TV app now covers some of Japan's most popular streaming apps.
Shortcuts
Smarter Shortcuts editor – With Next Action Suggestions in the Smarter Shortcuts editor you can get options to assist you finish the shortcut you're creating.
Cross-device management – Shortcuts will now integrate between iPhone, iPad, and Mac devices.
Improved sharing – You can now share Shortcuts and download via a link instead of having to adjust security settings. Smart reminders will be sent to receivers to guarantee that only permitted data is shared.
Voice Memos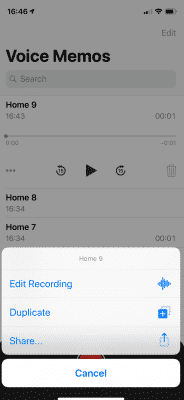 Playback speed – There are new settings for speeding up or slowing down recorded playbacks.
Skip silence – With a single swipe, Voice Memos evaluates your recordings and automatically skips over pauses in your audio.
Improved sharing – You can now share several Voice Memos recordings at the same time.
Camera
Improved Panorama captures – Panorama mode on the iPhone 12 and iPhone 12 Pro now has enhanced geometric distortion and can capture moving subjects better while also lowering image noise and banding.
Zoom in QuickTake video – Users can zoom in or out of a QuickTake video by swiping up or down while recording it.
Podcasts
Improved discovery – Podcasts creates personalised groups of suggested shows about certain topics.
Shared with You – Under the Messages app, you can share your favourite podcast episodes, and in Listen Now, you can find all the episodes that have been shared with you.
Music
Spatial audio with dynamic head tracking – You can now utilise the AirPods Pro and AirPods Max to listen to music with Dolby Atmos and Apple's dynamic head tracking for a more immersive listening experience.
Shared with You – Music shared with you from Messages would now be highlighted on the Music app.
News
Redesigned News feed – The new News Feed makes browsing and interaction with stories easier. Also, you can save and share stories directly from the feed. Information like publication dates and bylines are more prominent.
Shared with You – Stories delivered to you via Messages now appear in the Shared with You area of the Today and Following tabs.
App Store
In-app events – App Store now makes it easier to find current events within applications and games, such as gaming competitions, movie premieres, and live-streamed experiences.
Hide Installed Apps – In search results, the App Store will conceal screenshots for apps that have already been installed.
App Store widget – From the Today tab, a new App Store widget displays stories, collections, and in-app events.
Gaming
Game Center recents and group invitations – With a new multiplayer friend selection, your most recent Messages pals and groups are incorporated into Game Center-enabled games.
Game Center friend requests – You can see the incoming Game Center friend requests in the Game Center friend request inbox.
Focus for gaming – With Focus for gaming you can remain immersed in games by filtering out unnecessary messages.
Game highlights – With the share button on game controllers you can save a video clip of up to the past 15 seconds of gameplay.
Apple Card and Apple Pay
Advanced Fraud Protection – Apple Card customers will get a security code that changes on a regular basis to make online Card Number transactions more secure.
Improved card number discoverability – By accessing the Apple Card in Wallet and touching the card symbol, you can see your card number more quickly.
Apple Pay new payment sheet design – The revised payment sheet allows you to add new cards and promo codes in real time. An expanded summary view displays more detailed information such as payment items, discounts, and subtotals.
Screen Time
Downtime on demand – You can enable downtime on demand. This limits your access to only the phone calls and apps you wish to allow. A five-minute downtime reminder will be issued once enabled, and downtime will be enabled until the end of the day.
Screen Time API – Developers can leverage the Screen Time API in parental control apps to enable a broader range of parental options. Developers can use the API to access features such as core limits and device activity monitoring.
Memoji
New Memoji stickers – iOS 15 introduces nine new Memoji stickers, including a shaka, a hand wave, and a lightbulb moment, and others.
New clothing options – You can now choose from over 40 new outfits to choose from, each with up to three colour combinations. This even includes headwear.
Two different eye colours – Memoji now supports two alternative eye colours, one for your left eye and one for your right eye.
New glasses options – Three new eyewear styles are available, including heart, star, and vintage shapes.
New accessibility options – New accessibility choices include cochlear implants, oxygen tubes, and soft helmets.
5G
Enhanced connectivity using 5G – With a faster 5G, you can back up to iCloud and restore from an iCloud backup, stream audio and video on Apple and third-party apps. You can even download higher-quality Apple TV+ content, sync photos to iCloud Photos, update Apple News+ articles for offline reading, and download machine learning models, among other things.
5G preferred over Wi-Fi – When Wi-Fi connectivity on networks you visit occasionally is poor, or when you connect to captive or unsecure networks, your iPhone 12, all models, will now automatically prioritise 5G.
Privacy
Mail Privacy Protection – Senders won't be able to see your IP address or if you've viewed their email if you use Mail Privacy Protection.
App Privacy Report – Users can now see how often apps have accessed their location, images, camera, microphone, and contacts in the previous seven days. It also reveals which apps have made contact with other sites and when they did so.
Secure paste – Developers can let you paste content from another app without giving them access to it until you give them permission.
Share current location – With a customisable button in their apps, developers may allow you to share your current location for a limited time.
Limited Photos Library access improvements – Developers can now request limited access to specific photo folders and albums when seeking access to the Photos library.
iCloud+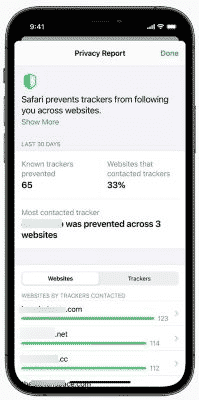 iCloud Private Relay – You can surf Safari while your device's traffic is encrypted. Requests are sent through two independent internet relays. The goal is to prevent anyone from using your IP address, location, or browsing history to build a detailed profile on you.
Hide My Email – Allows you to generate unique, random email addresses that forward to your own inbox. Thus, allowing you to send and receive emails without disclosing your true email address.
Custom email domain – You can customise your iCloud Mail address with a custom domain name and invite family members to use the same domain.
HomeKit Secure Video – iCloud+ can store extra security camera footage and that does not count against your iCloud storage limit.
Setup Experience
Temporary iCloud storage to transfer data – You can now back up an unlimited amount of data to iCloud for free for up to three weeks to relocate to a new device.
More content transferred from Android – More content from Android can now be moved to iOS, including photo albums, files and folders, and accessibility settings.
App discoverability – You can now access the Move to iOS app through QR code in the Google Play Store.
Apple ID
Account Recovery Contacts – You can now choose one or more trusted individuals as Account Recovery Contacts. They can then assist you in resetting your password and regaining access to your account.
Digital Legacy program – Allows you to name individuals as Legacy Contacts. Thus, allowing them to access your account and personal information in the case of your death.
Accessibility
Explore images with VoiceOver – You can now use VoiceOver to study persons, objects, text, and tables within photos in greater detail.
VoiceOver image descriptions in Markup – Allows you to add picture descriptions that VoiceOver can read. Picture captions are preserved even when shared and can be read in a variety of iPhone, iPad, and Mac apps.
Sound actions for Switch Control – Allows you to control your iPhone with simple mouth sounds rather than physical buttons, switches, or complex verbal directions.
Background sounds – Background sounds play a constant stream of balanced, bright, or dark noise, ocean, rain, and stream sounds in the background to cover undesired environmental or external noise and help you focus or remain calm. As you use your device, the sounds blend in with or are drowned out by other audio and system noises.
Per-app settings – Change the display and text size of individual apps.
Import audiograms – Import paper or PDF audiograms into Settings and alter Headphone Accommodations based on your hearing test results. Thus, allowing you to amplify soft sounds and adjust frequencies.
Magnifier app – Now a standard iOS app, allows you to use your iPhone as a magnifying glass to zoom in on objects in your immediate vicinity.
New Voice Control languages – Mandarin Chinese, Cantonese, French, and German language options, all of which use Siri speech recognition technology.
Dictionary
New dictionaries for India – Urdu-English, Tamil-English, Telugu-English, and Gujarati-English are among the new bilingual dictionaries for India.
Idiom dictionary for China mainland – A new Simplified Chinese idiom dictionary for China's mainland.
New dictionaries for Hong Kong – A Traditional Chinese-English idiom dictionary, a Traditional Chinese-English dictionary of Cantonese colloquialisms. Also, a new Traditional Chinese dictionary are among the new dictionaries for Hong Kong.
Keyboard and Dictation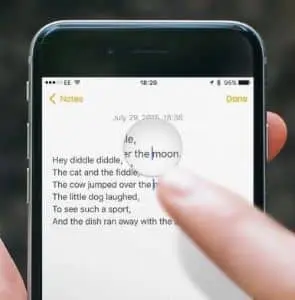 Magnification loupe for text cursor and selection – With an upgraded cursor that magnifies text, you may pick text more precisely.
Vietnamese VNI and VIQR keyboards – Use VNI and VIQR to type in Vietnamese.
QuickPath language expansion – Dutch, Hindi (Latin), Russian, Swedish, Turkish, and Vietnamese are among the new languages that support QuickPath.
New keyboard layouts – Ainu, Amharic, Fula (Adlam), Igbo, Navajo, Rohingya, Syriac, and Tigrinya have new keyboard layouts.
Enhanced 10-key layout for Chinese Pinyin – Allows users to swiftly switch to QWERTY, access symbols more easily. Also, lets you to type words that share the same keys with higher accuracy. This is done by allowing you to select the exact Pinyin for more than just the first syllable in the phrase.
Dialect lexicon support for Cantonese and Shanghainese – Type words in Pinyin using original Cantonese or Shanghainese dialectal spellings.
Smart Replies for new Indic languages – Urdu, Bangla, Tamil, Punjabi, Marathi, Gujarati, Malayalam, Telugu, Kannada, and Odiya.
On-device dictation – Arabic, Cantonese, English, French, German, Italian, Japanese, Korean, Mandarin Chinese, Russian, Spanish, Turkish, and Yue Chinese. These are now among the languages and territories where on-device dictation is possible.
Continuous dictation – With on-device dictation, you can dictate any length of text without having to wait for it to finish. Previously, dictation was restricted for a shorter time duration, about 60 seconds.
Other Changes
Built-in authenticator – As an alternative to programmes like Google Authenticator, this generates verification codes for enhanced sign-in security under Passwords in Settings. Verification codes are autofilled when you login in to the site once they've been set up.
Software Updates – iOS now gives you the option of upgrading to iOS 15. Or the option for staying on iOS 14 and receiving important security updates until you are ready to upgrade to the next major version.
Reorder Home Screen pages -You can easily personalise your Home Screen by reordering pages.
Drag and drop – Drag and drop now works across all apps.
Package detection – Security cameras and video doorbells that use HomeKit Secure Video may now identify and inform you when a package arrives.
Spatialize Audio – With AirPods Pro and AirPods Max, iOS can now turn any non-Dolby stereo mix into a simulated spatial audio experience.
Books Search redesign – Redesigned to show search results as soon as you begin typing and to rectify spelling errors in the Books app. Within the results, there will be showcases of the best books, audiobooks, and category collections. The Search tab also allows users to purchase books directly.
RealityKit 2 – With RealityKit 2, Apple's 3D rendering, physics, and spatial audio engine created for AR, developers may apply custom shaders, add post-rendering effects, and create more immersive AR experiences.
Inclusive language (Spanish only) – You can now choose between feminine, masculine, or neutral terms of address throughout the system.
iOS 15 updates
Apple has published a couple of point-release upgrades since the debut of iOS 15. iOS 15.1.1 resolves a fault in iOS 15.1 that caused calls to drop on iPhone 12/13. The upcoming year is expecting more updates to iOS 15, even though most of the features are already here. That's because iOS 15.2 is now ready for download. It includes an array of new features, the most notable one is the app privacy report. In iOS 15.2, you may also choose legacy contacts to receive your iCloud information. Also, the Settings app also has a Parts & Services section for tracking repairs and ensuring that parts used meet Apple's standards.
Conclusion
Apple has statistics on how many people migrate to its OS updates, and it's a much higher percentage than Android. The latest features are worth upgrading to iOS 15. Even though there have been allegations that iOS 15 is hurting AirPods audio and pairing. It's not something many have noticed. Moreover, Spotify has also acknowledged that its iOS app drains the battery on iOS 15 devices. It is expected the security patches for the upgrades will be released soon to curb these issues. With iOS 15, you'll have plenty of new features to enjoy regardless of when you upgrade. These features range from revamped apps to minor additions that prove as a big help in your iOS devices.
Have you upgraded to iOS 15 yet? Tell us in the comments section below.
Read More!