Before buying any Apple product it is better to check your options in the different varieties available. With the latest iPad Pro in the game with features giving a tough competition to the MacBook series, it is really okay to be confused. If you don't know which one you should go for, we have a complete guide. Here is MacBook Air vs iPad Pro, this will help you choose one.
MacBook Air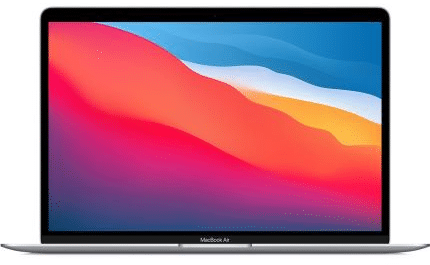 With the latest M1 system-on-a-chip (SoC), MacBook Air has the fastest processing speed. This M1 chip gives you an 8-core CPU, 7-core or 8-core GPU, and RAM packed in a single chip. There are four cores for performance and four cores for efficiency in the CPU. The battery is quite long-lasting and will last almost all day. Also, if you are worried about the lack of fans, then you don't need to worry as the MacBook Air is designed for efficiency. The different options you get are 8GB or 16GB of RAM and storage space up to 2TB. Moreover, you get two USB-C ports and you can run iOS apps on macOS Big Sur.
Pros
Apple M1 SoC
Scissor-switch Magic Keyboard
13.3-inch Retina Display with 2560-by-1600 resolution
An option between 8GB or 16GB RAM and up to 2TB of storage
Runs macOS Big Sur
Can run compatible iOS apps
Cons
High price starting from $999
Only 720p FaceTime HD Camera
iPad Pro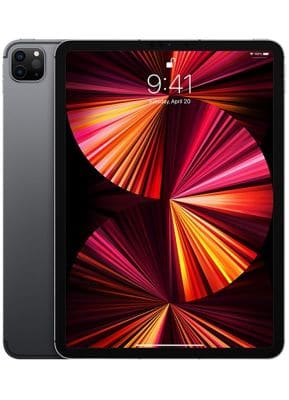 If you are involved in writing, researching, simple coding, photo, and video editing, you can do these easily with iPadOS. You get screen size options of 11-inch and 12.9-inch. You even get a 12MP camera with an Ultra-Wide lens and LiDAR scanner for great pictures and videos. But remember that there are a few limitations with the iPadOS and iPad hardware.
Pros
Available in 11-inch or 12.9-inch sizes
Liquid Retina Display
Ultra-Wide camera and 4K video recording
Configurable up to 1TB of storage
USB-C port
New LiDAR scanner
Cons
Still limited by iPadOS
Only one USB-C port
Costly keyboard accessories
Difference lies in features
You might feel confused about MacBook Air vs. iPad Pro as they almost have similar price points but the difference lies in the features. With every update, iOS and iPadOS have improved but still have some limitations if compared with macOS. Thus, if you are looking for a true computer without any limits, then the MacBook Air is what you should go for. Whereas if you are okay with the limitations of iOS and just want a powerful tablet to do all your work, then the iPad Pro is for you.
Decide your needs MacBook vs iPad Pro
If we compare the sizes, both of them are almost similar (especially the 12.9-inch), but honestly, if you are looking for something good, size will not be a factor. Getting yourself the M1 MacBook Air is the better option as you get a full-featured but efficient computer experience with macOS Big Sur. Moreover, it can even run iOS apps with macOS Big Sur. Not only this, it is lightweight so you can take it anywhere you want. With the fast processing speed, you can easily multitask without worrying about your MacBook getting stuck. Whereas, you will have to constantly refresh and suspend apps on iOS 14 or iPadOS 14.
MacBook vs iPad Pro
| | | |
| --- | --- | --- |
| | MacBook Air | iPad Pro |
| Size | 13-inch | 11-inch or 12.9-inch |
| Cost | Starting at $999 | Starting at $799 |
| Screen | Retina Display | Liquid Retina Display |
| Processor/Chip | M1 SoC | A12Z Bionic |
| Charging | USB-C | USB-C |
| Operating System | macOS | iPadOS |
| Starting Storage | 256GB | 128GB |
| Maximum Storage | Up to 2TB | Up to 1TB |
| RAM | 8GB (Customize up to 16GB) | 6GB with 1TB model |
| Camera | 720p FaceTime HD | 12MP with Ultra-Wide lens and 4K video and 7MP TrueDepth Camera |
| Ports | Two USB-C | One USB-C |
Features Comparison:Which one to get?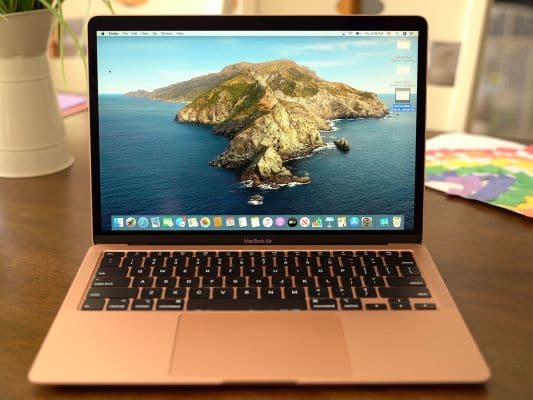 Firstly, you will notice the price difference between the products. But considering the storage space and features, it is understandable that the MacBook Air starts at a higher price. If we look at iPad Pro, 256GB 12.9-inch, it costs $1099 for Wi-Fi only, you get a 4GB RAM with one USB-C port, and iPadOS.Whereas, if you pay a little less for MacBook Air, you get a 256GB MacBook Air at $999. In it, you get a 13-inch Retina Display, Apple M1 SoC, 8GB RAM, two USB-C ports, and macOS.
Also, with the M1 SoC, you can run iOS apps on macOS. So, you can enjoy both macOS apps and iOS apps on your MacBook and increase your productivity. Moreover, with your MacBook, you can enjoy social media, email, writing, etc. Also, work on programming, testing apps in XCode, photo and video editing, graphic design, project management, finance, etc. Secondly, considering the size and weight, MacBook Air is quite a portable laptop. You can take it anywhere you go. Also, with the scissor-switch Magic Keyboard and Touch ID, you can enhance your working speed and productivity.
Whereas, the iPad Pro has two size options, 11-inch and 12.9-inch. Not only this, you get only one USB-C port, lesser RAM, and iPadOS. Although you can use the Magic Keyboard with your iPad Pro, the keyboard is costly. Although iPadOS has improved, it still has limitations. You can have only three active apps on screen at a time using Split View and Slide Over modes. Moreover, iOS refreshes suspended apps after some time if kept idle, which makes multitasking difficult. Thus, if you are okay with iPadOS, then you can go for iPad Pro. But, if you have extra computing needs, it is recommended to go for MacBook Air.
Conclusion
With time, Apple has given us new upgrades for iPadOS which are quite great. It can easily be used for basic works of computing for a short period of time. But if you want to use it for longer periods, you will face some limitations. Whereas, M1 MacBook Air with macOS Big Sur, you can easily multitask and can have an almost unlimited number of windows open for both macOS and iOS apps. You will not have to worry about apps being suspended in the background as in iPadOS. With fast responsive speed, it even goes ahead of the 2019 16-inch MacBook Pro. Moreover, you can resize the windows on macOS, instead of going for the preset ratio in Split Screen or Slide Over window. Moreover, in the iPad Pro, you are limited with the RAM, even with all the different storage sizes. In MacBook Air, you get an 8GB, which you can adjust up to 16GB. With more RAM, your device will run faster and handle more resource-intensive tasks.
Read More!