When your Apple Watch is connecting to Wi-Fi, it can do a variety of things. The Apple Watch is a multi-functional device that can do anything from sending and receiving texts to streaming music. And the best part is that you can accomplish all of this even if your iPhone isn't with you with the help of an apple watch. Moreover, you can also pair AirPods with your apple watch.
The only catch is that you'll need a wireless or cellular connection to do so. At the very least, connecting your Apple Watch to your Airpods or Airpods Pro is simple. All you have to do now is make sure your Airpods have been previously associated with an iPhone or iPad that is linked to your iCloud account.
If all of this sounds frightening, don't worry; it won't be once you've become used to using these Apple gadgets together. Apple built these products to work together without requiring too much pairing effort on your behalf. You should be good to go as long as your device has the W1 or H1 chip.
So, how exactly do you Pair AirPods to Apple Watch? Is there a way to pair them manually if they can't pair automatically? What happens if you use your Airpods with your Apple Watch and get too far away from your iPhone? Is it possible to download songs directly to the watch?
If you want answers to them you can read this article.
Pairing Airpods to an Apple Watch Via an iPhone or iPad
When Airpods and an iPhone or iPad are placed near each other, they normally pair quickly.
When you pair them for the first time, you'll have to put them next to each other.
To link your Airpods with your Apple Watch, you'll have to go through a series of procedures.
Put your Apple Watch into pairing mode by following the instructions that came with it.
Go to Settings on your Apple Watch, then Bluetooth.
This tells your Apple Watch to look for Bluetooth accessories in the area.
Locate and choose your Airpods.
Enter your PIN or passkey if it asks for it.
Manually Pairing Your Airpods to the Apple Watch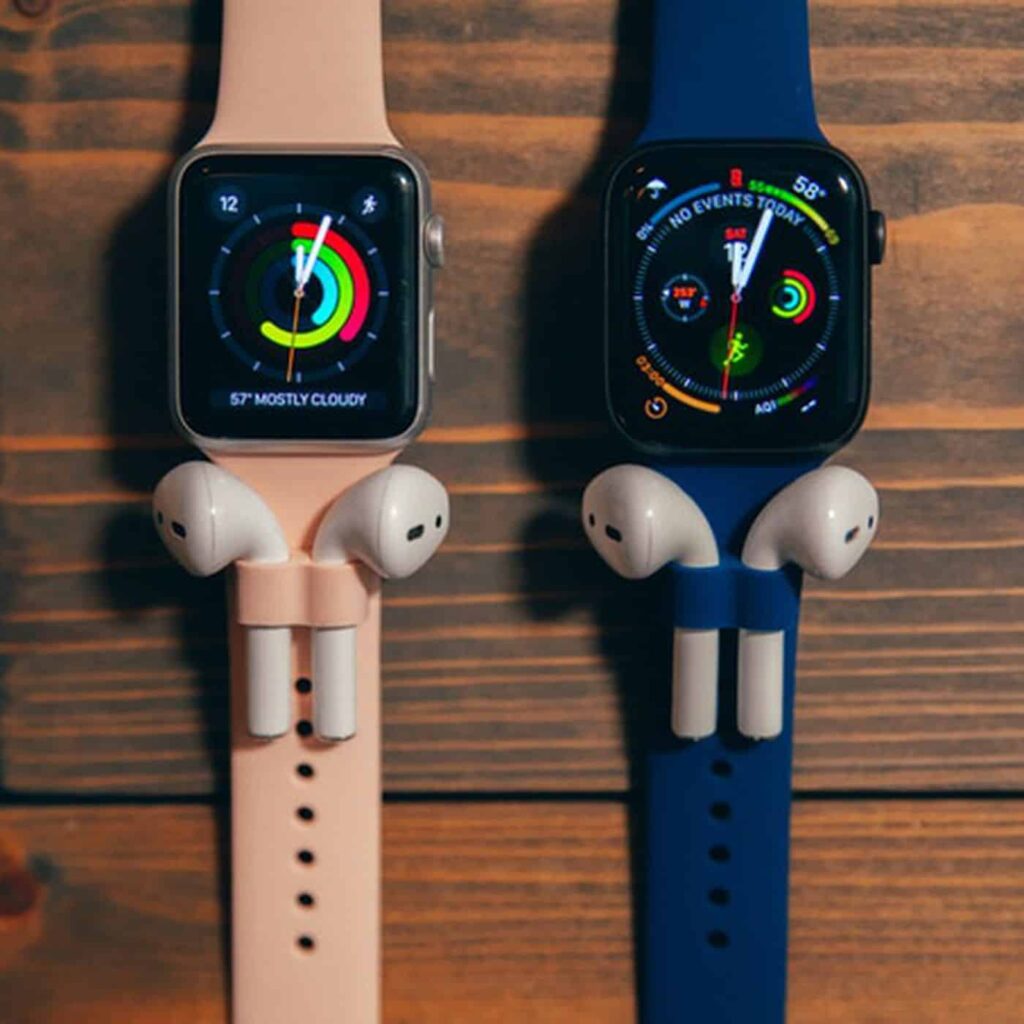 Are you experiencing problems connecting your Apple Watch with your Airpods? They don't always pair automatically, so you might have to do it yourself.
Begin by looking for the airplane icon on the face of your watch.
If you see that, Airplane Mode is activated.
You may disable it by going to Settings, then Airplane Mode.
Unpair the attachment if your device is fully charged and powered on, and you can see your Airpods in the Bluetooth section of your Settings but there is no connection.
Tap Settings, then Bluetooth to unpair them.
Then, next to your attachment, click the Information (blue I inside a circle) icon.
Press the Forget Device button.
Re-pairing your Airpods is now possible.
You Need a Wi-Fi Connection to Pair AirPods to your Apple Watch
If you decide to leave your iPhone in the car at the gym, you'll need a Wi-Fi connection to listen to music.
You won't be able to use those streaming services without internet connection.
You won't be able to use your iPhone's cellular connection to access audio streaming if you're out of range.
Download Songs Onto the Apple Watch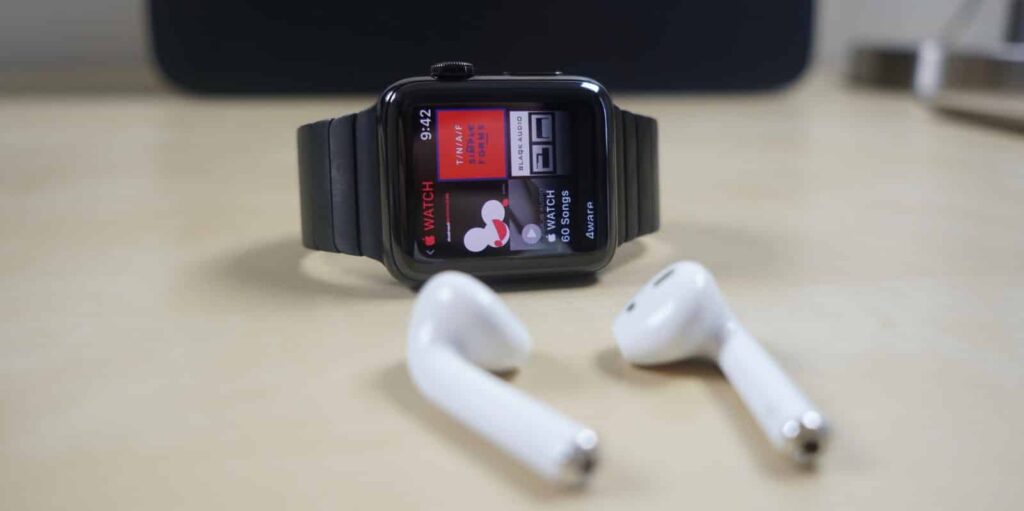 It is feasible to download music onto your Apple Watch because it has a specific number of GB available for music storage.
Simply open the Apple Watch app (and no, iTunes is not required) and choose the playlist or podcast you wish to sync locally to your Apple Watch.
Your Apple Watch's storage capacity is determined by the version you own.
Here's an overview of how much internal storage each Apple Watch comes with:
Apple Watch original series – 8 GB
iWatch Series 1 – 8 GB
iWatch Series 2 – 8 GB
Apple Watch Series 3 – 8 or 16 GB (GPS + cellular)
Apple Watch Series 4 – 16 GB
iWatch Series 5 – 32 GB
Apple Watch Series 6 – 32 GB
Apple Watch SE – 32 GB
The latest Apple Watch versions, as you might expect, have far greater internal capacity, allowing you to sync more tunes and podcasts locally.
If you want to buy then here is the link:
Conclusion
It is possible to use Airpods with your Apple Watch without an iPhone or iPad nearby, but you must have a strong Wi-Fi connection or have your audio synced to the watch beforehand.
Whenever, if you have one of the latest Apple Watch models, you can store a large number of songs and podcasts on it.
So, sync up your favorite playlist and go for a jog down the trail or a trek in the woods without having to worry about your iPhone getting in the way.
Read more: