With its incredibly economical yet product wearables, Xiaomi has established quite a brand. The Xiaomi Mi Band 7 is the newest version made available by the Chinese company. Highlights include an enhanced blood oxygen tracking system and a more prominent display than its predecessors. And 15-day battery life, but this little tracker has other features that need investigation. Here, we will describe all the information on the Mi Band 7, including its pricing, availability, features, and more.
Overall Review
Xiaomi Mi Band 7
The MI Band 7 is a fitness tracker from Xiaomi. Xiaomi has upgraded Band 7 and made it a reliable choice for those who want a fitness tracker with a package of features. However, many users will see it as an overpriced fitness watch, and practically it is pricey. Also, it doesn't come with too many changes from its predecessor Mi Band 6. There are changes in only two things Display and sports. The Display is larger than band 6. In band 6, the display size was 1.56 inches, and in Band 7, it is 1.62 inches, and also it comes with an Always-on display (AOD), which will help you to see time in a glance and even keep monitoring your activity, but all of these comes with a loss of excessive battery.
Also, the new feature will keep tracking your SpO2 all day and has added some new workout metrics. Moreover, they have also increased the number of sports to track. In band 6, there are merely 30 sports to track, but in Band 7, 110 sports are available that you can track from your wrist.
Pros:
The price rate is low/minimal.

It has 110 modes of exercise.

Comes with a feature of an Always-on display.
Cons:
With an Always-on display ON battery drains fast.

Its predecessors are cheaper than him.

It doesn't come with an in-built GPS.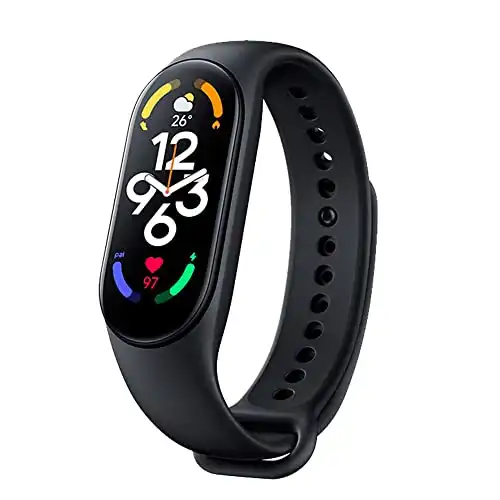 Specs at Glance
Heart Rate Monitor: Yes
Battery Life: 180mAh, up to 3-4 days with an always-on display
Colour Screen: Yes
Notification Support: Yes
Small bands: 160mm
Large bands: 224mm
Water resistance: 5ATM
Sensors: 6-axis sensor, 3-axis accelerometer, 3-axis gyroscopePPG heart rate sensor.
Dimensions: 46.5 x 20.7 x 12.25mm, 13.5g
Colour: Ivory, Orange, Green, Blue, Black, Pink, Fluorescence Green, Fluorescence Orange, Camouflage Green, and Camouflage Blue.
Price: $45.88
Display: 1.62" AMOLED, 92 x 490 pixels, up to 500 nits brightness, 326 PPI
Price and availability of Xiaomi Mi Band 7
Xiaomi is popular because of its regular, affordable pricing, and they have set foot on it. This Xiaomi Mi Band is also in their affordable price range in the US (United States); it is available for $45.88 on Amazon.com. Also, this same model is available for £46.25 in the UK (United Kingdom) on Amazon.co.uk.
The Xiaomi Mi Band 7 has much access to shades; it has 10 shades of bands. It is available in Ivory, Orange, Green, Blue, Black, Pink, Fluorescence Green, Fluorescence Orange, Camouflage Green, and Camouflage Blue. You can choose any shade as per your need.
Design
If you have used a Xiaomi Band before, you maybe can't say that there are differences between this and its previous ones. There are not many changes in their design except for the bigger screen. Suppose you have seen Mi Band 6, which has a screen size of 1.56 inches. While on the other hand, the Mi Band 7 has a screen size of 1.62 inches, with 326 pixels per inch. The same pixels as Mi Band 6.
The Xiaomi Mi Band 7 is lightweight and has a standardized design, so you can't wear it to parties. However, it is suitable for all the other activities and things. Its black variant will always be great on every outfit you wear, and as it is lightweight, you will not know that you are wearing a gadget on your wrist.
At first glance, you will see a watch face like the picture above. This watch face will give you information about how much you have walked, burned calories, your heart rate, Xiaomi's custom PAI stats (Personal Activity Intelligence), Battery life, and weather. In front, you can see the time. This interface is most likely to be good for others, but there is no need for weather to be there. The battery life, burned calories, blood oxygen levels, Steps, and activity score have the right place in the display, the curved corners.
Also, the new feature in the Xiaomi Mi Band 7 is that it now has AOD (Always On Display) for you to have access to time anytime, but it drains too much battery, so the suggestion is to turn off this feature.
App for the Band!
Arranging some things can be difficult because Xiaomi transmits many settings and choices throughout the Band's internal settings and the companion app.
The Mi Fitness app for Android phones and the Smart Band 7 are compatible. It summarises your health, exercises, and all the pertinent facts the Band has collected, like Fitbit and its rivals. The app is a central location for upgrading your Smart Band and changing other exercise parameters. Additionally, you must utilize the application to set notification mirroring of your phone, which, depending on the maker of your phone, may be a nuisance.
The software gives you some instructions on how to provide the Band accessibility to messages and how to make sure that you receive them immediately, but you may have to use some guesswork.
However, once you figure it out, Xiaomi makes it simple to select which alerts you want on your wrist. You can choose your favourite app's notifications or mirror every message you receive on your phone. Using the app, you can also select the stats you wish the Band to capture. You may enable or disable several features, such as standing and stress alarms, blood oxygen statistics, sleep tracking, and more.
Features
In features, they have varieties to give, like the new 24*7 Blood Oxygen monitor (SpO2). You can disable this feature, but as it is accurate, you should have to try it once. The 24*7 monitoring will give you all the information in-app, even you can set the alarm if your blood oxygen goes below 80. This will give you alerts now and then for better health.
Apart from this, it also has a PAI feature (Personal Activity Information), a Stress monitor, a Sleep monitor, a weather monitor, Heart rate sensor. There are 120+ modes so that you can track activities without any difficulties. You can also control Music, Alarms, Event reminders and many other things from the Band itself.
The only non-available feature is there are no microphones, which we can see on any other smartwatches. But as it is not a smartwatch and fulfils its duty as a fitness band, there are no more complaints about it.
GPS feature of Xiaomi Mi Band 7
The Xiaomi Mi Band 7's integrated GPS feature is one of its key selling points. Users may track activities using the GPS function. They don't carry their smartphone when they run, stroll, or move about. The functionality was recently found in Mi Band 6 leaks. The wearable, however, did not include GPS at launch time.
New sensors & new metrics
Due to the greater screen area provided by Xiaomi, a new interface has been created that may provide more information at a glance. This more extensive full-colour always-on AMOLED display and some of the 100+ watch faces have animated components. Thanks to a faster processor, it should seem smoother.
The Mi Band 7 is a better companion for individuals who work out hard. Xiaomi infringes on Garmin's territory because it will also assess the Training load. It also has VO2 Max estimations and exercises intensity feedback. Moreover, Recovery Time and Training impact each session.
As well as, Xiaomi Mi Band 7 has access to the Six Axis Motion sensor. This is usually used to create applications such as navigation, imaging, and augmented reality, and now it's in the Mi Band 7. This will surely give you a unique experience.
Better battery life
Compared to the Mi Band 6, Xiaomi's battery life claims are for 14 days of average use. And nine days of severe service.
However, that excludes utilizing the always-on display. The Always-on AMOLED display will consume a severe battery, so the recommendation is not to activate the Always-on function. And it's unclear how much the SpO2 functions are used. Is it with the 24*7 or without it? So there is no speculation about the battery life of Band 7.
Do Xiaomi bands worth the price?
The $69* price tag for the Xiaomi Mi Band 7 is justified. Once more, it is undoubtedly the most excellent inexpensive fitness tracker available. Remember that you are giving up certain things to get the lower price.
Can the Mi Band 7 take calls?
The Xiaomi Mi Band 7 has a feature of getting you notified whenever a call comes, but it does not allow you to take calls through Mi Band 7. You can't take calls from your watch, but it will give you a notification of calls.
Is Mi band harmful to health?
These devices emit electromagnetic radiation (EMR) and radio transmissions, posing severe health risks. According to medical professionals, the radiation from smartwatches can lower sperm counts, irritate the eyes, and create headaches. Also, decrease appetite, causes nausea, causes mood changes, and disrupts sleep.
Conclusion
Despite everything that the Mi Band range continues to provide, several standard wearable functions are still missing. Specifically, any speaker integration and GPS. A Power Savings mode for the wearable is also rumoured to be developed to extend battery life. However, it is still a very well recommendable fitness tracker to those who have extensive money and can spend any amount for better health. Yes, Gym freaks!
The things which prove that he is a new fitness tracker are that he has a big AMOLED screen from its predecessors and can track over 100 sports.
Read more: