The Capital One app is a downloadable app for Apple and Android smartphones that allows consumers to manage their Capital One credit card and bank accounts. It includes the tools you need to obtain virtual cards and manage bank accounts and credit cards while on the road. Additionally, it allows anybody to use Capital One's CreditWise tool, which teaches users how to analyze and raise their credit ratings. This app is excellent for those with a Capital One bank account, credit card, or loan. They provide a robust account management system with all the tools you want to keep track of your transactions, make payments on bills, and check your credit.
Eno, the app's virtual assistant, is a built-in feature, but one of its most significant downsides is that you can't interact with customer support there; you have to phone instead. The mobile app from Capital One performs every function you'd anticipate from a credit card app. You can access your transactions, balance, payment options, and reward tracking. You may also examine account statements and your payment history on it.
Features of Capital One App
You can easily manage your accounts using the Capital One Mobile app, including analyzing transactions, paying bills, taking advantage of specials, and exchanging rewards. Cardholders can also benefit from security safeguards that protect their accounts. The features of this app are mentioned below:
Security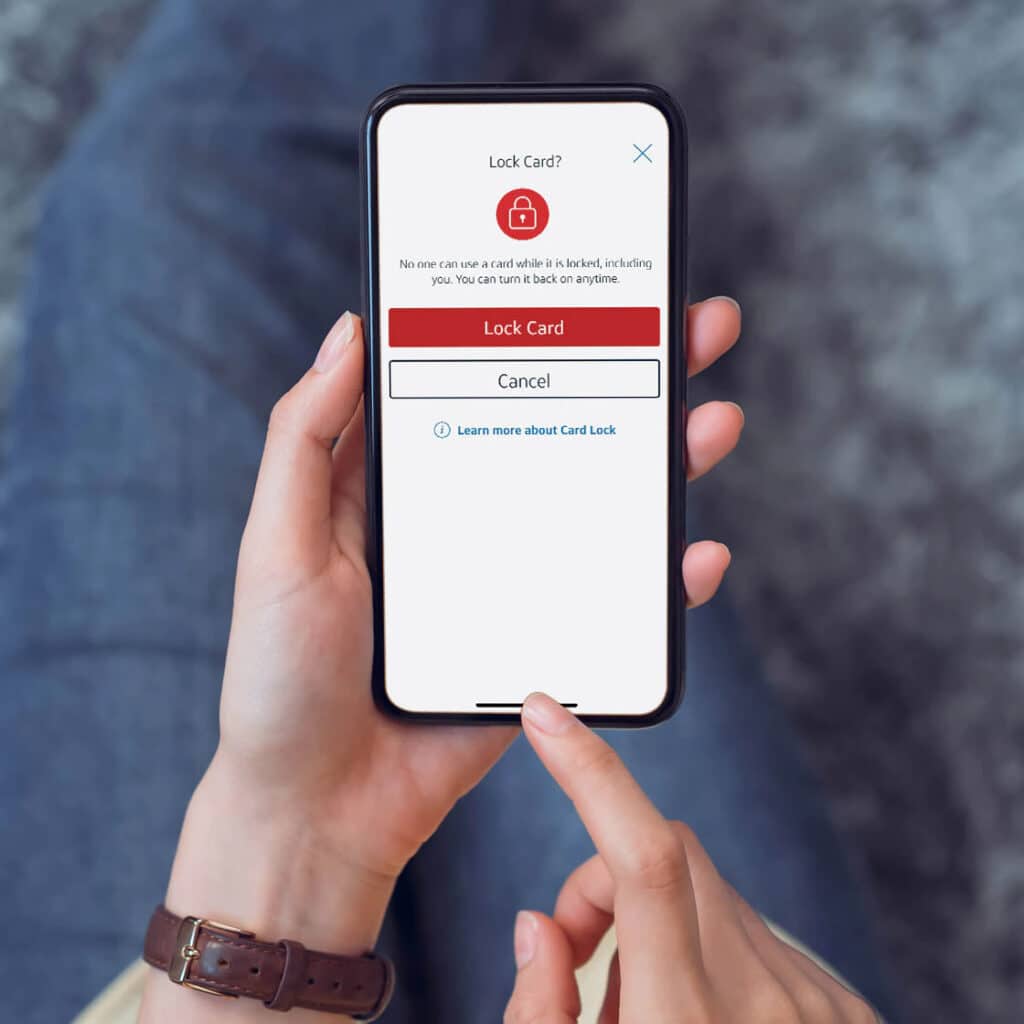 You will need to enter your login details the first time you sign in to your account on the app. The bank sends you a text message as part of two-factor authentication to verify that it's you. Your account can be accessed using a password, a pattern, a fingerprint, or face recognition. Additionally, you may configure notifications to keep track of your available credit, current balance, transactions, and bill payment activity.
The CreditWise feature, integrated into the app, may also send alerts if your Social Security number is used to seek credit or if your personal information is being bought or sold illegally on the dark web.
One of the few card issuers that enables you to generate virtual card numbers so you may purchase online without using your actual card number is Capital One. If your credit card gets lost or stolen, you may quickly freeze it with just one click on the app.
When the card is locked, Capital One rejects new charges. Certain transactions, such as regular payments on autopilot, refunds, credits, and reward redemptions, could go on. If it is discovered, you can then unlock it. You can also use the app to ask for a new card if yours is lost or destroyed. Through the smartphone app, you may request a card number that you can use anywhere. You can cancel that card number and obtain a new one after using it.
Digital Assistant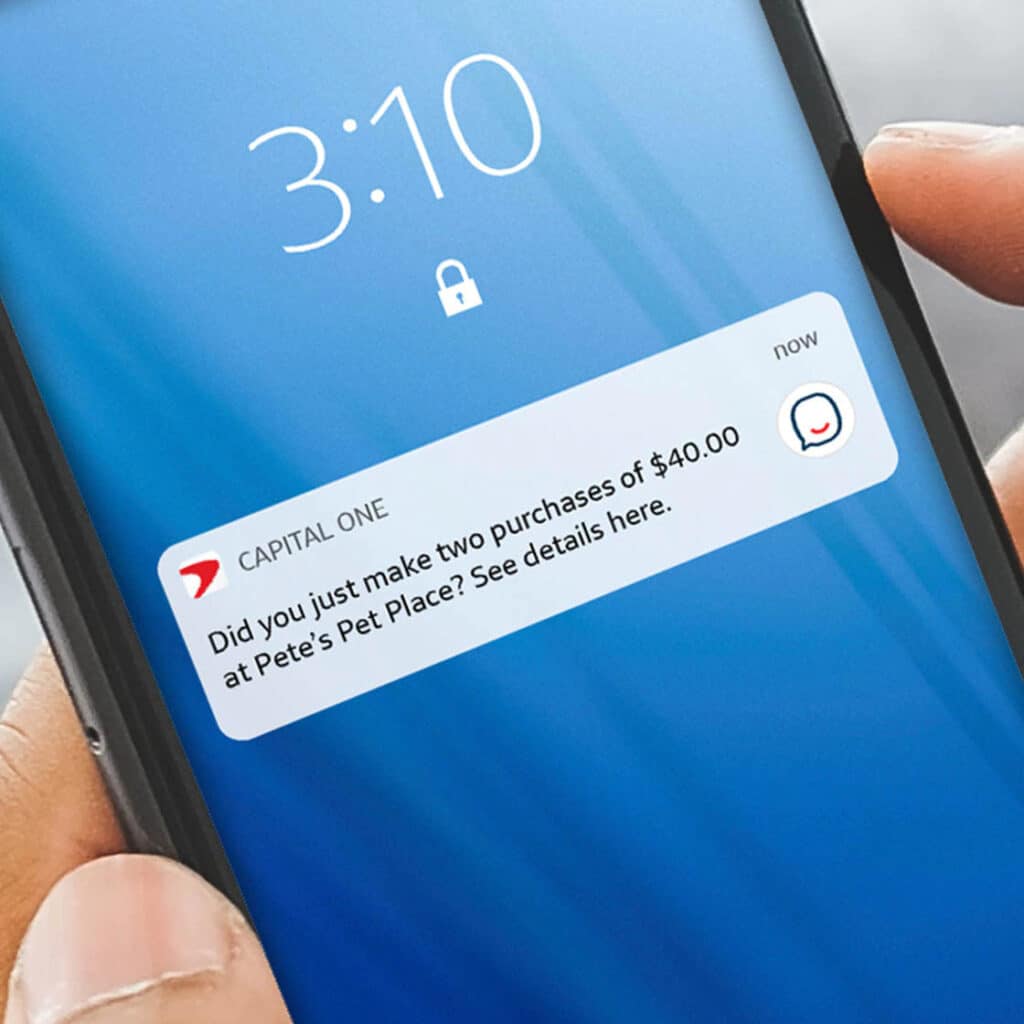 Eno, Capital One's digital assistant, is always on hand to assist you with the app. Eno is available for inquiries on your account, transactions, and more. Additionally, it may provide personalized insights, including warnings when a free trial is about to expire or possible double charges. Using Alexa, you can check your balance, keep track of your spending, and pay bills on the road using the Capital One mobile app, which syncs to any Amazon Alexa device. Simply turn on the Alexa app's Capital One "skill." Then, you can ask, "When is the due date on my credit card?" alternatively, "How much do I have in savings?".
Payment Options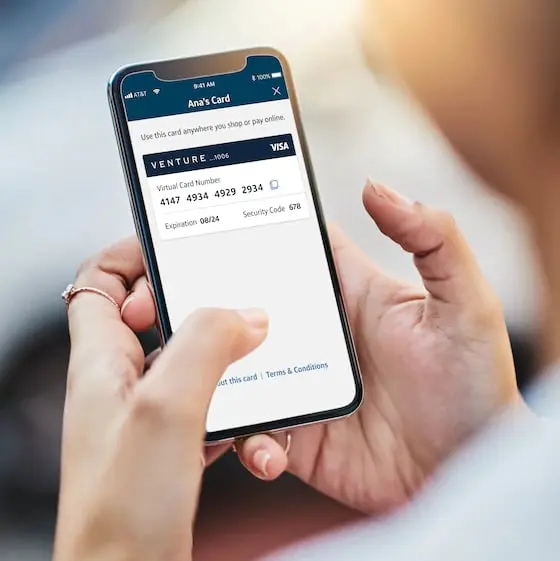 Direct credit card account payments may be made via the mobile app. You must provide your pay-from account, the payment date, and the amount to achieve this. You may edit or create a pay-from account from the app if you don't already have one. Alternatively, if you'd instead do it manually, you may add your monthly due date to your calendar app. Automatic payments can also be set up directly from the mobile app.
CreditWise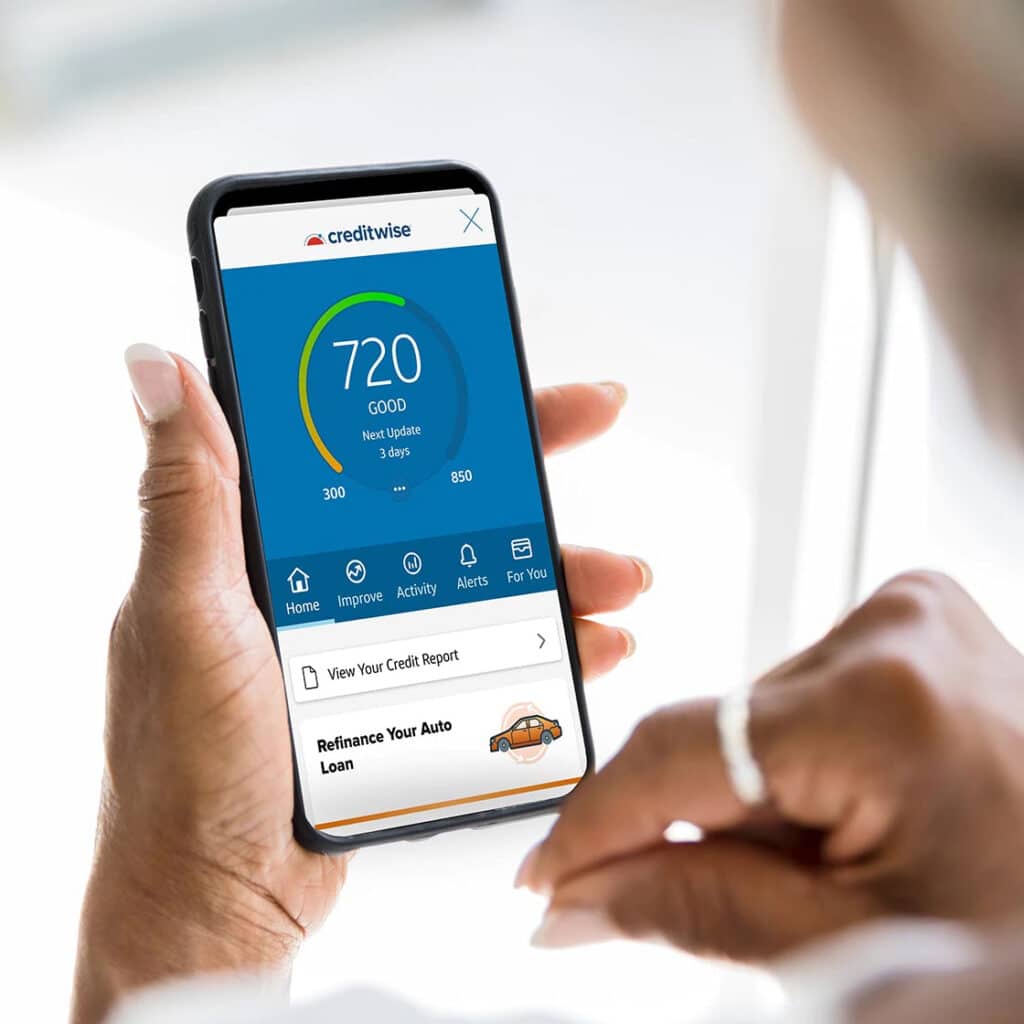 You can watch your credit score immediately in the mobile app, thanks to Capital One's partnership with Credit Wise. The app's CreditWise feature is located at the bottom of the first screen. From there, you can examine your TransUnion credit report, check your score, and discover more about the factors that affect it. You also receive personalized advice on how to make it better. Viewing your previous behavior, receiving notifications, and finding out how to raise your score are other possibilities. The "For You" option offers films and other resources to enhance financial well-being. You may also learn more about your credit usage rate, current credit queries, new accounts, payment history, length of credit history, and total credit available.
Spend Tracking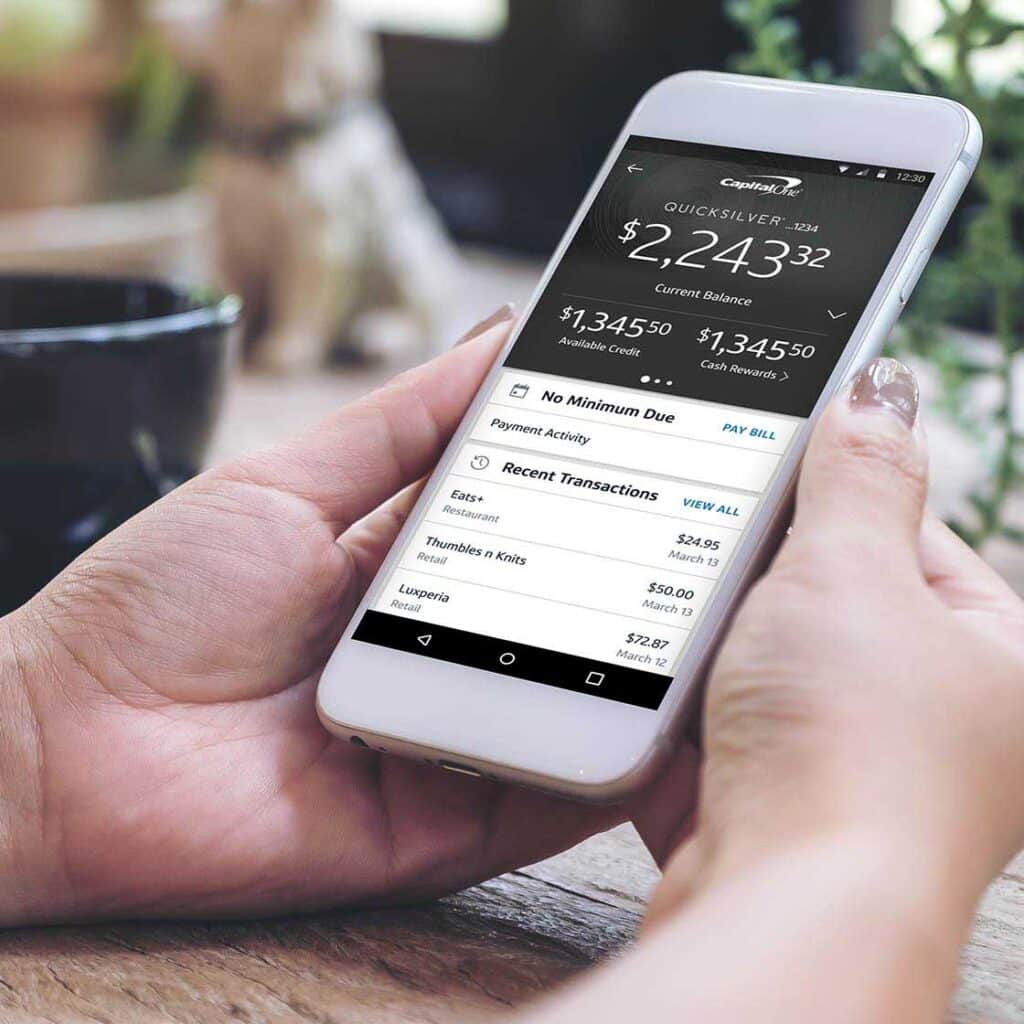 You can check recent transactions with Capital One, a valuable feature to develop if you want to keep track of your spending and avoid credit card theft. If you want to check on anything from the previous year or so, you may also go back and review older statements. However, unlike other credit card mobile applications, this one doesn't offer further spending details.
Additional Features
Activate new debit and credit cards
Send and receive money with Zelle
Deposit checks with just a photo
Pay bills and manage loans
Find Branches & ATM
Check your credit with Credit Wise
Request virtual card numbers
Get alerts and instant purchase notifications
Redeem credit card rewards
Get answers from Eno
Review detailed transactions for every purchase
Support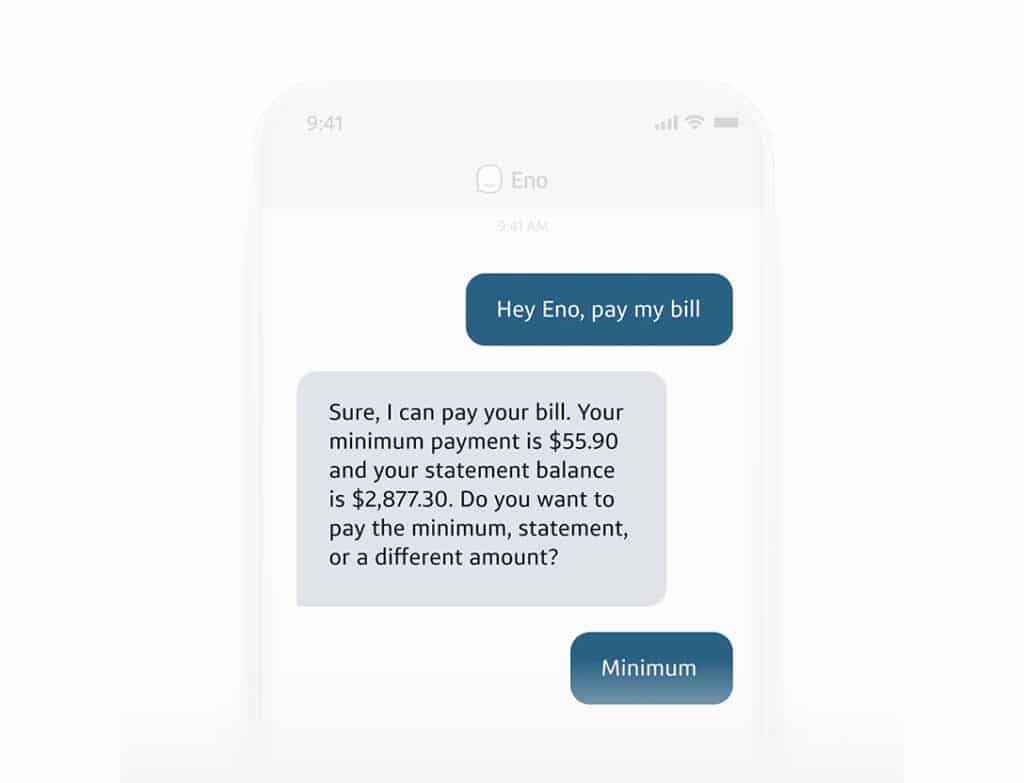 The Capital One app does not allow you to establish a chat with customer support. There are a few methods to contact Capital One, including calling 1-877-383-4802 at any time to talk to a customer support agent or chatting with Eno, the company's digital assistant, to get answers to frequently asked questions. You can also download the Capital One App by following the Button Below:
Reward Redemptions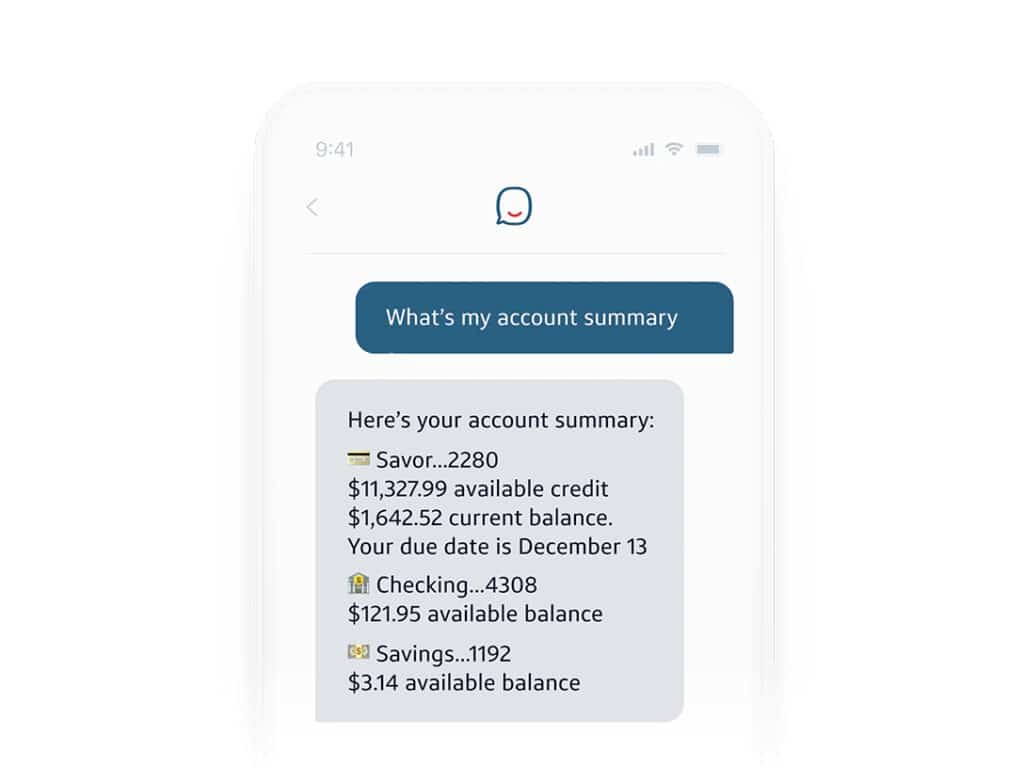 The mobile app will let you see your rewards balance and use your rewards immediately. You can see how many miles or cash back you'll need for each redemption option when they are all posted for you. You can quickly take advantage of the value of your card's advantages when you're out and about by seeing them on the Capital One Mobile app.
Whether you're shopping online and want to know if there are any Capital One offers available for a particular merchant, you'll now be able to browse and activate Capital One offers through the app. These cash-back offers may be presented as a fixed sum or a percentage. You must go to the merchant using your mobile app or online account to activate a deal. Unfortunately, in-store purchases are not eligible for Capital One Offers.
Advantages
Easy To Use
Easy Account Management
Virtual Credit Card Numbers
Virtual Assistant Eno
Access Credit Card Benefit List
Request A Credit Limit Increase
Free Credit Score Monitoring
Real-Time Spending Insights
Find A Branch Or ATM
Free To Use
Disadvantages
No Live Chat Available
No Payment Planning Option
App redirects to website for some functions
No Name or Address changes Allowed
Need to pair Budgeting App
Is the Capital One Mobile app Safe?
Any banking software must prioritize digital security, and the Capital One mobile app's security measures are accessible from the Profile screen. You may modify your username or password from there.
How does the Capital One app work?
The mobile app from Capital One performs every function you'd anticipate from a credit card app. It gives you access to your transactions, balance, payment options, and reward tracking. You may also examine account statements and your payment history on it. However, you cannot utilize it to contact a customer service representative.
Does Capital One App charge us for using App?
With a highly regarded mobile app, you can access your money and bank practically anywhere. There are no fees, minimums, or concerns for using Capital One App. Your money so remains with you, where it should be.
Can I add another credit card to my Capital One app?
Yes, You can Add Another Credit card in the Capital One App.
Just Log in to the Capital One app, choose your profile image, then select "Settings" to add a new credit card.
Then select "Link a Card" from the "Credit / Debit Card Settings" menu.
After that, you may manage your new card and access your account information by linking it to the app.
You may attach a different credit card to your Capital One app by accessing your regular online Capital One account.
Simply log in to your account on Capital One's "Link Cards" page, then proceed as directed.
Additionally, if a card is linked to your online account, it should also be up on your app. Thanks to this, you'll be able to access all of your Capital One credit cards with a single login and password.
Verdict
Although no bank has ever produced the ideal app, Capital One's app provides valuable functions. Thanks to its practical features and elegant user interface, you may manage your money while traveling. You may also make purchases online using the virtual cards option without the risk of giving out your actual credit card data. Despite lacking in-app chat, the Capital One app is among the best.
Top-rated Google Play and App Store reviews attest that Capital One is among the top five conventional banking apps available. Moreover, The only drawback is that there isn't an integrated budget where you can fully control your income, expenditure, and savings objectives. Aside from that, other tools like Credit Wise and Eno are merely the cherry on top.
Read More