The web and app-based tools offer top-level financial summaries and track. But they fall short when it comes to specific tasks like budgeting and saving. The Personal Capital finance tool by Empower is a unique example of a company that sells various paid consulting services while also offering a valuable free component.
Personal Capital is part of Empower Retirement's range of financial services. However, it is positioned as a wealth management adviser from the start. Its website makes it difficult to distinguish between the noise related to its paid services and the value provided by the company's free offerings. Even those free services appear superficial. Once inside, you'll find monitoring and investing tools and a straightforward approach to budgeting and saving. However, as we'll see in our Personal Capital review, it lacks some features found in the top budgeting applications.
What we will see here?
Personal Capital: Cost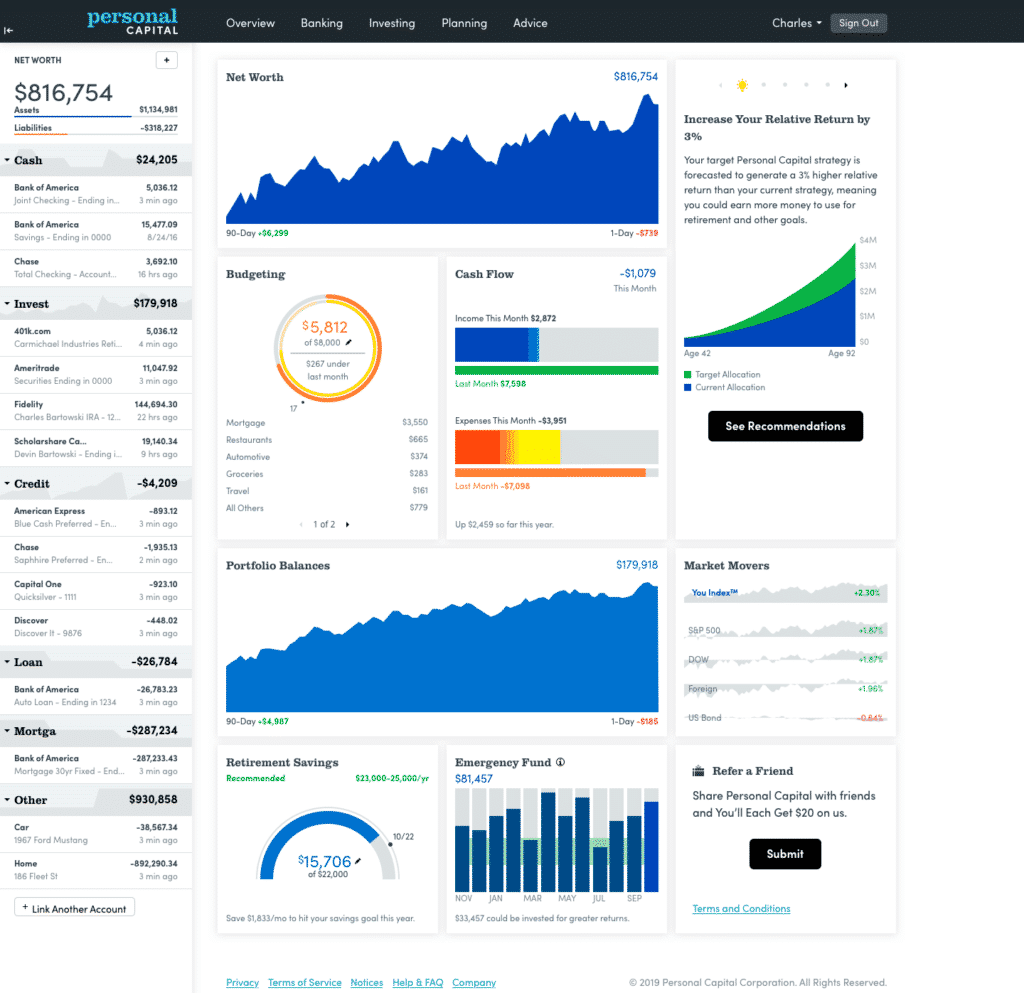 Personal Capital finance tool offers a free account to check your net worth and create a budget and savings plan. The company makes money when you sign up for the firm's wealth management advisory services, which cost a percentage of the amount of money they'll be managing. The fees are expensive, starting at 0.89 % for clients managing $100,000 (up to $1 million) in assets. This charge offers you access to Personal Capital's portfolio funds and a team of financial experts (a portfolio of over $200,000 gets you two dedicated advisors). So That will help you along your financial path.
Features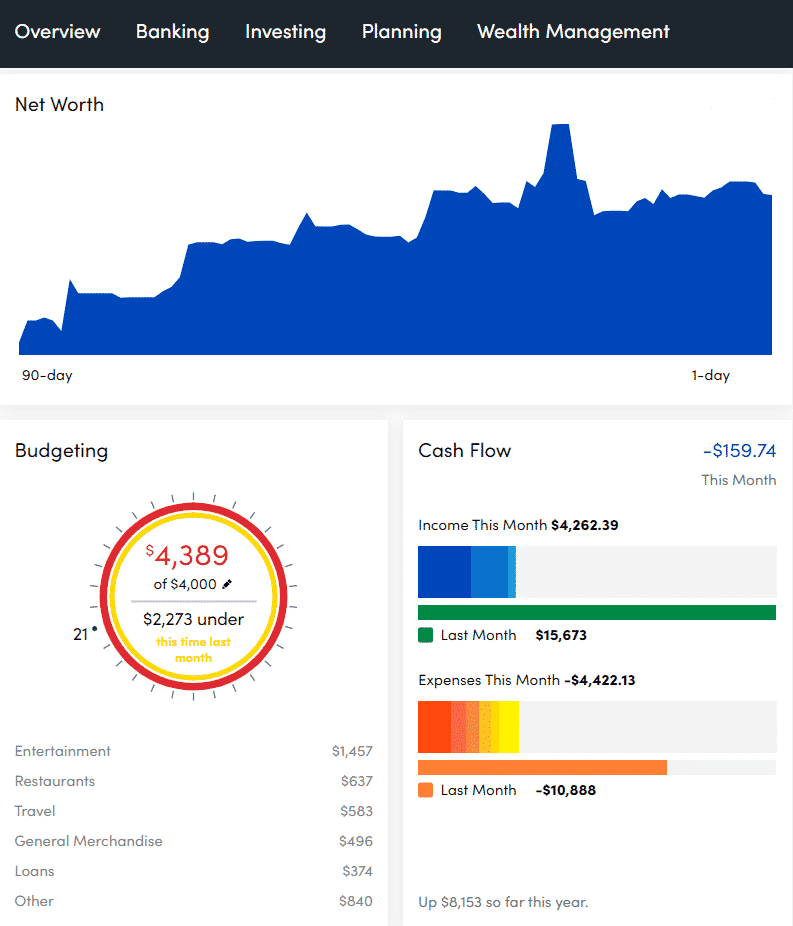 The Dashboard view of your synchronized banking and investing accounts is at the heart of Personal Capital's free services. It provides a convenient way to see the overall picture of your financial health and cash flow. The savings planner helps you jump-start saving for retirement or an emergency fund. While the Investment Checkup analyses your portfolio allocation and compares it to Personal Capital's recommendations.
The Fee Analyzer searches your connected investment accounts for hidden or excessive fees. While the Retirement Planner provides you with an indication of what's possible. Make no mistake: checking out bigger and better Personal Capital finance tool offerings is the only way to go.
Adding a basic tier of monthly spending budget helps round out the service's financial focus, and the investing tools may supplement or confirm what your investment brokerage already offers.
Convenience of Use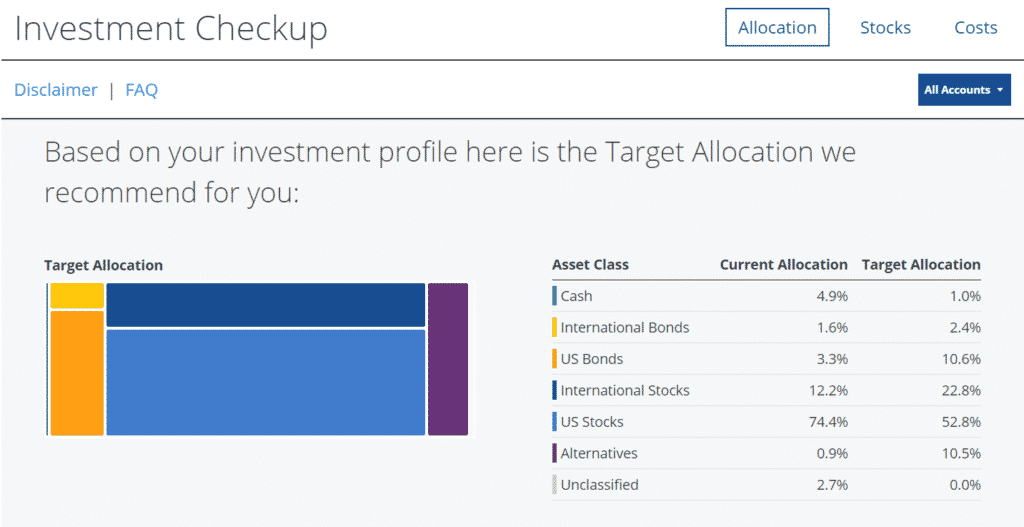 Provide a username and email address to create a free account. The free account provides access to the Personal Capital Dashboard and its functions, including views of your net worth and transactions organized by account type.
You may manually manage your portfolio and other assets like cryptocurrencies, vehicle loans, and non-digital items like art, jewelry, and cash. Once you've signed up for the service, you can add the worth of your house (through a Zillow interface). Of course, the investment and planning advice is dependent on how much you link and share.
Personal Capital's simple, logical form may attract you. By default, a slide-out side panel appears on the right side of the website, displaying your net worth, assets, obligations, and accounts all in one location. The remaining sections of the website are broken into widget blocks that provide snapshots of various elements of your account and the market. Personal Capital finance tool was the only service that automatically updated your account every day when you logged in (and you can have that sent by email)
Personal Capital's budgeting tool is located under the Banking tab. Also, it may be found as a widget on the dashboard page, although the tool is restricted. However, it is helpful if you need to break down your budget into basic words. "For example, if somebody wishes to spend X amount every month, "There's nothing else. The only amount you can change is your monthly budget. Everything else is classified and imported automatically from your transaction data. It displays your spending for the preceding 30 days and compares it to the previous month.
Personal Capital analysis for Mobile app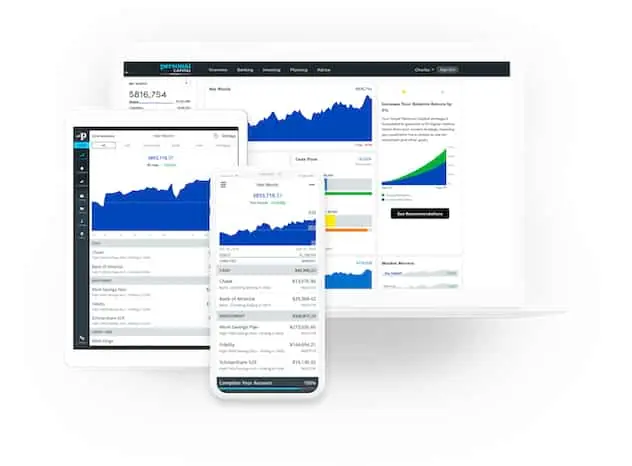 The mobile app offers visual snapshots. But it isn't set up so that there are many actionable elements. We could see our monthly budget and spending by category and adjust our monthly goal expenditure. But that was all for budgeting. Put another way, the functionality is the same as on a web browser, with a slightly different visual display. You may also look at your cash flow, transactions, net worth, and portfolio.
Available help
Given that the service is more about collection than action, it's no surprise that written assistance is limited. A pop-up help bot may be found at the bottom of every screen. So you can also send a message to an agent.
The Savings Planner differs from other services in its procedure. The Savings Planner in Personal Capital directs your investments for retirement, savings for an emergency fund, and debt repayment. However, it does not assist you in saving for vacations or other life events or wishes.
Conclusion
Personal Capital offers an appealing appearance and valuable capabilities for viewing your assets. Still, it isn't a replacement for more DIY-oriented personal finance software like Mint or Simplifi or specialized budgeting software like YNAB. Those three packages will give you a better idea of where your money is going and how much you spend each week. All Personal Capital does is provide you with a monthly total to budget for transaction fees. That's in stark contrast to YNAB's active method, in which you allocate every available dollar to a current or future transaction.
Adding accounts was a breeze, with the clearest descriptions of what you were given access to and receiving in exchange that we'd seen. The dashboard also gives you a clear and useful snapshot of your accounts and cash flow. On the other hand, Personal Capital is strong on displaying you pretty charts but weak on actual functionality.
Read More