iMovie is basically the entry-level video editing app and it hasn't changed much in the past several years. With iMovie, you can edit your video clips and photos into professional-quality edits and upload them on social media. You get great tools to edit your clips and pictures. Apple is here with some major features added to this app, so here is the iMovie review for everything you need to know.
iMovie- Video editing software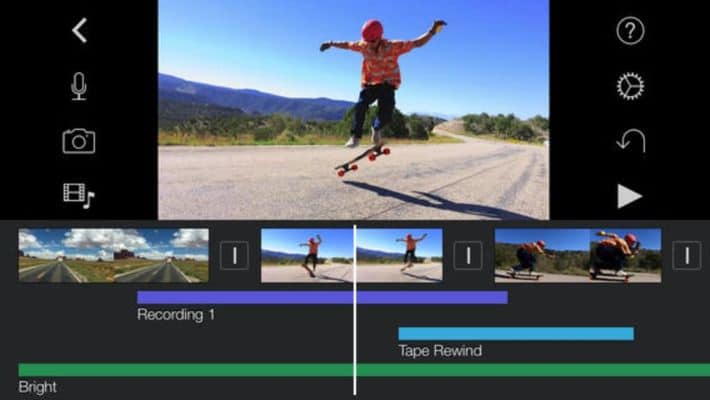 The video editing software from Apple is a basic application for editing with tools for a media organization, colour grading, speed, green-screen effects, narration, and soundtrack. Although it still does not support 360-degree, it does work with 4K and HEVC. Also, with iMovie, you can create the best storyboard-based movies with tools like Trailers and Movies. Recently Apple has added some new features for some serious video editing.
Pros
Simple interface
Colour matching for consistent movie looks
Themes
Chroma-Keying tool
Many audio tools
Movie templates
Cons
Useful controls missing
No tagging
No multicam or motion tracking
Limited to two video tracks
Does not support 360-degree video editing
iMovie interface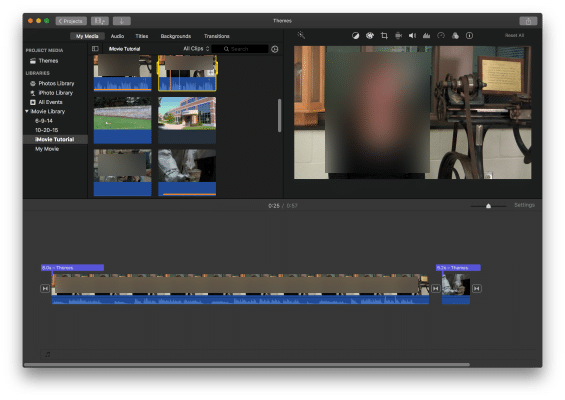 When you open iMovie, you can find the needful tools on the screen without any clutter. With the new update, you even get the Dark Mode even if you aren't using Dark Mode in macOS Catalina. You get two tabs at the top centre for Media and Projects. On the lefthand side of the Projects, there is a plus-sign button that opens the view window. If you click on this, you can choose from New Movie and New Trailer.
You get the standard three-pane video-editing interface in iMovie. On the top left is the source content, preview at the top right, and on the bottom, you get the timeline. Although, you don't get track divisions as in other editing apps. You have to drag clips down to the timeline. As compared to other video-editing apps that allow 100-plus video tracks, iMovie only gives you two video tracks.
In the latest update, you can click on a clip to select it completely rather than a range within the clip. Also, with the plus-sign button, you can send the clip to the timeline without dragging it. Moreover, you can see an orange line on the bottom of the video that you have used in your project. Thus, helping you to easily distinguish. You can import any photo or video clip easily to iMovie. Although you can import 360-degree content, you can't edit the point of view. You can even start your project on your iOS device and finish them on your desktop.
You can mark your clip sections as Favorites or Rejects. Although, you don't get any ratings, keyword tags, or face or geographical categorization. You can find the used content in the separate Project Media section of the source panel. You can access the Projects page from the button at the top left and easily find anything you are looking for.
Edit in iMovie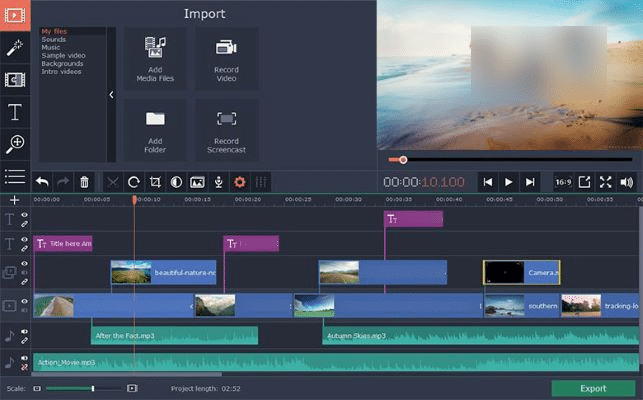 With iMovie, it is easy to drag inserted clips around in the timeline, and they automatically cling to the adjacent clips. When you do this, it creates Clip Connection lines which help to keep media together if you move one of the clips. In the Source Panel, you can trim them in the source panel and then add them to the project. Also, the Precision Editor expands the view and shows the parts of the clips before and after the edit. It also indicates how many seconds are in the clips and transitions. You can even crop and rotate video clips or photos.
With the magic-wand Autocorrect button, you can enhance the lighting and colour of your clips. If this doesn't give you enough colour, you can use Program Match colour between clips. This helps to set the white balance from a point in the frame and enhance the skin tones using the dropper tool. Also, you can add a Theme for artistic design. To add a theme, you have to go to the Settings panel and choose from 14 different themes. The Travel feature shows the movie's location on a map.
The Trailers feature adds orchestral background music. Trailers feature works as real movie production processes and use an outline, storyboard, and shot list, and even suggests you the type of shots to include when, and how long they should last.
MacBook Touch Bar Support

Although iMovie gained the Touch Bar support since the 10.1.3 version, the features are still limited. All you can do is a selected clip into the timeline, split clips, and add overlays with the Touch Bar support. Whereas, with Final Cut, you use the Touch Bar to adjust colour properties, scrub playback, movie clips on the timeline, and adjust title font sizes. All we can do is that Apple adds more customized features for the Touch Bar support for iMovie.
Special Effects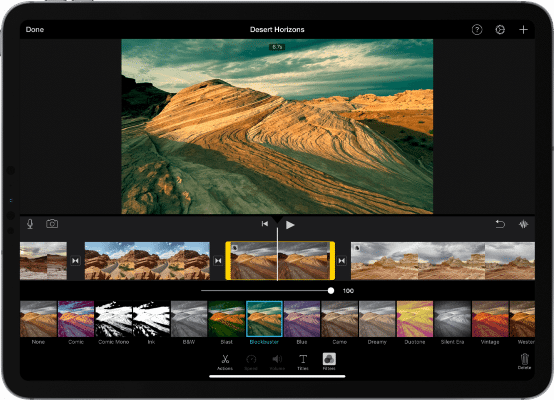 One of the best features available in the iMovie app is the green-screen also known as the chroma-key tool. This is automatic and effective and can be used from the overlay button above the video preview window. You can even access the picture-in-picture (PiP) feature although it is limited to only one embedded picture. Moreover, you can even get the split-screen effect, but it divides the screen into two halves and you cannot adjust the ratio.
You can even add time effects to your clips. Features like freeze-frame can be applied with a simple click and allow you to adjust the time of the freeze. Moreover, you can adjust the speed of the video (Fast or Slow). You can set a speed per cent for slowdowns and speedups. Clip Filters can be accessed from the button present above the preview window. You can choose from some nifty filters that include X-ray, Duo-Tone, and Sci-Fi, black-and-white, retro looks and much more. Although there aren't many transitions available, there are some fun ones like page peel, cube spin, and mosaic.
Add title in movies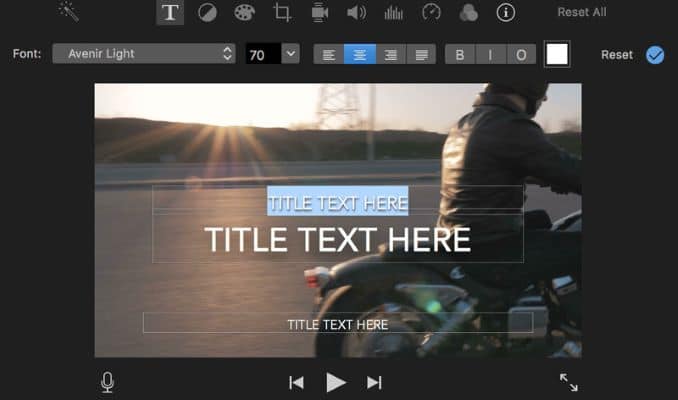 You can very easily add titles and texts to your video clips with the help of iMovies. For this, you can choose from well-designed title styles, enter text and then edit in the preview window. You can add animation in the title, or change font, size, and alignment. Also, you can add the old Star Wars scrolling text effect in your video clip.
Audio in iMovie
For background music, iMovie connects with iTunes and GarageBand. You can choose from a number of background soundtracks and sound effects. You even get four levels of pitch up and down, cosmic, and robot soundtracks. Also, you can edit the audio effects by equalizing, hum reduction, voice enhances, and bass and treble reduction. Although you don't get complete freedom in adjusting the audio.
Share your clips
After you edit your video you can share them through email to your iTunes Library, or YouTube, or any other app. Although you don't get the option to directly share on Facebook, there is an option Prepare for Facebook. This creates an output file formatted to work on the social network. Alternatively, you can save the clip as a video file and set the resolution and bandwidth. The video is saved in MP4 format and is almost universally supported.
iMovie on iOS
Most people use iPhone or iPad to edit their video clips as they are handy. Apple has done a good job to make the app usable on the small screen. On your iOS device, instead of moving the insertion point, you have to swipe on the clip thumbnail. This will move it in the timeline. In Version 2.3, Apple added HDR support, new title customizations, imports and share 4K 60fps content. You even get to use solid, gradient, and patterned backgrounds. You will find arrows in small boxes between the clips indicating transitions. If you click on these, you can change the transition type. When you click on the Plus sign you can add more media to the clip. To reorder the content you have to do is tap-hold-drag-and-drop the clip. When you tap the question mark icon it shows tooltips for each control.
On your mobile, if you click on the Plus sign, you can start creating a movie. You can then see a choice of Movie or Trailer. Trailers guide you as to what type of scenes you can add. The Movie option has transitions, titles, background music, and adds motion to any still images present in the clip.
Conclusion
iMovie is a good entry-level video editing app that you can use to make your videos more fascinating. The app comes in a simple interface in both macOS and iOS. It gives you powerful tools to help you edit your videos. You can add transition effects, animate the still images, add text, choose from hundreds of filters and much more. You can even add background music to your video clip. For this, you can choose audio and then even edit it to some extent. The green screen tool is one of the best tools in iMovie. Moreover, this app supports all types of videos and images. One of the other setbacks is that even though iMovie is supported in the Touch Bar, you cannot do much with it. You can even edit your clips on your iOS device anywhere and anytime.
Read More!