With futuristic advancements in technology, we are in the era where mobile companies are completely dropping off the need for physical SIM. Here is everything you need to know about the latest eSIM that companies are starting to implement.
What is a SIM?
SIM is an acronym for subscriber identity module, which is a little plastic card that fits into your phone. It stores information such as your phone number and allows you to make and receive calls, texts, and use data.
What is an eSIM?
" The Embedded Subscriber Identity Model, or eSIM, is a digital version of the SIM card that connects your phone to your network provider."
It's a chip in your phone that can be reprogrammed to work with any network you like. You can think of it like the NFC chip that you use for contactless payments, which works with any bank. An eSIM is the same as a regular SIM, but it's used to link you to your phone network. SIM cards can also save contacts and phone numbers, making switching phones simple. You can simply remove your old SIM card and insert it into a new phone. However, so-called eSIMs are intended to replace old-style physical SIMs.
The difference :
An eSIM is a tiny chip integrated into your smartphone rather than a removable plastic card inside your phone. You can't take it off one phone and put it on another.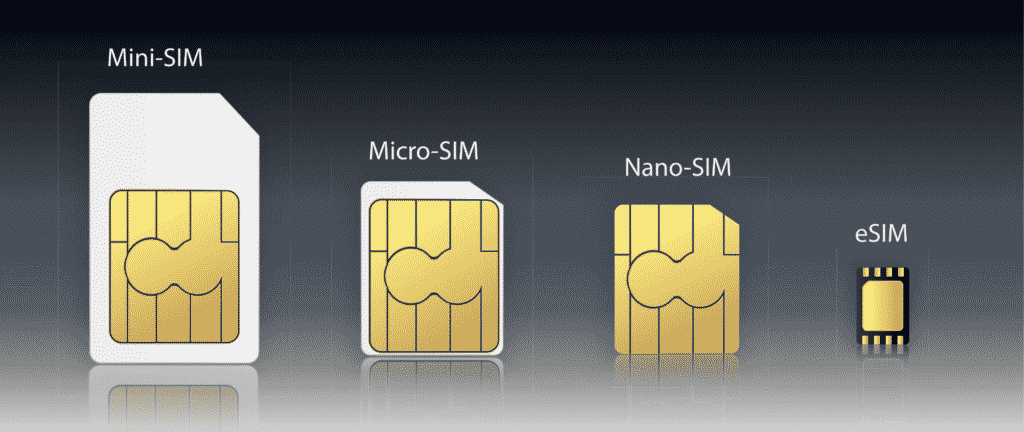 SIM vs eSIM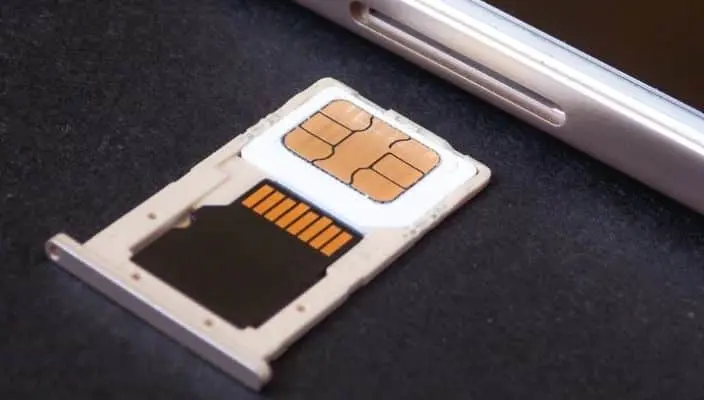 The data on an eSIM can be written. This means you can switch networks without having to remove your SIM card and enter a new one. However, it's not yet the time period when eSIMs totally replace plastic SIMs. eSIMs are more typically utilized as the second SIM in a dual-SIM handset at the time. It's a programmable SIM card that's physically attached to the motherboard (soldered). It performs all of the functions of an external SIM card. However, the only exception is that it cannot be physically removed without disassembling the phone and unsoldering the chip
. This may appear to be a concern at first. When traveling abroad with a phone that has a removable SIM card, for example, you must shift to a different carrier's SIM card to maintain mobile coverage.
Although, eSIM technology makes switching providers even easier.
Instead of waiting for a new SIM card to arrive in the mail or going to a local store to get one, you can make the transition immediately on your phone, with the eSIM card. It allows you to switch between lines and carriers as well as manage accounts. If you have a dual-SIM phone, eSIM technology allows you to have many accounts and move between them quickly. Aside from making carrier changes easier, eSIM technology has another advantage, it eliminates the need for a physical SIM tray. Because the eSIM chip is built into the device's motherboard, there is no need for a physical sliding tray that takes up space. This means a slimmer design, a bigger battery, and so on.
What devices use eSIMs?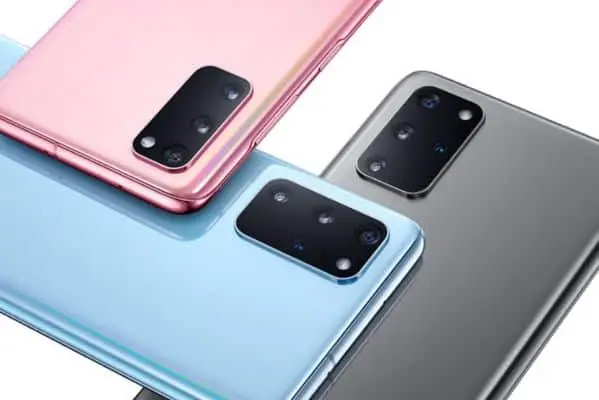 Apple's iPhone XS and newer models, as well as the iPad Pro 2018 model and newer, support eSIMs. eSIM is also available on Apple Watch Series 3 and is newer. Whereas Google included it in the Pixel 3 and Pixel 3 XL. Samsung's Galaxy S20 series, Galaxy Flip Z, and Galaxy Fold all enable eSIM. All of those phones include eSIMs as a dual-SIM option. However, the Motorola Razr is eSIM-only, with no regular SIM. The Pixel 2 came with an eSIM that only worked with Google Fi. Although, the Pixel 3 and newer models can use any carrier.
The Chinese version of the iPhone XS did away with the eSIM entirely in favor of a dual-SIM slot. This was even continued with the iPhone 11. As a result, Chinese carriers may be less interested in embracing the new technology. Making this bad news for people planning to travel to China using an eSIM. Additionally, the Surface Pro LTE from Microsoft was the first Windows 10 device to include eSIM technology. Apple Watch Series 6 and 5 already feature eSIMs, which helps the company keep the total size of the device down. This is important for a wearable. Some laptops, as well as some tablets, include eSIMs, although they are few and far between.
Networks supporting eSIMs
eSIMs are currently supported by networks all around the world. In the United States, eSIMs are compatible with AT&T, T-Mobile USA, and Verizon Wireless. Optus, Telstra, Truphone, and Vodafone are available in Australia, while EE and O2 are available in the UK. In the UK, Vodafone also offers eSIM support as well as more typical UK SIM-only plans. Although only for the Apple Watch and a few Samsung smartwatches so far. Some international providers, in addition to local carriers, enable eSIM. Truphone, Ubigi, GigSky, eSIM.net, MTX Connect, Readtea Mobile, and Soracom Mobile are all worth checking out.
Where Are eSIMs Available?
The number of nations where local eSIMs are available is steadily increasing. The list has grown from ten countries at the start to over 60 currently. However, not all providers in many of those nations support eSIMs. T-Mobile, AT&T, and Verizon, for example, offer it in the United States, although most resellers, such as Boost and Cricket, do not. In the United Kingdom, EE and Vodafone offer an eSIM option, however, O2, Three, and nearly all resellers do not. More networks are joining the eSIM service as a result of the spike in eSIM-enabled devices. Most carriers are wary about the technology since it makes switching providers far easier for existing clients.
You can bet that if a better bargain is available immediately on the device, without the need to do any serious research or walk into a store, more consumers will switch, and more frequently.
That is the absolute last thing a mobile company wants to happen. Who's one of the reasons why, for the time being, even carriers that support eSIM don't provide it on prepaid plans. The only major exception to the rule is T-Mobile in the United States. This hesitancy is inconvenient for travelers and another roadblock to wider adoption. If eSIM succeeds in gaining traction, the fear of losing clients could lead to price wars, with suppliers competing for market share by offering the best rates.
Advantages
Firstly, eSIM-only phones are essentially sold unlocked. You simply get the appropriate network settings from an app or via a QR code to program the eSIM.
Secondly, it takes up a fraction of the space a traditional SIM card does, even a nano-SIM. The SIM card slot is a pretty hefty bit of hardware. Without it, life becomes easier for smartwatches, fitness trackers, and phone manufacturers. That's especially true for those wanting to make folding, flexible or oddly-shaped devices. 
Physical SIM cards don't like to be bent.
Because there's no need for a connector for the card there's one fewer thing to go wrong. Devices using eSIMs won't need to be linked to your phone or your Wi-Fi router. This is great news for smart home tech and the Internet of Things.
Finally, you have the option of selecting who you want your phone to connect to for various purposes. For instance, you might have one line for calls and another for data because you're in another country and the local network charges less for data than your usual provider. 
Moreover, you won't need to physically swap SIM cards when you travel if your phone has an eSIM. Also, you won't need to alter your number either if you switch networks. Your eSIM can save numerous network details and logins. So, you may simply switch your eSIM when you arrive in a new country and immediately begin utilizing the appropriate network. You can change networks with a phone call or online rather than ordering a new SIM.
Switching SIMs
One eSIM can hold up to five virtual SIM cards at a time. This means you can easily switch between networks if you're in a location where your typical network doesn't have a signal. It also makes switching to a local network when traveling easier. Also, it eliminates the need to physically insert a local SIM. Using a local cell network when traveling can be a lot less expensive than paying roaming fees to your provider. It's also less likely that you'll lose your SIM if you don't remove it from your phone.
Multiple SIM cards
eSIMs have the same benefits as dual-SIM phones that have two slots for traditional plastic SIMs. The most prominent of which is the ability to have two phone numbers on one device. If you want one number for personal usage and another for work, but don't want to carry two phones around, this is a good option. You'll be able to receive calls and texts on both numbers at all times, and you'll be able to choose which SIM to use for activities. It takes up less physical space on the phone.
No need for a SIM tray
Another benefit of eSIMs is that they will eventually replace the traditional SIM card and tray. Manufacturers of smartphones might potentially use this area to expand the battery capacity of their devices or add new functions. Fewer holes in a handset provide more protection from moisture and dust, which means fewer failures. In rare situations, it may also be possible to make handsets smaller. People don't want to carry a large device on their wrist. Therefore wearables like smartwatches have a substantial space benefit. The Apple Watch Series 5 and Series 4 smartwatches, as well as the Samsung Gear S2 and Gear S3 smartwatches, already have eSIMs.
Is eSIM an industry standard?
eSIM is an industry standard. The GSM Association, which represents the world's mobile network providers, developed eSIM as a universal definition. eSIM is the only globally supported remote SIM specification. So, you won't have to worry about a situation like VHS/Betamax, where competing and incompatible standards exist.
When can you start using an eSIM?
Your mobile device most likely already has an eSIM card. Laptops with cellular connectivity, such as the Surface Pro X and numerous models from Acer, Asus, Dell, HP, Lenovo, and Samsung, use eSIM technology. SIM cards are still in use in laptop designs, despite the fact that they are becoming increasingly rare. Many phones will still feature a tray for a detachable SIM card until eSIM technology becomes the worldwide standard. There's nothing wrong with using one of these phones, it's simply an older method of identifying yourself on a network. Despite its small and delicate do-not-touch circuits, switching out a SIM card can be difficult. Maintaining an eSIM is thus much simpler for everyone.
Disadvantages
However, there are a few potential drawbacks to using eSIMs.
Switching gadgets isn't as simple as it once was. If your phone breaks down, you may quickly remove the SIM card and replace it with another phone, maintaining your phone number and contact information. Although storing information and contacts on the cloud is supposed to make it easy to transfer data such as contacts from one phone to another, this will be far more difficult with an eSIM. There's no privacy whatsoever.
You can't take an eSIM off of a device, which may be a drawback if you're worried about your movements being followed. However, this could be an advantage because it makes it difficult for phone thieves to steal your phone.
How to use eSIM when traveling?
Switch Your Usual Number Across
Because all phones with eSIMs now feature a physical SIM slot, many travelers may find that the best place to utilize the embedded SIM is at home. If you live in a country where carriers accept eSIM, evaluate if it's worth it to switch. If that's the case, you can utilize the physical SIM slot while traveling without losing access to your home phone number.
International eSIMs
International SIM card suppliers have spotted an opportunity where local carriers have been sluggish to offer prepaid eSIM options to travelers. Surfroam, Airalo, and OneSIM are already providing eSIM-based data services via an app in numerous nations and areas around the world. They aren't always as inexpensive as local internet plans. Whatever route you select, keep in mind that neither Apple nor Google's current phones allow you to use both the embedded and traditional SIMs at the same time. You won't receive calls or messages from the phone that isn't in use while you're on a call.
Conclusion
At first glance, eSIM appears to be a traveler's dream come true. The technology appears to deliver nothing but benefits. When it comes to convenience, there's little doubt that eSIMs will make joining a carrier lot simpler than it is now. Simply purchase a plan from your device, follow the authentication procedures, and select a payment method. You don't even have to leave the house to accomplish it. It allows travelers to stay connected regardless of how frequently or abruptly they move. Even for individuals who have a home base, it makes travel easier, particularly for those who frequently travel between two nations. Moreover, it eliminates the risk of misplacing a physical SIM card when it is not in use. Physical SIMs are replaced with eSIMs, which saves space within the device. This can be used for introducing additional features.
Overall, eSIM is a promising technology, but it isn't the holy grail for connected travelers just yet. What are your thoughts about eSIM? Tell us in the comments section below!
Read More!