The finest espresso machines will provide a rich, full-bodied espresso that will give you the boost you need to get your day started. These devices must produce the ideal shot of coffee, which is no simple task. The tastes must be well-balanced, and the crema must be robust and solid. Furthermore, the machine's design must be flawless i.e. both straightforward and user-friendly, as well as pleasant to look at.
If a milk frother is included, it must operate as well as the rest of the machine. For the best milky drinks, the milk should be at room temperature and suitably frothed. You should also look for a type that is simple to load with beans and water and empty when necessary.
DeLonghi Stilosa Espresso Machine EC260BK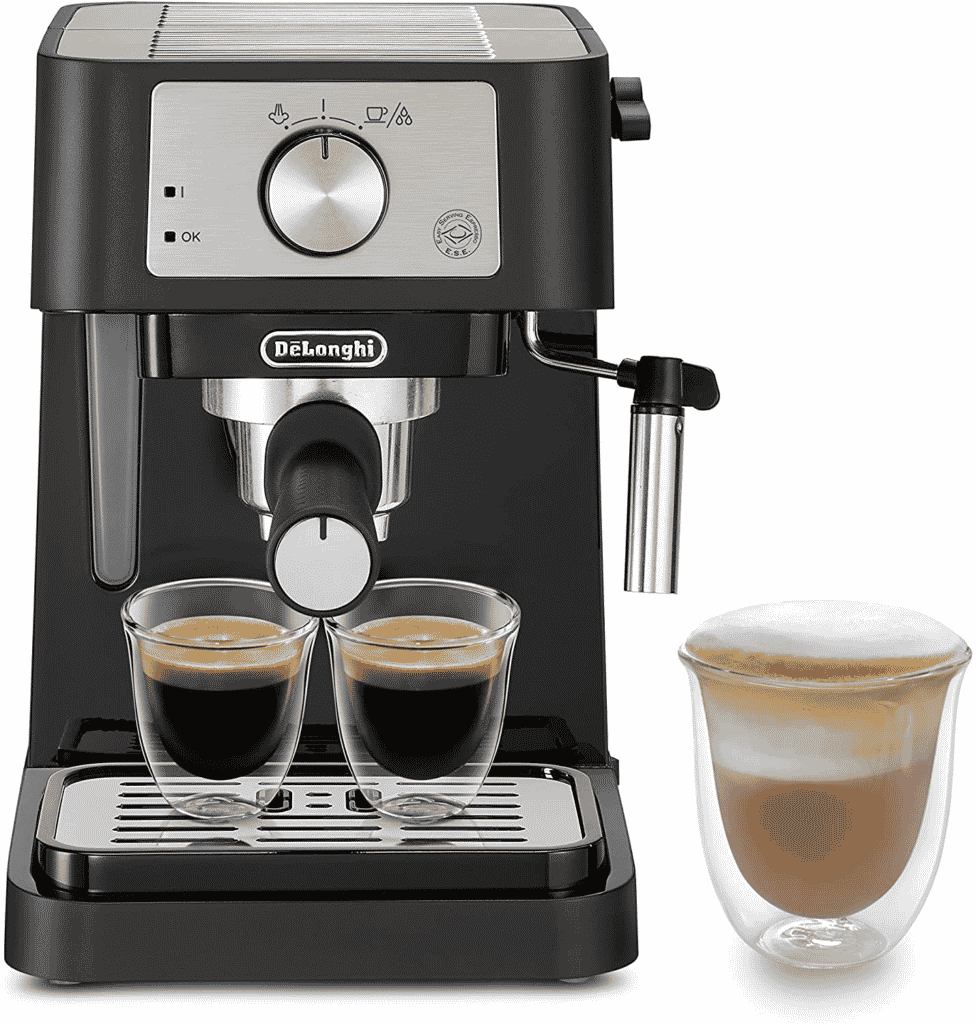 At this pricing point, the DeLonghi Stilosa is one of the greatest espresso machines available. Because it's a totally manual machine, you'll have to do all of the grindings, measuring, tamping, and frothing yourself. Nevertheless, depending on how strong you want your espresso, you may alter various things. Such as the cup size, brew it into a travel mug, as well as create 1 or 2 cups at once. The stainless steel boiler also adds to the machine's durability.
The water tank may be removed from the machine & filled at the sink. It holds roughly a quart of water or enough for numerous cups of espresso. Because of its small size, this machine won't take up too much of your valuable counter space. Overall, if you want an excellent cup of coffee but don't care about a lot of bells and whistles, this is a decent model.
Nespresso Essenza Mini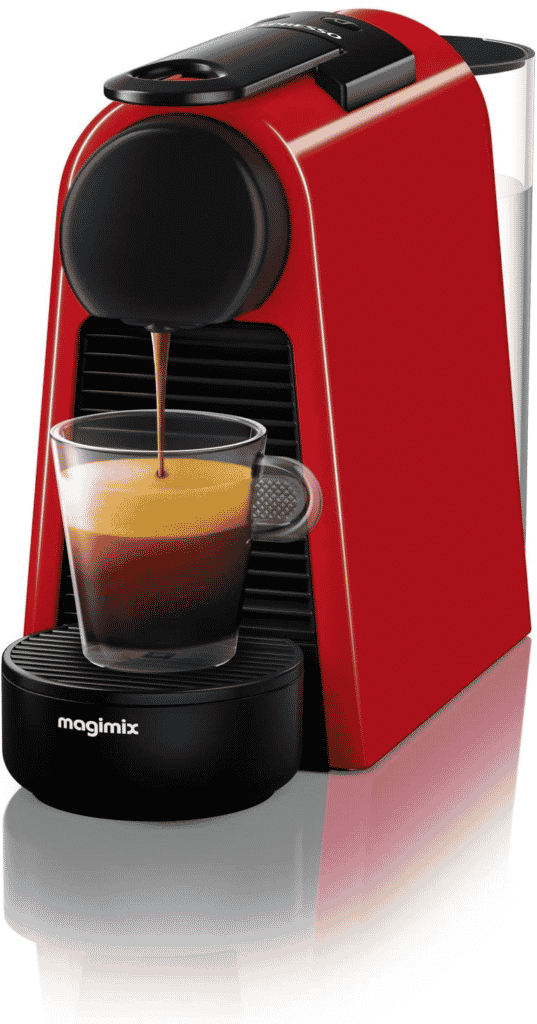 The Nespresso Essenza Mini is among the most economical gadgets among the finest espresso machines. This comes in at about $150. With an exceptional 19-bar pressure on offer, you're not cutting back on the richness of your coffee either.
The Essenza Mini removes the difficulty of getting a morning cup of coffee. This is done by utilizing the Nespresso pod system to provide a vast selection of blends and beans. With no customizing choices and a somewhat longer warm-up period of roughly 30 seconds, it's a no-frills approach. This is a good affordable choice if you're a casual espresso drinker. Also for those who don't want to invest in a barista-grade piece of equipment.
DeLonghi Dedica EC680M
The DeLonghi Dedica EC680M is the perfect espresso machine for those with limited tabletop space. All thanks to its 6-inch wide design. Despite its small size, this machine has a robust 15-bar-pressure pump that quickly heats up to brewing temperatures. One has to only wait for 12 seconds for the machine to attain appropriate steam temperatures for foaming. Only if you want a little milk with your coffee-based beverages.  You'll have to wait while brewing and steaming as this is a single-boiler model.
The Dedica's learning curve isn't high, with only three buttons i.e. one for single shots, the other for doubles, & a third for steam. Single and double shots are consistently dispensed by the machine. You have a third, more convenient choice if you don't wish to grind your own beans or scoop pre-ground coffee: put in Easy Serving Espresso pods.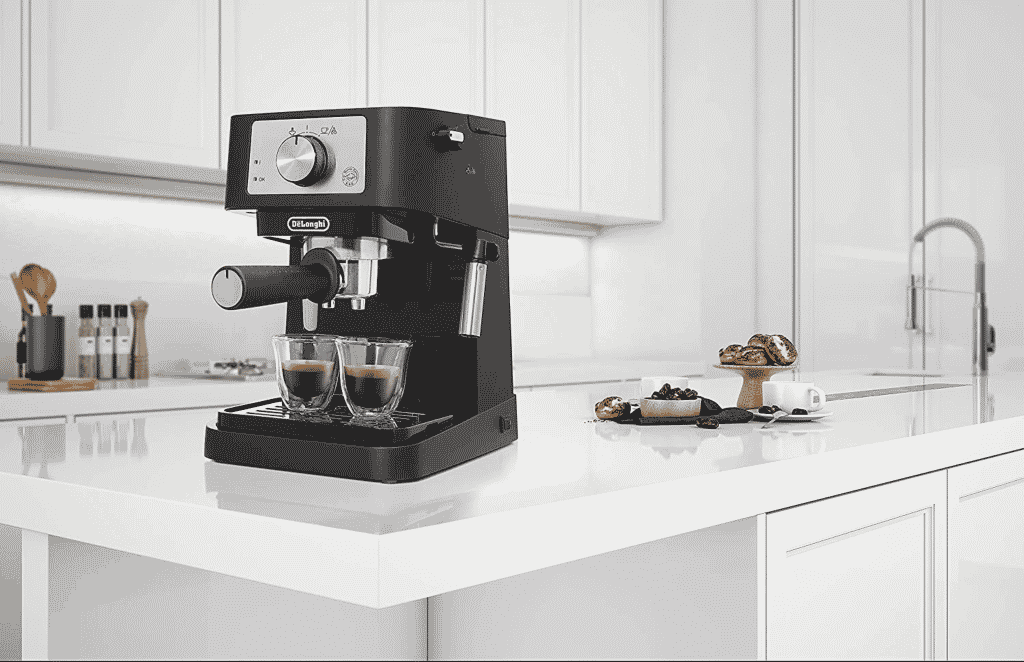 Nespresso CitiZ & Milk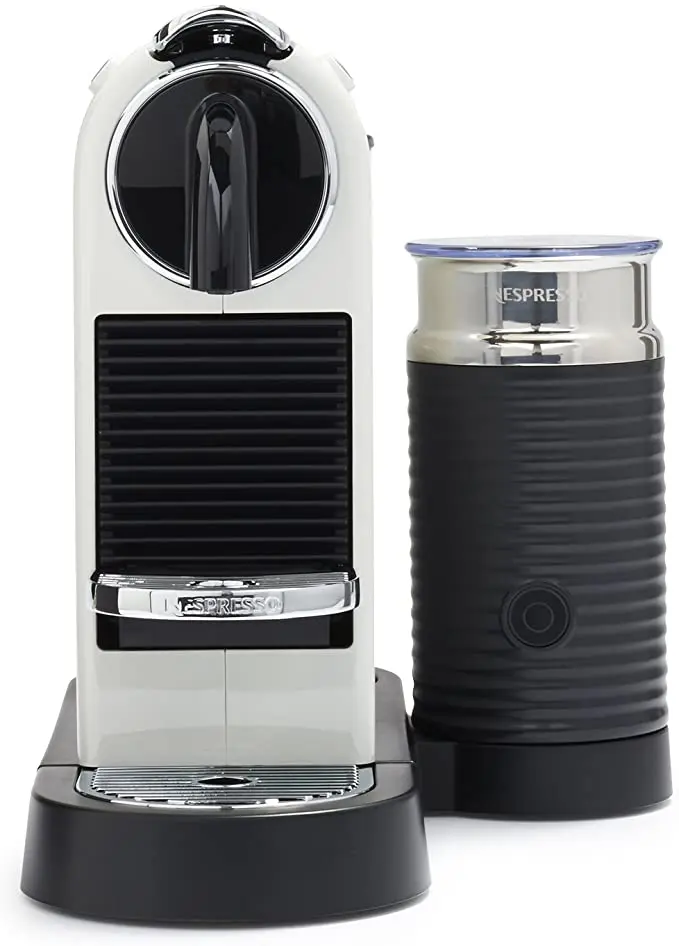 The Nespresso CitiZ & Milk produces espresso with a perfect topping of crema. Moreover, the frothy head is the signature of real espresso and uses recyclable aluminum capsules. It determines the optimum brewing duration by scanning the barcode on the reusable capsules. Operating this machine couldn't be easier, with only two options for espresso as well as a less strong lungo: You pull a lever and choose your beverage. You may easily change the settings if you like your beverages to be more or less concentrated. There's a detachable milk frother on the side of the CitiZ that works with the touch of a button and excels at making frothy milk.
This device is tall and elegant. While it doesn't take up a lot of room on your counter, its elegant form makes a statement. Other Nespresso machines with similar functionality but different style and features are available. If you like the ease of this type of machine, you may select the one that best befits your demands, sense of style, and money, knowing that you'll get a superb shot of espresso. You'll need to maintain a stock of capsules on hand with any Nespresso machine, and they're not cheap at around 70 cents each.
Breville Bambino Plus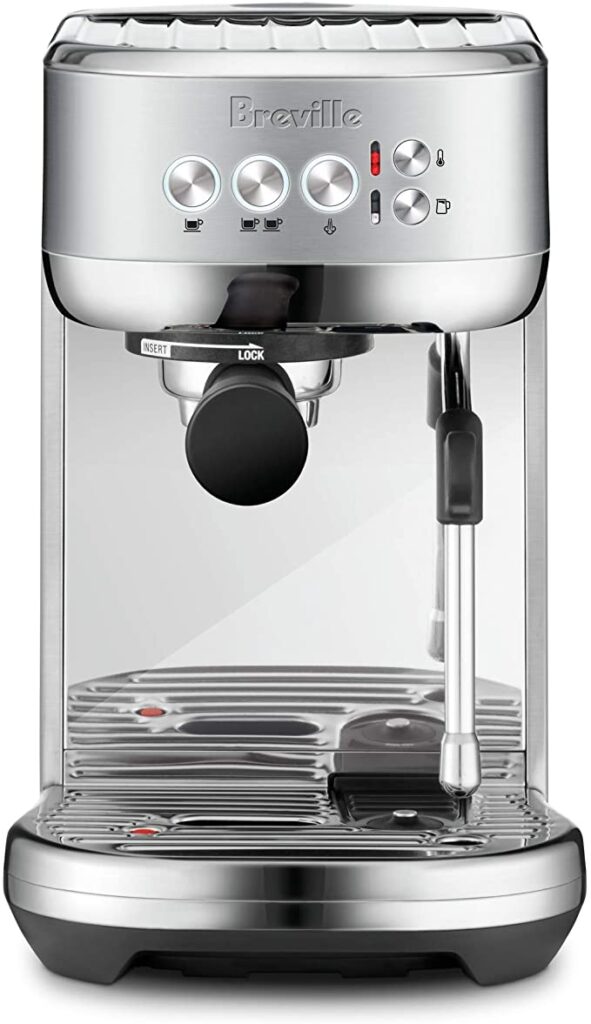 The Breville Bambino Plus dependably delivers high-quality espresso while also including a great automated milk frother for a more polished finish. It's tough to prepare a terrible cup of coffee with this espresso machine, plus with a three-second heat-up time, you'll be drinking a deliciously crafted shot in no time.
You can alter the espresso settings for a longer or shorter shot, much like many of the top espresso machines, but the customizable pre-infusion settings here are really excellent. Similarly, the ability to modify the temperature as well as the texture of the milk while simultaneously steaming delectable micro-foam automatically was a big plus.
Breville Oracle Touch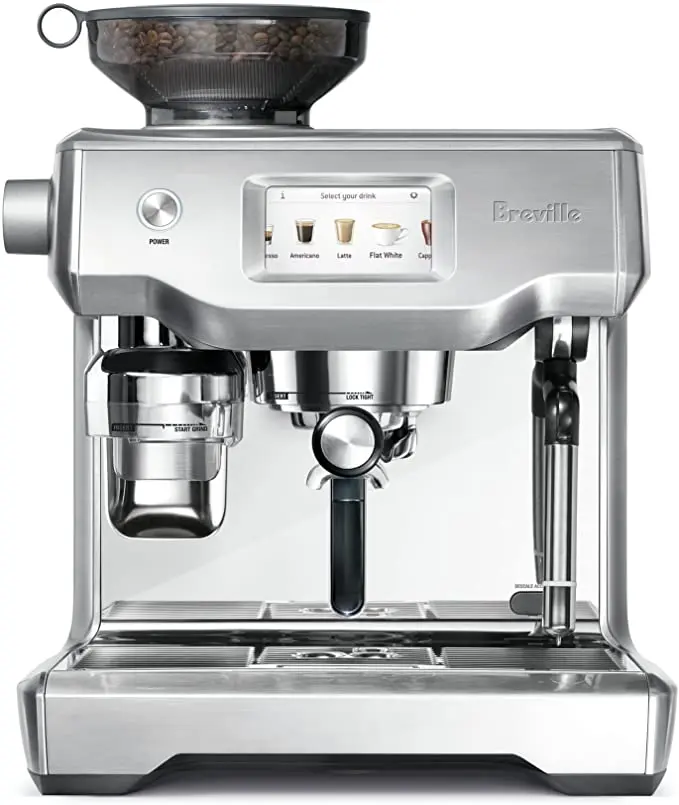 One will pay a premium for Breville's flagship Oracle Touch's all-in-one convenience, but one will get a machine that's absolutely easy to operate and comes with a double boiler so one can draw a shot as well as steam milk at the same time. Fill the half-pound hopper with beans, then lock in the portafilter, and the machine does the rest, perfectly grinding and tamping your favorite roasted beans, then extracting a sensible quantity of flavor with expert consistency. Between sessions, the steam wand even cleans itself.
The Oracle Touch's full-color touch screen with graphics of coffee drinks to pick from hides a lot of its magic; dosage quantity, water temperature, and pressure, as well as steam pressure, are all automatically tuned. Put the milk pitcher under the nozzle and it will froth without you having to hold it or move it around. However, what makes this one of the greatest espresso machines is that there are still a lot of settings to play with. There's a lot to play with, from grind granularity to temperature & texture, and you can save up to eight different settings in memory.
Rancilio Silvia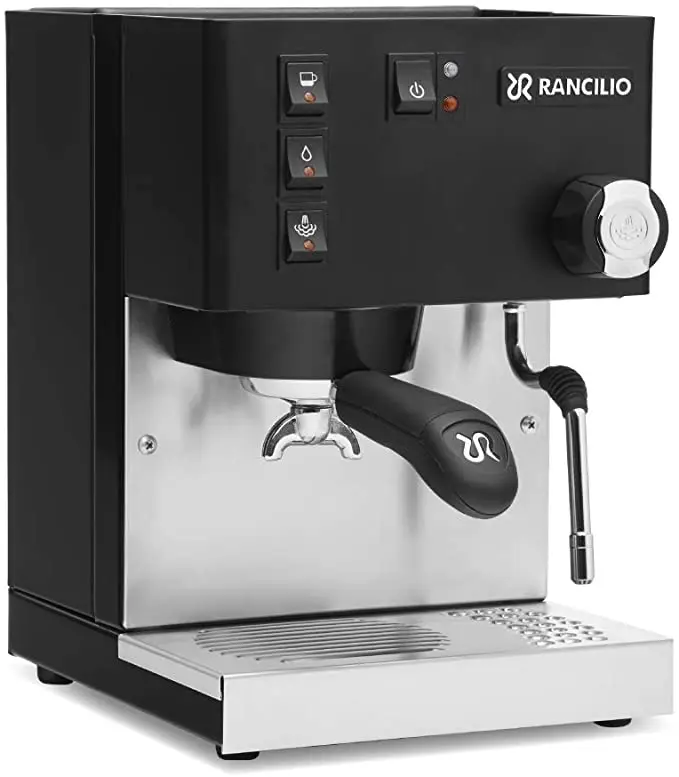 The Rancilio Silvia has the look of a professional machine in small thanks to its no-nonsense form and stainless-steel panel. And, yes, this model is competent for the type of excellent extraction that a skilled barista is capable of. Because one has to calculate out their own coffee and press it down in the filter. Afterward, stop brewing when your chosen amount is poured into your cup after pushing the coffee button. It's a perfect choice for anyone who prefers a hands-on method to the espresso-making process. The Silvia also has a steam wand that is considered one of the best in its class, along with a full range of motion and the ability to regulate steaming pressure in granular increments.
Over time, the model has undergone a number of changes. On the latest model, the portafilter handle has been redesigned and made more ergonomic, comparable to those seen on Rancilio's higher-priced business machines. What you don't receive are some of the features seen on more consumer-oriented machines, such as a sink-fillable reservoir and a water spout for preparing tea or Americanos quickly. The steam wand is required if you desire hot water.
Jura A1 Piano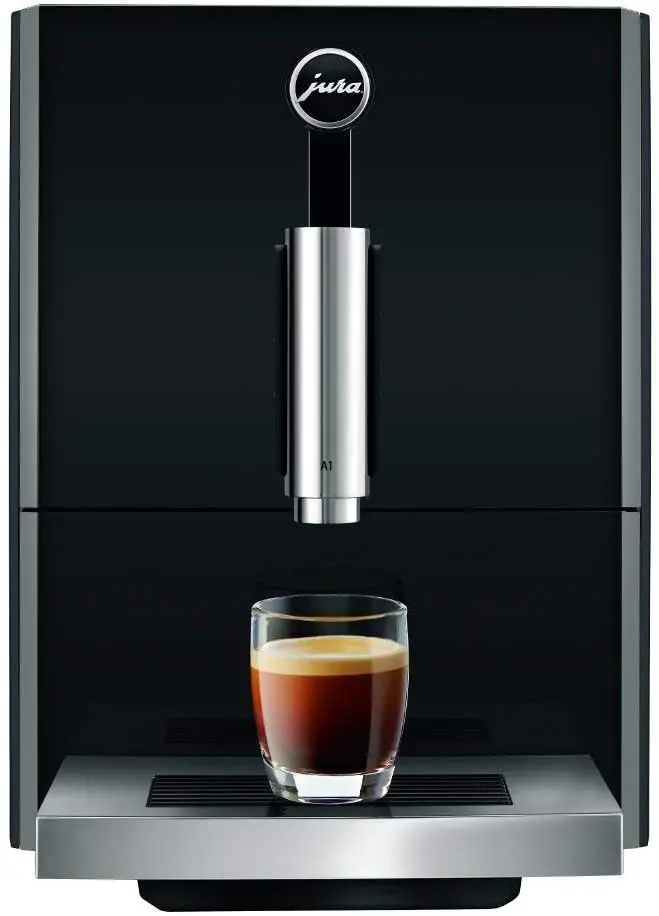 The Jura A1 Piano is a machine for espresso connoisseurs. It grinds, tamps, levels, and times the brew within just 30 seconds, dependably producing great results. You may also adjust the quantity of ground coffee as well as the volume of your drink to suit your tastes. This machine, on another hand, is only for those who appreciate the subtleties of a great cup of crema-topped black coffee. It lacks a steam wand or any other device for heating and foaming milk for lattes and cappuccinos.
The water tank on this piano is detachable, and the touch controls make it simple to fill and program. It also contains a water filter and a descaler cycle that will notify you when it's time to descale. This is a sleek and gorgeous machine with a glossy black finish, just like its musical namesake. In addition to black, it also comes in white.
Gaggia Carezza Deluxe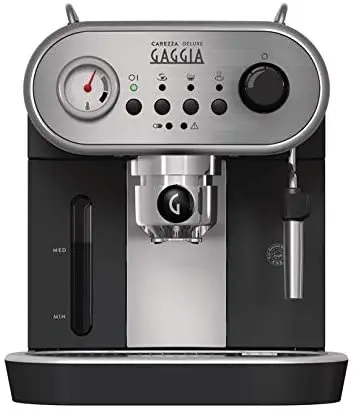 The Gaggia Carezza will offer you a flavor of la dolce vita with its retro-Italian style. Professional-grade filter baskets, automated moistening of the beans for maximum extraction, a steam wand that provides microfoam foaming for barista-style latte art, as well as automatic shut-off are among the features available only on higher-priced semiautomatic machines. It is not, however, totally automated, and you must manually stop the brewing procedure when the amount of espresso in the mug is to your satisfaction. Because the heating of water for both espresso and steaming milk is done in the same boiler, one needs to extract a shot before frothing milk.
Conclusion
An espresso machine is worth the investment if you want to experiment with practically every aspect of the coffee brewing process. Even if you're a novice trying to make cafe-style beverages in the home, an all-in-one home setup offers a lot of value. The greatest espresso machines nowadays provide a wide range of functions while also catering to different skill levels, allowing you to progressively gain confidence in experimenting over time.
If you just want a quick cup of coffee and don't have time to attempt this process, a drip machine or pod coffee maker could be the way to go. When brewing with an espresso machine, there is a bit more labor needed, not to mention the occasionally tedious cleaning routine.
Read More: