Even if you already own a good pair of speakers, a gaming headset can prove its worth by letting you play late at night without waking up the whole household. One of the best gaming headsets can turn a video game from a simple distraction into a fully immersive experience. While cheap headphones may technically play a game's sound, a great gaming headset can highlight important noises, deliver rich music, let you customize your soundscape for different applications, and communicate with your teammates with a high-quality mic.
Of course, there are also a lot of peripherals out there, and not everyone makes the cut. Sometimes, they do that by offering the basics without charging too much money; other times, they offer a premium experience for a premium price. Whatever the case, there should be something in our list of the best gaming headsets to suit almost every play style and budget. But let us clear some important points regarding gaming headphones.
What are Gaming Headsets?
"Gaming Headsets" are really just pairs of headphones with microphones included in some fashion. Many recommend buying a separate pair of headphones and a dedicated microphone over a gaming headset…but we think that's a little bit silly today with how many good gaming headsets are out there. Big players in the headset market include HyperX, Razer, Turtle Beach, and Steelseries, among many others.
Top 3 reasons to buy gaming headphones/headsets
Convenience/Microphone
Do you need a mic for gaming? Then go ahead and get a top-rated gaming headset. You could just get a separate mic or a mic that clips to your shirt, or one that magnetizes to the side of your headphones. But we think that's silly and then you have to deal with an extra cable. Microphone and audio quality have both come far enough in gaming headsets that you shouldn't feel ashamed for buying one out of convenience.
Virtual Surround Sound
If you want virtual surround features, software or hardware solutions often come packed in with gaming headsets. These range from middling to great. On PS4, Sony's virtual surround modes are exclusive to their headsets. Microsoft just added free virtual surround for all headphones in apps to the Xbox One through Windows Sonic, and that feature will expand to support games soon.
Versatility
Many gaming headsets have retractable or removable microphones, and they can do double duty as a regular pair of headphones. If you're looking for the most versatile headphones for the least amount of money, a well-reviewed gaming headset is not a terrible option. If you don't want to own a million pairs of headphones or you're just starting out, a good gaming headset might serve you better than a more- specialized and more- expensive pair. A good gaming headset can serve equally well as your portable setup, your home setup, and your gaming setup with a mic!
Given the range of needs, we have chosen our top best contenders for very different reasons as each are suited specific functions.We have rounded up a good selection and have linked a few other articles in our expert tip below for a nose and we are happy that our buyers' guide should give you all the essential information you need to make a savvy purchase.
SteelSeries Arctis 7 – Lossless Wireless Gaming Headphones with DTS
Arctis challenges everything you know about gaming headsets with completely overhauled audio, a new mic design with unmatched clarity, and improved comfort with materials inspired by athletic clothing.
Arctis 7 features lossless wireless audio, 24-hour battery life, a premium steel headband, an on-ear game/chat audio balance, and DTS headphones: x v2.0 7.1 surrounds.
Continuous play for even your longest gaming sessions.
Immerse yourself in 360 degrees of precision audio with next-generation DTS headphones.
Sound is your competitive advantage with the s1 speaker drivers.
Compatibility: PC wireless via USB, DTS headphone's surround, SteelSeries Engine 3 support, chat mix mic, wireless via USB; PlayStation wireless via USB; Nintendo Switch and Switch Lite wireless via USB in docked mode, wired via 3.5mm cable in tablet mode; Mobile wired via 3.5 mm analog.
HyperX Cloud Stinger Wireless Gaming Headphones

Wireless range of up to 40 feet.
HyperX Cloud Stinger Wireless is designed for gamers who want a solid 2.4GHz wireless connection for their PS4 systems.
Just plug the small adapter into an available USB port, and you're ready to go
With signature Cloud comfort and a long-lasting battery -up to 17 hours on a single charge, Cloud Stinger Wireless has what you need to keep gaming through the night.
If you need to step aside for a moment, the ear cups rotate 90 degrees, so you can rest the headset comfortably around your neck.
The 50-millimeter drivers and closed cup design allows for rich sound quality with crystal clear low, mid and high tones
The 100 % memory foam ear cushions and adjustable Padded headband provide glorious comfort for late-night gaming marathons
The noise-canceling microphone can be conveniently muted by flipping it vertically. Easily chat with friends in-game and out.
Flip the mic up to quickly and easily mute your microphone.
The ear cups rotate 90° to rest comfortably around your neck during breaks.
Durable, adjustable steel sliders.
Designed for PS4, easily connect to your console with a single USB Adapter
It comes backed with a 2-year warranty and free tech support
Turtle Beach – Ear Force PX22 Universal Amplified Gaming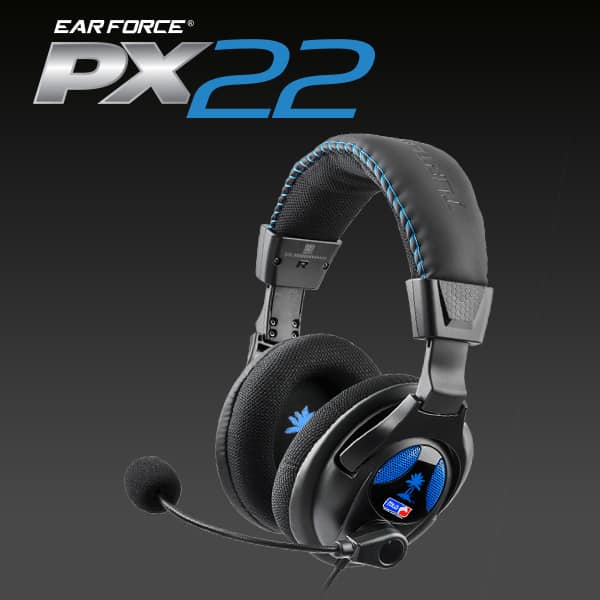 Totally immerse yourself and focus on the task at hand with the Ear Force PX22.
This amplified stereo headset is sure to take your play to another level
Separate independent game and chat volume controls plus mic mute right on the inline amp.
Also adjusts bass and treble levels via the re-designed amplifier.
Automatically raises the volume of chat during intense, explosive game situations giving you a dynamic boost.
Variable Mic Monitor – Adjust the volume of your voice in the headset while speaking
Tune bass and treble levels to add depth and realism
Amazing Turtle Beach Sound – Premium 50 millimetre speakers for crisp highs and thumping lows
Plus it will work with virtually anything you throw at it from PlayStation3 and Xbox 360 to PC and Mac From PS Vita to tablets and more!
RUNMUS Stereo Gaming Headphones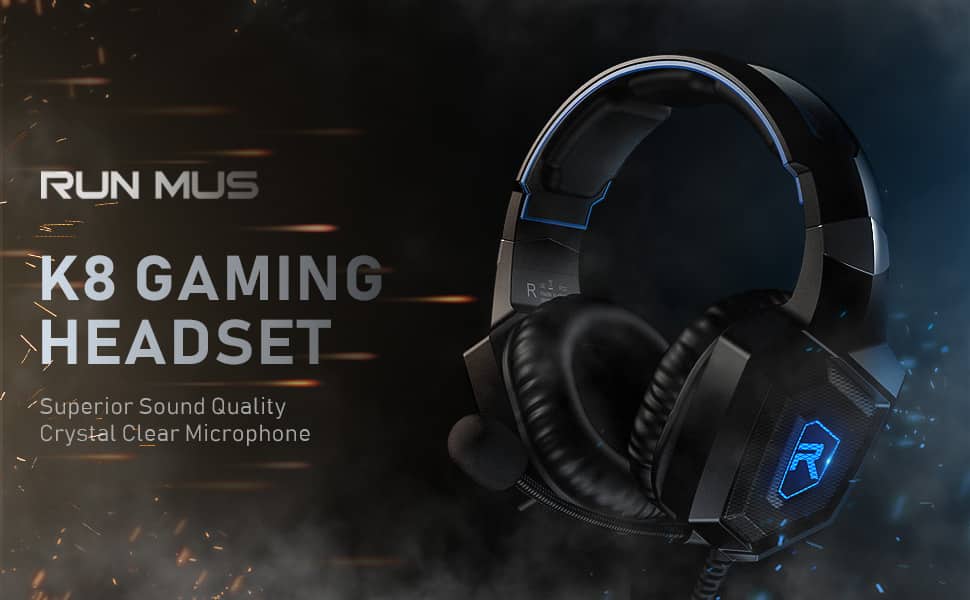 Over-ear design earmuffs cover your ears smugly, combined with the superior 50mm audio driver, it provides excellent sound field and better gaming.
With upgraded 7.1 Audio IC, this headset presents incredible simulated surround sound. You can hear the reality in your gaming world.
It delivers quality simulated surround sound to enhance the immersive gaming experience.
With the high responsive audio drivers, you can be better to make out the direction from which the sound is coming, like the gunfire, enemy footsteps, and scenario indicators. Let you gain the competitive edge you need to take gaming to the next level.
Using self-adjusting padding headband & all-cover ear cups with soft memory foam, RUNMUS gaming headset presents the ultra-comfortable wearing experience.
The soft ear cups with bionic protein cushion coat covers your ears gently.
Thanks to its lightweight flexible plastic material, RUNMUS gaming headset is only 12 OZ. You won't feel any discomfort from headband and ear cups even after a long gaming session.
MULTI-PLATFORM COMPATIBILITY
RUNMUS gaming headset works on PS4, PS3 (Adapter needed), PS vita, PSP, Xbox One, Nintendo Switch (audio), Nintendo New 3DS LL/3DS (audio), Nintendo 3DS LL/3DS (audio), Windows PC, Mac OS PC, iOS device and Android device.
Xbox One headset adapter might be needed. With the RUNMUS gaming headset, the gamer can always enjoy an immersive gaming experience no matter in which platform.
Noise Cancelling and Anti-static Microphone for crystal clear communication.
The anti-static tech inside gaming headphones prevents static sound from happening. You can chat with your fellow players with crystal clear sound and also enjoy a smooth team-work play.
The fantastic LED light on both sides of the gaming headset, Mute the microphone and the LED light would turn off at the same time. Note: Please make sure the USB plug is plugged into a USB power port to turn on the LED light.
Adopting durable black knitted audio cable, it's much stronger and also more durable than normal plastic audio cable.
Every RUNMUS gaming headset will go trough a strict quality test process before sending out. We promised to bring the best quality gaming headset to our customers. From the day of purchase of the RUNMUS gaming headset, they offer 12 months to customers.
Gaming Headphones IMBA V8 by TBI Pro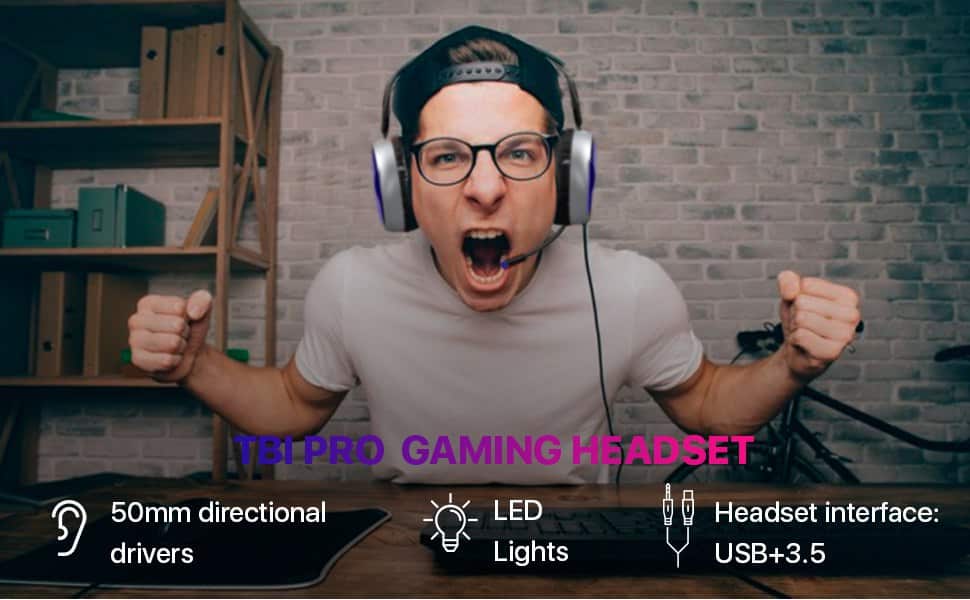 Do you need a reliable, durable, and premium gaming headset with a high quality of sound? An ergonomic, super-enjoyable headset with great microphone quality and control? Well, TBI Pro has just created the gaming headset of your dreams.
Introducing the PRO gaming headset for your wildest gaming adventures.
Super nice volume buttons and a dedicated mute button give an immense sense of control to the one you need in your gaming adventures.
360 degree-Flexible professional gaming microphone with noise cancellation.
With 50mm dynamic drivers and the noise canceling and steel beam slider, you can also customize the headset with a microphone to fit your face comfortably and completely turn yourself out of the surrounding sounds.
The TBI Pro Gaming headset uses steel slider, premium leather headband, and irresistibly soft, comfy, and breathable earmuffs the durable comfort you deserve.
The bright LED lights are also here for even better gaming effects.
Headset interface: USB+3.5mm
DESIGNED IN CHICAGO JOINTLY WITH GAMERS. Focus on the main gaming preferences and requirements in combination with advanced audio technologies also make this gaming headset the best option for sophisticated gamers.
The multiplatform gaming headset – universal compatibility: Xbox One, 360, PS4, PS3, Nintendo, PC, Laptop, etc
In short, when you buy these headphones, you get:
dynamic sound and microphone quality.
irresistible comfort
the multiplatform gaming headset
Razer Kraken Noise Isolating Gaming Headphones
The 3rd generation Razer Kraken is the wired headset for competitive gamers.
Its large 50 mm drivers deliver powerful and clear sound.
Immersive, 7.1 Surround Sound for Positional Audio.
Cooling gel-infused ear cushions reduce heat build-up, while a soft cloth and leatherette combination provides comfort and sound isolation so you can enjoy gaming for hours.
A retractable microphone ensures your shot calls are always delivered in absolute clarity.
This improved cardioids mic also reduces background and ambient noises for crystal-clear communication.
In-Line Audio Controls: A built-in an analog volume control wheel and mic mute switch
Lightweight & Durable: Made of bauxite aluminum, the Kraken frame is flexible and designed to last
Conclusion
There are a huge number of headsets and headphones out there for the keen gamer, with most manufacturers offering multiple products with only small variations. The SteelSeries Arctis 7 is our pick for the best gaming headset overall. This wireless model features an incredibly comfortable elastic headband, as well as easy connectivity with both PC and PS4. However, if you prefer to use an older device with a headphone jack, you can simply plug the Arctis 7 in via 3.5 mm cable. With customizable soundscapes and long battery life, there's a lot to like in the Arctis 7, and almost nothing to dislike.
At the other end of the price spectrum, there's also the HyperX Cloud Stinger, which usually retails for $50 or less. This headset has everything you need for a gaming setup, including plush earcups, on-ear volume controls, and a sturdy boom mic. Granted, the sound can get distorted at higher volumes, but as budget headsets go, that's an extremely mild criticism. You can wear it for hours at a time, and also use it with any system that has a headphone jack.
Have a glance on our more headphone guides!