The right earphones can make all of your music sound its absolute best and with the advancements in technology, they can do so much more.Here,We will see best selling wired headphones.But choosing the best headphones for your needs can be a bit challenging with all the options out there, in all different price ranges. Here's a short guide featuring all about earphones.
Types of earphones
When you first head online or to the store, it can be a little bit overwhelming seeing the different options out there for the first time. To give you a primer of sorts, we thought it would be a good idea to highlight each of the different types out there to make them easier to spot as well and easier to choose.
On the basis of wearability:
In-Ear Earphones-Also known as earbuds, in-ear headphone inserts into the ear canal, or sits just outside, and provides sound in a very portable format.
On-Ear Earphones-On-ear headphones rest on your ears. They're smaller and lighter than over-ear headphones, making it easy to carry around. Ambient noise is still audible to a limited extent, making in-ear earphones safer in traffic. Because the earpads press on your ears.
Over-Ear Earphones-Over-ear headphones fall over your ears. Because the ear cups are a lot bigger than those of on-ear headphones, you can't carry them in your coat or bag as easily. They're big and clunky — meant to be worn at home or at work, not on-the-go, but most of the best-sounding and most comfortable headphones are over-ears.
On the basis of wires:
Wired Earphones: Wired headphones connect to an audio device, through the cord or the wire. In short, Wired earphones are attached to an audio source by a cable and not by a Bluetooth or any other wireless transmission.
Wireless Earphones: These earphones connect to a device, such as a smartphone, stereo speaker, television, gaming console, computer, or other electronic devices, without using a wire or cable. They work by connecting or pairing with the device you want to use through a radio or infrared signal.
Wireless Earphones can further be classified into:
Bluetooth wireless
True Wireless
Bluetooth Wireless earphones-Many different styles of earphones are available with the option to be used wireless but this option does tend to add more in terms of the price you will pay. Wireless headphones are the best option available, especially if you are using them with a portable device or tend to listen to music or other programs while exercising.
True wireless earphones(TWS)– refer to Bluetooth earbuds or IEMs that have neither cords or wires between them nor to an audio source (smartphones, MP3 players, tablets, etc.). Since they have no wires, the mic, controls, and battery are built into the housing of the earbuds.
What's featured here?
Here we will see Wired Headphones. Headphones typically are small speakers that can be worn in or around your ears. Traditional headphones have two ear cups attached by a band that is placed over your head.
Why prefer wired headphones over wireless?
If you're on a budget and looking to get headphones or earbuds, wired versions almost always cost less than their wireless counterparts. Why? Wireless technology is more expensive to manufacture. Also, they offer better quality sound. Wired headphones can easily connect to any audio source, from your dad's Walkman to your brand-new laptop. In short, very common and easy to use. Also, except for active noise-canceling headphones, wired headphones don't need batteries. Simply plug your headphones or earphones into your audio source, and you're ready to rock.
What To Look For When Buying Wired Headphones?
Build Quality-The materials used should be the best quality your money can afford.
Comfort-They should be ergonomic in design. Also, they should have a good range of adjustments too as wearing them for long periods can cause headaches if they are ill-fitting.
Audio Quality-If the bass is important to you then you should set your sights a pair with bass optimization to counter distortion risks and all importantly look for large diaphragms.
We have rounded up a good selection and we are happy that our guide should give you all the essential information you need to make a savvy wired headphone purchase. We're here to help you choose the best-wired headphones for your needs – and your budget. Let's See.
Audio-Technica ATH-M30x Professional Studio Monitor Headphones
Advanced build quality and engineering
They feature a single-sided straight wire and a strong collapsible design, with mounted swivel ear-cups.
They can only move 15 degrees which gives them more stability than some folding designs.
Better portability, which is important for storage and transit.
They are cushioned with high-grade padding and are beautifully engineered and exceptionally well-made.
40-millimeter drivers with rare earth magnets and copper-clad aluminum wire voice coils
Convenient single-side cable exit.
They deliver full-range audio with epic dynamics and ideal for tracking and mixing.
Edifier Audiophile Wired Headphones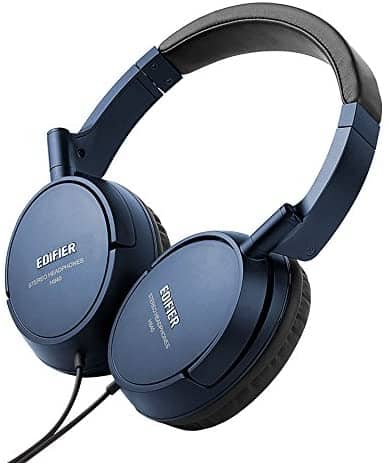 Have a strong collapsible design and are well-constructed.
Audiophile quality sound.
Suitable cushioned cups and an ergonomic headband, that perfectly fits.
Expert engineering.
The headband has a strong but collapsible steel framework which reduces their size considerably for storage and travel.
Also, they come with a case to keep them in.
40mm driver units fine-tuned for quality sound output in enclosed ear cups.
The audio produced has rich dynamics and a proportional blend, the bass is impressive and the highs are crisp.
Stereo sound is mixed without bias or overshadowing thanks to an advanced crossover.
Leather headrests with steel reinforced headband.
3.5mm gold-plated audio plug with 6ft high strength cable.
It comes with a One year warranty.
Philips SHP6000 HiFi Stereo Wired Headphones
Powerful 40mm speaker drivers for strong bass reproduction gives you perfect listening experience.
High-resolution audio reproduces music in its purest form.
Lightweight Design provides you with the utmost comfort.
Over-the-ear Type provides good sound isolation.
Sleek Distinctive shiny black gives you a stylish and voguish look.
Soft foam and also self-adjustable floating cushions bring a perfect fit.
Full cushioned headband provides supreme listening comfort.
3m optimal cable length, fit for any usage. Single-sided cable reduces tangling 3.5-6.3mm Adaptor included.
Sony ZX Series Wired On-Ear Headphones
Built with comfort and performance in mind, there's no need to compromise.
30-millimeter drivers for balanced rich, full frequency response.
It gives you a complete listening experience from 12 – 22,000 Hz.
Compact for portability yet affording, the swivel, folding earpads let you enjoy music in many ways.
Lightweight and comfortable on-ear design.
The durable, 1.2 m y-type cable resists snags and tangles so you can get caught up in your music, not your cord.
47 ¼ inch (1.2 meters) tangle-free, Y type cord.
Special features-foldable, lightweight, tangle-free-cord.
JBL Quantum 400 – Wired Headphones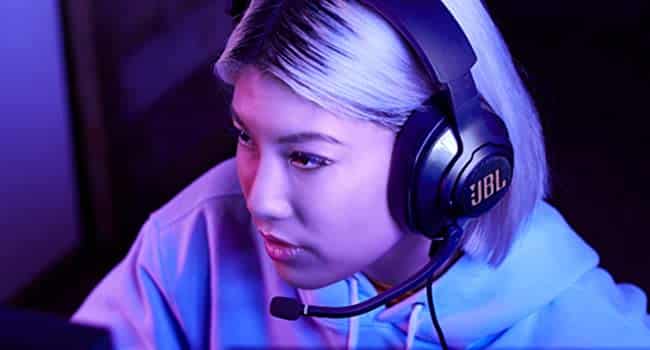 JBL Quantum 400 headset keeps you one step ahead with surround sound that engages you in the game and lets you anticipate every move.
Live the game with JBL QuantumSURROUND and DTS.
JBL QuantumSOUND Signature gives you a true audio edge.
It makes every scene epic and every gamer more competitive.
Made for your favorite platforms.
The lightweight headband and memory foam ear cushions were designed for even the longest gaming sessions.
Voice focus directional flip-up boom microphone.
Game-chat dial for seamless communication.
Connector Type: 3.5Mm Stereo.
Special Features-Microphone Feature, Lightweight
Panasonic Headphones RP-HT161-K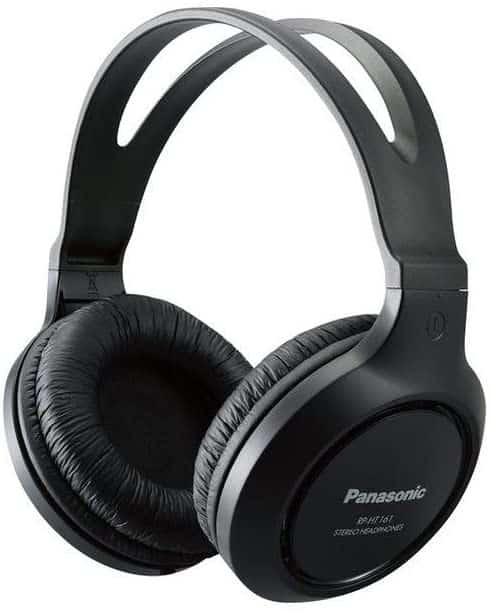 Wired over the Ear Headphones are full size, classic style Headphones that deliver balanced, high-frequency sound.
The lightweight Panasonic Headphones RP HT161 Long Corded rival higher-priced headphones with their clear, high-quality sound with long-lasting comfort.
The soft, plush padded earpads fit snugly around the entire ear to isolate music and sound by blocking ambient noise.
While the easy-adjust headband quickly conforms to your head for optimal comfort.
At the same time, a smooth, easy-adjust headband quickly conforms to your head for optimum fit and comfort, and hours of listening enjoyment.
Dual 30-millimeter neodymium driver units easily handle up to 1000Mw maximum power input for satisfying bass plus mid-range and high-frequency trebles for clear vocals and lyrics.
A generous 6.5 feet cord enables you to reach music devices, laptops, and TV home entertainment components as well as the freedom to move around while gaming.
In addition to music devices and laptops, the cord easily reaches from home entertainment components to your couch to plug in and play CDs or watch TV and movies without disturbing others.
Plus provide ample freedom for moving about while gaming.
Sound with style: Sleek, distinctive matte black finish, and durable.
Cheapest on the list. An affordable option, you can go for it!
PeohZarr Headphones New Version with Microphone
The PeohZarr on-ear headphones provide the perfect combination of sound quality comfort and durability.
These headphones adopt High-definition 40mm driver and compact earcups design delivers solid bass well-defined mids and clear highs so you can hear exactly what's happening.
Ultra-soft ear cushions and padded headband provide you a fatigue-free listening experience even wearing these on-ear headphones during a long session.
An adjustable slider helps you achieve the perfect fit without constraint.
Also, premium high-end materials make these noise-canceling headphones sturdy and durable.
These headphones with a microphone in bright colors are built meticulously with strong and sturdy plastic for long-lasting resilience and durability.
1.5m nylon braiding cord doesn't tangle or kink suitable for kids and Children.
The built-in in-line microphone makes these headphones easy for making calls and skipping tracks forward and back.
Fold it Flat, lightweight and compact for Easy Packing inside your bag or suitcase, relaxing on a long flight or busting a move to your favorite dance tracks.
The entertainment continues and your fun factor gets amped up no matter what you're doing- working commuting or just making your way around town.
Conclusion
Headphone sets are in such high demand that companies are selling them like hot-cakes, so the good news is you won't be short of options when looking for a suitable wired set. The essential thing to think about is your intended use which will help you to determine what kind of headphone set you need and the capabilities it should be graced with.
Looking at the customer's true comforts as well as giving standard quality, we truly believe and anticipate that Sony ZX Series Wired On-Ear Headphones. As compared to the other extravagant big-budget headphones, you will find this very low-priced and economical. Also, you will find them the most comfortable, there's no need to compromise. In a nutshell, Sony delivers you a marvelous and sublime listening experience with absolute portability. Nevertheless, many other companies are now emerging and are trying out their best to deliver the finest high-end performance.
Any feedback you can give us on this would be greatly appreciated. If we can be of any further assistance, please let us know. If we can be of any further assistance, please let us know. Do like, comment, and share. Best Regards!
*Price was correct as on 25th May,2020.