Batteries are devices users use for both their convenience and portability. They can perform many different functions. Batteries came into play due to the need to store generated electrical energy. A battery is a collection of one or more cells that go under chemical reactions to create the flow of electrons within a circuit. There is a lot of research and advancement going on in battery technology, and as a result, breakthrough technologies are being experienced and used around the world currently. Here we will discuss C Alkaline batteries. But let us first see what is a battery, its types and in which sizes are batteries available.
Battery cells are usually made up of three main components:
The Anode (Negative Electrode)
The Cathode (Positive Electrode)
The electrolytes
Type of batteries
Batteries generally can be classified into different categories and types, ranging from chemical composition, size, form factor and use cases, but under all of these are two major battery types;
Primary Batteries
Secondary Batteries
1. Primary Batteries
Primary batteries are batteries that cannot be recharged once depleted. Also, the Primary batteries are made of electrochemical cells whose electrochemical reaction cannot be reversed.
Types of Primary batteries
Alkaline batteries.
Aluminium air batteries.
Atomic batteries.
Dry cell.
Mercury batteries, etc
2. Secondary Batteries
Secondary batteries are batteries with electrochemical cells whose chemical reactions can be reversed by applying a certain voltage to the battery in the reversed direction. Also referred to as rechargeable batteries, secondary cells, unlike primary cells, can be recharged after the energy on the battery has been used up.
Types of Secondary batteries.
Lithium-ion(Li-ion)
Nickel Cadmium(Ni-Cd)
Nickel-Metal Hydride(Ni-MH)
Lead-Acid
Primary Batteries (Non-Rechargeable)
Secondary Batteries(Rechargeable)
Alkaline
Lithium Ion(Li-Ion)
Aluminium Air
Nickel Cadmium(Ni-Cd)
Atomic
Nickel-Metal Hydride(Ni-Mh)
Dry
Lead Acid
Mercury
Summary of types of battery
Different sizes of batteries.
4.5 V battery.
D cell.
C cell.
AA cell.
AAA cell.
AAAA cell.
A23 battery.
9V battery.
Moving on further, as we have already discussed batteries and their types and sizes, let us focus on our main topic a C battery.
C BATTERIES
C battery have two variants:
(1) Alkaline C batteries. (2) Rechargeable C batteries.
In our content here,we will see some top and best C Alkaline batteries.
Before moving on to see the products lets be clear of what actually is a C Alkaline battery.
What is C Alkaline Battery?
The C battery is a standardized dry cylindrical cell defined by its roughly 50mm length and 26.2mm diameter. They can boast capacities upwards of 8,500 mAh, and are typically used in mid-drain appliances, large toys, and some searchlights. … The size of a C battery compared against a common AA (double-A) and 9V battery.
What are C Batteries Used for?
The C battery is a standard size of dry cell battery typically used in medium-drain applications such as toys, flashlights, and musical instruments.
Why Choose Alkaline Over Rechargeable?
One of the advantages of alkaline batteries over other primary batteries and rechargeable batteries is that it has higher energy density. For example, this battery has double the energy density of a Leclanché cell and zinc-carbon batteries. This allows the battery to produce the same energy while lasting longer than other batteries.
Now that you know what you're looking for in alkaline batteries let's get into it. Here are our favorite best C Alkaline batteries.
AmazonBasics C Cell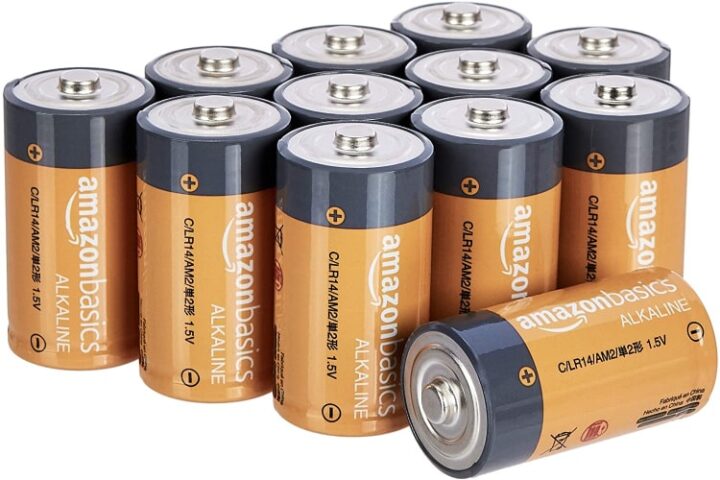 C Cell 1.5V alkaline batteries providing long-lasting reliable power.
Ideal for a variety of everyday devices, including toys, clocks, flashlights, and more.
Improved design offers a 5-year leak-free shelf-life; store for emergencies or use right away.
Good power output, average longevity, consistently low price.
Note: these batteries are NOT rechargeable. For reusable options, check out Amazon Basics rechargeable batteries.
They also last for up to 5 years in storage and come with a 1-year limited warranty.
Energizer MAX Alkaline C Batteries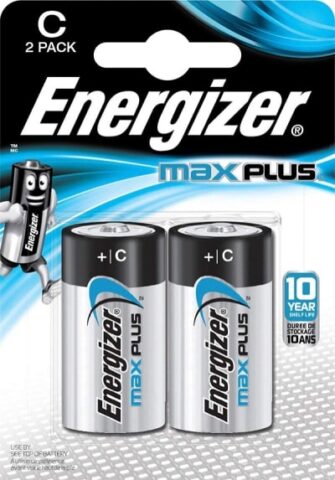 Energizer C batteries hold power for up to 10 years while in storage.
Long-lasting MAX C batteries power everyday devices.
Non-stop energy for your non-stop family's must-have devices—think toys, flashlights, portable stereos, door chimes, and more.
2 pack of Energizer MAX Alkaline C batteries.
Designed to protect against damaging leaks for up to two years after fully used.
Energizer created the world's first zero mercury alkaline battery.
Duracell Plus C Alkaline Batteries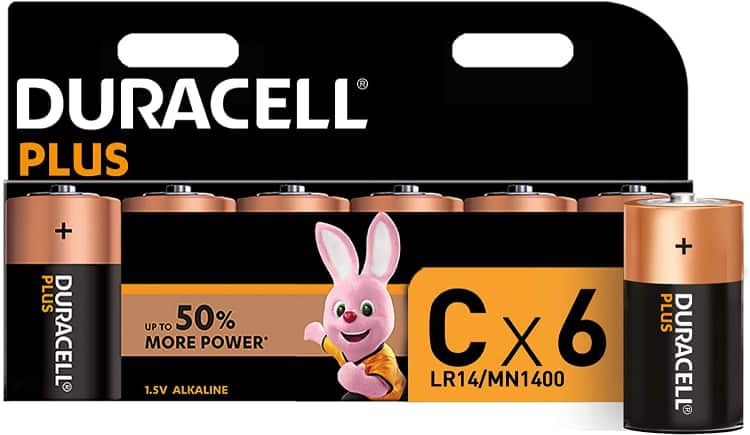 6-pack of Duracell Plus C alkaline batteries
Duracell Plus C batteries provide reliable and also long-lasting energy.
Ideal for flashlights, remote controls, clocks, toys, game consoles, and more
Unused Duracell batteries last for up to 10 years in their packaging.
The amazing fact of Duracell that it was a part of the Apollo 11 mission and became the first battery on the moon.
Also Non-Rechargeable Battery.
Manufactured in Belgium.
VARTA Longlife – Alkaline Batteries C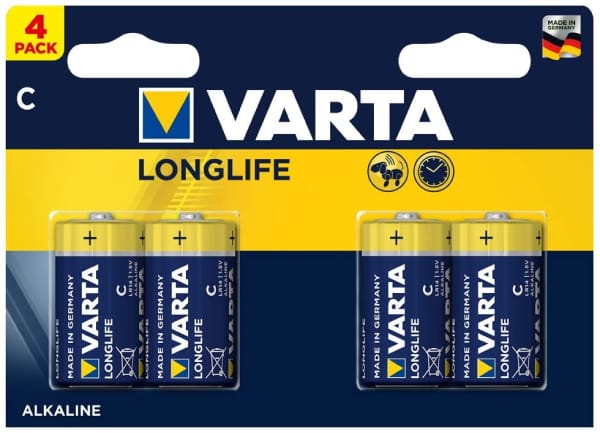 Pack of Varta C alkaline batteries.
Varta is one of Europe's leading manufacturers of portable batteries and lighting.
Their range of alkaline High Energy batteries is suitable for all your high to moderate drain devices, giving you reliable and also long-lasting energy.
They are so perfect for remote controls for TVs, music systems, smoke alarms or wall clock, or any household device.
Also Good storage for unused batteries.
Storage time of 10 years.
Made in Germany, you can trust the performance of all of varta products to give you the energy you need and provide excellent value.
GP Batteries Ultra Alkaline C batteries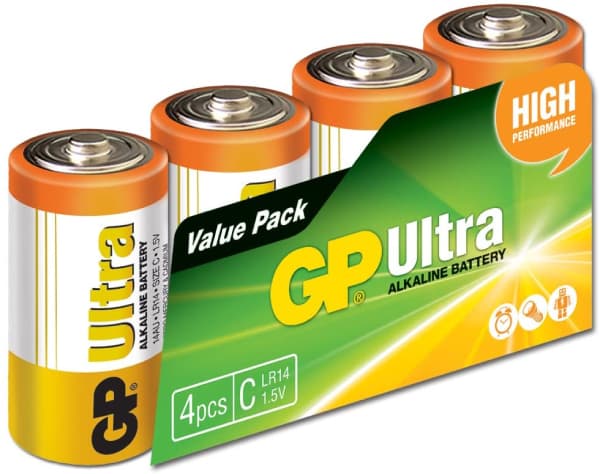 4 pack of GP Extra Batteries C.
Ideal like toys, flashlights, remotes, and more.
Also long lasting operating time, therefore, is quite a durable option.
So used for applications where high current over longer periods is required.
Also Super value with great quality.
Non-Rechargeable Battery, so you need to dispose of.
Rayovac C Alkaline Batteries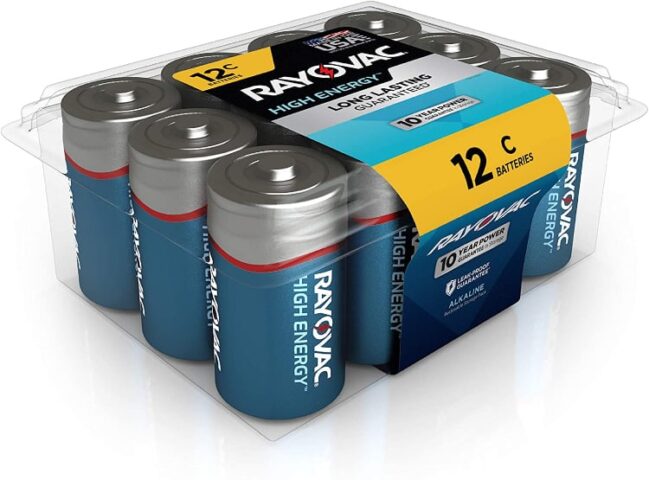 Rayovac C Alkaline pack of 12.
It provides power that lasts as long as the competition at a fair price.
Enhanced Rayovac alkaline batteries, therefore, offer the ultimate in energy and savings.
Also non-rechargeable Battery.
Ideal for Radios, Remote Controls, Wall Clocks, and more.
Also, From toys and games to flashlights and smoke alarms, Rayovac Alkaline batteries power the devices that you use each and every day.
Plus, 10 years Power in Storage.
Made in Germany.
Conclusion :
Thus, in conclusion, Batteries have become an essential part and parcel of our life. Without Electrical gadgets, life wouldn't survive. The best option for C Alkaline Battery is AmazonBasics C Alkaline. You get eight batteries and it also maintains 80% capacity for 24 months. Also improved anti-corrosion components and new zinc composition resulting in 10-years anti-leakage shelf life. One more supremacy added to Amazon Basics can be recycled. Therefore, a healthy environment-friendly option out there. Not all batteries sold come with this privilege. Also AmazonBasics 1 year limited warranty. And hence, these are some basic reasons we find Amazon Basics quite an affordable and moderate option on the list.
Any feedback you can give us on this would be greatly appreciated. If we can be of any further assistance, please let us know. If we can be of any further assistance, please let us know. Do like, comment, and share. Best Regards!
*Price was correct as on 02nd June ,2020