Bowers & Wilkins' Zeppelin speakers set a new standard for aesthetically striking, audiophile-grade personal speakers when it debuted in 2007. Versions of this small standout have grown with new technologies and features over the past 15 years, growing from the initial iPod dock to a fully loaded wireless smart speaker.
The new Zeppelin is a return to the speaker's simplest and most effective appellation for its much awaited 2021 rebirth, as B&W is now entirely prioritising wireless streaming over physical connectivity. To that end, the Zeppelin is compatible with AirPlay 2, Spotify Connect, and aptX Adaptive Bluetooth , as well as the Bowers & Wilkins Music App. Alexa voice control is now now available for hands-free operation. (a relatively recent codec that offers high-resolution compatibility and is supported by B&W's newest headphones)
Design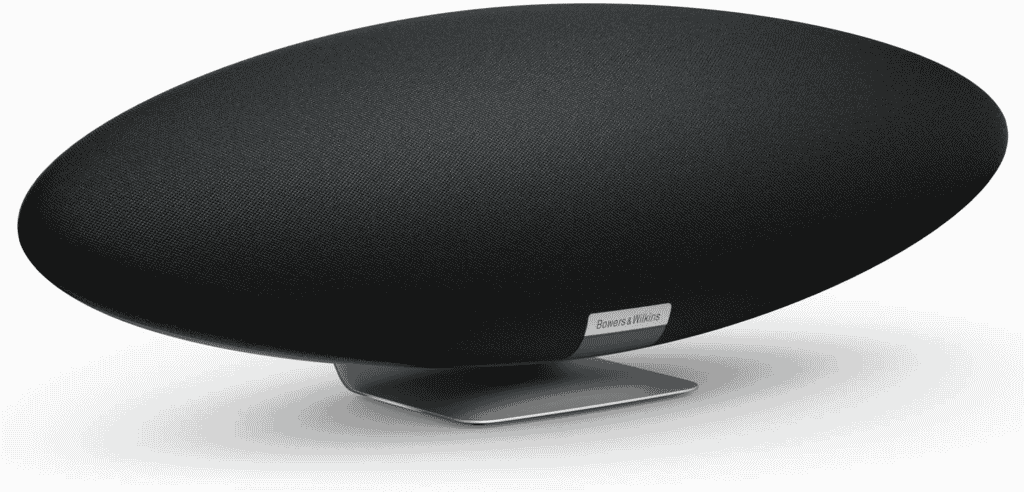 The Zeppelin speakers gets its name from its spherical shape and overall size, which evokes the cylindrical airships of the past. The speaker comes in two colours: a dark, almost black grey and a lighter, metallic grey.
A textile grille covers the front of the speaker, as it did in previous models. The redesigned Zeppelin has two 1-inch double-dome tweeters, dual midrange drivers, a single subwoofer, and an amplifier hidden below the grille.
There is a downward-facing LED light embedded underside of the body with built in stand. The brightness may be changed in the app or turned off altogether — it automatically shuts off after a period of inactivity. The Zeppelin isn't a wireless speaker that loves to share space, with its 650mm width.
Because there is no remote, the playback, volume, Alexa Voice Service, and Multifunction (MFB) buttons are located on the back. The MFB may used for setting up the speaker, connect to Bluetooth, and indicate the speaker's state by flashing. If you want to be private, hold the Voice Service button down to switch off the microphones.
The power outlet, as well as a USB-C connector and a reset button, are located at the rear of the stand. The Zeppelin is available in dark grey and pearl grey finishes, the latter of which is particularly attractive.
Pros and Cons
Pros:
The combination of a snappy attack, an accurate bass envelope, and a forceful punch results in a very strong dynamics performance.
Even at low volumes, the low-end extension is deep and the bass is strong.
Aside from slight compression, the maximum volume performance is excellent.
Good width, albeit considering the device's actual breadth, it should have been better.
Cons:
The tonal balance is dark, almost muted.
Higher volume compression and pumping The bass may be deafening.
Features & App Control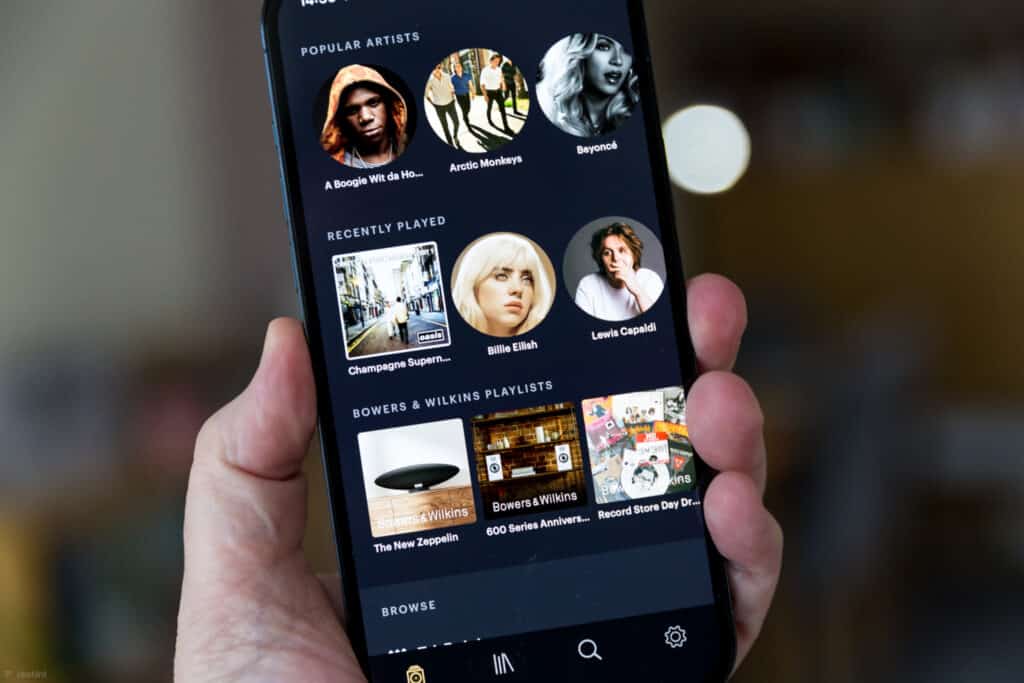 The Zeppelin is full steam ahead in terms of features, but first, a few specifics on what's inside. Two 25mm double-dome tweeters handle the high frequencies, two 90mm FST (Fixed Suspension Transducer) drivers handle the mid-range, and a 6-inch subwoofer handles the low frequencies.
For iOS devices, there's AirPlay 2 (which includes multi-room capability), and for Android, there's aptX Adaptive Bluetooth (aptX-HD). Spotify Connect handles streaming services, including Deezer, Last.fm, Qobuz, Soundcloud, TuneIn, and Tidal among the services which linked with the Bowers & Wilkins app. When it releases, Spotify Hi-Fi will be supported. Moreover, the Zeppelin's upgradeable digital brain will let new services to be added in the future.
You can connect the Zeppelin via app once you've created an account. There are number of services you can choose from. Download any required software updates, and link any music streaming services you wish to use within. Of course, you may also use your app or connection method of choice to stream audio straight to the speaker.
A bass and treble fader, a dimmer for the LED that lights up the speaker's base, and Alexa-specific settings are all available in the app. If you connect numerous Bower & Wilkins speakers, the app can also act as a multi-room controller.
Sound of Zeppelin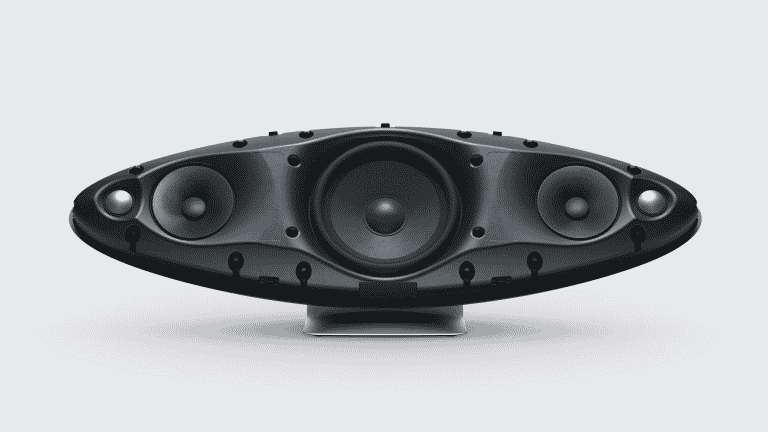 The new Zeppelin promotes itself as a more all-in-one system than previous models. Further, it performs in line with what we've come to expect from the series. It has a very neutral and accurate tone – a sound that has stripped of fat and filtered to give a clear signal. It has a sharp and clear top end, a powerful and punchy low-frequency performance, and a crisp and detailed mid-range. Although the Zeppelin's stereo picture ambitions are overblown, it can easily go huge and loud, with its performance comfortably filling a medium-sized room.
When it comes to stereo image, no single speaker can ever match the separation of a discrete pair. Thus comparing the two experiences would be unfair. However, Zeppelin excels at creating a wide, defined soundstage with noticeable separation at close range. While the sumptuous string arrangements may not have seemed as vast as they would on a pair of speakers, directional cues are audibly conveyed. Moreover, the soundstage was expansive for a single enclosure, most defined within a 3 to 4 foot distance. Transients are crisp, and attack and decay are expertly handlable. yet, unless you're in close proximity with narrowly concentrated the attention .
Price and Availabilty of Zeppelin
The Bowers & Wilkins Zeppelin is now available for £699 in its home market of the United Kingdom. Customers in the United States will pay $799, while those in Australia would pay AU$1,199.
This is a significant investment for a single-enclosure wireless speaker, but it's not unheard of. We still like Naim's good-looking, great-sounding Mu-so Qb 2nd Gen ($899 / £749 / roughly AU$1,200), and we still like Sonos' bland-looking, great-sounding Play:5 ($549 / £499 / AU$799). To say the least, the Zeppelin has its job cut out for it.
How can you connect Bowers and Wilkins Zeppelin speakers?
Open the Bluetooth settings on the source device and turn on Bluetooth. Bowers & Wilkins Zeppelin Wireless will display as an available Bluetooth device. Close the Bluetooth settings after selecting Zeppelin after matching is achieved, and fully illuminate
Is it possible to link Zeppelin speakers to a television?
Simply connect one end to the TV's headphone jack and the other to the Zeppelin AUX input jack. Set the Zeppelin volume to your typical iPod listening level and make changes with the TV controls or remote handset.
Is it possible to link my Zeppelin to Alexa?
Yes, please do so. Connect the Echo to your Zeppelin using an audio connection with a 3.5mm port at the Echo Dot end, then ask Alexa to associate your iPhone using Bluetooth: "Alexa… pair my iPhone via Bluetooth," Alexa will conclude.
Conclusion
The Zeppelin speakers meets up to the excellent standards set by earlier entrants in the series, providing an experience that is satisfying both in terms of audio and use with the Music app.
Some may wish for physical ports, but the streaming approach makes sense – and with the amount of wifi sources and streaming services the Zeppelin connects to, there's enough to meet the demands of most people. Only the absence of Chromecast prevents this from becoming a one-stop streaming solution.
Regardless, the audio performance is large, powerful, and provides enough quality to bring your music streaming collection to life.
Read More