Bose is synonymous with high-quality headphones, as well as noise-canceling technology. The US audio company was the first to provide its consumers with the silent treatment and remains at the top of the game, which might make selecting the best Bose headphones difficult.
The good news is that Bose's most current noise-canceling headphones have earned a slew of prizes. The company's cutting-edge technology blocks out ambient noise – jet engines, railway rumble, office chatter – providing a simple answer to your audio problems.
Bose has also branched out into various sorts of headphones, such as sporty wireless earbuds and luxurious wireless over-ears. So, whether you want to block out the noise, bring your favorite songs to life, or crush your workout goals, Bose offers a pair of headphones for you.
Bose SoundSport Wireless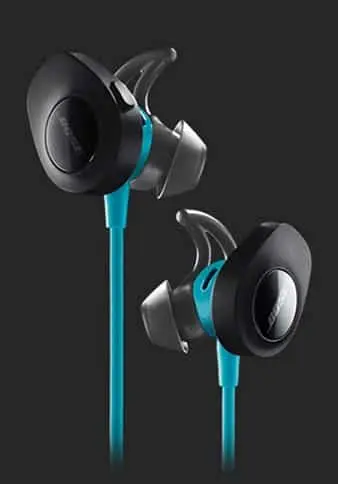 Want to get active while cutting the cord? These athletic, Bose lightweight wireless earbuds have a lot to offer. They have a surprisingly deep sound and strong bass that will have your feet tapping.
Especially for gym-goers, they also have IPX4 sweat- and splash-resistant so they won't be put off by a sweaty workout in the rain. Slip these on and the comfortable silicone ear hooks will keep them in place whether jogging or doing a HIIT exercise. You shouldn't have too many drop-outs, thanks to Bose's dependable Bluetooth chipset. They aren't fully wireless, though, because they feature a neckband cable with a lightweight control.
The battery life is decent, but six hours of playback is more than enough for a trip or a workout. If you're looking for some capable wireless buds to accompany you on a sporting trip, you won't find a better alternative for less money.
Bose QuietComfort Earbuds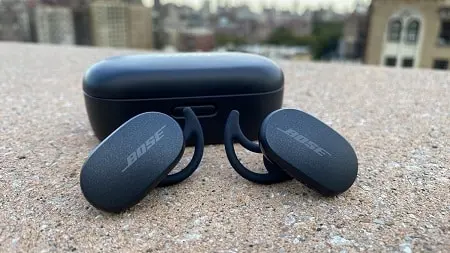 Bose's first pair of noise-canceling truly wireless earphones was a big success. They're light enough for the ordinary commute or workout (the QuietComfort Earbuds are moisture and weather-resistant), and they're comfortable to use all day.
The battery lasts for six hours on a single charge. With the charging case providing an additional two charges, for a total of 18 hours — a good reserve, but far from class-leading. In Bose's convenient companion app, you can customize several functions and controls, as well as tweak the exceptional noise-cancellation.
The energy and joy portrayed by the Bose buds are contagious. Power, composure, and energy pervade the sound. Bass notes have a full-bodied sound; dig deep, and the QuietComfort Earbuds extract a lot of detail.
Overall, the Bose QuietComfort Earbuds are fantastic all-rounders, with remarkable musicality and superb noise cancellation. These wireless Headphones are far superior to their competitors.
Bose SoundSport Free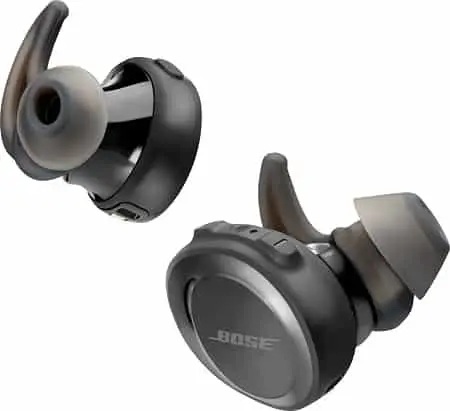 Wireless earbuds are a technological marvel. Bose has managed to squeeze a battery, amplifier, and Bluetooth chip into these small earbuds. They're also tough, sporty, and water-resistant. How do they manage it?
Sure, they're a little bulky – but Bose hasn't skimped on performance. Rich, spacious bass and dazzling vocals are to be expected. The battery life is a decent five hours, but if you place the buds in the carry case/charger, you can charge them for an additional ten hours. Which should be enough even for the most ardent gym bunnies.
They're also jam-packed with useful features. As an example, the 5 LEDs on the outside of the case display how much charge is remaining. In addition, forgetful people will like the 'Find My Buds' feature, which displays their whereabouts on your phone. Handy.
These five-star wonders are packed with features. But it's the excellent sound quality that sets them apart.
Bose Noise Cancelling Headphones 700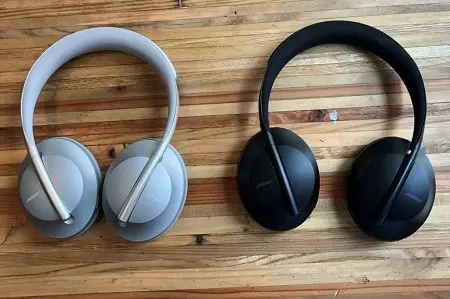 The 700s are a departure from the QuietComfort line and the start of a more expensive range of Bose Headphones with noise canceling. The acoustics, as well as the digital signal, have been completely overhauled. There is an eight-microphone system (6 for noise cancellation and two for voice pick-up), and the level of noise-canceling control can be adjusted in increments of 0-10. That's a significant degree of control that few competitors can match.
The silencing effect, as well as the call quality, are both outstanding and an advance over the QuietComfort line. When phoning, voices are more audible, and high levels of noise cancellation appear more delicate and less like listening in a vacuum. Even if you're not listening to music, you may use the noise-canceling feature to block out undesirable noise.
The comfort and aesthetics of Bose Headphones are also excellent, and the alternative character makes for simple listening. While some may prefer the melodic richness and class-leading Sony WH-1000XM4, they are still excellent options.
Bose QuietComfort 45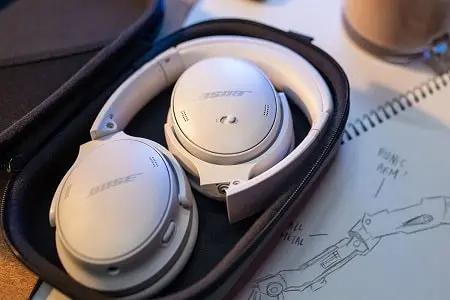 If you want a pair of tough, travel-friendly wireless over-ear headphones that can block out the external world for up to 24 hours, the Bose QC 45 has a price advantage over most of the competition.
The Bose QuietComfort 45 now supports a genuine multi-point connection thanks to Bluetooth 5.1. These earphones also have better mics than their predecessors, the QC35 II (seen below), so you should expect greater voice pickup when making phone conversations.
Across the frequencies, audio is delivered with zeal and excitement. The mids are three-dimensional and the bass is hefty, but the timing isn't as consistent as we'd like. The class-leading Sony WH-1000XM4 has more to offer in terms of sound.
The controls are simple, and if you want 11 levels of noise cancellation, you'll have to go with the company's premium Bose Noise Cancelling Headphones 700.. Still, there's a lot to appreciate about the Bose QC45; they're built on a tried-and-true product that should last a long time.
Bose QuietComfort 35 II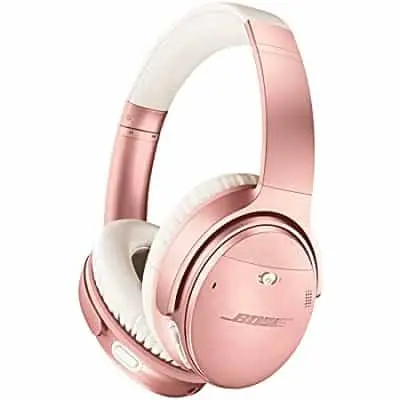 It's hard to imagine, but these noise-canceling Bose headphones made their debut in 2017, swiftly proving that opting for noise-canceling headphones didn't have to mean sacrificing sound quality.
But these Bose headphones remain a good purchase, especially if you can find them on sale. They have powerful, regulated bass, three active noise canceling settings ('low,' 'high,' and 'off,' and a slew of other features.
The built-in Google Assistant reads out messages and internet updates while you're on the go, and you can even use voice commands to dictate a response or browse your music library.
The battery has a lifespan of 20 hours (the QC 45 up that to 24 hours). If you're searching for super-duper, cutting-edge noise-canceling Bose Headphones, these will fit the bill.
Bose Sport Earbuds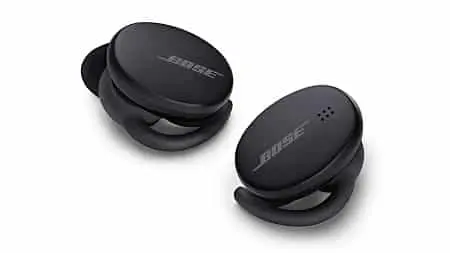 The Bose Sports Earbuds are a hybrid of the QuietComfort Earpieces and the SoundSport Free.
The fittings are smaller and also a little rounder than the QuietComfort, but given the similar pricing, they do feel a touch less expensive. Nonetheless, Bose's umbrella-shaped silicon pads and soft wingtips make them comfortable to use for extended periods.
The Sport Earbuds are water and weather-resistant, and the battery life is mediocre but should be sufficient when used with the case. There's also voice assistant support, as well as strong noise isolation and cancellation.
These are some delightful tone buds in terms of sound. Every path we take through them is paid equally and squarely. High frequencies never irritate or grate. And low frequencies will never miss, as is common with low-cost wireless earbuds. Bass notes have richness and fullness to them, and they never sound fat and slobby. On first listen, they draw you in, but superior buds have more expression, clarity, and can reveal a little more information. The Sport Earbuds are still highly listenable; but, they do not make the music sound as exceptional as the absolute best at this level.
Conclusion
Hopefully, this article and our advice will assist you in selecting the best Bose headphones. The Bose QuietComfort seems to be the clear winner of the list, thanks to its sleek appearance, long-lasting build quality, and remarkable noise-canceling abilities.
Read More!