The Asus Zenbook S 13 OLED is a cutting-edge laptop in many ways. First and foremost, it has a CPU from AMD's new Ryzen 6000 series. AMD says that their new CPU improves processing speeds while improving integrated graphics performance significantly.
However, Asus doesn't only depend on specifications here; this laptop also has a high-quality design. The Zenbook S 13 OLED is very thin, weighing only 1kg for an ultra-portable device. Asus includes an OLED display for good measure. It's difficult to imagine a current feature that hasn't been incorporated.
But it doesn't mean there aren't any compromises. You can only fit a specific number of ports when you reach a particular size. And, well, the heat has to go someplace…
What will you see here?
Price & Availability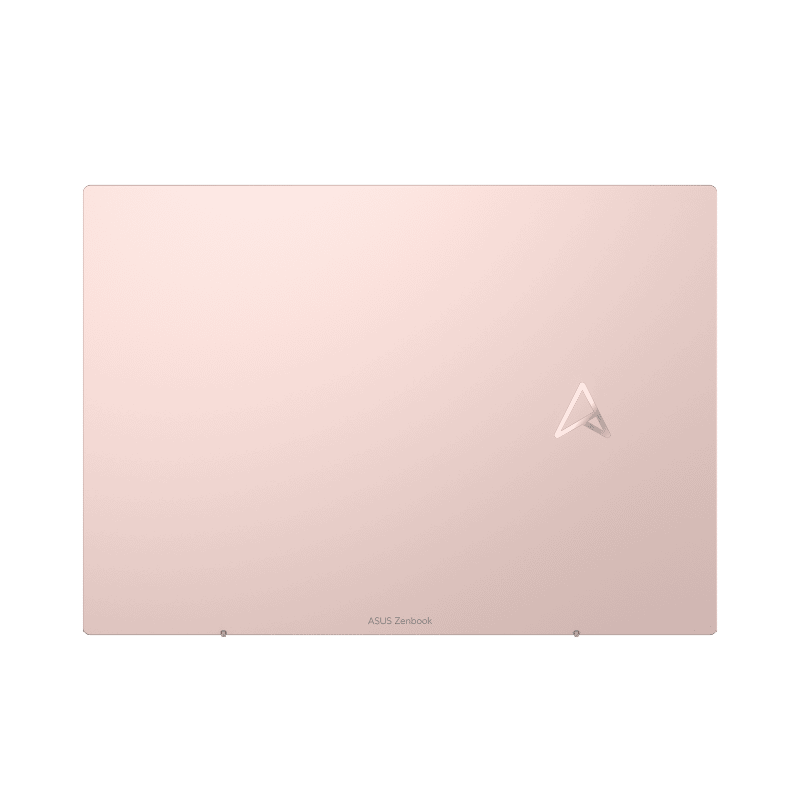 For the time being, this is a rugged laptop to locate. When it is released, the Zenbook S 13 OLED is expected to cost roughly $1,099, according to Asus. The one, which includes a Ryzen 7 6700U CPU, 16GB of RAM, and a 1TB SSD, is expected to cost $1,499. Asus also sells a convertible model with Intel 12th Gen processors.
Design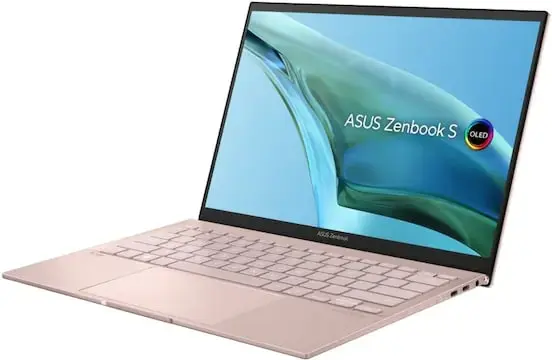 The Asus Zenbook S 13 has a relatively minimalist appearance, with Asus' new triangle logo – which offers strong Star Trek vibes – being the only eye-catching element on the lid.
The primary chassis follows suit, with a simple metal deck chosen over the more eye-catching pattern design of the Dell XPS 13. You might say the Zenbook lacks individuality. However, there's no denying it looks good.
It comes in many colors, including  Aqua Celadon, Ponder Blue, Refined White, and Vestige Beige. That's probably a better option than Apple provides with the new MacBook Air, allowing you to add some personalization.
The Zenbook's design, however, is most notable for its slimness. It's around the breadth of my finger and has a 14.9mm frame. Because of its compact design, this laptop is exceptionally light, weighing only 1kg; it's nearly 200g less than the MacBook Air M2.
ErgoLift Hinge
Asus has also included its ErgoLift hinge, which raises the laptop's back off the table to increase airflow and provide a more comfortable typing posture. It may appear to be a tiny detail, yet it significantly impacts it.
Ports
The connector selection is undoubtedly the Zenbook S 13 OLED's biggest flaw – there are just three USB-C ports and a headphone jack. I'd have liked at least one USB-A connector for wired devices, but Asus would undoubtedly argue that the laptop is too small for such a connection, even if it comes with a USB-C to USB-A converter.
Keyboard & Trackpad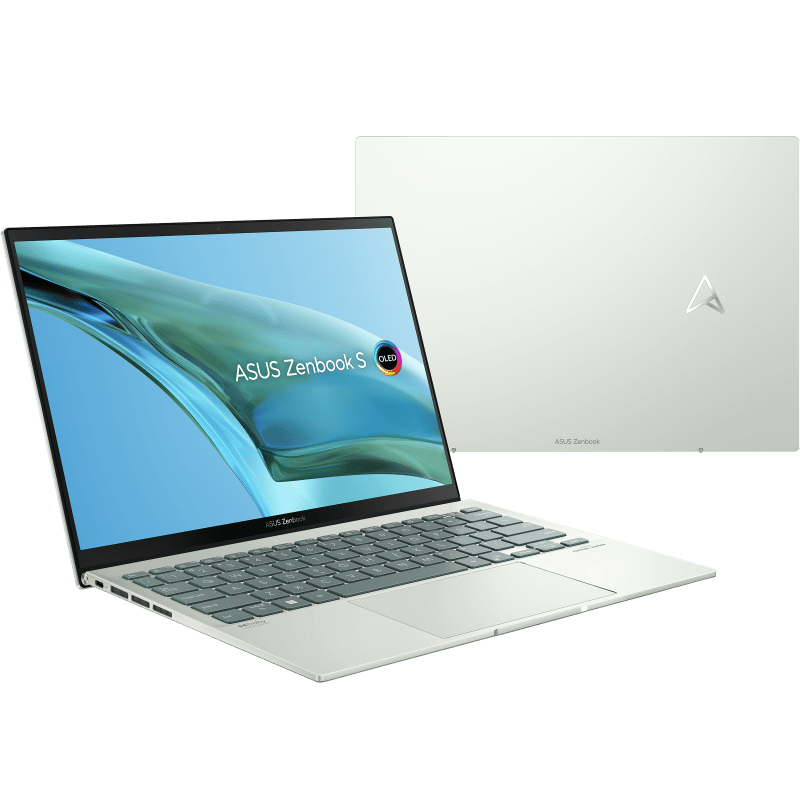 On the plus side, the keyboard is surprisingly good. Keys provide deep and gratifying pressing while being thick enough to decrease the possibility of mistakes. You also get a fingerprint sensor incorporated into the power button to make the sign-in process as quick as possible also a camera killswitch to ensure that no one is monitoring you.
The only flaw with the keyboard is the absence of a number pad. Asus compensates for this with a virtual number pad on the trackpad when a button in the top-right corner is pressed. It's a brilliant feature that will come in handy for individuals who work with numbers. The trackpad is also a good size and sensitive & responsive enough for a smooth experience.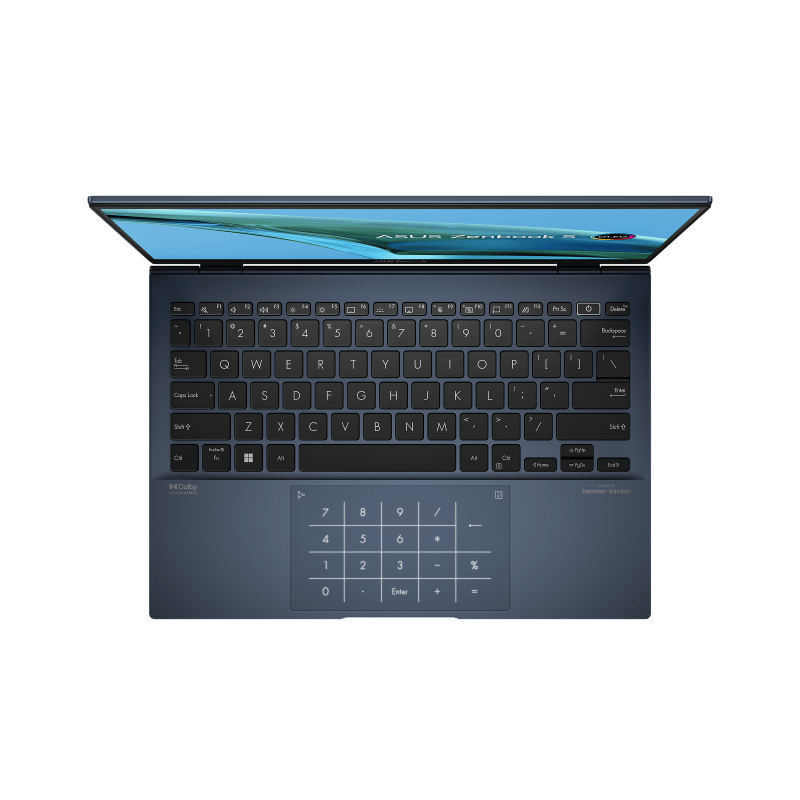 Display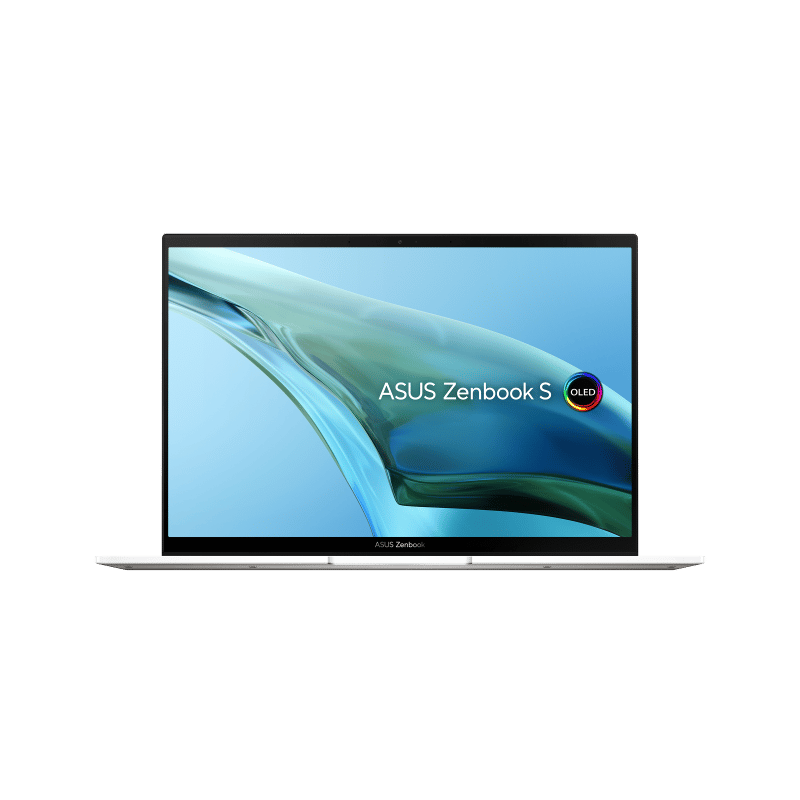 This laptop is available with a touch or non-touch 13.3-inch 16:10 glossy OLED 2.8K display. If you appreciate deep blacks and bright colors, the 2880 x 1800 touchscreen of the Zenbook S 13 OLED is for you. There are no issues utilizing the display. However, it is not as bright or vivid as other displays with the same technology.
The OLED screen of the Asus Zenbook S 13 performed admirably, covering 126 percent of the sRGB color range and 89.3 percent of the DCI-P3 gamut. Although this is more bright than the LED display on the 13-inch MacBook Pro, the OLED displays on Lenovo's Yoga 9i Gen 7 & IdeaPad Slim 7 Carbon prevailed in both color spectrums.
The Zenbook S 13 is perfectly functional at 321 nits of brightness. However, the MacBook triumphed again with 435 nits. The Yoga 9i & Ideapad Slim 7 Carbon were also slightly brighter.
Asus chose a 16:10 aspect ratio for this panel, which gives more vertical real estate than a standard 16:9 screen. Asus might go 3:2 for even more vertical space here, similar to Microsoft's Surface range.
Performance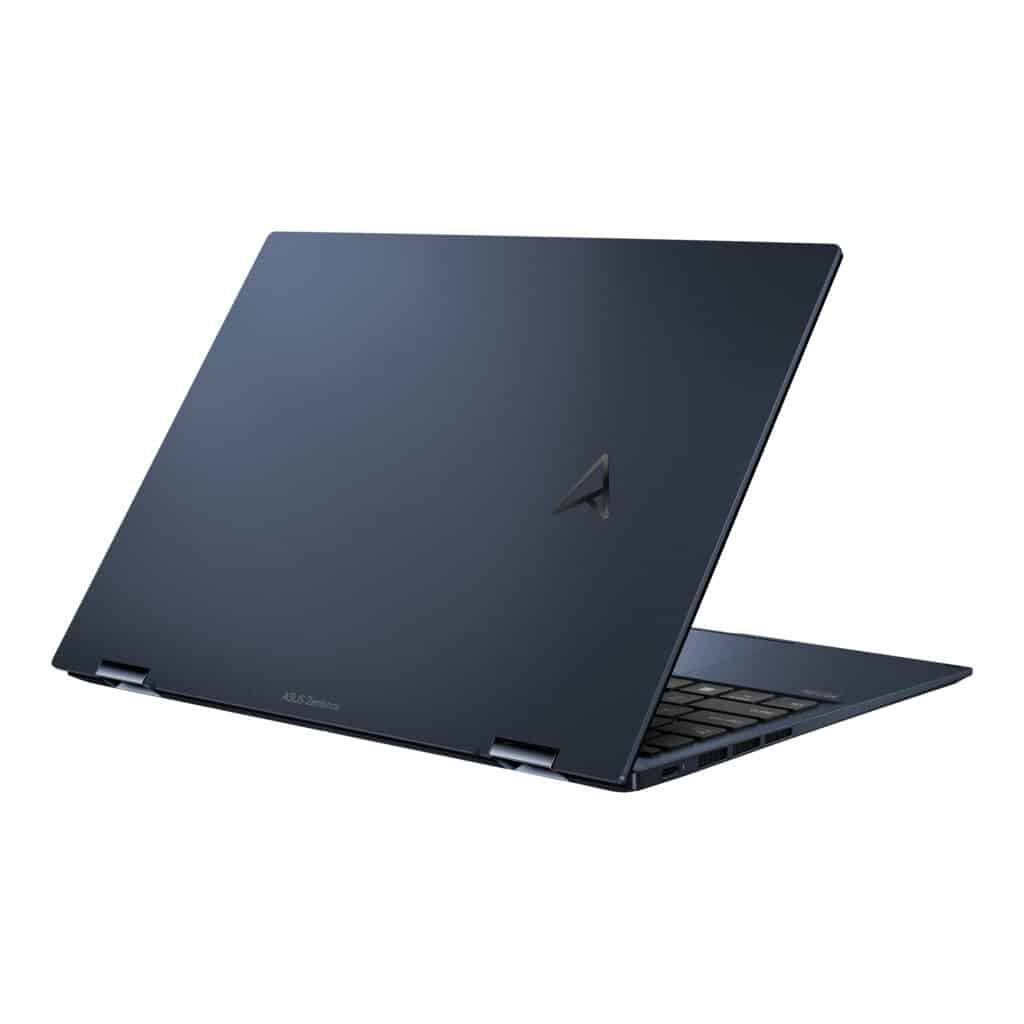 The Asus ZenBook S 13 OLED includes AMD's latest and most potent Ryzen 6000 CPU. It comes with an AMD Ryzen 7 6800U processor plus 16GB of RAM. The laptop may also be ordered with a Ryzen 5 6600U processor and 8GB of RAM.
The performance is superb, with a transparent, perceptible boost over rival laptops. There will be no slowness if many web browser windows are active simultaneously, as well as other programs operating in the background. Because of the laptop's excellent graphics, users may even engage in gaming and picture editing.
The GPU is the integrated RDNA2 AMD Radeon 680M iGPU element of the Ryzen 7 6800U platform, which proved to be an exceptional performance. However, to operate at its full capability, this iGPU requires around 45W of continuous CPU+GPU power, which is not doable in this power-constrained architecture. The memory is soldered to the motherboard, and Asus provides 16 or 8 GB variants using LPDDR5-6400 memory.
Fans Performance
It's worth mentioning that when the laptop is expected to perform any hard lifting, the fans become distractingly loud, and the chassis around the keyboard becomes hot to the touch. Asus has ensured that the laptop does not grow very warm in areas where your hands will naturally rest when typing, although this may make you reluctant to use it on your lap.
Because the new Ryzen processor now supports PCI Express 4.0, Asus may employ more cutting-edge SSDs. This has resulted in much-improved performance, with reading & write scores of 6693MB/s and 3967MB/s, respectively. The former is twice as fast as the typical laptop SSD, implying that this laptop is lightning quick at booting up and loading downloaded applications and programs. Storage is also adequate, with Asus providing 512GB and 1TB options.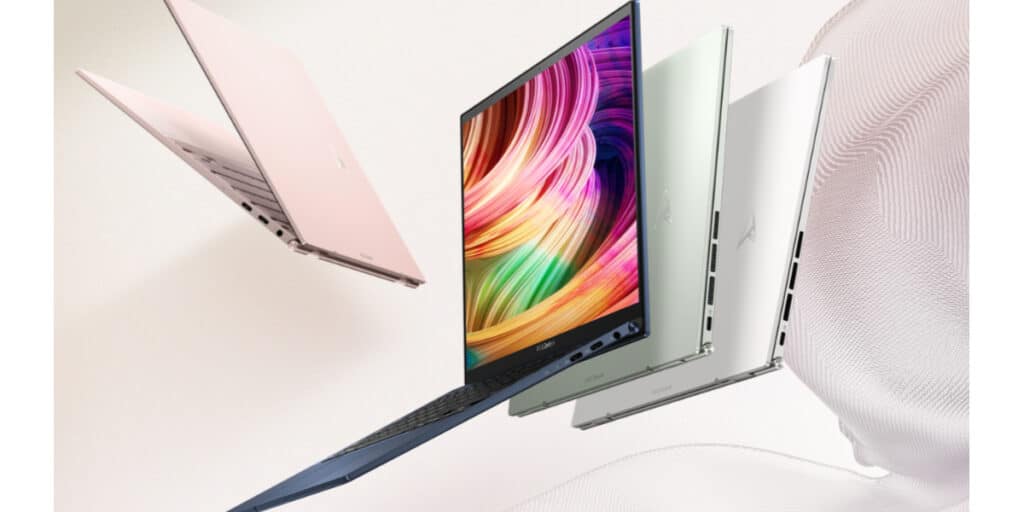 Battery Life
The 2022 ZenBook S 13 has a 67 Wh battery, which is bigger than the typical for this class. Ryzen continues to demonstrate how efficient an x86 platform can be in terms of battery life. The Zenbook S 13 OLED lasts 11 hours and 2 minutes when browsing the web, streaming video, playing games at 150 nits, and connected to Wi-Fi.
Despite having a higher-resolution OLED screen, the battery life performance is 10% greater than the previous 5800U ZenBook implementation from 2021. They're also on pace with the ROG Flow X13 2022, which has identical Ryzen 6000 technology and a substantial improvement over any of the Intel choices we've examined, particularly for video streaming & everyday activities.
Is Zenbook better than Vivobook?
Zenbook laptops often have more features and a more quality style but are also more costly.
Is Asus ZenBook worth it?
Asus' ZenBook line of ultra-thin laptops has shown the world how to make attractively designed tiny and light computers that are also powerful. To be sure, it's a costly laptop, but if you want the finest of what Asus has to offer, the ZenBook S 13 is an excellent pick.
Conclusion
The Asus Zenbook S 13 OLED is a lightweight, ultrathin laptop that houses AMD's most recent CPUs. It's a sleek and stylish laptop that's powerful as long as you're ready to put up with some heat.
If you want something with more connectors while remaining sleek and small, the Lenovo Yoga 9i, a 14-inch Intel-based 2-in-1, maybe for you.  However, it did sport a somewhat higher quality OLED screen. The Zenbook S is a good choice if you need portable power, as long as you don't mind dongles and a little more heat. This laptop isn't flawless: the port offering is inadequate, while the fan noise may get unpleasant under demanding tasks. But it's impossible to be too critical of a notebook with many high-end features that performs even better than the MacBook Air M1. If you're looking for an all-around Ultrabook, the Asus Zenbook S 13 OLED offers one of the most pleasing possibilities.
Read More: