The Lenovo Slim Pro 9i emerges as a true embodiment of cutting-edge technology and elegant design within the realm of 14-inch laptops. Lenovo, a renowned pioneer in the world of computing, has once again pushed the boundaries of innovation. This laptop boasts an impressive arsenal of hardware, led by a formidable 12th Gen Intel Core i7 processor. The powerhouse NVIDIA GeForce RTX 4050 graphics card. Whether you're delving into video editing intricacies or immersing yourself in the gaming universe, this laptop stands unwaveringly capable.
One of its standout features is the stunning 3K mini-LED display. A visual symphony that captivates with its brilliant colors and boasts a smooth 120Hz refresh rate. Typing and navigating are a joy thanks to the comfortable keyboard and touchpad. But it's not just about performance; the Lenovo Slim Pro 9i excels in endurance too. Its long-lasting battery can effortlessly accompany you through an entire day's journey, unruffled.
In a world where form often sacrifices for function, the Slim Pro 9i defies that notion. Lenovo has merged power and elegance. Making it an excellent choice for those who crave peak performance and style in a compact package. Lenovo, a brand renowned for its commitment to quality and innovation, continues to raise the bar in the laptop arena with the Slim Pro 9i, where every facet of computing excellence converges.
Quick Review
Lenovo Slim Pro 9i
The Lenovo Slim Pro 9i is the epitome of cutting-edge technology and sleek design, a powerhouse packaged into an ultraportable frame. With a 12th Gen Intel Core processor and NVIDIA GeForce RTX graphics, it doesn't just promise top-tier performance; it delivers it. Whether you're delving into intense video editing, indulging in gaming adventures, or engaging in creative tasks, this laptop takes it all in its stride.
What truly sets the Slim Pro 9i apart is its stunning OLED display, available in 14 or 16 inches, boasting a 16:10 aspect ratio and an eye-popping 1200 nits of brightness. The 6-speaker sound system with Dolby Atmos support ensures your audio experience is just as immersive. But it's not all power and glory; Lenovo hasn't overlooked practicality. The backlit keyboard and fingerprint reader make your interactions seamless. And with a battery that keeps you going all day, you're not tethered to an outlet.
In sum, the Lenovo Slim Pro 9i is the ultimate choice for those who demand excellence in both performance and aesthetics. It's not just a laptop; it's a statement of style, power, and versatility. Whether you're a student, a professional, or simply someone who craves the best, the Slim Pro 9i delivers it all.
Pros:
Powerful performance

Stunning display

Comfortable keyboard and touchpad

Long battery life

Premium design

Wide range of ports

Secure and privacy-focused features
Cons:
Expensive

No SD card reader

Battery life can be shorter when using the display at its highest brightness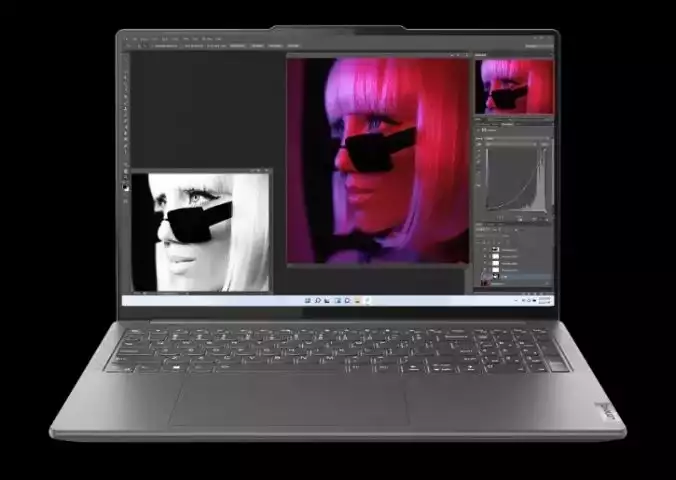 Specs and configurations
| | |
| --- | --- |
| Processor | 13th Generation Intel® Core™ i9-13905H Processor |
| Operating System | Windows 11 Pro |
| Graphics | NVIDIA GeForce RTX™ 4060 Laptop GPU 8 GB GDDR6 VRAM |
| Memory | 32GB LPDDR5X 6400MHz |
| Storage | 1TB PCIe Gen 4 M.2 |
Price and Release Date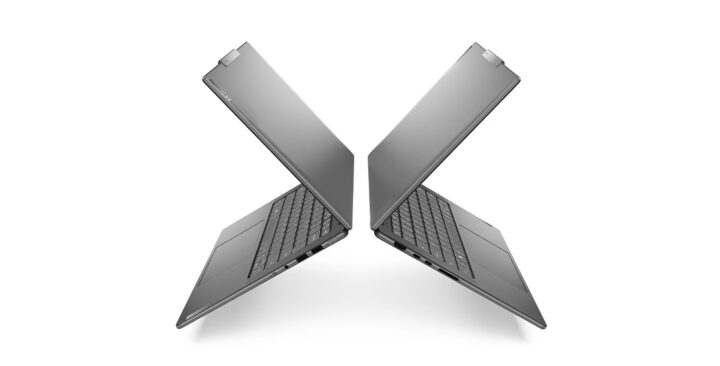 Lenovo's much-anticipated Slim Pro 9i made waves when announced in March 2023, promising sleek performance and innovation. However, its actual availability has been a rollercoaster ride. As of August 2023, the 14-inch variant, equipped with a Core i5-13500H processor, 8GB of RAM, and a 256GB SSD, has finally hit Lenovo's online shelves at a price of $1,900. Yet, for those eyeing the larger 16-inch version, the wait continues, as it remains elusive in the market.
The pricing structure reflects Lenovo's commitment to cater to a diverse audience, with configurations ranging from the base model to a robust Core i7-13700H processor, 16GB of RAM, and a generous 512GB SSD, priced at $2,400. Enthusiasts and professionals alike eagerly watch for the moment when the full lineup becomes readily available, poised to make their computing dreams a reality.
Design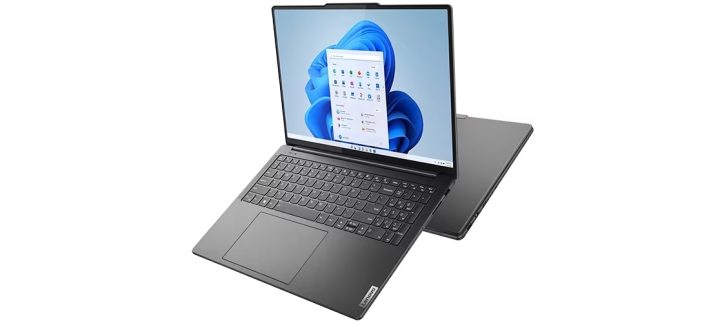 The Slim Pro 9i is a testament to Lenovo's commitment to marrying form and function seamlessly. This laptop's design is a symphony of modernity, featuring a CNC-machined aluminum unibody chassis that exudes sleekness and sophistication. The chic Storm Grey color option becomes the epitome of style and professionalism. Apart from looks it's about practicality too. Despite packing robust performance under its hood, the Slim Pro 9i remains astonishingly thin, measuring a mere 18.16mm for the 16-inch model and 16.9mm for the 14-inch variant. Even more impressively, it's lightweight, tipping the scales at just 2.23kg and 3.7kg for the respective models.
Lenovo has carefully chosen premium materials, like aluminum, to craft this laptop, ensuring a sturdy yet elegant build. The display promises high resolution, possibly even touch capabilities, and the keyboard and trackpad will undoubtedly be designed for ergonomic comfort. You'll find a range of ports for connectivity, including the lightning-fast Thunderbolt 4. Lenovo has effectively combined style and practicality in the Slim Pro 9i. Establishing it as the top pick for contemporary professionals who value both aspects.
Spectacular Display

The Lenovo Slim Pro 9i's display is a testament to cutting-edge technology and precision engineering. With its 14.5-inch or 16-inch Mini-LED screen, it transports users into a realm of visual excellence. The inclusion of over 2,500 local dimming zones results in astonishingly deep blacks and brilliant highlights, all while maintaining an exceptional level of brightness. At its peak in HDR mode, the display dazzles with up to 1200 nits of luminance, making it the perfect canvas for devouring HDR content or conquering tasks in even the sunniest environments.
What truly sets this display apart is its commitment to color accuracy. Covering 100% of the sRGB, DCI-P3, and Adobe RGB color gamuts, it guarantees that every hue is portrayed with impeccable fidelity. Creative professionals take note – the Slim Pro 9i is your palette of choice. But it doesn't stop there; the 165Hz refresh rate ensures that every movement on-screen is rendered with silky smoothness. Whether you're gaming or engrossed in a cinematic experience. In a world where visual clarity is paramount, the Lenovo Slim Pro 9i's display reigns supreme, offering a breathtaking fusion of innovation, precision, and performance that transforms every pixel into a masterpiece
Touchpad and Keyboard

Experience a new level of typing excellence with the Lenovo Slim Pro 9i's innovative keyboard. Boasting ultra-responsive 1.5mm key travel and grease-resistant 0.3mm dish keys, this keyboard offers a satisfyingly tactile typing experience. But that's not all – Lenovo's commitment to sustainability shines through in this device. The 16″ Lenovo Slim Pro 9i is ENERGY STAR-rated and EPEAT Gold-registered and its packaging includes a cushion made from 90% recycled plastic.
What truly sets the Lenovo Slim Pro 9i keyboard apart, though, is its user-friendly design. With a spacious layout that's immediately familiar and well-spaced keys, it's a dream to type on. Plus, it's spill-resistant, so those accidental coffee mishaps won't lead to disaster. Backlit keys ensure you can work in any lighting conditions, while the ergonomic design reduces typing fatigue during long sessions.
And for those who appreciate a quieter typing experience, this keyboard delivers. It outshines competitors like Apple's MacBook Pro 14 and Razer's Blade 14. Whether you're a professional or a casual typist, the Lenovo Slim Pro 9i keyboard is engineered for ultimate performance and sustainability, making it a standout choice in the world of laptops.
Performance

Unleash your inner creative genius during the day and dominate the gaming realm by night, all thanks to the cutting-edge prowess of the NVIDIA GeForce RTX™ 4060 Laptop GPU. With the ability to harness a whopping 100W of power, you're in for an unparalleled experience. Dive into the world of next-level ray-tracing performance, where rendering becomes lightning-fast, broadcasting turns pristine, and video editing feels effortless. But that's not all – when you choose this powerhouse, you're not just getting a GPU; you're getting an entire creative suite. With a complimentary 2-month membership for Adobe Creative Cloud, your creative possibilities are limitless.
When it comes to communication, the Premium Suite takes things to the next level. Crystal-clear audio, courtesy of 4 top-tier microphones that silence background noise, along with a symphony of sound from six robust speakers, ensures that your video calls and live streams are nothing short of spectacular. With AI-tuned facial visuals through the 5MP webcam, your presence is always in the spotlight. This laptop isn't just a tool; it's your ticket to a world where creativity knows no bounds and gaming reigns supreme. So, whether you're crafting masterpieces or conquering virtual worlds, do it with style and performance that stands above the rest.
Other Features
Battery Life

The Lenovo Slim Pro 9i boasts a robust 75-watt-hour battery, a sizeable power source that usually implies impressive longevity. However, the Slim Pro 9i's formidable CPU and GPU capabilities introduce a challenging dynamic, occasionally tugging at its battery life. In standardized battery assessments, the Slim Pro 9i has delivered approximately 7 hours of usage, which is undeniably functional but may leave dedicated road warriors wanting. Yet, there are strategies to squeeze more life from this sleek machine.
Firstly, moderating the screen brightness emerges as a vital tactic. As screens are renowned power guzzlers, a dimmer display can significantly extend usage time. Second, mindful app selection plays a pivotal role. Demanding applications, such as video editors or games, can strain the battery; opting for less resource-intensive software can help conserve power. Lastly, don't underestimate the effectiveness of sleep mode when your laptop is idle. It draws minimal power and can be a lifesaver for preserving battery life during breaks.
Streamlined Ports

The Lenovo Slim Pro 9i laptop, despite its slender profile, packs a punch with a well-thought-out selection of ports catering to various needs. Among its standout features is the webcam e-Privacy shutter switch, a tangible safeguard for your online privacy, physically covering the webcam when not in use. For multimedia enthusiasts, the headphone/mic combo port ensures seamless audio connectivity. The USB-A 3.2 Gen 1 port offers both speed and convenience, with a data transfer rate of up to 5 Gbps, always powered to charge your devices, even when the laptop is asleep.
When it comes to display versatility, the HDMI 2.1 port steps up, accommodating 4K Ultra HD resolutions at 60Hz for a visual treat. Meanwhile, the Intel Thunderbolt 4 port is the epitome of versatility. With blazing data speeds, Thunderbolt 4 capabilities, and DisplayPort 1.4 support, all while serving as a power source for the laptop. Rounding out this feature set is the SD card reader. A practical addition for those who frequently work with memory cards. The Lenovo Slim Pro 9i ensures that while it may be slim, it's big on connectivity options.
Sound quality
The audio experience on the Lenovo Slim Pro 9i is nothing short of impressive. Sporting four speakers meticulously tuned by Harman Kardon, this laptop delivers a sonic performance that stands out in its category. Starting with the bass, it's surprisingly robust for a laptop, providing a welcomed fullness to the sound without reaching the depths of a dedicated subwoofer. The midrange is where clarity and balance shine, making vocals and instruments come to life with a natural vibrancy.
Moreover, Treble offers crispness and intricate detailing without ever venturing into the realm of harsh or piercing high frequencies. The soundstage, thanks in part to the upward-firing speakers, is wonderfully expansive, creating a sense of height that truly enhances the overall audio experience. The Lenovo Slim Pro 9i's sound quality surpasses the majority of laptops on the market. It's not only suitable for casual music listening and movie watching but also a testament to the laptop's commitment to providing an immersive multimedia experience.
Webcam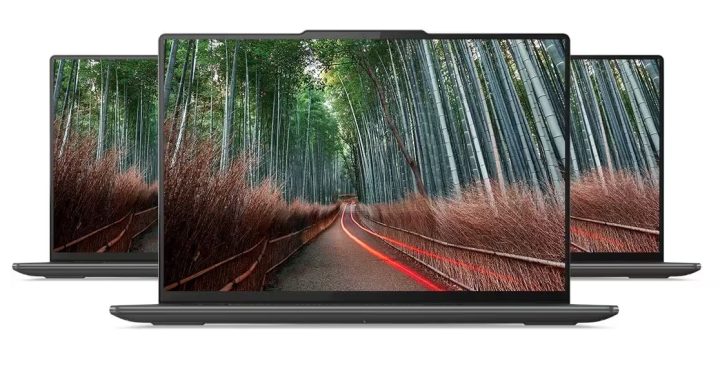 The Lenovo Slim Pro 9i webcam is a guardian of your privacy and a performer in the world of video communication. With its 5MP resolution and support for up to 1440p video, it ensures your visuals are crisp and clear. The added convenience of an IR sensor enables seamless Windows Hello facial recognition login. Worried about privacy? No problem. The electronic privacy shutter is your trusty shield, ensuring your webcam remains closed when not in use, thwarting any prying eyes.
But it's not just about visuals; the dual array microphone guarantees crystal-clear audio for all your virtual meetings. And when lighting conditions aren't ideal, fear not – the HDR support and low-light compensation step in to save the day, enhancing your image quality. Plus, if you want to add a touch of glamour, features like face beautification and background blur are at your disposal.
Reviewers have sung praises for the Lenovo Slim Pro 9i webcam, highlighting its high resolution and Windows Hello support. However, in low light, it might get a tad grainy. Nevertheless, if you seek a reliable, feature-packed webcam at a reasonable price, this Lenovo gem is a solid choice.
Gaming Performance

While the Lenovo Slim Pro 9i is a versatile and powerful device. It falls short of being a dedicated gaming powerhouse. Armed with an Intel Core i9-13905H processor and an NVIDIA GeForce RTX 4050 GPU. It's a formidable machine that can offer a smooth gaming experience, particularly at 1080p resolution. Benchmarks showcase its capabilities, with 3DMark Time Spy hitting 7,971 in Performance mode and Tomb Raider delivering a solid 80 fps at 1080p with high detail settings. Even in titles like Metro Exodus and Cyberpunk 2077, it holds its ground, achieving 55 fps and 58 fps at 1080p, respectively.
However, for the most demanding games or maxed-out settings, a dedicated gaming laptop might be more suitable. But if you desire a versatile workhorse that can also dabble in gaming, the Lenovo Slim Pro 9i is a compelling choice, balancing power and versatility adeptly.
Affordable substitute for Lenovo Slim Pro 9i?
If you're on the hunt for a laptop that matches the Lenovo Slim Pro 9i's prowess but comes with a friendlier price tag, you're in luck. Dell's XPS 15 boasts a comparable blend of design, performance, and features, with a starting price of $1,299. Equipped with an Intel Core i5 processor, 8GB of RAM, and a 256GB SSD, it offers a compelling package.
Alternatively, the HP Envy 16 serves as an affordable alternative, starting at $1,199. Its AMD Ryzen 5 processor, 8GB of RAM, and spacious 512GB SSD make it an enticing option. Asus enters the ring with the ZenBook 15, slightly smaller than the Slim Pro 9i but still packing a punch. Starting at $1,099, it provides an Intel Core i5 processor, 8GB of RAM, and a 512GB SSD.
For those craving power in a lightweight package, the Acer Swift X might catch your eye, beginning at $1,199. Featuring an AMD Ryzen 7 processor, 16GB of RAM, and a 512GB SSD, it marries performance and portability. Lastly, the MSI Creator 15 caters to creative minds, starting at $1,499. With an Intel Core i7 processor, 16GB of RAM, a 512GB SSD, and an NVIDIA GeForce RTX 3050 Ti graphics card, it's a compelling choice for content creators.
Is Lenovo Slim Pro 9i good for students?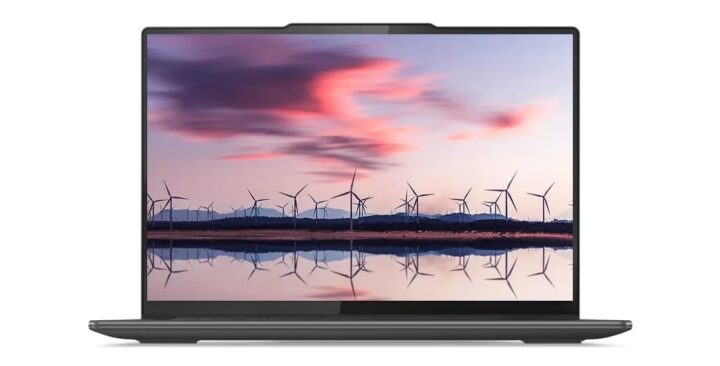 The Lenovo Slim Pro 9i is an excellent choice for students. Its sleek and lightweight design makes it perfect for carrying to classes and libraries. With a robust processor and graphics card, it's versatile enough for tasks ranging from video editing to gaming, catering to students' diverse needs. Moreover, its extended battery life ensures productivity throughout the day. Nevertheless, its premium price tag may not suit all budgets. So students should weigh their priorities when considering this powerful and portable laptop.
Does Lenovo allow student discounts?
Lenovo recognizes the importance of supporting students and extends its generosity with student discounts. Whether you're a seasoned scholar or an incoming student, Lenovo's got your back. Simply click on the "Verify with ID.me" button in your shopping cart to confirm your student status and unlock your discount. Keep in mind that the discount amount can fluctuate depending on the product and the time of year. So keep an eye out for special deals, especially during the back-to-school season when Lenovo tends to offer even bigger savings.
Lenovo Slim Pro 9i is waterproof?
The Lenovo Slim Pro 9i isn't waterproof; it's water-resistant. This means it can handle minor water splashes and accidental spills without damage. But remember, it's not designed to be submerged or exposed to prolonged water contact. So, while it can weather some wet situations, it's best to keep it away from activities involving extended water exposure to ensure its longevity and performance.
Conclusion
The Lenovo Slim Pro 9i stands as a testament to both power and style, setting a new benchmark for laptops tailored to the needs of creators and professionals alike. At its core lies a mesmerizing mini-LED display, boasting unparalleled color accuracy, luminance, and a jaw-dropping contrast ratio. This combination ensures that graphic designers, video editors, and photographers experience visuals in their truest form, making every pixel count. What truly sets the Slim Pro 9i apart is its 100-watt Nvidia RTX 4050 graphics card. A powerhouse that effortlessly tackles resource-intensive tasks without breaking a sweat. This allows 3D modelers and gamers to push their creativity and enjoyment to new heights.
In a market filled with contenders, the Slim Pro 9i holds its own, even among its peers in the same price range, such as the MacBook Pro 14 and the Dell XPS 15. Its sleek aesthetics and cutting-edge technology make it a compelling choice, providing a delightful balance between performance and portability. While it may demand a premium, the investment in the Slim Pro 9i ensures that the boundaries of creativity and productivity are pushed further than ever before.
Read More:
Lenovo Slim Pro 9i Laptop Review
Summary
The Lenovo Slim Pro 9i is a 14-inch laptop that embodies cutting-edge technology and elegant design. It features a powerful 12th Gen Intel Core i7 processor and an NVIDIA GeForce RTX 4050 graphics card, making it suitable for tasks like video editing and gaming. The laptop stands out with its stunning 3K mini-LED display, offering vibrant colors and a smooth 120Hz refresh rate. It also provides a comfortable keyboard and touchpad for easy navigation. Moreover, it boasts impressive endurance with its long-lasting battery that can last throughout the day. Lenovo has successfully merged power and elegance in the Slim Pro 9i, making it an excellent choice for those seeking both performance and style in a compact package. Lenovo continues to set high standards in the laptop industry with this model, emphasizing computing excellence in every aspect.