The Lenovo Yoga Slim 7 laptop lineup includes variants powered by either Intel's 10th-generation Core CPUs or AMD's Ryzen 4000 series APUs. It is now available for purchase and joins the ranks of last year's Lenovo Yoga S730, although it is not a straight replacement for that laptop.
The Lenovo Yoga Slim 7 laptop is designed for mobile professionals and has a plethora of connectors as well as the newest Wi-Fi 6 antennas for fast connectivity. Dolby Atmos-tuned speakers allow you to experience enhanced stereo speakers when watching movies and TV shows if you're not working.
Finally, while the Lenovo Yoga Slim 7 laptop is neither a full-fledged gaming laptop nor a heavy-duty device meant for film editing, you do have the option of selecting versions with specialized Nvidia MX graphics processors, which will offer you a lift in these areas and allow for speedier picture editing.
There is considerable ambiguity in the nomenclature because there is a Yoga Slim 7 and a Yoga Slim 7i. Either is for Intel CPUs, however many dealers just refer to it as the 7.
Price & Availability of Yoga Slim 7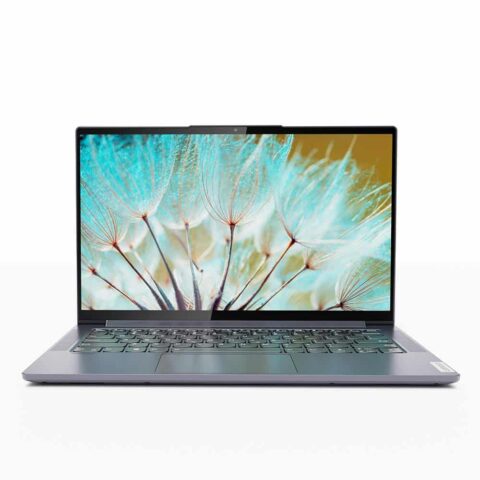 The Lenovo Yoga Slim 7 laptop is now available for purchase in the United Kingdom, you may purchase straight from Lenovo, which sells Full HD variants with the mid-tier Core intel core i5 and 8GB of RAM, as well as 256GB and 512GB SSDs for £749.99 and £899.99.
For £1099.99, you can get a 4K model with the top-of-the-line i7-1065G7 processor, as well as the same RAM and storage. Amazon UK has a bit greater variety, including several AMD models. For £699.99, you can get a Yoga Slim 7 with a Ryzen 5 4500U processor, 8GB of RAM, and 256GB of storage. That is excellent value and will satisfy the majority of users, although a Ryzen 7 4700U is available for £849.99.
In the United States, it will be available as the Yoga 7i from Lenovo, featuring 11th-generation Intel CPUs beginning at $799.99 for the 14inch model and $899.99 for the 15inch model. It's worth noting that this has a distinct design and ports as well.
Design & Build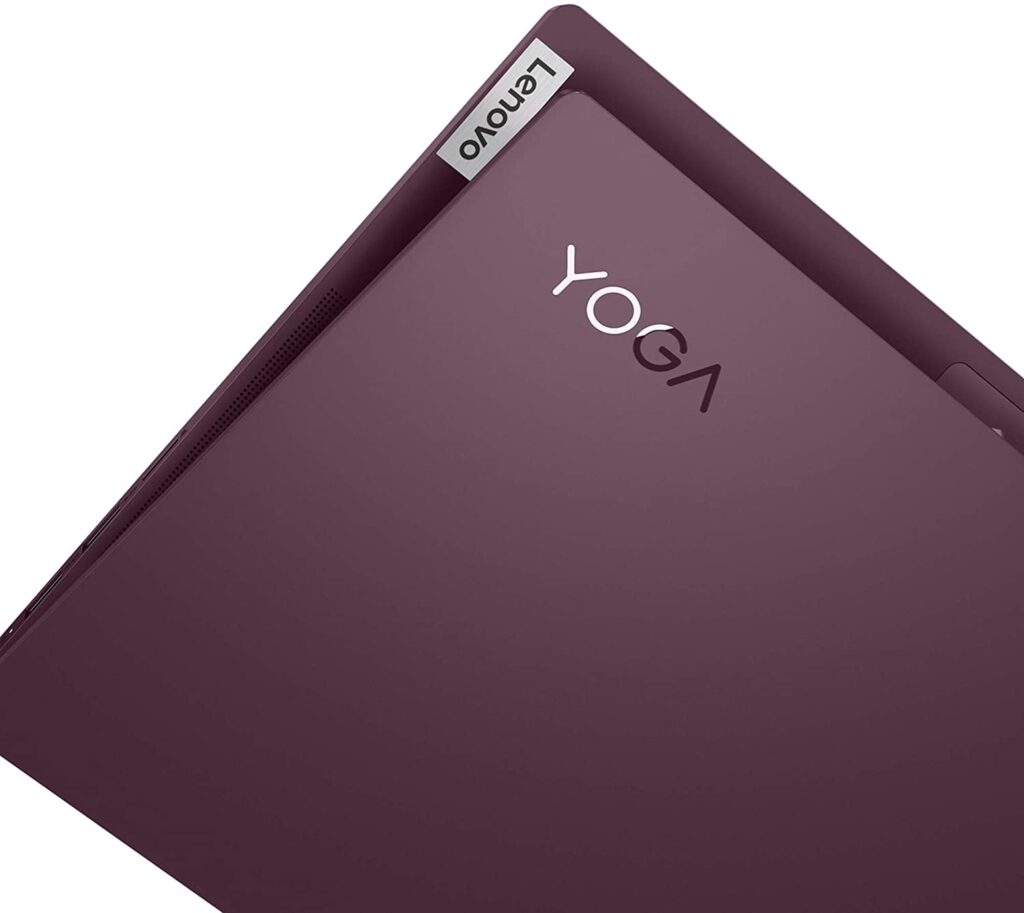 The Lenovo Yoga Slim 7 is a very nice-looking laptop. As the name implies, it's a lightweight laptop aimed at people who work on the move, people who need something that can be quickly slipped into a bag or case as they dash between meetings.
Instead of the usual boring black and silver color options, here you can choose from sandblasted metal jackets in gunmetal green-grey 'Dark Moss', a rich wine/dark purple 'Orchid', or a slate grey textured fabric option, er, 'Slate Grey'.
The Lenovo Yoga Slim 7's 14inch monitor is bordered by very thin bezels, which helps the display stand out and contributes to the overall pared-down and skinny appearance. Top and center are one of the tiny 720p HD camera sensors I've ever seen.
The broad hinge allows the screen of the Yoga Slim 7 to be readily adjusted. However, there is some shaking here. Rubberized feet on the underside elevate the back end of the deck somewhat off the desk, allowing warm air to be forced out of the vent by the twin fans.
While this is a Yoga device, the Slim 7 lacks a 360-degree hinge that allows the screen to move entirely around, enabling multiple usage modes. The display does, however, fold fully flat to fit on a desk.
Keyboard & Trackpad of Yoga Slim 7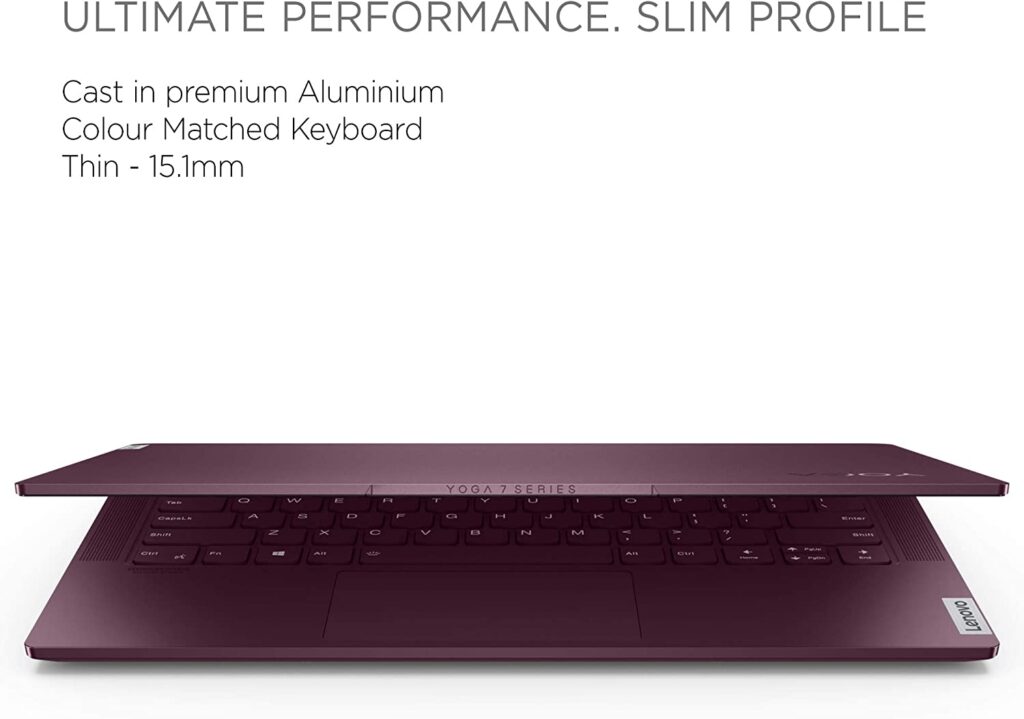 The keyboard is characteristic of Lenovo laptops, with the same curved keycap form found on creative convertibles like the Lenovo Yoga C740 and inexpensive laptops like the Lenovo IdeaPad Gaming 3i.
The keys respond swiftly, and the keycaps are generously sized. Getting acquainted is simple, even if you have Jack Reacher-style supermarket chicken-sized hands.
When hitting back up, the Enter key has a propensity of getting trapped against the deck, which may be a bad indicator. Two micro-drilled grilles border the keyboard, concealing a pair of 2W Dolby Atmos-tuned speakers: more on these in a moment. If you're looking for a laptop that can handle your central heating and smart lights. However, there's even room for voice assistants Cortana or Alexa to join you.
The plastic-coated touchpad on the test sample was not particularly responsive, but raising the sensitivity and cursor speed can fix this. Of course, it's not as smooth as the trackpad on a MacBook Air, but it's adequate.
The absence of a fingerprint scanner is obvious here. The 720p HD webcam lets you unlock the device and login into your Microsoft Account using Windows Hello face recognition.
Screen & Speakers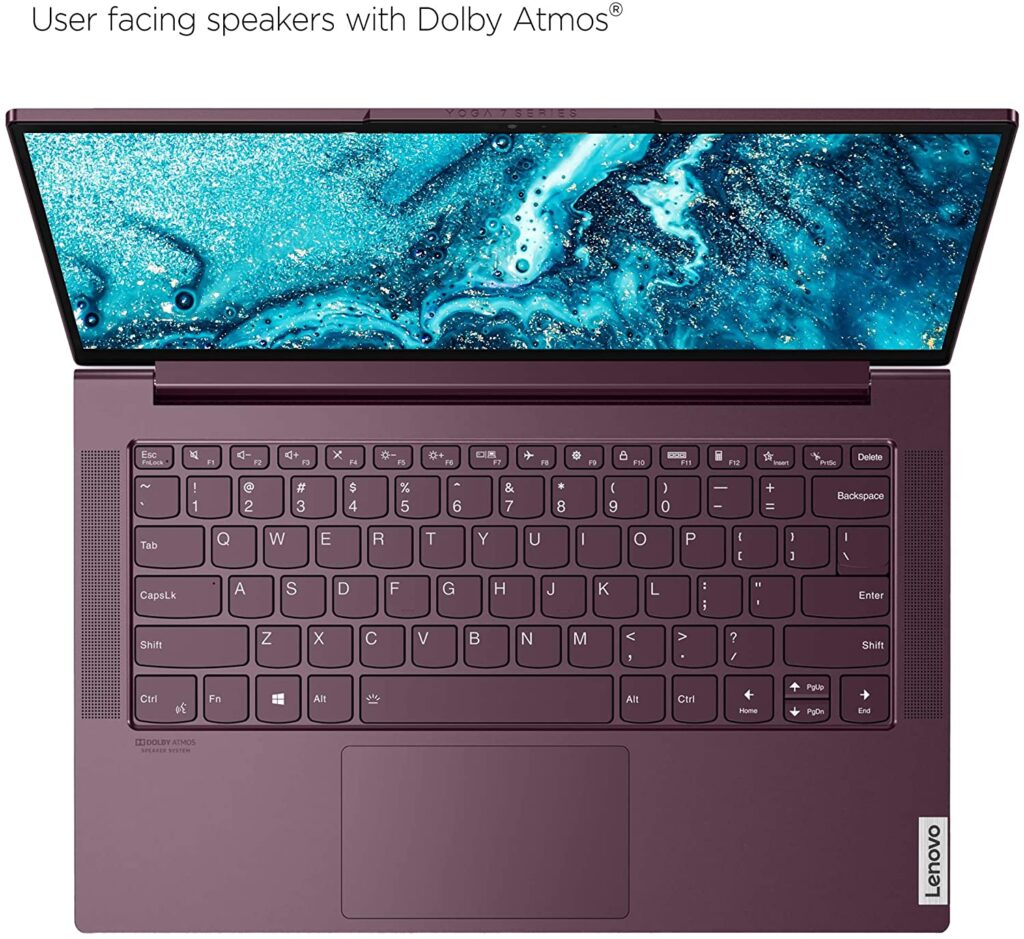 Lenovo claims that the Full HD display has a maximum luminance of 300 nits. It's bright enough just to cut past glare on a sunny day. Moreover, if you're working late or someplace dark, you can dim the display and switch on the keyboard backlight. According to Lenovo, the 4K variant has a maximum brightness of 500 nits.
The Full HD and 4K screens are both IPS LCDs. In any case, it meets the Netflix bed-bound binge test.
When it comes to streaming entertainment, the Lenovo Yoga Slim 7's speakers are excellent. They support stereo sound, provide clean treble, and have surprisingly good bass for their size.
As you might imagine, there is some turbulence at high settings, but if you need your audio to be that loud, you should likely be listening to it through one of the finest smart speakers anyway.
Specifications & Performance of Yoga Slim 7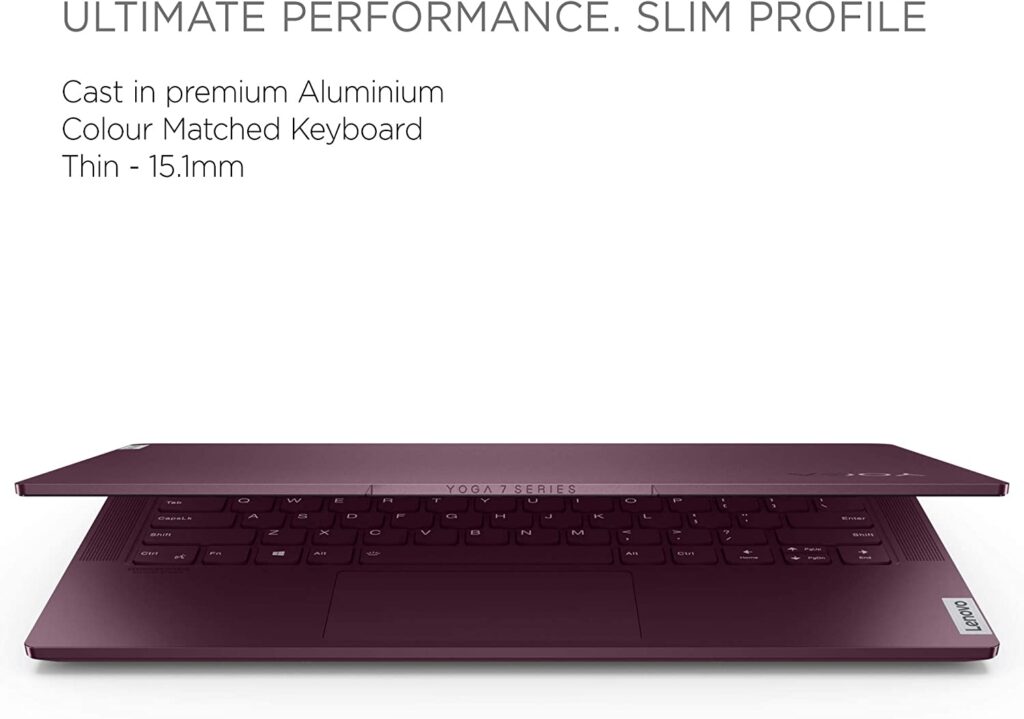 The Lenovo Yoga Slim 7 series is powered by 10th-generation Intel laptop CPUs from the Ice Lake family. The Intel Core i5-1035G1, Core i5-1035G4, and Core i7-1065G7 are the versions.
All of them are quad-core CPUs, with the i5-1035G4 and i7-1065G7 being the more powerful of the two due to the inclusion of the more sophisticated Intel Iris Plus integrated graphics unit.
In addition, Lenovo Yoga Slim 7 models with specialized Nvidia graphics chips, the GeForce MX350 or MX330, are available. These will be best if you're considering purchasing a 4K Yoga Slim 7 in order to perform some picture editing.
RAM options for the Yoga Slim 7 are 8GB, 12GB, and 16GB. Yoga Slim 7 models with 256GB and 512GB SSDs will be available.
The Yoga Slim 7 breezed through routine office chores. With 10 tabs open, including a YouTube playlist, Chrome didn't notice the Yoga Slim 7 locking up until after roughly five hours of work – you should really be restarting your browser every an hour or so anyhow.
Connectivity & Ports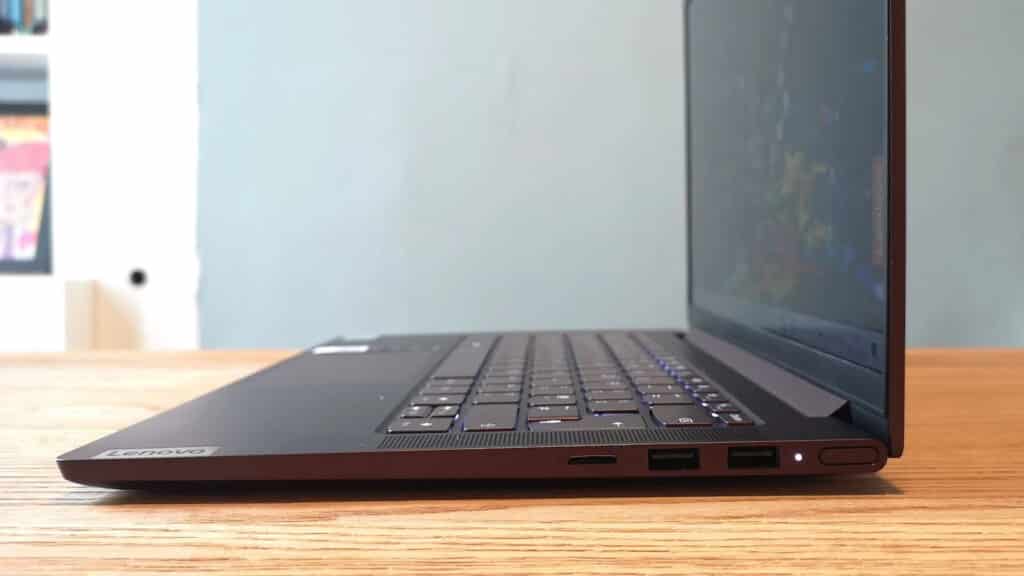 On the right, there are two Type-A USB 3.1 Gen 2 ports and a microSD card reader. In addition, there's also HDMI 2.0 and a Type-C USB 3.2 Gen 2 with Thunderbolt 3 on the right, with the standard charging port and a 3.5mm headphone/microphone combination jack.
The only thing you'd probably want to spend money on here is an Ethernet adaptor. It boasts a cutting-edge 2×2 802.11ax WiFi 6 antenna, as do many other laptops on the market.
Conclusion
The Lenovo Yoga Slim 7 is light, efficient, elegant, and adaptable, plus it is reasonably priced. The only significant drawbacks are the somewhat modest storage capacity, which won't be a deal-breaker for everyone, and the slightly shaky build quality. However, the Yoga Slim 7 is a great option.
Read More: