Razer Cortex game booster is a system optimization program developed by the gaming gear manufacturer Razer to boost your gameplay experience and overall PC performance. It essentially improves your gaming experience by increasing the performance of the system and allowing you to choose the best gaming offer.
Overview
The Razer Cortex Game Booster feature of the software accomplishes this by shutting down any non-essential secondary operations and services that chew up valuable memory and Runtime. It also defrags your games' files, perhaps minimizing frame rate breakdowns caused by excessive disc usage. Other system tools are also included in the application, which cleans up your system and frees up space on your hard drive.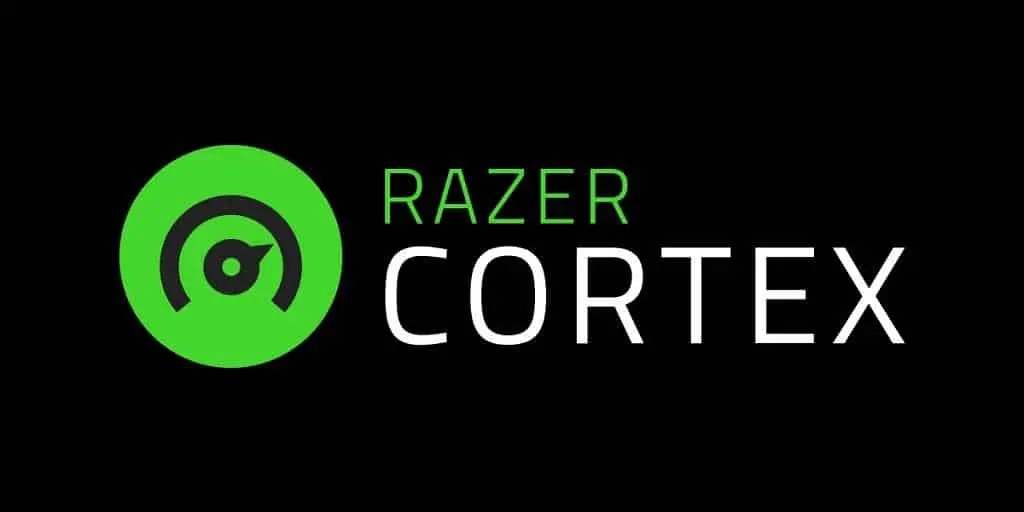 If you are a first-time user, you will find the UI to be very user-friendly. When compared to all the other system cleaners and boosters, it is quite user-friendly. You'll know what to have for which function because the modules are clearly labeled on the top bar. The general appearance of the UI is highly appealing, with the usage of bright green making it ideal for gamers. You'll find two separate themes for it: light and dark, both of which we liked.
Game Booster to enhance gaming performance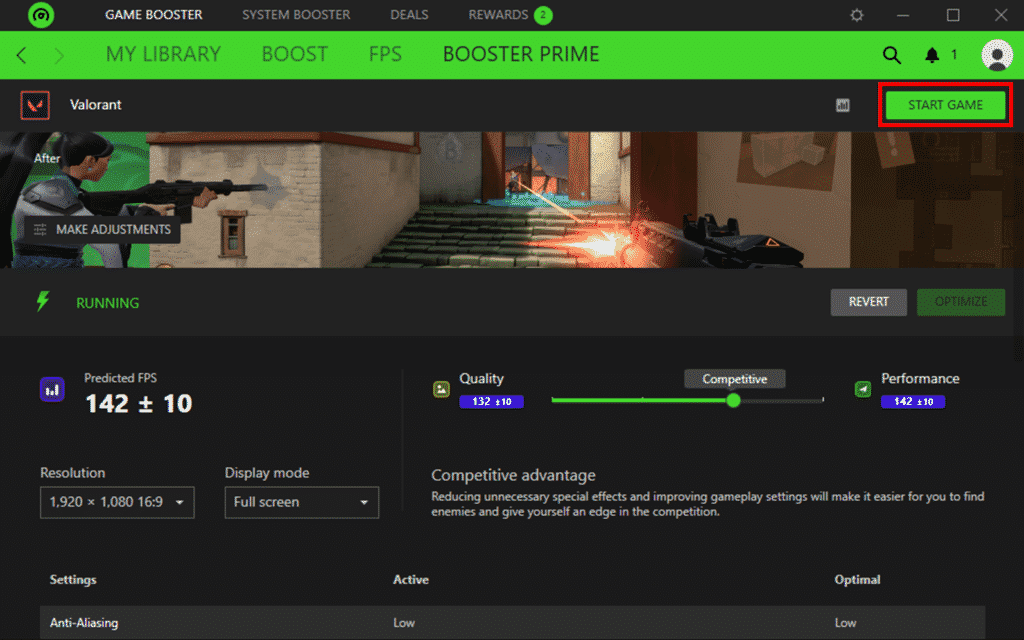 One of Razer Cortex's key features is the Game Booster, which is highly effective at enhancing your PC's gaming performance. It controls and detects all resource-draining background programs and services, and disables them while you're gaming, saving up crucial RAM space.
This more RAM space is now allocated for your game, resulting in faster frame rates. This function can be greatly aided by PCs having mid-range gaming performance. By adjusting the game parameters, you may instantly improve your gaming experience. To enhance the overall performance on your PC, you can clear up resources. You must improve the FPS for a game to run at optimal speed. To do so, install Razer Game Booster, which will prioritize the game and modify Windows settings like turning off sleep mode.
System Clean-up Process of Razer Cortex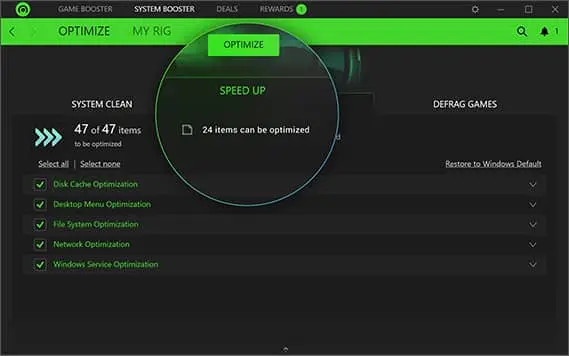 The System Booster is a one-stop solution for sweeping away all of your garbage files and freeing up valuable disc space, allowing your games to run more smoothly. With no need to manually remove garbage files on game platforms. The System Booster removes garbage files and browser caches, freeing up disc space so that your games can function at their best. This feature is one of Razer Cortex's System Booster, which automatically scans and removes any trash files and computer cache to free up disc space. Furthermore, the System Booster provides excellent advice for further optimizing the system by adjusting advanced settings for more detailed management
Provides Better Fps with Booster Prime function
The Booster Prime function on the Razer Cortex uses a device algorithm to forecast the FPS (frames a second) count and display it on a chart. You can use it to acquire vital information and make adjustments to improve the functioning of your system. However, you should keep in mind that Razer Cortex does not really improve your FPS. If Razer Cortex influences FPS in any way, it varies on what game you're playing. If your game requires a lot of GPU processing power, Razer Cortex will just free up RAM space, which won't assist more with GPU performance. The program will most likely enhance FPS rates in videogames that are even more CPU intensive, such as DoTA.

Razer arranges fragmented game data on a hard drive and speeds up reading and writing to reduce loading times. Only games stored on an HDD can benefit from the Defrag Games function.
Starting Optimization in Razer Cortex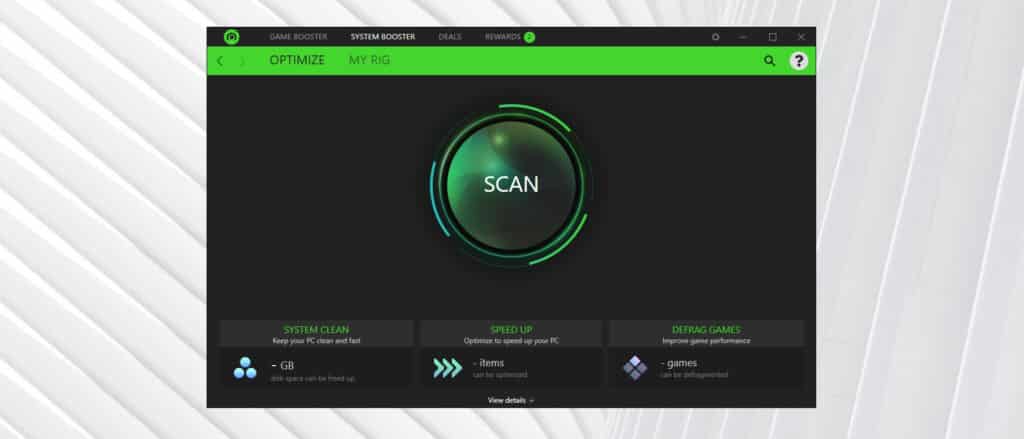 The Razer Cortex's Game Booster serves as a Launch Optimization technique in addition to its fundamental functions. By basically closing all resource-draining applications running all the time, the software improves game load times and launch time, freeing up memory space and reducing start-up time. The following are the results of using the Razer Cortex Performance Booster on a Windows 10 PC. The installation process may take a few minutes to complete, after which the Razer Cortex will launch fast. After you've completed the sign-up process, you'll notice the Razer Gaming booster is ready to use. It took roughly 20 minutes for the performance booster to scan the PC and display the results. For a pc booster software, this is a relatively decent speed. Yet, the clean-up was quicker than the previous method, so you can use it on a Windows PC.
Auto Booster of Razer Cortex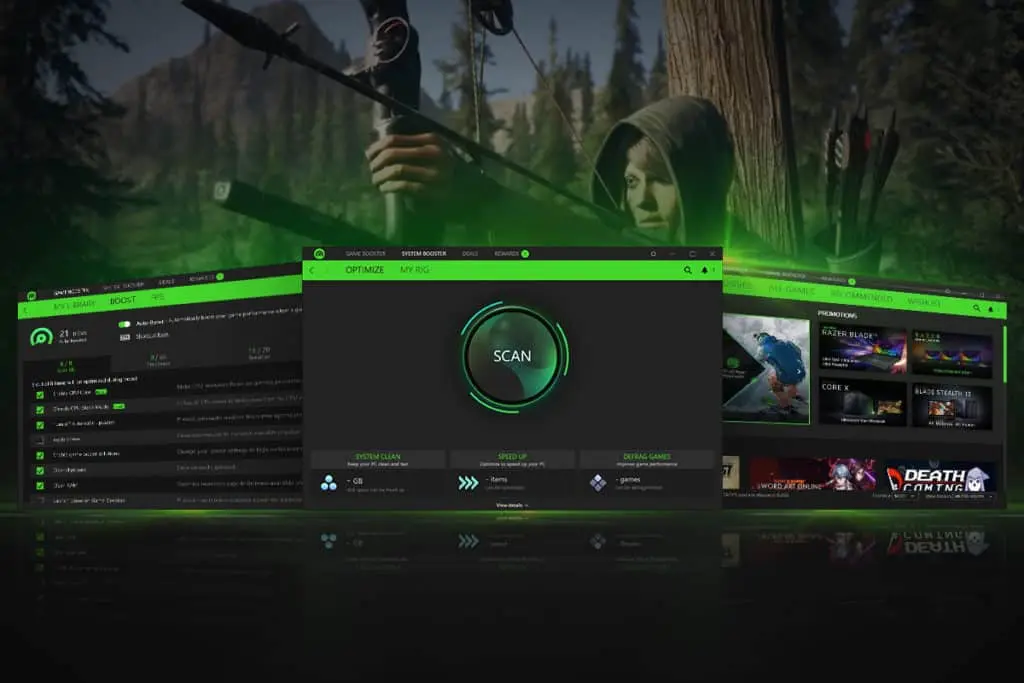 The Game Booster kicks in the instant you start a game, whether it's on Steam, Source, or your computer. When your gameplay session is finished, Gaming Booster seamlessly resets your System to its previous state. Additionally, Booster Prime adjusts game settings automatically based on your favorite gameplay mode. Razer's advanced AI technology will even suggest comparable settings for subsequent gaming sessions. This is a very useful feature when you are gaming especially when playing high FPS games. Sometimes the frame rates might get stuck and becomes the reason you die midway in a game, the razer gaming booster prevents such frame drops eventually.
Pros and Cons of Razor Cortex
Pros
The Razer Cortex application is free and includes no Ads in between. It gives you overall recommendations regarding the customization of your system which eventually helps in boosting your pc and making it run more smoothly
Cons
It includes fewer features rather than other boosting software plus it has no real-time monitoring and has scheduled cleaning options. It also has no real-time customer support.
Conclusion
Razer Cortex, with its current UI and gaming-specific features, might be a useful tool for recovering the Amount of ram of 2 to 3 GB by shutting off all background activities. It has a lot of amazing capabilities, as we said within our Razer Cortex review, but it misses several necessary functions that other system control programs have. The software is completely free to use and does not contain any advertising pop-ups, which is a significant benefit. However, if you're using a high-end gaming machine that has plenty of RAM and storage, Razer Cortex may not have the desired impact. Razer Cortex is a free-to-use program that lets you use every one of its structural analysis and game-boosting features. Razer Booster Windows 10 is a fast-working program that cleans up the network, defrags games, and improves performance by shutting off background activities.

We believe that this Razer Cortex review was useful in knowing everything there is about to understand regarding the software. We shall await your comments to learn more about your thoughts here on
Read More!