Razer is famous for its good-looking gaming laptops. Razer Book 13 is the company's first laptop for office with top-notch features and design. If you are planning to buy it, here is a review of Razer Book 13.
Razer Book 13
The Razer Book 13 is an Ultrabook worth all the praises it is receiving. From its design and high-quality aluminum build to its lightweight and portability, it's certainly a great Ultrabook. Moreover, it is affordable and addresses the productivity market with respectful modesty. This is Razer's first laptop for the corporates and demonstrates that Razer is more than RGB lights and games. Its portability and lightweight aluminum build also allow you to carry it anywhere. The battery will last to get you through a full workday. Moreover, the two USB Type-C Thunderbolt 4 connections make charging on the road simple.
Pros
Gorgeous design
11th Gen Intel
EVO certified hardware flies
Brilliant IGZO display
Excellent typing, trackpad, and RGB keyboard
Speakers with THX Spatial Audio
Plenty of ports
Cons
Battery life
Runs a bit hot
No LTE
| | |
| --- | --- |
| CPU | Intel Core i7-1165G7 |
| Graphics | Intel Iris Xe |
| RAM | 16GB |
| Screen | 13.4-inch FHD+ (1920x1200p) touch display |
| Storage | 256GB PCIe M.2 SSD |
| Ports | 2 x USB Type-C Thunderbolt 4, 1 x USB Type-A 3.2, 1 x HDMI 2.0, 1 x MicroSD slot, 1 x 3.5mm combo jack |
| Connectivity | Wi-Fi 6, Bluetooth 5.1 |
| Camera | 720p IR webcam with Windows Hello |
| Weight | 3.09 pounds (1.4 kilos) |
| Size | 11.6 x 7.8 x 0.6 inches |
| Battery | 55WHr |
Design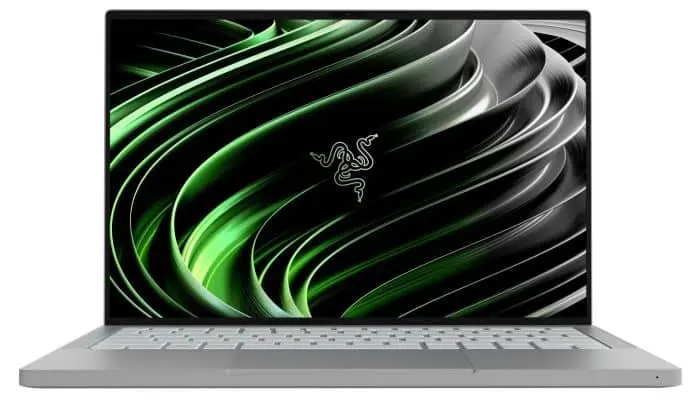 The Razer Book 13's chassis is solid-cut aluminum, thus comparisons to other laptops in the market are unavoidable. The keyboard is a standard notebook layout without a ten-key. But if you are used to notebooks, you won't notice and won't miss them. The keys are properly spaced, and per-key, soft white illumination is enabled by default. Thus, making it simple to use late at night. Moreover, you can even add twinkly RGB lighting effects to the keyboard just like other Razer laptops. The multitouch trackpad is quick and smooth. The left and right buttons are snappy and just hard enough to provide a gratifying click without feeling like you're bending the plastic. The speakers produce impressive audio quality.
The laptop has two USB Type-C Thunderbolt 4 connections. Both of these ports can charge your battery. Moreover, there is a USB Type-A 3.2 port, an HDMI 2.0 port, a MicroSD card, and a 3.5mm combo jack. It also offers Wi-Fi 6 as well as Bluetooth 5.1 connectivity. Although, it lacks a wired ethernet connection which is generally available on Ultrabooks. Moreover, it can become significantly warm when overworked. Razer's Vapour Cooling Technology aids the twin fans on the underside. The laptop performs an admirable job of regulating heat, given its small form size and the 11th-generation Intel chip.
Performance
The Razer Book 13 features essentially the same hardware like the Dell XPS 13 but, for the most part, get more out of it. Although both laptops have Intel Evo i7-1165G7 processors, Book 13 scored higher in tests. Book 13 outperforms the competition in most of the tests proving great performance.
Software and Features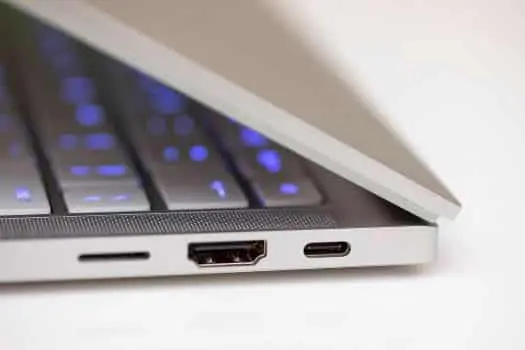 The overall chassis is built of T6 CNC aluminum that has been anodized. Razer's laptops have a flawlessly symmetrical "block" design that is well-balanced. The other minor details, such as a pinhole-sized LED on the front right that indicate whether the laptop is on (white) or charging (green). Moreover, depending on the light, Razer's three-headed-snake (THS) logo on top changes from light silver to dark silver.
Razer Synapse
The Razer Book 13 comes with Razer Synapse, which allows you to customize the color of the keyboard's backlighting and add effects as necessary. Also, it allows you to change the system's performance to Battery Saver, Balanced, or Performance modes. You can even manage the fan levels to your desire with this program. There are a few additional minor modifications you can do with it. Thus, making it a really useful app to have around if you really want to get into it.
Processors
The laptop has the latest 11th Gen Intel processors, as well as Intel Iris Xe graphics. These provide a performance gain of approximately 70% over the previous generation. You can choose from three variants, starting with the model with a full HD, non-touch, matte display with a Core i5-1135G7 (3.8GHz) processor, 8GB of RAM, and 256GB of storage.
Ports
Many 13-inch Ultrabooks come with only a few Type-C Thunderbolt ports. Whereas, Razer has a set of them. There's a full HDMI 2.0 and a microSD card slot, which are uncommon in today's Ultrabooks. While there are two Thunderbolt 4 Type-C connectors, there is also a Type-A 3.2 port. All of this adds up to a dongle-free laptop.
Display
Razer has used Sharp IGZO panels for display technology. It approaches the color saturation and contrast of AMOLED while maintaining the natural look of IPS/LED. The advantage of 4K at this size is limited to professionals who require such a high resolution for work. It has the narrowest bezels on any 13.4-inch laptop and they look fantastic. Because of the higher 16:10 display aspect, the bezels are small on all four sides. Moreover, the color fidelity of the display is very good. Brightness has a maximum of 550 nits and a low of 13 nits when the display is turned off. It has an anti-reflective coating, which is one of the best features. However, don't confuse anti-reflective with matte anti-glare.
Camera
The webcam isn't particularly spectacular at 720P. But it performs admirably in low light and is located on the top bezel. For quick logging into Windows, Razer uses a Windows Hello IR sensor.
Keyboard and Trackpad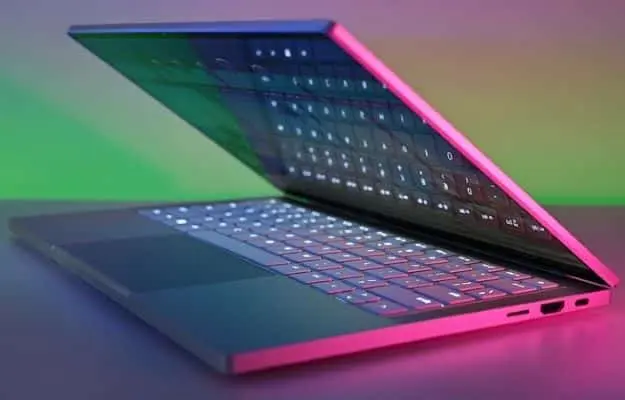 In Book 13, the typing is superb. The company employs a lot of the same gaming keyboard to create a very pleasing keyboard. It has plenty of travel and good-sized keys. You can use Razer Synapse to have your keyboard cycle through all of the colors. You can choose the rainbow, react to typing (or audio), and do a variety of other things. Moreover, the keyboard is not like most keyboards with two or three stages of backlighting. Razer's RGB is more equivalent to screen brightness, allowing you to slide a toggle for exact control. You can even set the lights to static and choose whatever color you like, including plain. Also, the trackpad is massive, smooth, and perfectly centered, and it's powered by Microsoft Precision Drivers.
Audio
Razer uses two top-firing amplified speakers around the keyboard for audio. Everything is proportional and accurate in design. The speakers go fairly loud, but it's the integration of THX Spatial Audio that really shines. This spatial audio also applies to the speakers. Sitting in front of Book 13, the sound seems to fill the room, contradicting the laptop's diminutive size. It enhances the enjoyment of watching movies on the computer.
Battery Life
The battery life is excellent with a 56 WHr battery life. The Razer Book 13 managed 11 hours and 50 minutes in the test while working with office productivity apps, video chats, and web surfing. Also, the display brightness was set to around 150 nits. This result meets Intel's minimum nine-hour criteria for the Evo classification and qualifies as all-day battery life.
What you would like?
Gorgeous Ultrabook– When it comes to premium Ultrabooks, the Razer Book 13 has a remarkably mature and attractive design that rivals other companies.
Excellent performance– If you're looking for a high-performance Ultrabook, this is one of the greatest Ultrabooks on the market right now.
Style within budget– You don't need to forego design for the sake of saving money. The entry-level model is surprisingly reasonable for an Ultrabook this attractive.
What you might not like?
You want a high-performance machine– The Razer Book 13 is a wonderful option for an Ultrabook. But if you're ready to forgo portability, there are more powerful laptops in the market.
You want a gaming laptop– Razer Book 13 isn't designed for gaming. It could certainly handle some light gaming, but anything like a recent AAA title will struggle on this system.
Conclusion
If you are looking for a laptop that you can flaunt in your office, Razer has the perfect option for you. The Razer Book 13 has a flawlessly balanced and sleek design with amazing sound and screen. Moreover, it has a fun RGB keyboard, all of which add up to give you an amazing experience. Although, the lack of a 4G option could be a setback for some. At 10 hours, the battery life is more than all-day. The 65-watt charger that comes with it is small and convenient. This laptop can compete with 15-inch workstations in terms of performance, and it's one of the fastest laptops to wake up from hibernation.
If you have any questions, you can ask us in the comments section below.
Read More!