The Razer Blade 17 is a 'jack-of-all-trades' laptop, but that doesn't mean it's lacking in performance. The Razer Blade 17 series has long been regarded as a computer that can provide you with the best of both worlds. If you want a laptop that is both a gaming and creative powerhouse.
Is this a laptop for creative purposes? While Razer is recognized for its presence in the PC gaming and streaming markets. It also has lots of technology-focused at a more professional market. So while we would consider this to be a gaming-focused computer. It checks off pretty much every box for a creative market.
There's a lot to like about the Razer Blade 17, but that doesn't mean that can't identify flaws with it. This, like other Razer Blade laptops, is wildly overpriced. Starting at $2,699.99 / £2,999.99 / AU$4,899.00 for the RTX 3060-powered model which puts it well beyond most people's wallets. Given how often powerful laptops struggle with battery life. It's not surprising that the Razer Blade 17 does as well, but the battery life is quite shocking.
However, if you're planning to use the Razer Blade 17 on the go and then put it into a power outlet. It's a fantastic gadget that's well-suited to a broad range of apps and locations. If you're looking for a huge display to play games on, sculpt in 3D, or use as an all-in-one streaming machine. Razer has proven that it's still capable of producing a masterpiece that should satisfy practically all of your needs.
What you will see here?
Price and availability of Razer Blade 17
As previously said, you can get the Razer Blade 17 with the lowest spec for $2,699.99 / £2,999.99 / AU$4,899 which includes an RTX 3060 GPU, 16GB of DDR5 RAM, and a 165Hz QHD display. Every model has a 1TB SSD for storage and all. But one uses Intel's newest Alder Lake Intel Core i7-12800H CPUs. Except for one that has an Intel Core i9-12900H processor.
You may choose between an RTX 3060, RTX 3070 Ti, or RTX 3080 Ti GPU as well as several display choices ranging from 1080p to 4K with various refresh rates. The review model costs $3,999.99 / £4,299.99 / AU$7,199 and comes with an RTX 3080 Ti, an Intel Core i7-12800H CPU. Also, the 240Hz 1440p version of the monitor.
The Razer Blade 17 is widely available on every regional version of the Razer website. However, it appears that few third-party sites are offering the 2022 model. So you're better off going to the Razer website directly if you want to get your hands on the exact version.
Performance of Razer Blade 17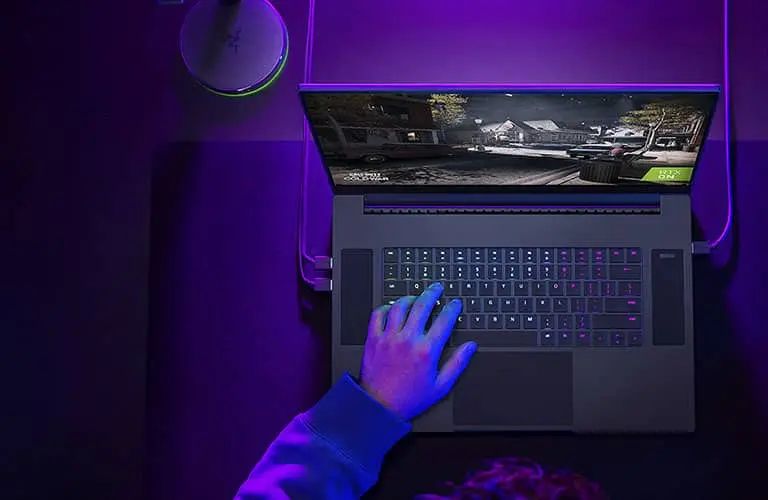 The Razer Blade 17 performs as expected, due to its 32GB of DDR5 RAM, the newest generation of memory, which turns through common activities. We used it regularly with an amazing amount of Google Chrome tabs open across two monitors. All while streaming music on Spotify and using Adobe Photoshop, Clip Studio Paint, and Blender, it never seemed to suffer.
Benchmarks show similar amazing performance, with 3D Mark scores that match full desktop PCs, and equally impressive results across the board.
Razer Blade 17 is truly a laptop that can do it all as long as you're willing to carry it about with you everywhere you go, making it one of the greatest portable desktop solutions, especially for a Windows-based device.
Rather more amazing, it kept cool than expected and oddly silent no matter how much effort we put into it. Even when we put the Razer Blade 17 through its paces at a LAN, running numerous programs with gaming and music streaming, it barely made a noise.
Users were worried about how silent it was at one point and thought it was broken in some manner. This isn't the case; while the body did become warm, it never got close to overheating require the use of a cooling pad to keep the temperatures in check.
Battery life of Razer Blade 17
Let's not jump to conclusions: the Razer Blade 17's battery life is poor. Those great components also have huge power consumption. So if you plan on carrying them with you on the road, you won't want to be too far away from a power source.
While the Razer Blade 17 supports USB-C charging, it is limited to 54W. So you won't be able to keep the laptop charged while it's in use unless you use the 280W power brick that comes with it. This is a nice function to have whether the gadget is turned off or in sleep mode since it allows you to supply some more energy to the machine.
General exploring, listening to music on Spotify, or watching anime on Crunchyroll provided roughly 3 hours and 12 minutes of productivity. But this is reduced significantly if any difficult activity is thrown at it. We were only able to model for around 1 hour and 17 minutes in Blender before running out of time. And the gameplay was much worse, with only 57 minutes in CyberPunk 2077
Consider the Dell XPS 17 for general productivity. The Asus ROG Zephyrus G15 for gaming, and the Razer Blade 14 for creatives if you need something that can survive a long time away from an outlet.
Camera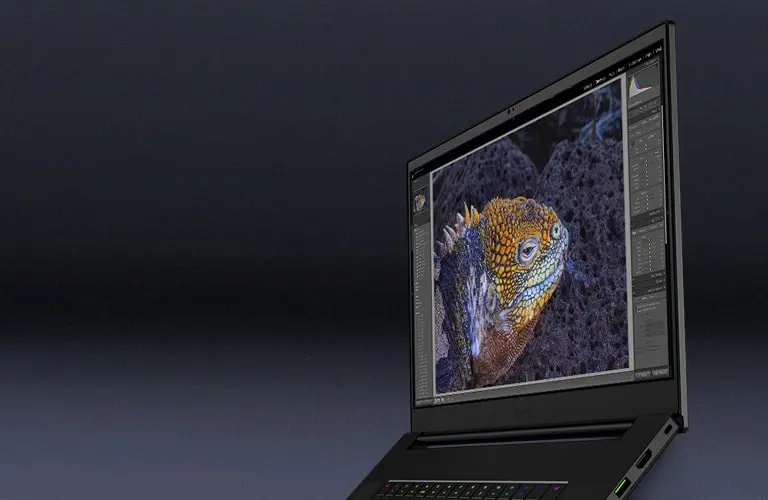 Even if things start to seem like they're returning to pre-Covid normal. A quality camera is still essential, but don't expect anything included in a laptop to blow your socks off. The Blade 17's 1080p camera hasn't changed much from the previous generation of Blade laptops which is good because it's a nice camera.
In low-light situations, the sensor suffers a little. But you'll be hard pushed to find a better choice, especially in the gaming or creative laptop market. The image quality is excellent in digital calls as well. So if you're looking to use this as a work machine, you can rest certain that you'll look your best on Zoom or Microsoft Teams.
it's not like you can't use your built-in camera. Even after the Razer Blade 17's excellent performance as an all-in-one streaming laptop. A dedicated webcam or one of Razer's streaming-focused cameras such as the Razer Kiyo Pro will give you better results.
Design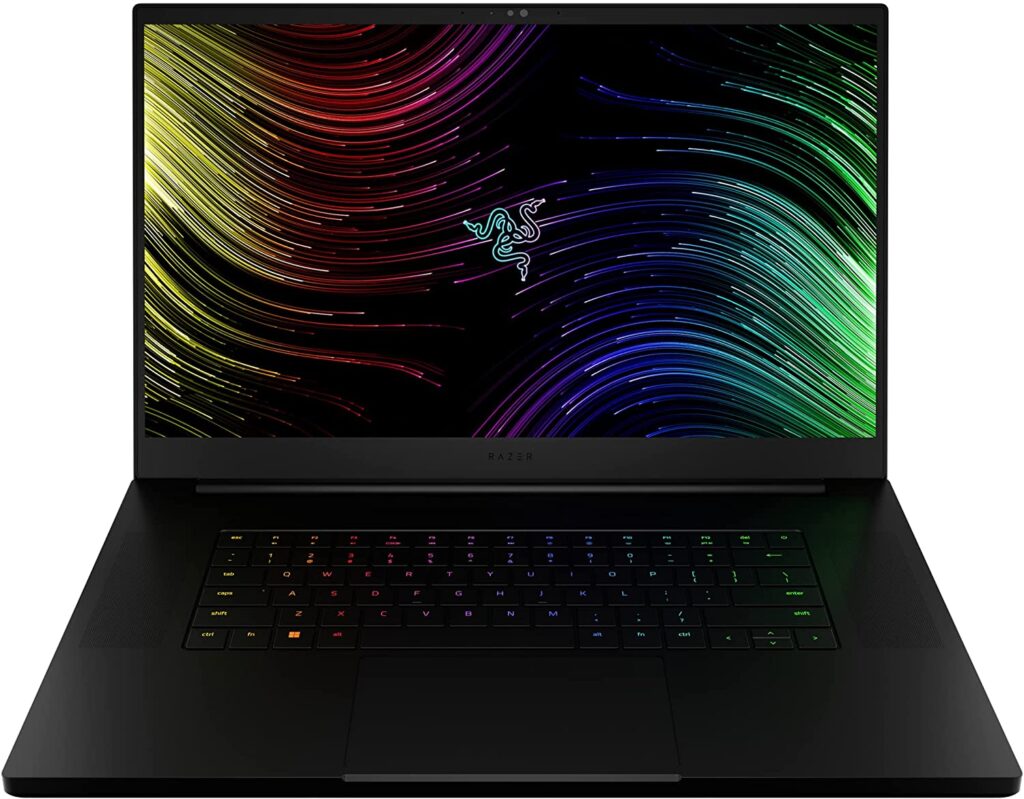 Razer's laptop designs are generally constant, so the matte-black body and lighted company logo are both familiar. The Blade 17 is a modern and elegant computer. Most of the crazy 'gamer' elements are found on other powerful gaming laptops such as the RGB bar and cruel font found on the Asus ROG Strix SCAR 17 G733. It's difficult to keep clean, though, since the body looks nice. It attracts fingerprints like nobody's business, and the keyboard still features Razer Chroma RGB lights.
The keyboard, on the other hand, is amazing with keys that feel more widely spaced for a laptop, giving them the feel of a genuine, independent keyboard which should help people adjust to writing if they've only ever had a desktop-only setup.
It's also a pleasure to type on, having clicky keys that don't have any 'squish' to them. The power button has been moved from the right-hand speaker grill to the top-right side of the keyboard. This is risky if you write fast, didn't give us any problems with accidentally putting the tablet to sleep.
Size
With a 17.3-inch 16:9 display, this beast weighs in at 6.06 pounds / 2.75 kg. So while the entire design is very modern, carrying this about feels more like a throwback to the huge. It is heavy gaming laptops of the early 2010s.
Relative to its size, it fits into a standard-sized backpack. Making it easy movable as long as you don't travel for long enough for the weight to cause pressure. It's also worth noting that this isn't targeted at the same people who want super thin. Lightweight ultrabooks and that the weight is a workable solution gives to the hardware that comes into it.
The size is also an excellent selling factor. As earlier said, that lovely IPS display is available in a few different patterns. So you can be sure you're receiving the proper resolution and refresh rate for your needs. Those looking to maximize its creative benefits can choose the though more costly 4K model with a 144Hz refresh rate. This is great for video editing due to its 400 nits of brightness and 100 percent Adobe RGB color gamut.
Gaming Performance
If gaming is your thing, the same RTX 3080 Ti spec comes with a 1080p and 360Hz frame rate for top players who can push every last frame in quickly competitor entries, or a 1440p design with 240Hz as a great halfway mark between the two, though both of these models can only accomplish up to 300 mm of brightness?
One of the best features though likely has nothing to do with the size or even the internal hardware on this laptop. The Razer Blade 17 has ports for days. It's also enough for you to plug in every peripheral or accessory you potentially own.
It comes with three USB3.2 Gen 2 Type-A connections, two Thunderbolt 4 ports (USB-C 3.2 Gen2), one Network adapter, one HDMI 2.1 port, and an SD card reader as well as a power port for the quality braided power cord with an angled connection to keep your desk clean.
Conclusion
If you're in the market for a powerful and affordable gaming laptop, the Razer Blade 17 is worth considering. Razer Blade 17 is capable of handling even the most demanding games with ease. And it comes packed with several features that are sure to appeal to gamers and laptop enthusiasts alike. So if you're in the market for a new gaming laptop, be sure about the Razer Blade 17!
Read More