Lightwave, well known for its smart light switches, now sells gadgets to help you keep your house at the proper temperature. There are numerous ways to establish a system with Lightwave Smart Heating, ranging from adding simple smart thermostatic radiator valves to set up a full-fledged system with boiler management and even electric heating switches.
With fewer functions and more fussy management, the system cannot compete with a genuine multi-room system configuration, such as the Honeywell Evohome, at the top end. It's a reasonable cost update that can be added to an existing heating system to give you more control over each area.
A clever TRV replaces the valve on each individual radiator, allowing you to adjust the temperature of individual radiators on the go. This allows you to remotely heat only the rooms you want to use, which is better for the environment and your energy expenditure.
Price & Availability
The disadvantage of the Lightwave TRV arrangement is that it is not inexpensive. A single valve costs £54.99 at full price. However, you can typically save money by purchasing them in bundles of three.
To control anything, you'll also need the Lightwave hub. Lightwave charges £129.95 for it, whereas Amazon now charges £144.58.
Unfortunately, Lightwave is presently only accessible in the United Kingdom and a few European nations, so if you live in the United States, you'll have to utilize a different smart heating system.
Lightwave Smart Heating – Design and Features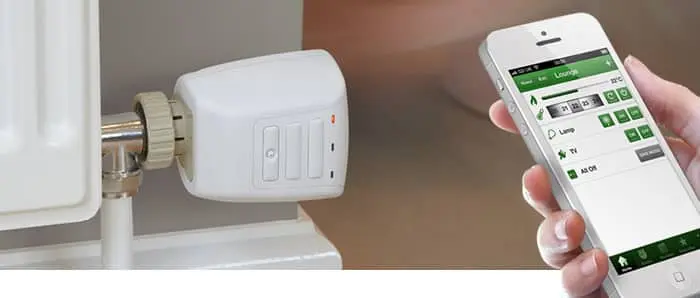 A Lightwave Link Plus hub is required to utilize Lightwave Smart Heating. The heating system will operate with the older-generation hub, but you'll receive a different app and won't be able to use Apple HomeKit. For these reasons, I've prioritized the new system.
The smart radiator valves are the simplest way to get started with a Link Plus. Simply screw these onto your current radiator valves to replace the dumb with a connection option. The smart valves cannot ask for heat with this simple connection; you must still have a schedule set up for when your heating turns on or off, either with a current dumb system or with a smart thermostat, such as the Nest Learning Thermostat 3rd Gen.
If you wish to regulate your boiler, Lightwave supplies a relay that must be hooked into your boiler. This allows for easy on/off control but does not support the more complex OpenTherm protocol, which allows for greater comfort and energy savings.
The addition of the boiler relay allows the radiator valves to request heat. When the temperature goes below the threshold you've specified, the radiator valves signal the boiler to switch on and heat your house. Lightwave also supplies a single thermostat and switches that can operate separate electric radiators.
Lightwave Smart Heating – Usage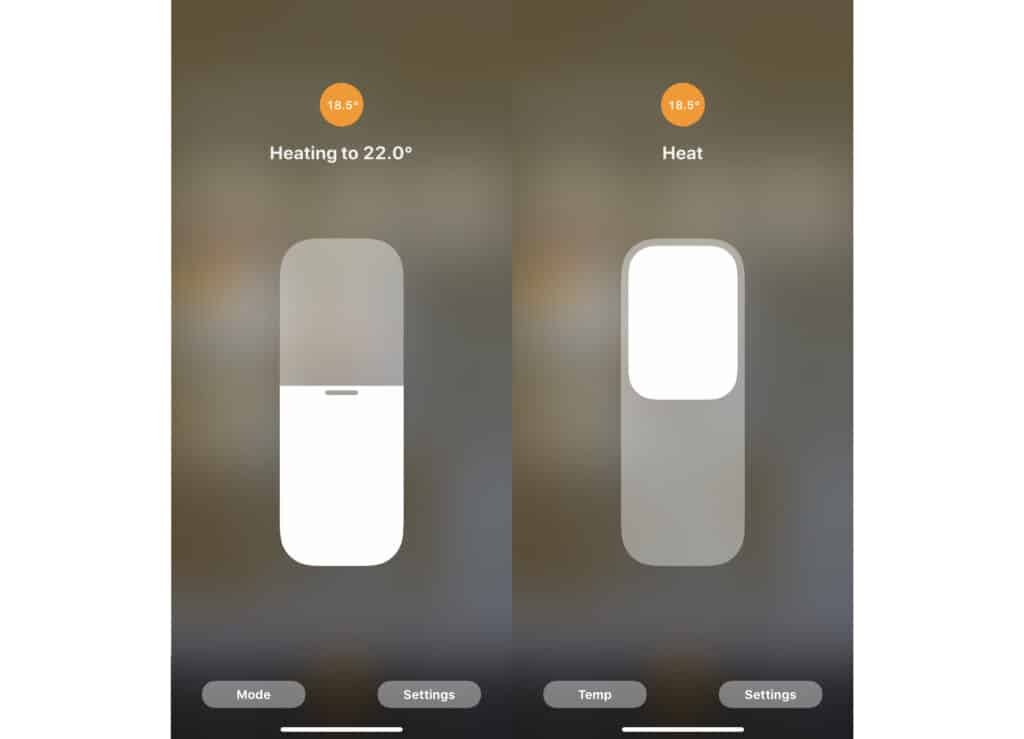 The good news is that after getting everything up and running, utilizing the Lightwave TRV was a breeze. You can use the free app to regulate the temperature of the valve by either specifying a goal temperature or setting the valve to a default value on a scale of 0-5 – much like a regular manual valve.
The program itself requires some getting accustomed to. The default page displays your 'favorite' Lightwave appliances. However, it will not display your newly connected kit unless you make it a favorite, which requires going via the separate 'rooms' tab first. It appears doubtful that many people will have the 15 or so devices required to fill the 'favorites' page, which makes me question why it doesn't just display you all of your devices instead, but hey-ho.
Even worse, touching on a gadget from this screen has no effect. Instead, for reasons best known to Lightwave's software authors, you must long press to access the device's controls.
Despite these drawbacks, the Lightwave valve works and works effectively, allowing you to instantly control the temperature & schedule temperature adjustments. It's also compatible with Google Assistant, Amazon Alexa, and Apple HomeKit, so even if the official app is a hassle, you'll be able to ignore it and use your preferred smart assistant instead.
Performance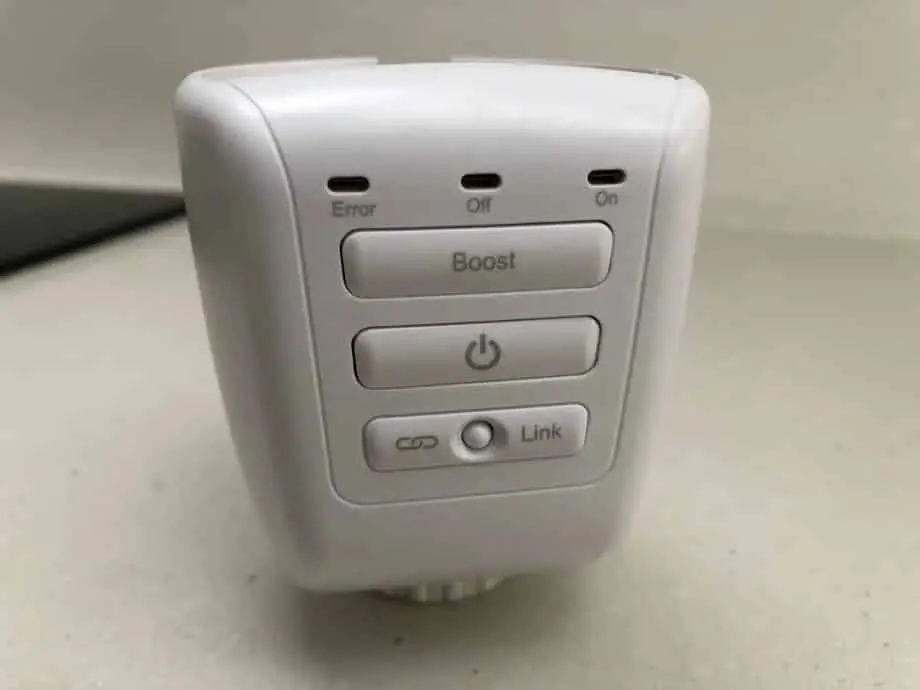 When you make a modification, the Smart Radiator Valves react instantly, with their motors changing the valve. The motor noise isn't too severe; it's certainly not as bad as rivals' offerings.
The biggest difficulty without the boiler switch is that you don't get the same amount of reaction. When you switch on the Lightwave system's heating, you must wait until the main thermostat kicks in and the boiler comes on. Even if your heating is on, boilers operate in phases, so you may have to wait a few minutes for them to start. Adding the boiler switch accelerates the flow of heat.
Amazon Alexa & Google Home Support
The Link Plus has Apple HomeKit connectivity, so your radiator thermostats will display in the Apple Home app. You can change the temperature on the fly from here, but you cannot make the timetables. More importantly, you can use Siri to alter the temperature without getting up by using your phone or a HomePod.
A similar capability is provided by the Amazon Alexa & Google Assistant Skills. Which allows you to alter the temperature of a smart radiator valve using your voice.
Controlling other devices is simplified with a full IFTTT channel for heating goods. Lightwave gives temperature values as triggers. You may specify a certain temperature or valve position using actions. The latter might be handy if you construct an automatic routine to reduce the temperature when you leave, for example, by putting the valve to position 1 for minimal heat levels. IFTTT compensates for the app's lack of geofencing.
Can I use Lightwave without a hub?
Each device is self-contained, and you may add or remove them at any moment without interfering with your configuration. This simplifies the installation of Lightwave in the home. Lightwave dimmers & sockets use standard 35mm back-boxes and require no additional wiring.
Is Lightwave any good?
If you live in a larger house with many bulbs to regulate, a smart switch makes far more sense and is likely to be more cost-efficient overall. Despite some setup issues, Lightwave's Smart Series is still the finest option in the UK and Europe.
Conclusion
If you already have Lightwave and want more control over your radiator valves without going all-in on smart heating, the Lightwave Smart Heating system is a good improvement. This system is lightweight, which allows for better control and simpler scheduling. The Honeywell Evohome is the best multi-room system, and the superb Tado Smart Thermostat can be extended with radiator controls.
Read More: