What are dye sublimation printers, and how does it work? It's a method of transferring computer pictures onto fabrics, plastic, paper, and other sublimation-friendly materials using heat. Moreover, you can print transfers for personalized apparel, branded signs, and flags, or customized graphics on tableware using a basic dye-sub inkjet printer and the correct link. Printing directly onto synthetic materials is possible with more costly machinery.
Epson SureColor F170 Sublimation Printer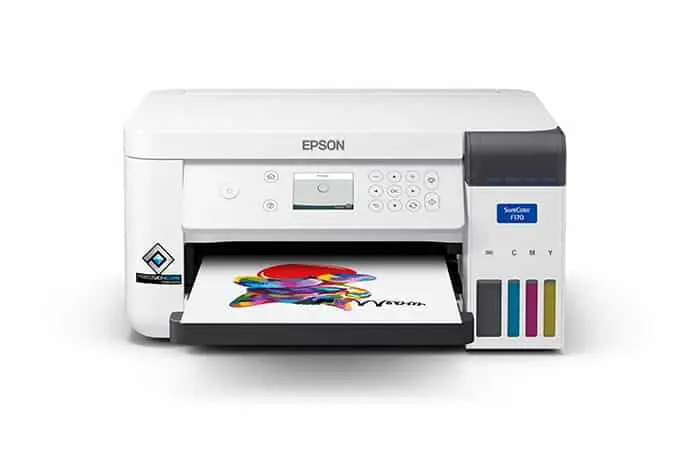 This specialist dye-sublimation printer makes printing on cloth and other sublimation surfaces a breeze. However, simply fill the ink reservoirs with the included special ink and publish your design on special transfer paper like you would with a standard inkjet printer. Transfers created in this manner may be reliably applied to your selected surface using a heat source. Also, you'll get four 140ml T49M bottles of ink, which is commonly regarded as the best sublimation dye. The printer itself is a small design based on Epson's outstanding EcoTank line. Also, despite the absence of a display, it's simple to use with the included Mac and PC software.
Epson SureColor F570 Pro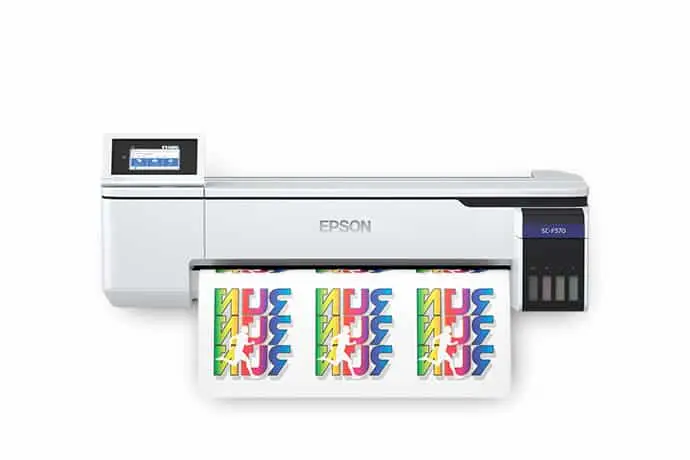 All you need to print on cloth and surfaces are there in the box with Epson's SureColor F570 Pro printer. It's a large-format inkjet printer that can print on transfer paper in a variety of sizes, from Letter/A4 to 24-inch wide rolls. It includes a cutter and two 140ml bottles of ink for each of the four colors. Epson Edge Print Pro, a professional software program, is included with the Pro edition. However, it makes dye-sub printing simple, thanks to the big color touchscreen interface and precision core MicroTFP printhead, which assures the greatest print quality.
HP Stitch S500 Sublimation Printer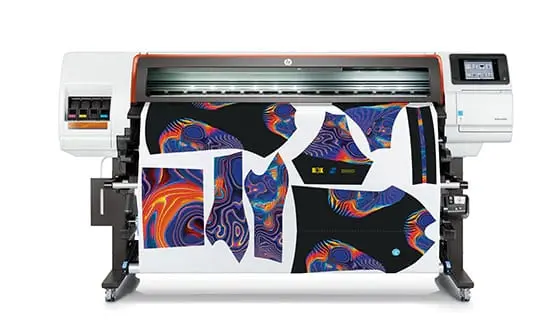 Using the same unique water-based dye-sub ink, HP's high-tech dye-sub printer works on both transfer paper and straight onto the fabric. The Stitch S500 is perfect for enterprises with heavy print needs. Moreover, it prints swiftly and is programmable to run all night without any monitoring. There's a sufficient printing area for ink, and it can handle big rolls of paper or fabric. However, you can simply replace and recycle thermal printheads. Small fans blow on the developing print job to cool the ink before it is rolled, and a touchscreen display makes it simple to operate. This is the printer for you if you require a hardworking dye-sub printer with all of the newest features.
Sawgrass SG500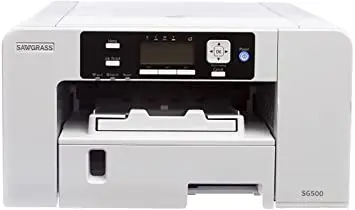 Sawgrass is a sublimation specialist, and its newest entry-level version makes the process simple and economical. It's a desktop printer that uses specially formulated inks to print on transfer paper up to Legal Wide size. It offers high-resolution printing technology using its proprietary UHD inks, which may be used on a number of substrates ranging from polyester textiles to polymer-coated solid media like metal or glass. It comes with it all you need to get started, including a 21ml starting pack of ink, 100 sheets of Sublisure A4 Paper, and Sawgrass Software.
Mimaki TS100-1600 Sublimation Printer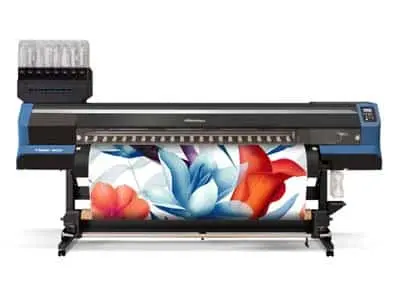 This dye-sub printer for direct-to-fabric accepts 64-inch textile rolls, which is the most popular size in the fashion industry. This current model prints at a speed of 753 sq ft per hour in full four-color mode. The one-liter tanks are large enough to carry enough sublimation ink for a long print run as you work on your next complex and vibrant design. Although there is no built-in touchscreen interface, this printer comes with complete software that allows you to control it from your pc. With a print resolution of 900dpi, this machine is ideal for textile startups and small businesses.
Canon Selphy CP1300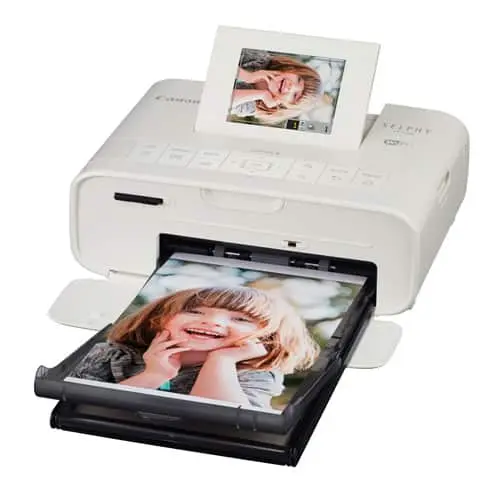 Canon is a well-known brand for producing high-quality cameras. Aside from that, they make excellent sublimation printers. One of the greatest sublimation printers on the market is the Canon Selphy CP1300 Wireless Compact Photo Printer. If you want to acquire a product from a reputable company, you should investigate Canon's offering.
This is for folks who are concerned about the long-term viability of items. Aside from being water-resistant, this Canon printer boasts excellent build quality and dependability. You may put your trust in this product.
What is the mechanism behind the sublimation printer?
Your design is first imprinted onto a sheet of special high 'transfer' paper by your sublimation printer. It transfers your dye pattern to your substrates, such as a tee-shirt, mug, or banner, using a heat press. Thus, the dye sublimates and enters the substrate, leaving a print that will not fracture or wash out. It doesn't work as well with natural fabrics, but with a high polyester content, the effects are vibrant and long-lasting.
Direct-to-fabric sublimation printers take the technique a step further by printing directly onto rolls or bolts of fabric, eliminating the need for a transfer stage. Because these machines are larger and more expensive, commercial users usually use this printer. Do not confuse these printers with the more costly direct-to-garment machines, which print on the surface of the real garment with ordinary inkjet ink rather than dye sublimation.
However, the finest dye-sublimation printers for producing graphics, logos, and pictures on transfer paper and fabric have been identified. They range in price and capability, from the most basic for fun home printing projects to the more professional direct models for startups and small to medium businesses.
Conclusion
The Epson F170 is the best sublimation printer for beginners. However, it's a comprehensive dye-sub print solution. It will provide you with excellent results and quality straight away. You can confidently browse around and evaluate your selections. You can also save time by selecting one of the printers listed above. The majority of sublimation printers employ water-insoluble viscous colours. You cannot use These unique sublimation dyes in a regular printer.
Read More: