Concerned about your home's security? The only solution to keep your mind at peace is to get a surveillance camera. And while we talk about surveillance cameras, Nest and Ring are the companies that come to mind. These two are leading brands in the surveillance camera market. Ring has made its place in this competitive market. There are more than half a dozen models launched by Ring. They all are excellent in what they do. Here, we will discuss all the pros and cons of the Ring Stick Up Cam review and will know whether it is a good buy.
Ring Stick Up Cam is a mid-tier video doorbell with Ring's popular cylindrical design. This camera is available in battery, plug, and solar versions. Thus providing you ample options to choose from. Like other Ring cameras, this camera to provides 1080p quality, Alexa support, and a broader view angle. There are various options available in the market when you decide to buy a surveillance camera. However, they are quite expensive. So, in this case, if you want a surveillance camera with a minimum price, Ring Stick Up Cam will solve your case. That doesn't mean that it will be perfect with no mistakes. It has some flaws, which we will discuss below in this Ring Stick Up Cam review.
What will you see here?
Overall Review
Ring Stick Up Cam
Ring Stick Up Cam is an inexpensive video doorbell one can purchase to keep a look at the surroundings. It comes with 1080p video quality, two-way communication, motion detection, a 130-degree field of view, etc. However, the quality of the night mode is a little muddy. Though there is an option of infrared and non-infrared, we will suggest infrared as the camera sensor is a bit confused about what color it is seeing.
Pros:
Low Price.

Easy setup.

User-Friendly app.

It can be placed anywhere in the house.
Cons:
Bad quality at night time.

Delayed audio video sometimes.

In-built storage is not available.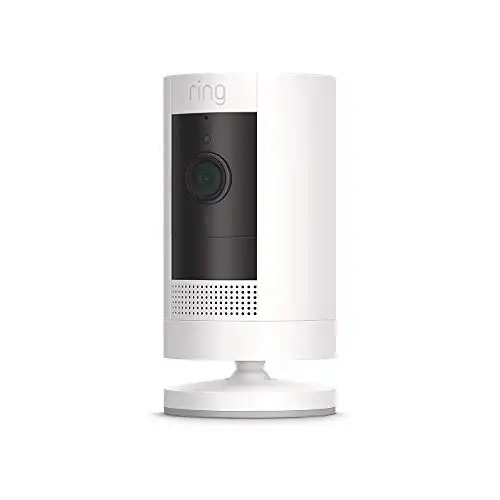 We earn a commission if you make a purchase, at no additional cost to you.
Design
This time instead of its rectangular box design as its predecessor, Ring Stick Up Cam has a sleek cylindrical design. It is just like other Ring cameras in terms of design. The size is larger than the indoor one because of its battery. There's a black lens on the front of the cylindrical sculpture behind which the camera is installed. Below the lens is a speaker that can be used for two-way communication. Beneath this Cam, there's a stand attached to it, so one can keep it on any flat surface or mount it on a wall. Also, one can tilt it to adjust its angle according to the requirements.
As the one we are reviewing is battery operated, its battery is said to last about 6 to 12 months. Moreover, it is easy to charge as the battery comes out just by pressing the silver button. One has to charge it with the USB cable that comes with it for a few hours until the light turns green.
Video Quality
The Ring Stick Up Cam is a 1080p camera with a 120-degree wide-angle lens. It performs well in low light and is not as distorted as the Ring Video Doorbell 2. The Stick Up Cam is easy to set up, and when you add a Chime, it is easy to hear the doorbell ring anywhere in your home. It includes an 18-month warranty for the camera and a lifetime one for the battery. The Ring Stick Up Cam offers a broader field of view than the Ring Video Doorbell 2, and it's the same as the Ring Video Doorbell Pro. It makes sense since the Pro and the Stick Up Cam have 1080p resolution. The Ring Video Doorbell 2 only has 720p.
The image quality on the Ring Stick-Up Cam is solid as it has 1080p HD, which is more than enough to see license plate numbers and facial features at night. One can pick up details like the car's molding, the shirt's pattern, and the license plate's name. The colors are fairly accurate, though it has a blue hue at night. The non-infrared version of this cam has the same video quality minus the colorization. So, as per our Ring Stick Up Cam review thus far, it's a decent video doorbell by Ring.
Features
Motion Detection
It's the most advanced motion detection feature for a security camera that Ring has come up with. The motion detection feature is so sensitive that it can detect a human being even if the person is more than 12 feet away from the camera. It takes as little as—seconds for the camera to start recording and notify you of a motion detected. The recorded videos are stored in your cloud account. To delete or save them, you can go to your account online. You can download recordings or share them online. There's an option to disable notifications if you don't want them.
Dual-Band Wi-fi
Ring Stick Up Cam has a dual-band Wi-fi system with support for both 5GHz and 2.4GHz. The dual-band support is useful as if your internet connection is weak, your camera will automatically switch to the stronger of the two bands and give you uninterrupted video streaming without breaking a sweat. There are a few other cameras in the market that provides this facility.
Field Of View
The field of view of the Ring Stick Up Cam is 130 degrees, allowing you to see more places in one go than most other security camera models.
Save Videos
The Ring Stick Up Cam allows you to save the recorded videos at a set time interval. This feature is useful because you can view the videos for amusement or investigation purposes. You will see who stirred up the place and who left immediately after one of your family members walked out of the door. You will also be able to view whether there is someone who sneaks in using the night vision mode of this camera and not just someone moving around on their own accord.
Guest Mode
If you want to disable notifications of Ring Stick Up Cam temporarily, you can do so by enabling guest mode. In this mode, the motion detection will not notify you of any movement in the area as recorded by the camera. As soon as someone changes location or manually triggers some motion sensor, this camera will notify you.
Two-way Talk
You can talk through the microphone of your Ring Stick Up Cam using the two-way talk feature. This feature works only for users with a Ring smart home hub that coordinates all their devices.
Battery Life
"How long will it last?" is the central question regarding the Ring Stick Up Cam, and the company offers no specific battery life claims, only that it can go months between charges during normal use, which is likely true. The Ring Stick Up Cam uses the same battery as the Ring Video Doorbell, a rechargeable lithium-ion battery that is assumed to last up to one year of normal use. It also charges in the same way, via a micro USB cable.
The Ring Stick Up Cam battery will last you for a year, which is pretty impressive, but actually, that's the only amazing thing about this device. Most smart cameras are rechargeable lithium-ion batteries, which provide the highest energy density and have the fastest charge times (around one hour). That's a huge plus for any camera you continuously use, like the Ring Stick Up Cam. The Ring Stick Up Cam battery takes 10 hours to charge, which is a huge negative. But even worse, the camera's battery dies after just a year. That's a huge hassle if you plan on using the camera for more than a year, as you'll have to buy a new one, which is a massive negative for value.
Application
The app is an essential part of the Ring experience. It's where your settings are and how you control your Stick Up Cam and see what it sees. You can change how sensitive the motion detector is and how long you want it to record.
The Ring app is responsive, particularly when looking at a given camera, and videos load very quickly, even as you scrub through video history. The app is simple and does a lot of things very well. Reviewing the camera's video history is easy, and the timeline scrubber allows you to go back and forth through the days quickly. You can see the time of day or choose to scrub between "people" and "motion" events. The timeline is also easily customizable, so you can hide offline cameras or change the view to only show videos without audio. It is helpful when you want to quickly check on the security of your home without being spied on by the cameras.
Subscription
Ring operates on a subscription model. You can use all of the features (like motion alerts) with the free plan, but you'll have to pay at least $4 per month per camera. That can get expensive fast, so it's worth weighing the pros and cons of a paid Ring Protect plan.
It seems that no matter what we buy these days, there is a subscription fee involved. With home security systems, you are probably used to the fact that you will have to pay a monthly fee for security monitoring. However, Ring has taken that to a new level with its Ring Doorbell devices. You have a doorbell without a button and a camera capable of alerting you of motion but cannot save videos if you don't pay for Ring's subscription plan.
How much time does Ring stick-up cam last?
The video doorbell we are reviewing of Ring Stick Up Cam runs on batteries. The good news is that because it is rechargeable, you will never need to go to the store and buy a new battery. Depending on usage, the battery should last six to twelve months and recharge in five to ten hours.
Conclusion
According to our Ring Stick Up Cam review, it is a mid-tier video doorbell with two-way communication and 1080p video quality. As far as video doorbells go, it's a good unit with many features, though it could use a few improvements. The 1080p video quality is impressive, but it would have been nice to have more clarity for your price. The downside is that it lacks some features you would find with the more expensive Ring Pro and Ring Elite doorbells. But, if you are looking for a mid-tier video doorbell with two-way communication with 1080p video quality, then the Ring Stick Up Cam is a good option.
Read More:
Ring Stick Up Cam review: A mid-tier video doorbell from Ring!