The Aeezo Digital Photo Frame, also known as Portrait 01, is a 9-inch IPS touch screen digital photo frame that delivers a gallery-style black photo frame at an affordable price. It has 16GB of internal storage and can display both pictures & videos up to 15 seconds long, albeit around 4GB is taken up by the operating system and is not available to photo storage. The frame connects to the Frameo application for iOS / Android, which is utilized by a variety of photo frame providers, through 2.4GHz Wi-Fi. Images from SD cards and USB flash drives are also accepted.
With an extremely wide viewing angle, this model provides beautiful colors and sharp images. The on-frame settings panel's software slider bars let you change video volume & screen brightness for a comfortable watching experience in any location. You can choose to hide or reveal the date and time, as well as likes and captions. Despite its modest size, you can use this frame to hang it on the wall. To find out if the Aeezo Digital Photo Frame is one of the top digital photo frames or not, read down!
What you will see here?
Price and availability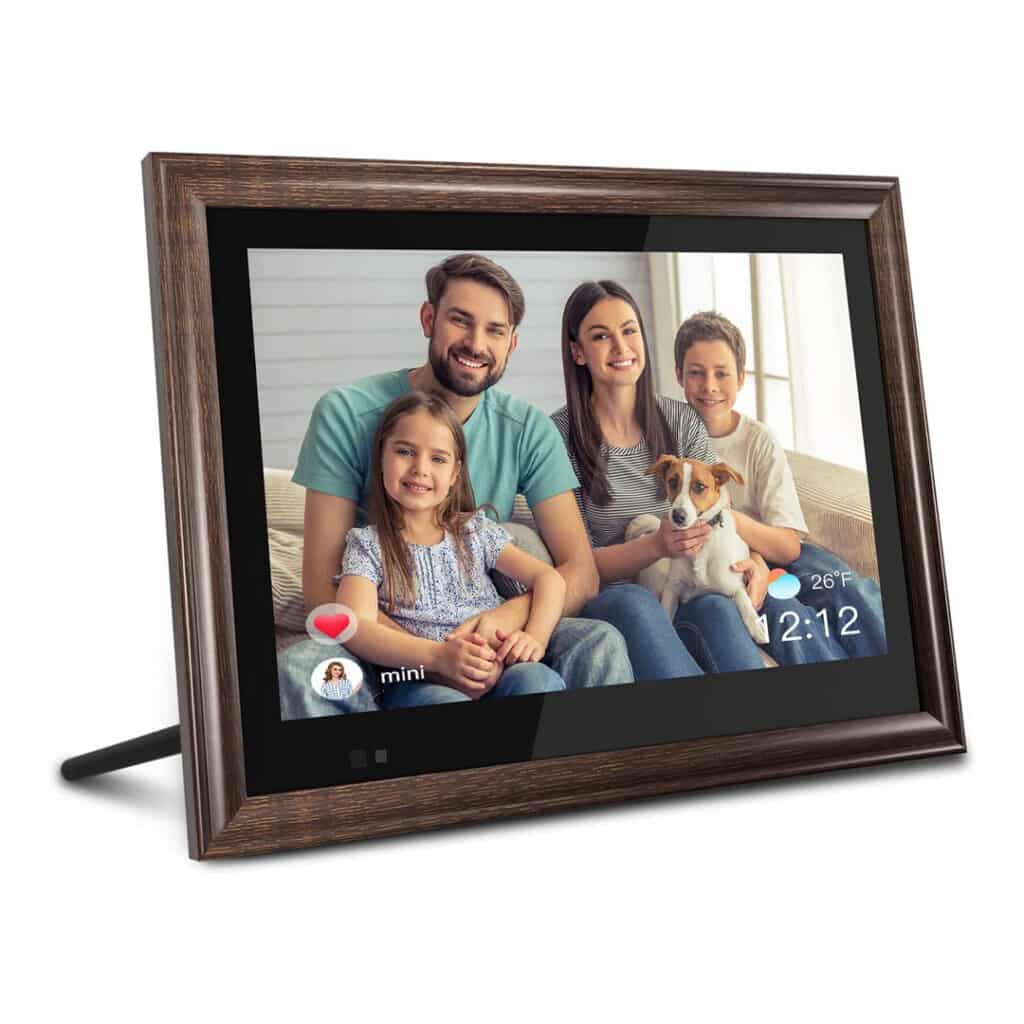 An Aeezo Digital Photo Frame seems to be a Wi-Fi-enabled affordable model with a traditional, essentially flat gallery style appearance that comes in black or white. It costs $103.99 on the official website and includes viewing choices such as favorites, subtitles, and date and time some of which are placed on the image. It supports SD card and USB interfaces, allowing you to share photos from your Camera Roll or Gallery with friends and family.
Design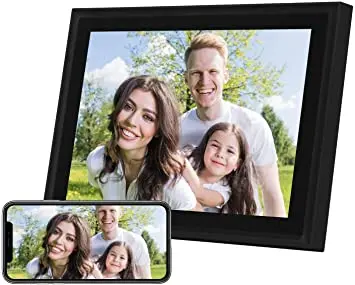 The Aeezo's design is unremarkable – the nine-inch model has a bland appearance. In simple, slightly curved matte black or white, the bezel is fairly small. The good thing about it is that it is unobtrusive. It goes with almost anything and is especially good for a desk or a living room end table. The small speaker here on the back projects plenty of volumes, and it's joined by an on-off button as well as a small punch hole within plastic if you want to hang the frame. It balances properly in both horizontal & vertical positions on a flat surface, with the image automatically adapting for the orientation.
Rather than black bars, the image's background colors merge into the photo's sides for a more attractive, natural appearance. You have the option of displaying your photos in their original orientation or fitting them inside the frame.
Specifications
Wi-Fi: Yes.
Dimensions: 9 x 6 x 1 inches.
Touch screen: Yes.
Remote: No.
Built-in storage: Yes.
Motion sensor: No.
Music player: No.
Video: Yes.
USB/SD slots: Yes/Yes.
Cloud Services: No.
Image Quality on

Aeezo Digital Photo Frame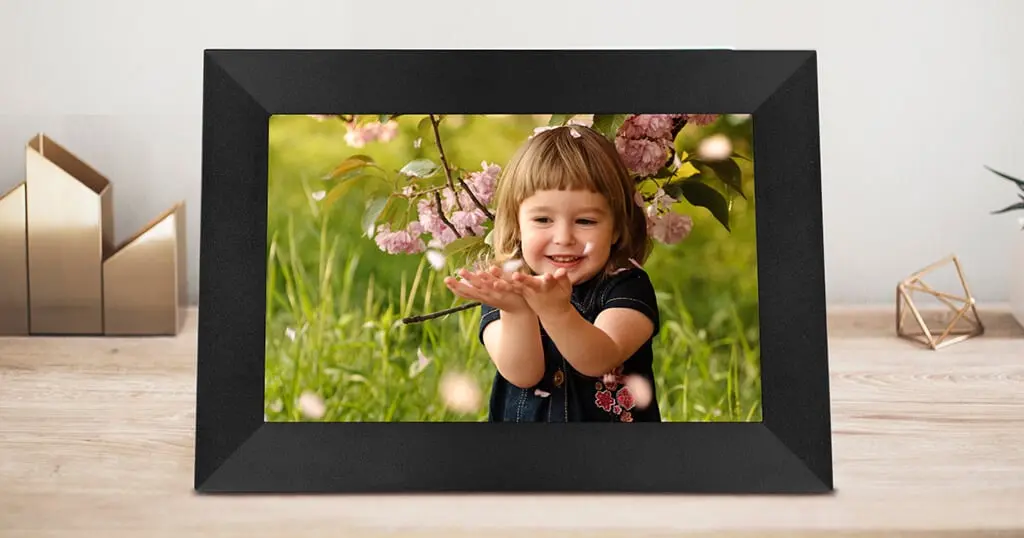 The image quality is fairly good, with a resolution of 1280 x 800 pixels on even a 16:9 aspect ratio as well as a quad-core Cortex TM-A7 processor. The colors are vivid and the visuals are clean and clear. The brightness can adjust via a slider bar in the settings, and the IPS screen assures that there is no image fade or color fading regardless of where you're from in the room.
The volume for films – and the startup chime — may reach rather loud, despite the small speakers. Rather than having distinct photo and video modes, photos and movies can stream in the same slideshow.
Interface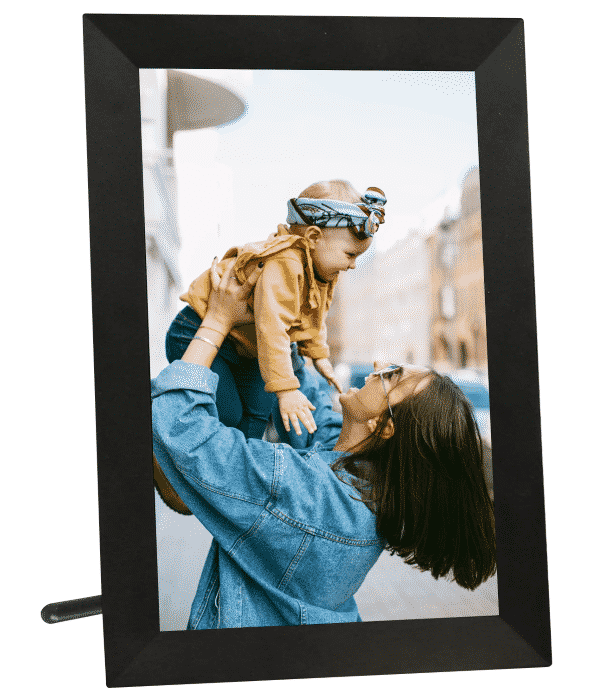 Aeezo's touch screen contains a large setup panel that reaches by tapping the frame's screen with a finger. You can add a buddy, access settings, and toggle the frame on or off using the top-level controls. In addition, you can favorite, conceal, fit a photo to the frame, spin a photo, and explore your photo gallery. The settings box allows you to customize your frame's name, date, and time, as well as import and export photos from an SD card or flash drive.
You can set the viewing order to show photographs and videos in the order they save to the frame, taken, or shuffled. When you import a photo from your phone, you have the option of selecting the shot's center of gravity and thereby adjusting the arrangement to your desire.
Many frames, like the Aura series, have no physical inputs, which eliminates some of Aeezo's flaws. But discovered that one SD card in the collection irritated the frame. You had to turn it off and remove the card in order to use it again. The touch screen was a little erratic at times, particularly after encountering erroneous removable media, which caused the screen to freeze and not respond to touches. If you continue to use an incompatible card, the operating system would shut down, which appears to be a decent safety measure because the offending card became too hot in its slot.
When a camera card fails, there are limited options because there is no method to upload photos from your computer. While there is no motion sensor, the frame can turn on and off according to a timetable. It is unaffected by ambient light.
The Frameo App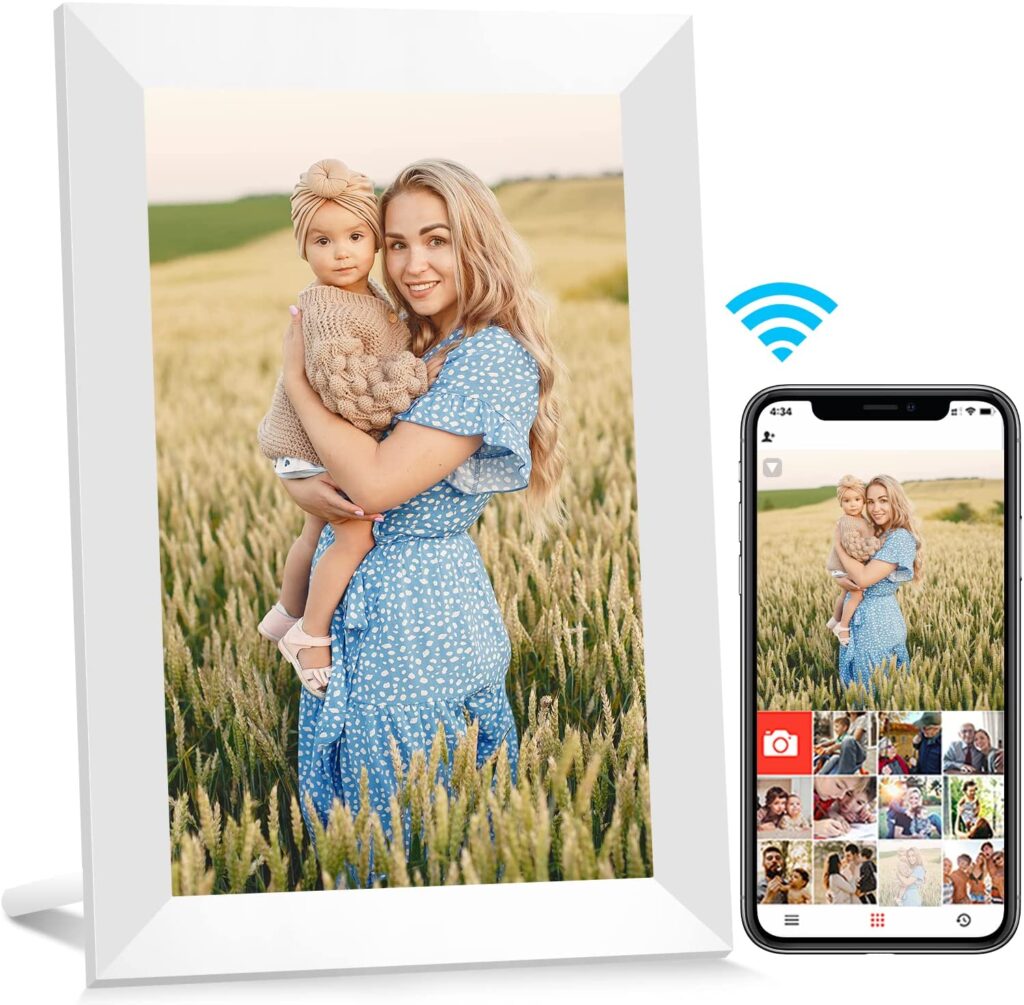 The Frameo software that comes with the frame isn't the most user-friendly. But with a few taps, you can usually figure out what to do. The smartphone app is the simplest way to add images to a frame; however, to delete photos, you must utilize the on-frame interface directly.
Both iOS and Android versions of the Frameo app, which controls the Feel care frame, are available. For the most part, the mobile apps functioned effectively. They were the only method to get videos into the frame. Physical storage, such as an SD camera card or a USB disc, cannot use to load videos into the frame.
Conclusion
An Aeezo Digital Photo Frame seems to be a good affordable option, with vivid, vibrant visuals that can see from anywhere in the room. It includes all the capabilities needed for one basic frame at a mid-sized 9 inches.
It also has some of the same capabilities as our favorite Pix-Star frame, but it's considerably smaller and less expensive. The features of photo and video watching, as well as brightness and volume adjustment choices, a range of physical and wireless inputs, an extreme viewing angle, app-based contributions from far-flung friends and family, and a neutral appearance that blends into any room.
Read more: