The best action cameras are portable, easy to use, and tiny. They also go places other cameras can't. You'll need a durable and portable camera for the task if you want to capture outdoor activities or aquatic adventures. There is an action camera that may satisfy your demands for filming videos, whether your main goal is to get the most fantastic image quality or you simply want something that checks the budget box. What should you know before purchasing an action camera?
A decent action camera has a range of functions that can assist you in creating an excellent video capture of your wildest antics. Some features, such as picture stabilization and a waterproof casing, are necessary. Others, including a touch screen, 4K resolution, and compatibility with remote controls, aren't necessary for a sports camera.
Here are the top action camera models we suggest in light of this. These action cameras are all lightweight, durable, and offer good video quality based on the shooting mode. Find the best action camera for you by reading on.
GoPro Hero 10 Black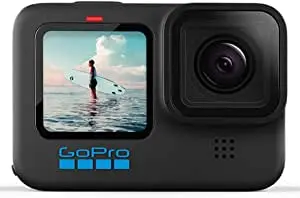 The best action camera available now is, without a doubt, the GoPro HERO 10 Black. However, it may appear to be quite similar to past HEROs. This GoPro is smoother and slicker, with a speedier boot and faster uploads thanks to its brand-new CPU. It has many features and is powerful, as you might anticipate from a flagship GoPro.
The Hero10 Black was worth the wait, especially considering that it comes with a handy connection for super-fast camera-to-app content transmission and auto-uploading of films and photos to the cloud while it recharges. The 5.3K video at 60 fps is the centerpiece, but don't discount the value of GoPro's new HyperSmooth 4.0 video stabilization, which works in all modes and offers 23MP pictures and the most excellent low-light performance yet. It's not the most affordable action camera you can get. Still, GoPro is now an expert at making durable, dependable, and practical action cameras, so you get what you pay for.
Insta360 One RS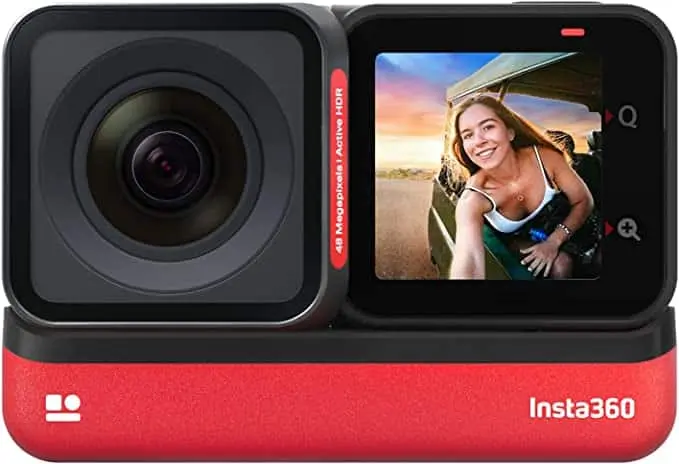 Unlike GoPro, the Insta360 One RS has a modular architecture that is adaptable and entertaining to play around with. There are three lenses, or "mods":
A dual-lens 360-degree camera.
A wide-angle Leica lens.
A 1-inch sensor that can record 5K video.
The 4K mod is identical to what you'll receive from the other cameras. Combining the 4K mod with the 360 mod offers the best value.
Concerning both hardware and software functions, this high-end action camera offers an astounding array. Both the 4K mod, which can now capture 5.2K video instead of only 4K, and the processor, which provides the company's motion-smoothing algorithm to the camera without having the app, make the new Insta360 One RS different from its predecessor. Instead of introducing a brand-new camera body every year, the Insta360 periodically upgrades its firmware to provide new features and enhancements.
Akaso Brave 7 LE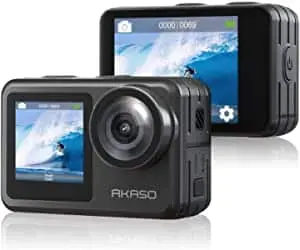 If a front-facing screen and weather-sealing are more essential to you than actual video quality, the Brave 7 LE should be high on your shortlist because it provides an astounding range of features for its price. This device has the best audio quality of any non-GoPro available, and its touchscreen interface is incredibly user-friendly. You get 20-megapixel stills and 4K video recording, and a solid 6-axis image stabilization system. A second battery, mounts, and an underwater housing are among the many accessories in the box.
It's still one of the most incredible action cameras available for the money, and it's unmatched in terms of the number of functions it offers for the cost. The one minor drawback is that, although having a 4K resolution, the video quality falls short of the Brave 7 LE's other capabilities. In low light, it mainly relies on noise reduction, giving your film a mushy look, and the electronic picture stabilization is passable rather than world-class.
GoPro Hero 9 Black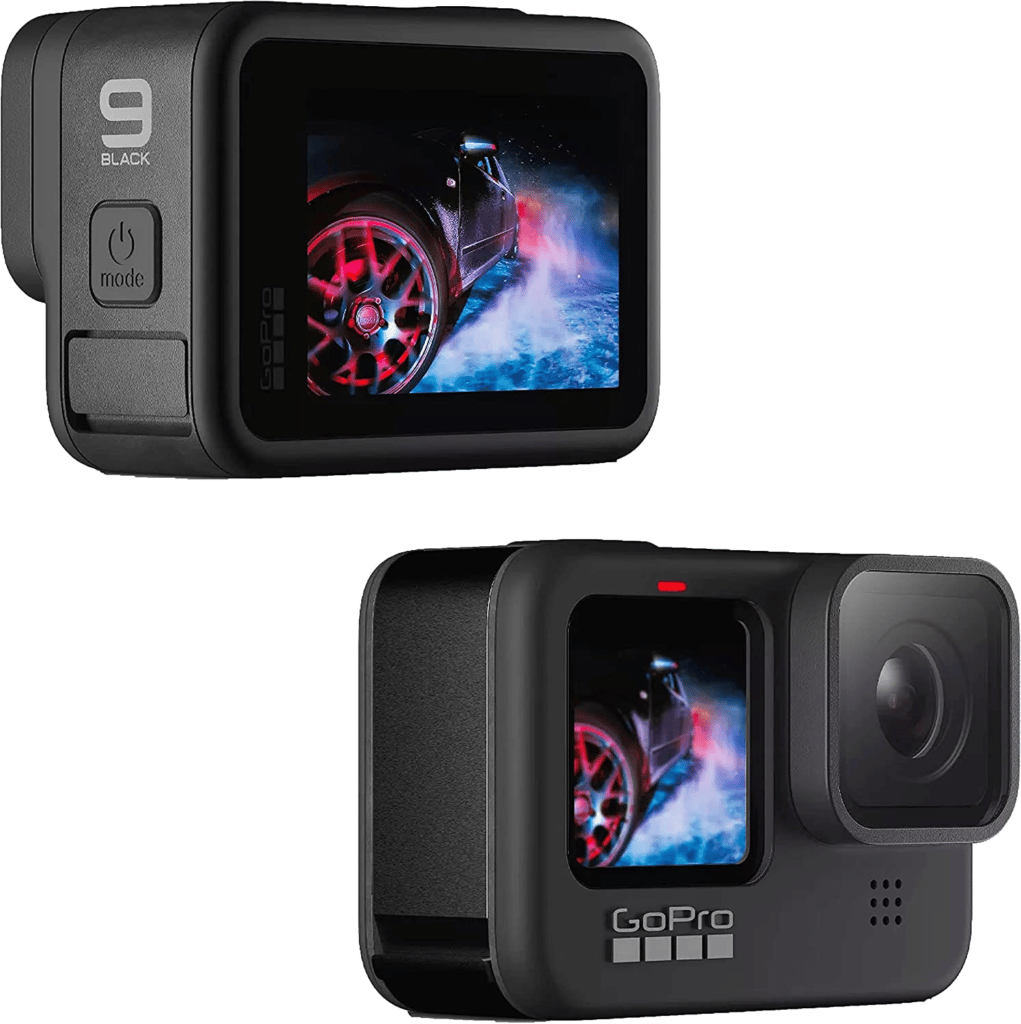 Although the Hero 10 Black has since replaced it, the Hero 9 Black is still a viable option if you don't require the most current capabilities, such as a 4K/120p video or an enhanced front screen. Given that all versions have the same sensor, design, and the majority of the same functions, there isn't a significant price difference between them.
These include the capability of recording 5K video thanks to a 23 MP sensor that made its debut on this model. An excellent front color display and the choice of HyperSmooth Boost in all shooting settings are also provided. Thanks to its "Power Tools," which include "scheduled captures" and HindSight, the Hero 9 is also incredibly flexible. The Hero 9 is better if you don't need stable 5.3K video, higher-resolution JPG stills, or quicker frame rates.
DJI Action 2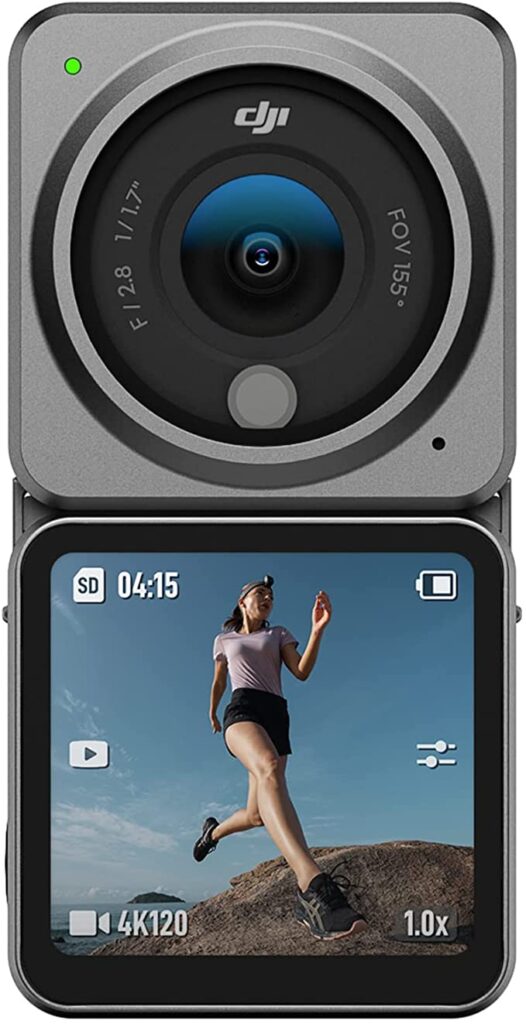 The new Action 2 is substantially improved compared to DJI's initial action camera. The Action 2 is a modular camera system that borrows several strategies from Insta360. DJI has divided its camera into pieces as a new strategy. The primary camera unit is sleek and small, and auxiliary modules, such as an extra battery and a front-facing screen, may be magnetically attached to the camera as needed to increase its functionality.
The primary camera device is dust- and drop-proof and has a 10-meter water resistance rating. The only drawbacks are the 32 GB storage restriction and the battery life (about 15-20 minutes shooting 4K). Action 2 is incomparable if the size is what you consider to be necessary.
Olympus Tough TG-6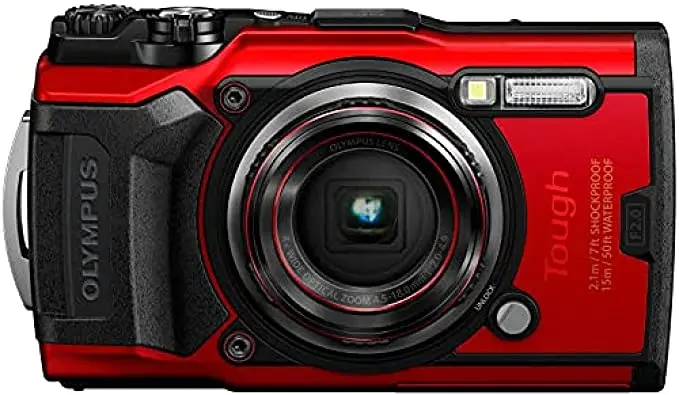 The Olympus TG-6 is your best option if you're shooting underwater, which is a typical use for these cameras. However, it's not a camera you can strap to your head and shred. The TG-6's sensor is the biggest of the lot, and as a result, it generates photos and videos of comparable high quality. It is highly durable, shockproof, crushproof, freezeproof, and dustproof (you can drop it from 7 feet). Additionally, it offers "real" camera capabilities that you won't find anywhere else, including focus stacking for close-ups, a large selection of accessories, additional lenses, and even an underwater case that raises its depth rating. Even though there have been some TG-7 speculations that have appeared in the past year, this camera is already over three years old.
DJI Osmo Action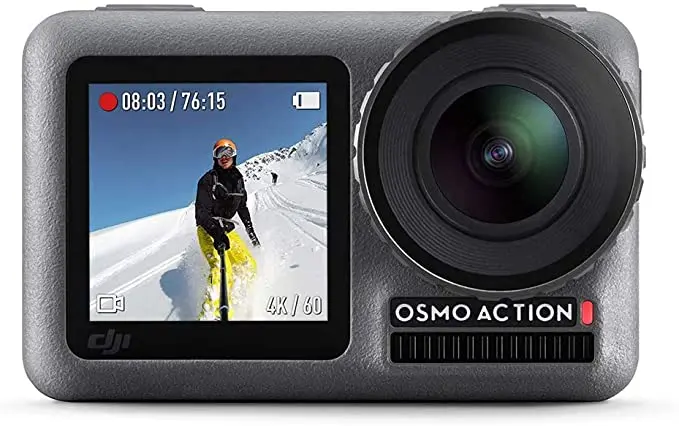 The first competitor to give GoPro a run for its money was the DJI Osmo Action, which debuted at the same time as the HERO 7 Black was released. The incorporation of a color front-facing screen and the 2.25-inch touchscreen at the rear was unique at the time. Although the DJI Action 2 has since superseded this model, it is still reasonably accessible and deserving of a spot among the top action cameras available today.
In addition to being an excellent companion for extreme sports, this DJI will rock out with you in the surf, in the bike park, and when skateboarding. Several control methods, including voice activation, are available with the Osmo Action. Two microphones are included in the device. The drawbacks to consider are the lack of live streaming support and the relative restrictions on mounts and accessories. In the end, the Osmo Action is easy to operate, delivers top-notch pictures, and has RockSteady electronic image stabilization. It should appeal to vloggers searching for a rugged, dependable, and simple setup.
Is the Action Camera worth buying?
Action cameras appear to be worthwhile investments. Action Cameras are waterproof and able to withstand any situation. Most of all, they continue to take crisp, thrilling photos and movies that will make you want to relive your travels again and again.
Can action cameras be used for photography?
Yes. Action cameras are frequently used to shoot high-quality still images because they have the same high-megapixel sensors that make them so good at recording high-resolution video.
Is an action camera better than DSLR?
Action cameras outperformed DSLRs in size, mobility, and ability to enter small angles. The intriguing aspect is that these cameras awaken the artist within every one of us. You should focus on what you do best while letting the action camera capture the moment.
Verdict
Finding the ideal action camera for your requirements might be challenging due to the vast number of options available. Image quality is one of the essential aspects to consider. And looking at frame rates rather than maximum resolution is always worthwhile. Good action cameras also include a variety of mounts and accessories, or at the very least, give you a choice to purchase the ones you need. Some models come with built-in waterproofing, but for others, you'll undoubtedly want to spend money on a waterproof cover to protect your camera from watersports to unanticipated rain. Also, Image stabilization is a crucial component to look for in an action camera because you will likely use it while moving. This should reduce hand- or handlebar-related camera shaking for more viewable footage.
It's crucial to think about which features are most crucial for how you use your camera because items at the top of the market may be rather pricey. But it will be worth investing in it cause the features & Quality Top Action Camera provides can't be compared with low-end products. You can refer to the best Action Camera from the above list as per your requirements & Budget.
Read More