Lupe Technology, a relative newcomer to the floorcare field, was formed by two former Dyson engineers and is now squaring up against Dyson and other luxury brands like Miele with its first Lupe Pure Cordless Vacuum, which it claims gives those rivals' machines a run for their money in terms of suction force. Let us see what it is all about.
Two-minute review:
The Pure Cordless Vacuum Cleaner has a 400W motor and, has a "patented suction intensifier" that provides higher suction than its competitors. The vacuum also has a 3-in-1 design, which allows it to be used as an upright cordless vacuum, in hose mode (with a one-meter extension hose for cleaning hard-to-reach nooks and crannies), or in handheld mode (with the main body detaching from the main tube and floor head assembly for a lighter and more easily portable device for cleaning stairs or up-high).
Although the Lupe Pure Cordless lacks the floor-sensing cleaner head found on some competing products. It does offer three levels of suction power, which you must manually select between. It's also able to turn on and off the spinning brush bar; it's best to turn it off while cleaning deep pile carpets and rugs so the cleaner can move smoothly across the floor.
The battery, according to Lupe, will last up to 60 minutes between charges and is replaceable; the firm hopes to sell more batteries starting in mid-April. Can the Lupe Pure Cordless vacuum, which costs $799 / £599 / AU$1,092, truly compete with Dyson in terms of cleaning power? To find out, we put it to the test.
Lupe Pure Cordless Vacuum Price and Availability
The Lupe Pure Cordless Vacuum Cleaner costs $799 / £599 / AU$1,092 and is available via Lupe's website globally; in the UK, it's also available from Amazon.
The Lupe Pure cordless vacuum features a replaceable battery, and new batteries will be available by mid-April for $200 / £149.99 / AU$235, according to Lupe. The vacuum cleaner will also be sold with two batteries for $1,066 / £699 / AU$1,267, however, the company hasn't said when this package would be available.
Design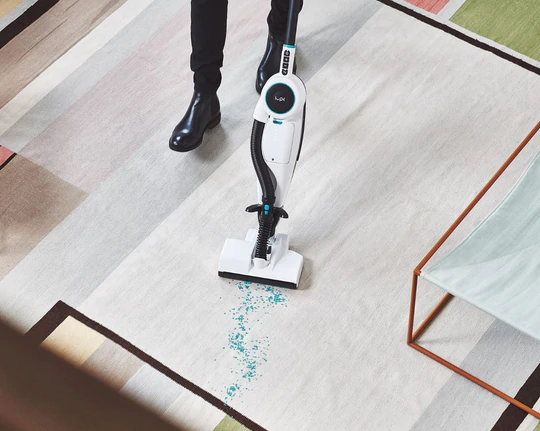 The Lupe Pure Cordless is the creation of two former Dyson employees, as seen by its rather unusual appearance. It doesn't look anything like a Dyson, which is commendable. However, it appears well-designed and engineered, both of which are Dyson-like attributes.
In the world of cordless vacuums, the dual-role Lupe Pure, along with the related Miele Triflex, is something of a breakthrough. The first thing that comes to mind is how easy it is to set up and use. With this model, there is no need to consult the handbook because everything is self-evident.
The brush bar head, motor body, dust collector, battery, handle, hose, and two detail attachments are the eight essential parts. That may seem like a lot, but all of the pieces click into place without fumbling, and all of the buttons, latches, and controls are marked.
The only drawback is that, unlike the Miele Triflex, the stick vac isn't a standalone device; attach to the Pure's upright part. The result, which resembles a mechanical penguin wielding a broom, is undeniably cute.
Also, Pure's bin design isn't ideal for pet hair, since it gets stuck in the upper half, out of reach of the user's fingers. You can unclip the top, remove the filter, and reach the hair that way, but it's a pain. If you have pets, keep this in mind.
Unlike the majority of stick vacuums, which aren't worth repairing when something internal breaks, this one is built to survive indefinitely. Every part – both internal and external – is available for quick, cost-effective replacement, according to the designers.
Lupe Pure Cordless Vacuum Performance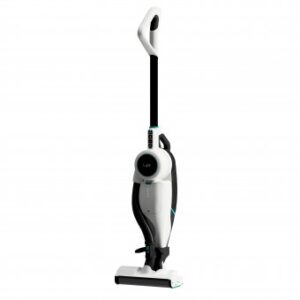 The Lupe Pure Cordless is a joy to use in its upright position. It is exceptionally light and well balanced by upright standards, and it boasts possibly the best steering mechanism and most comfortable grip in the world. This vacuum is incredibly maneuverable and simple to maneuver, especially in tight situations.
If your session suddenly ends, you can leave it standing. Because it stays erect when not in use. Because of its modest size, if the handle removes it's easy to keep under the stairs or in a cabinet.
So, how good is it at cleaning? It mentions that he did exceptionally well. The Lupe is unquestionably at the top of the cleaning performance scale.
Its powerhead is unique in that it has a soft black rubber front roller that snatches items while increasing suction power, and a reverse spinning rear brush that agitates the carpet, flinging debris into the extra-large one-liter collection bin. This is, incidentally, the largest we've seen in a cordless and pleasingly easy to remove for emptying.
The suction on the Lupe Pure Cordless is really powerful. So if you're using it on thicker carpets or rugs, I'd recommend using the big minus button. The filtration mechanism is also noteworthy, and even when vacuuming small particles like flour, it is impossible to clog. In full-blast mode, the Lupe is loud, but we've heard worse.
Handheld modes require the use of both hands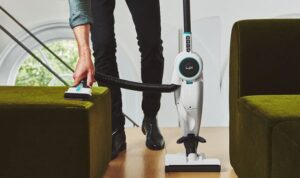 Simply remove the handle and plug one end of the hose into the Lupe to use it as a stick vacuum. With the detailed attachments, you can now reach high shelves, do the stairs, and clean the sofa. Even though it isn't motorized, the combo brush did an excellent job on the dog's bed, thus a big thumbs up.
Because a long stretch of the hose will lead it to fall off its feet, you'll need to hold the main component with your other hand. This is less convenient than a traditional stick vacuum, but in my opinion, it's a minor price to pay for the convenience of having both a stick and an upright vacuum in one box.
Lupe Pure Cordless Vacuum Battery life
As previously said, Lupe claims that the battery will last up to 60 minutes on the lowest power setting, and we can get 58 minutes out of the vacuum. Because the batteries are swappable, if one charge isn't enough to clean the entire house, you may purchase an additional battery to continue cleaning uninterrupted.
Using the included battery charger, it took about 3.5 hours to fully charge the battery.
Conclusion
As a result, the Lupe Pure Cordless is a solid performer that can replace two vacuum cleaners. Although its design makes it ideal as an upright vacuum, it is perfectly adequate as a stick vacuum.
The RRP is low enough that you could buy both a Vax stick vacuum and a Gtech AirRam cordless upright – but you'd have to store them. That's because Lupe initially priced the Pure more than the Dyson V11 Absolute, which was a daring move.
However, the Lupe Pure Cordless is now on for £499 (the UK only), which looks like more reasonable pricing. The exceptional build quality as well as the fact that all parts are serviceable and replaceable gives me a lot of hope for its life.
The Lupe Pure Cordless cleans wonderfully well, is incredibly intuitive, and is significantly easier to store than a pair of vacuums. As you'd anticipate at such a premium price range. It's a lot of fun to use. If vacuuming can describe as enjoyable.
Read more: