If you have a small business, you might have heard about Google Guarantee. But it might be the case that you don't have much idea about it. So here is everything you need to know about Google Guaranteed.
What Is Google Guarantee?

Google Guarantee is a verification service that helps local companies and protects them from fraud. Businesses who pass Google's screening and qualifying procedure are awarded the Google Guaranteed badge. When consumers book services, the familiar green, and white checkmark gives them more trust and security.
Becoming Google Guaranteed
The Google Guarantee initiative was launched in 2018 with a focus on a few select home services. But it has now expanded to include a much broader range of sectors. Only after an elaborate series of processes are businesses listed as Google Guaranteed. Background checks, general liability insurance verification, and business or owner licenses are all part of this process. After receiving the Google Guarantee badge, it is critical for businesses to maintain their status in order to avoid having their badge removed. This includes keeping your license and insurance up to date and updating your Google My Business profile on a regular basis. Moreover, you need to seek favorable reviews, respond to negative ones, and monitor for Google updates on a regular basis.
Are you eligible?
The first step in setting up Google Guaranteed is to determine if you're not qualified. Because the badge isn't currently available to all types of businesses, make sure you're on the list. The following industries are currently eligible:
Appliance repair
Auto glass
Auto maintenance and repair
Carpet and upholstery cleaning
Electrical
Event planning
Financial planning
Garage door installation
Home cleaning
HVAC
Junk removal
Lawn care
Locksmith services
Pest control
Pet grooming
Photography
Plumbing
Roofing
Tree services
Water damage restoration
Window cleaning and repair
Don't fret if your industry isn't on the list now. Google is constantly adding new industries to Google Guaranteed.
Review your certification
Google conducts a comprehensive background investigation on your company when you request for the Google Guaranteed badge. It will examine your business license, insurance, and online ratings in addition to looking into the owner. Occasionally it even looks into extra employees. Evaluate all of the material you anticipate Google to look into to prepare for those checks. Double-check that your business license and insurance are current. Then check your internet reviews to see if they portray a favorable image of your company. If something is not up to par, work on improving or finishing them before continuing with the application process.
Submit your application
You can then submit your application for the Google Guaranteed badge. To verify that the badge is offered in your area, the application will ask you to supply some basic information about your business. The rest of the application is simple and quick to finish. You may have to wait a while for a response. It won't come right away because Google needs to run numerous background checks on your company. However, if everything appears good, it will ultimately approve you and award you your badge. You need to sustain the same standards that got you the badge in the first place once you've set up Google Guaranteed.
Price
The Google Guarantee program does not charge for views or clicks. Instead, businesses are charged for each direct sales lead created by local service ads. A lot of factors influence the cost per lead. This includes the company's location, industry, service, and lead type. Valid leads include texts, emails, voicemails, calls, and any other kind of interactions between clients and businesses. Businesses can set their own expenditures based on the number of prospects they want per month. This allows owners to focus on what they do best. Formerly, only businesses who paid for Google Local Service Ads were eligible for the Google Guarantee. However, now even the small businesses that aren't part of the LSA program will be able to get equivalent badges and support for $50 per month. This monthly fee will enable businesses to differentiate themselves from local competitors through organic search.
How does Google Guaranteed work?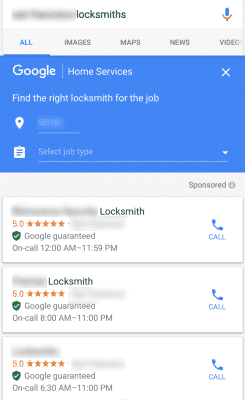 Where does the badge appear?
The Google Guaranteed badge can be seen in two places:
Local search ads: Local search ads appear above conventional PPC ads. They also provide essential information such as the business name, phone number, hours, and star rating, in addition to the badge.
Google My Business: For businesses that qualify, the badge may appear alongside their Google My Business page in Google Maps results or local search results.
The Google guaranteed badge is the same in location for both: a checkmark in a green circle with the words "Google Guaranteed" next to it.
What is customer reimbursement?
The Google Guaranteed emblem represents Google's assurance that your services will meet your consumers' expectations. If a customer is unhappy with your services and files a legitimate claim, Google may refund them. Of course, this only applies in certain situations. Users must go through a Google local ad to be eligible for compensation. They aren't eligible if they convert straight on your site without using Google as an intermediary. Second, compensation is only accessible for 30 days following the completion of the service. A client must make a complaint within that time frame. Finally, even for those who are eligible, Google investigates any complaints. It will inquire about the incident and provide you with an opportunity to make amends with the customer. Then again, if Google believes the customer's complaint is valid, it may compensate the individual. Any service will receive a maximum refund of $2000 from Google.
Benefits for Businesses
A Google Guaranteed business comes with an array of benefits, including lead generation and enhanced search result rankings. This comes along with increased user trust. Your business will appear at the top of the search engine's result page as part of the Local Service Ads. Eventually allowing brands to connect with users looking for the services they provide. Furthermore, you only have to pay if a user contacts you directly through the ad. Thus, implying that you are only paying for quantifiable outcomes.
Benefits for Consumers
If a user finds a business through Google and is not satisfied with the service provided. Google provides refunds to the costomers for the amount paid for the service up to $2,000.
The claim should likewise incorporate the service receipt, complete with the payment subtleties and business name. Once the consumer presents a claim, Google contacts the business to dive more deeply into the situation. After that, it settles on a resolution. This offers businesses the chance to make things right with the miserable client and the opportunity to fix the issue for future clients.
The Google Guarantee will only cover claims for services that have been reserved through Google Local Services. The lifetime inclusion won't cover add-on services, future projects, diagnostic fees, property harms, trip charges, or cancellations.
The Google Guarantee additionally doesn't cover any issues or conflicts among businesses and consumers. This incorporates value, responsiveness, or graciousness.
Conclusion
The Google Guaranteed initiative aims to benefit both businesses and customers. Some businesses utilize phony reviews and ratings on their Google My Business sites to try to influence users and search results. This deceptive advertising entices potential customers with the promise of great services. Whereas the quality may be subpar. The Google Guarantee will show clients whether or not the small business is legitimate. Customers looking for a certain service are far more likely to trust a Google-approved brand.
Other than being one of the most trusted and notable search engines, clients additionally trust the Google Guarantee as a result of the money-back ensure.
If you have any questions, you can ask us in the comments section below!
Read More!