It would appear that connecting and linking two Bluetooth speakers will be difficult, given the basic capabilities of Bluetooth. However, there are a few options for connecting numerous speakers via Bluetooth.
Bluetooth 5 is standard on newer electronics. Applications like Bose Connect & Ultimate Ears are two other options. Samsung Galaxy S8 and later phones, but also iPhones running iOS 11.4 or later, may simultaneously broadcast to two speakers. The Connect+ feature in JBL's Bluetooth speakers allows speakers to communicate with one another.
It doesn't have to be difficult to figure out which layout is best for you. All you have to do now is inventory your equipment and choose the best connection option for your devices.
Limitations of Bluetooth in the Past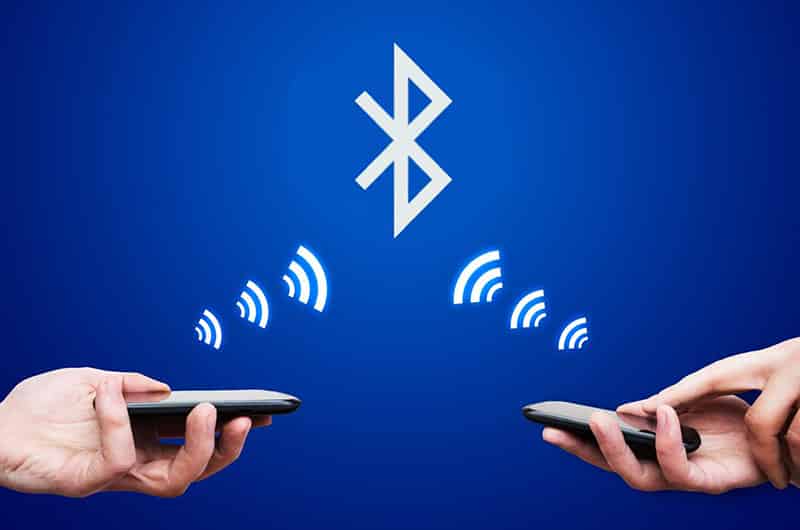 Bluetooth's features were fairly limited until Bluetooth 5, which is why some consumers looked to be hesitant to proceed beyond linking to their TVs. Bluetooth 4.2 permitted just one-to-one device connection and had a range of only 10-30 meters.
This implied that Bluetooth listening would be limited to one room and potentially the next room over. If you're listening to music alone, it's OK, but if you're entertaining home guests and DJing from your phone, it's not so good.
Several workarounds, including apps & device capabilities, have been developed to get around this constraint. Many of these methods are no longer necessary with Bluetooth 5 if you only want to connect to two speakers.
Beyond that, you may need to employ other software and hardware solutions, as well as look into options other than Bluetooth.
Two Bluetooth Speakers can link in a Number of Ways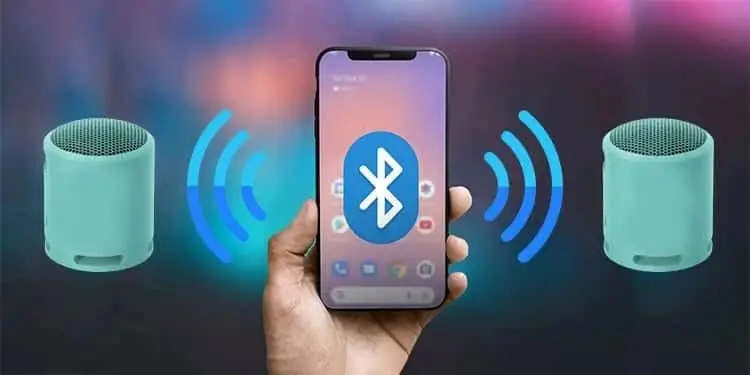 You may be able to link to 2 Bluetooth speakers at the same time, depending on your equipment. Bluetooth 5 is a newer technology that allows users to pair two devices at the same time. Similar solutions have been developed by other device manufacturers.
Bluetooth 5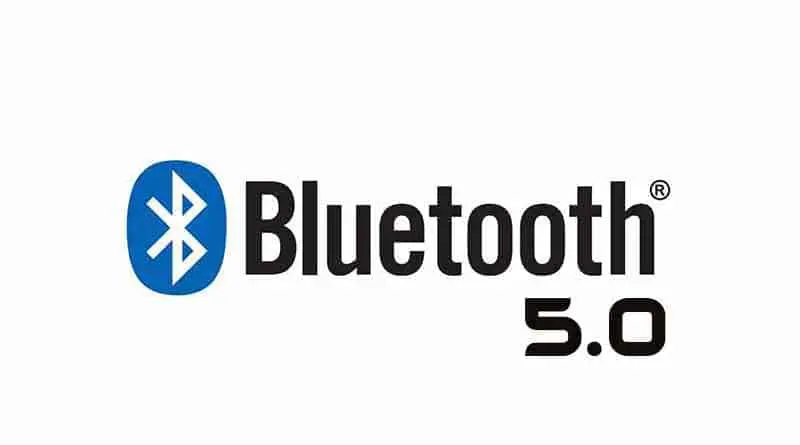 Bluetooth 5, which we have a comprehensive tutorial on, improves the range of Bluetooth connectivity to 120 feet & enables simultaneous connections with up to two devices.
Many device makers have yet to adopt the new standard. They are expected to do so in the coming years.
It's as simple as flipping a switch with some of these techniques, such as Samsung's dual audio capability. For others, you'll need to use an app to set up your connection.
If you want to understand more about Bluetooth 5, take a look at this livewire article.
Boom & MegaBoom: Ultimate Ears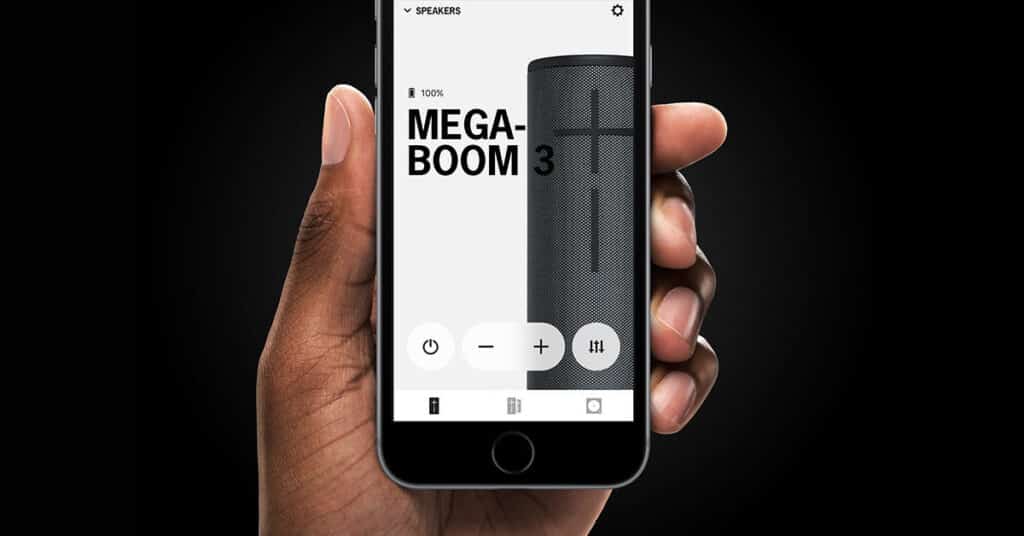 Ultimate Ears have upped the stakes by creating an app that connects over 150 Boom3, Boom 2, Boom, Megaboom, & Megaboom3 speakers. Additionally, the app features a block party mode which provides connectivity to the speakers of your friends.
You may connect without the app, much like the Bose system. Use Bluetooth to connect one of the speakers to your device. Next, simultaneously push the Bluetooth & volume up buttons until you hear a tone.
Press your Bluetooth button twice on your second speaker. To connect additional speakers, repeat the speaker pairing process with the first speaker.
Bose Connect is a service provided by Bose

The Bose Connect app lets you connect two SoundLink Micro Bluetooth speakers (available on Amazon) to a single phone in either party mode or stereo mode (The left/right channel is delivered by each speaker).
Simply turn on both speakers, pair them through Bluetooth, launch the Connect app, & activate party mode. You'll be in party mode once the speakers connect. By selecting stereo (L/R), you may switch between stereo and party modes.
Without using the app, you can activate party mode by pushing the Bluetooth & volume up buttons at the same time and following the voice instructions.
Press & hold the Bluetooth & volume up buttons till the speakers read "stereo mode" or "party mode" to switch between stereo and party modes. Keep pressing the Bluetooth button until you receive a notification indicating the speakers have been turned off.
This app works with Bose's Bluetooth headphones, allowing you to sync not only two pairs of headphones for couples listening but also one pair of headphones & one pair of speakers.
If you need to listen to music on the speaker inside the house even while listening via your headphones outside, this is a good option.
Samsung Dual Audio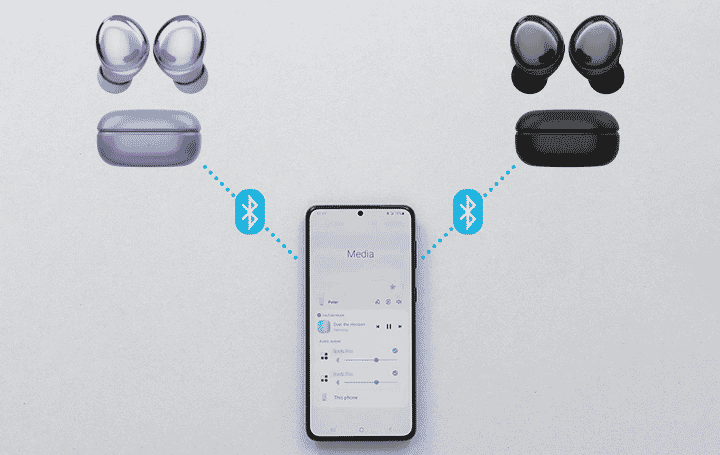 You may select a dual audio mode on Samsung Galaxy phones S8 & later that allows you to operate two speakers at once, just like you would with Bluetooth.
Simply go to the connections section of your device's settings. To get to the Bluetooth menu, press and hold Bluetooth and pick advanced. Turn on the dual audio switch from here.
Samsung's Dual Audio, like Bose Connect, only allows for the connection between two speakers at a time. If you try and connect to a third speaker, the first one will disconnect automatically. This is because Samsung's dual audio mode uses Bluetooth 5, which only permits two devices to pair simultaneously.
HomePod Stereo Pair
HomePod is at the bottom of the list since it needs so many different devices to work with. You can connect 2 HomePod speakers to an iPhone, iPad, and iPod Touch operating iOS 11.4 and later to play stereo sound. One restriction is that the speakers must be present in the same room.
Press & hold HomePod in the Apple Home app, then tap Settings. Choose the second HomePod speaker to utilize for the stereo pair by selecting build stereo pair. If necessary, click the button with the two arrows to swap between the left and right channels. Then tap return, and you're done.
Link 2 Bluetooth speakers: JBL Connect+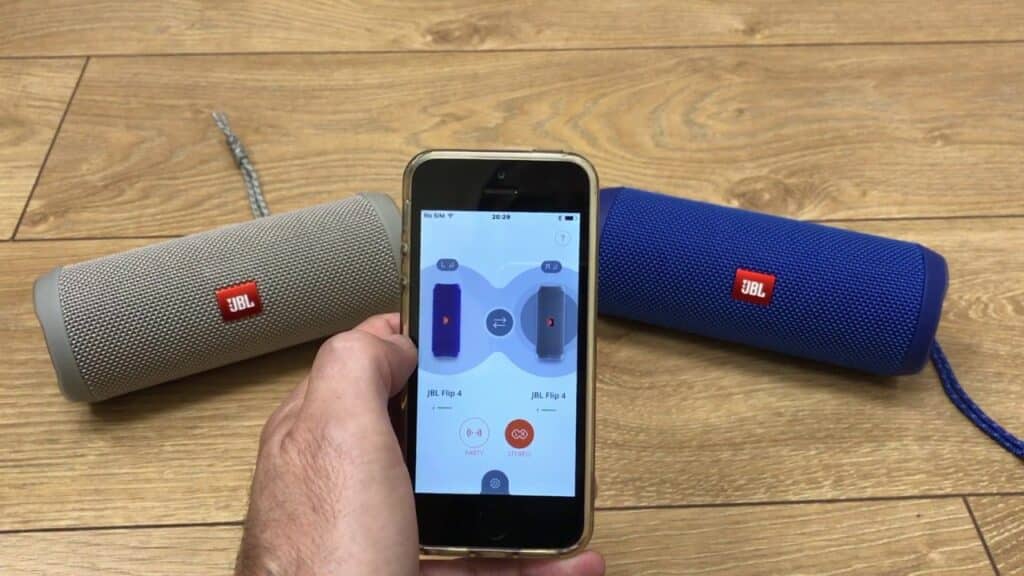 Most JBL Bluetooth speakers have a Connect, Connect+, or PartyBoost capability that allows them to connect to each other and share power. Link a device to one of the speakers to make use of this. Then press either Connect, Connect+, or PartyBoost button on the second speaker.
JBL, like Ultimate Ears, enables people to link up to 100 JBL gadgets together, which is a significant improvement above Bluetooth 5. You may also set up two speakers to work in stereo using the JBL Connect app.
Multiple Speakers Connected
Bluetooth 5 would enable more speakers to connect together as more manufacturers adopt it, and also more devices will be able to link to multiple speakers as more manufacturers adopt it. Manufacturers of devices may take a few years to incorporate Bluetooth 5 into their goods.
However, if you want a truly immersive sound experience, then should upgrade to a good sound system. Many of these systems link via Bluetooth and offer far more functionality and quality than a collection of Bluetooth speakers.
You also won't have to bother about charging your speakers unless you choose a wireless system.
Bluetooth 5 has an advantage over traditional audio systems in that it can connect a wide range of devices, not simply speakers.
Smart assistants like Alexa & Google Home, and also headphones, fall under this category. The choices and combinations are endless.
Bluetooth 5 vastly improves on previous versions of the technology, allowing many devices to connect at once and boosting range from roughly 10 meters to 120-200 meters.
Although bitrate changes depending on device distance, you must be able to watch music on your audio devices at a much longer distance. It will be a lot easier to throw parties now.
Conclusion
There are more Bluetooth gadgets in homes than ever before, thanks to the rise of smart speakers like Amazon Echo & Google Home. Use an app like AmpMe, Bose Connect, or some from Ultimate Ears to transfer audio to multiple speakers, and also Bluetooth 5, which sends audio to two devices at once.
Read more: