Choosing the best web hosting services can be a time-consuming and frustrating process. Not to add that, in many circumstances, you'll need to select a control panel, especially if you're using a higher-end VPS or dedicated server. If you are looking for a web hosting service for individual use or for your business, cPanel is for you. However, if you are not sure about it, here is everything you need to know about cPanel for you to decide.
cPanel
Under the cPanel LLC moniker, a group of developers first produced cPanel in 1996. A set of automation tools was neatly arranged in an intuitive graphical interface on the platform (GUI). cPanel quickly gained popularity due to its user-friendliness and minimal learning curve. cPanel is a fantastic account management tool in and of itself. Moreover, it can also interface with a variety of other products via its API to expand its capabilities. Many of the best VPS hosting companies integrate cPanel with WHM (WebHost Manager). This is a system that enables them to manage a complete server with ease.
cPanel is a widely used Linux hosting control panel that is utilised by enterprises all over the world. It's frequently included in web hosting packages, though in many circumstances, you'll have to pay for it separately. cPanel, also known as a "control panel." This Linux-based control panel gives users a dashboard from which they can manage many aspects of their website. Also, cPanel is one of the most popular control panels for making websites function more efficiently.
Pros
Neat and easy to navigate
Packed full of advanced tools
Cons
Expensive
No live chat
No free phone support
Plans and Pricing
A cPanel subscription is frequently included with web hosting packages, especially if you buy a shared hosting plan from a reputable provider. Aside from that, there are a few different subscription alternatives.
The cPanel Solo plan allows a single account and is aimed at individuals and small enterprises and is the most affordable option. It costs $15 per month and is a lot more than most other control panels. You can upgrade it to the Admin plan for $22 per month. It includes assistance for up to five accounts. The Pro subscription costs $32.25 per month and allows for up to 30 users. Furthermore, the Premier subscription costs $48.50 per month and allows for 100 accounts. A Premier plan can have more accounts added for $0.30 per month per account.
For web hosting providers and others with more advanced demands, there are additional high-end choices.
Cloud (for VPS and cloud hosting) and Metal (for dedicated servers) licenses at the enterprise level cost $0.175 per account per month, with a minimum of 1,045 accounts. Moreover, various extensions, and priority phone help, are available through the cPanel website to provide further security and functionality to your account.
Types of cPanel Hosting
cPanel is a versatile control panel that comes with a variety of hosting packages. The plan you select is determined by your requirements.
Shared cPanel Hosting – Starting at $5.99/mo

Full Service Hosting for Beginners and Businesses

WordPress cPanel Hosting – Starting at $6.99/mo

Optimized Hosting for WordPress Websites

VPS cPanel Hosting – Starting at $19.99/mo

Managed Hosting for Growing Businesses

Dedicated cPanel Hosting – Starting at $139.99

Single-Tenant Servers for High-Traffic Websites and Apps
Features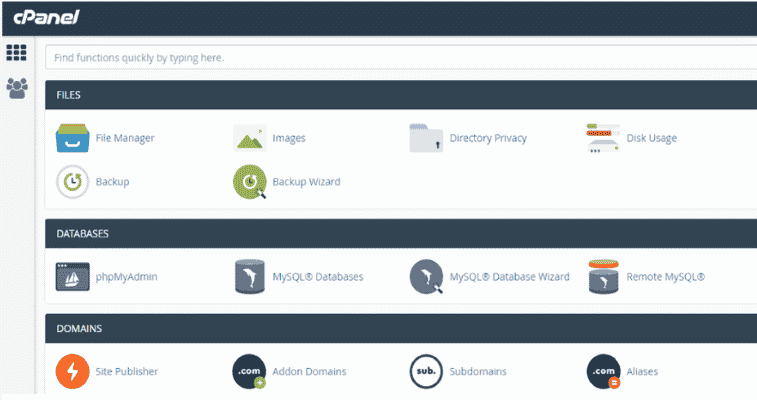 cPanel comes with a robust set of advanced capabilities. You will have access to a set of advanced hosting management options through the normal cPanel interface. Modules for managing domains, account backup tools, FTP, website-building connections, and everything you need to construct and administer huge databases are all included. The cPanel website contains a number of premium extensions available for purchase. These contain everything from complex security packages to WordPress optimization plugins and allow you to add new functionality to your site.
Moreover, full customization is possible with cPanel, which is especially handy for high-end consumers who wish to brand their hosting accounts. Basically, you can modify the features you give as well as the overall look of your cPanel.
Benefits
cPanel's worldwide popularity is well-deserved. The platform is extremely adaptable and beneficial to a wide range of webmasters. Among them are:
Intuitive interface – cPanel has an intuitive interface that makes getting started quite easy. Even if you are a first-time user, the majority of the features are simple and uncomplicated. The majority of settings are one-click, allowing you to spend less time on technical details.
Enhanced customizability – cPanel not only comes with a large number of capabilities, but you can also extend them with add-ons. There are some amazing native integrations on the platform, but there are also a lot of third-party solutions.
Browser compatibility – cPanel has a reputation for running well on all major web browsers. Chrome, Firefox, Internet Explorer, Microsoft Edge, Safari, and Opera are all examples.
Easy account management – cPanel is popular among VPS and dedicated server customers because it makes it simple to split and manage several accounts on the same physical machine. Each user has their own account and cannot interact with others.
Software installation – cPanel has teamed up with Softaculous to provide users with a simple way to install web development scripts. Softaculous' free edition includes 46 scripts, while the Premium plan includes 420+ alternatives.
cPanel puts time-consuming and complicated server duties in a user-friendly interface. Creating several subdomains necessitates changing your Apache setup. You'd have to manually get into your server and edit configuration files if you didn't have cPanel. With a few clicks, you may complete this step in cPanel. Similarly, manually setting up and monitoring several email accounts on your server is a time-consuming and tough operation. Also, creating new accounts or migrating accounts from another server is simple with cPanel.
Interface
If you're familiar with web hosting, you've probably used the cPanel control panel. If not, you don't have to worry, it's simple and easy to use. You'll discover a variety of options on the main dashboard to manage everything from your email accounts and site files to your domains and security. Advanced database and setup tools, as well as different analytics and statistics modules, are available for individuals with more technical skills. You can even modify the look of your cPanel by installing a new theme. Although, this customization is rarely required. Moreover, by default, basic information about your hosting and website statistics are displayed on the right side of the screen, however, this can be altered.
Navigation bar
The navigation bar contains account information that is currently active, a search bar, and tools for changing settings and logging out of your account.
You can use the Search text box to locate the interfaces you require. To quickly access the Search Features text box, you can use the forward-slash (/) keyboard shortcut.
To alter your account preferences, change your password, change your language, update your contact information, or log out, click the cPanel Account icon.
Click your login and then Reset Page Settings in the user menu to reset the interface.
If you see a blue dot on the bell, you have a notice, warning, or error on your cPanel account. You can click on the Notifications icon to see it. This interface can also be customized by server owners to communicate crucial information to their clients.
Main Menu
You can access the Tools page via the Main Menu. The WordPress Toolkit functionality is also available. You can click the cPanel logo at any moment to return to your default cPanel home page.
Tools page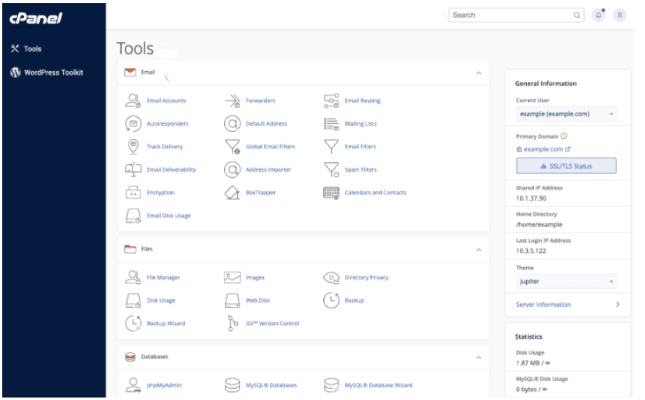 Features
All of your account's available features are organized into groups for different sorts of functionality in the cPanel interface. You can rearrange the feature groups by clicking and dragging them.
General Information
The following information about your cPanel account is displayed in the General Information section:
Current User
The current cPanel account's name. You can switch between cPanel accounts if you are a reseller or a root user.
Primary Domain
The primary or main domain name for the current account. To access cPanel's SSL/TLS Status interface, click the SSL/TLS status button. For this, click on cPanel, then click on Home. In this tab, select Security and then SSL/TLS Status. If there is a problem with the certificate's state, a warning icon appears. The type of certificate that secures the primary domain is also displayed in this section:
DV Certificate — A domain-validated certificate.
EV Certificate — An extended-validation certificate.
OV Certificate — An organization-validated certificate.
Self-signed Certificate — A self-signed certificate.
No Valid Certificate — Although a valid certificate exists, the domain is currently unprotected. For instance, a revoked or expired certificate.
The IP address of the current account, whether shared or dedicated.
Shared IP Address– The use of a single IP address by many websites on the same server.
Dedicated IP address– A website that has its own IP address.
Home Directory
The server's absolute path to the account's /home directory.
Last Login IP Address
The IP address of the user who signed into the account most recently. This IP address is not the one that is currently authenticated. If you log in using the 10.1.1.1 IP address and then log in using the 10.2.2.2 IP address many times, the interface will display 10.1.1.1 as the Last Login IP address value. Until you join in with a different IP address, it will not show 10.2.2.2 as the Last Login IP address value.
Theme
You can use the menu to search for and switch between cPanel themes if your account has more than one.
NGINX Caching
Depending on the state of NGINX caching, this component displays Active or Inactive. You can change the toggle to Active or Inactive if your hosting provider allows you to control whether NGINX caches or not. If your account has NGINX caching enabled, you may also select Erase Cache to clear the cache. Moreover, if your hosting provider deployed NGINX, this category will display.
Server Information
To access cPanel's Server Information interface, click on cPanel and then open the Home tab. There you can click on Server Information. This interface offers more information about the account and its server.
Statistics
The Statistics area of your cPanel account displays crucial usage statistics. The resource utilisation of your cPanel account is displayed in this section. If either of the following occurs, Statistics will display a warning icon:
Your server is unable to retrieve data on the item's consumption or quota.
Your account has used up to 80% of an item's allotment.
To manage your account, click the Manage or Upgrade option.
Each statistic may display one of these:
Infinity symbol (∞) — Indicates that the quota is unlimited. Otherwise, the UI shows the quota restrictions for your account.
Upgrade button — Click this button to raise your hosting plan's quota for this statistic. If your hosting provider has added integration links to your server, the Upgrade button will display.
Manage button — Click the Manage button to go to the appropriate cPanel panel and lower your quota consumption. If your Email Accounts statistic is large you can deactivate unused email accounts through the Email Accounts interface in cPanel.
Exclamation mark (!) icon — Hold your cursor over the exclamation point icon to get more information about the error.
Bandwidth
The Bandwidth statistic shows how much incoming and outgoing data your account moved during the current month.
Disk Usage
The Disk Usage statistic shows how much disc space your account is presently using. This statistic will only appear if your hosting provider's server profile allows for disc use.
File Usage
The File Usage metric shows how many files and directories your account is presently using. This statistic will only appear if your hosting provider has enabled it. For a distributed cPanel account, this statistic will be displayed as Local File Usage in the interface.
MySQL® Disk Usage
This shows how much disc space your account's MySQL or MariaDB® databases are presently using. This statistic will only appear if your hosting provider has enabled MySQL databases on your server.
PostgreSQL Disk Usage
This shows how much disc space your account's PostgreSQL® databases are presently using. This will only appear if your hosting provider has enabled it.
Mailing Lists Disk Usage
It shows how much disc space your account's Mailman mailing lists are presently using.
Domains
Add-on Domains
The Addon Domains statistic shows how many Add-on domains your account has currently.
Subdomains
The number of subdomains used by your account is displayed in the Subdomains statistic.
Aliases
Displays the number of aliases (parked domains) that your account currently uses.
Email Accounts
It shows how many email accounts your account has at the moment.
Mailing Lists
It shows how many Mailman mailing lists your account has at the moment.
Autoresponders
The amount of autoresponders in your account is displayed in the Autoresponders statistic.
Forwarders
The Forwarders statistic shows how many forwarders your account is currently using.
Email Filters
The Email Filters statistic shows how many email filters your account has at the moment.
FTP Accounts
The FTP Accounts statistic shows how many FTP accounts your account has currently.
MySQL Databases
It shows how many MySQL or MariaDB databases your account has at the moment. This statistic will only appear if your hosting provider has enabled MySQL databases on your server.
PostgreSQL Databases
The number of PostgreSQL databases used by your account is displayed here. This statistic will only appear if your hosting provider has enabled PostgreSQL databases on your server.
CPU Usage
The CPU Usage statistic shows how much CPU your account is currently using. This statistic is only available on CloudLinuxTM servers.
Memory Usage
It shows how much memory your account is presently using. This statistic is only available on CloudLinuxTM servers.
Entry Processes
The number of input processes used by your account is displayed in the Entry Processes statistic. This statistic is only available on CloudLinuxTM servers.
cPanel File Management

You can interact with your files in a variety of ways using cPanel. The software includes a rudimentary file manager that allows you to interact visually with your directories and archives. If you prefer to manage your files via FTP, cPanel can make your life easier by including an account administration option. You can use it to create new accounts, adjust their rights, and even delete them if needed. Overall, cPanel allows you to connect with the files on your server in any way you want. Moreover, it provides tools of varying levels of complexity. As a result, even advanced users can benefit.
Site backups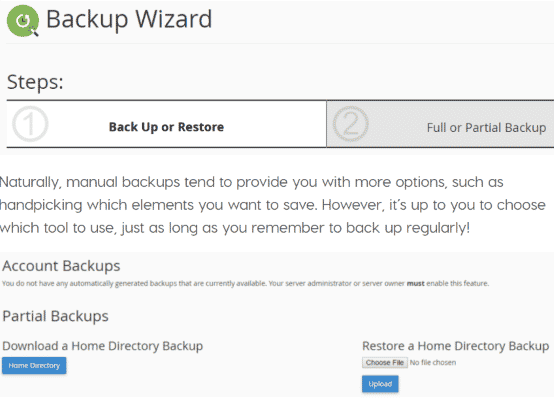 A current backup of your website can save you if you encounter a problem like accidentally removing an important file, or your website is attacked. You can create full backups of your sites manually or with the help of a wizard in cPanel. Manual backups tend to provide you with more options, such as handpicking the pieces you wish to save. However, you have complete freedom in selecting which tool to use, as long as you remember to back up periodically. Some hosts incorporate a Server Rewind option in their cPanels. If you need to go back in time, you can use this feature to restore your complete server to an earlier snapshot. This is normally taken automatically.
Database Management
When it comes to keeping your website up and running, databases are essential. They keep the majority of your site's data, including sensitive information like passwords, usernames, and emails. Some people never have the opportunity to interact with their databases, but cPanel makes it easy to do so. It accomplishes this by providing you with a variety of database management tools. Each of these solutions allows you to construct and manage databases in a unique way. To make things easier, it also includes setup wizards like MySQL Database Wizard and PostgreSQL Database Wizard.
Support
All cPanel users have access to a variety of support options. If you want to speak with a customer service representative directly, you must either submit an online request or pay for priority phone support. This costs $65 per incident. Unfortunately, there is no option for live chat. Alternatively, you might use one of the many self-help resources available. Full technical documentation, blog pieces describing solutions to frequent difficulties, and active community forums are just a few examples.
Alternatives to cPanel
One of the most significant drawbacks of cPanel is that it is only compatible with Linux hosting systems. You can use the Plesk management panel if you wish to use Windows hosting. It's very popular and has a lot of the same features as cPanel, but is more expensive. DirectAdmin is another popular choice, as it is less expensive than cPanel or Plesk. It offers a user interface that is appealing and has many of the same functionality.
Conclusion
You can easily notice why cPanel is the most popular web hosting control panel in the world. There's a lot to enjoy about it, despite the fact that it's a little pricy. The user interface is simple to use, appealing, and packed with hosting administration tools. Although there is no live chat support, the online ticketing system and self-help tools are good. Moreover, if you need any kind of help you're more than likely to get it from your community. Overall, if you want to get the most out of your web hosting experience, cPanel is for you.
If you have any questions, you can ask us in the comments section below.
Read More!