New Apple iPhone 12 is the upcoming iPhone.
This is likely to be launched at a special event in September later this year. The 2020 series may consist of three iPhones- iPhone 12, iPhone 12 Pro, and iPhone 12 Pro Max. This iPhone 12 might just be months away, as Apple usually unveils its new handsets in September of each year. But this year things might be different, with the ongoing Covid-19 pandemic potentially causing a delay.
Sources disagree on whether there will be a delay, and how long it will be if there is one. But either way, we'd expect to see the iPhone 12 range this year, and potentially quite soon.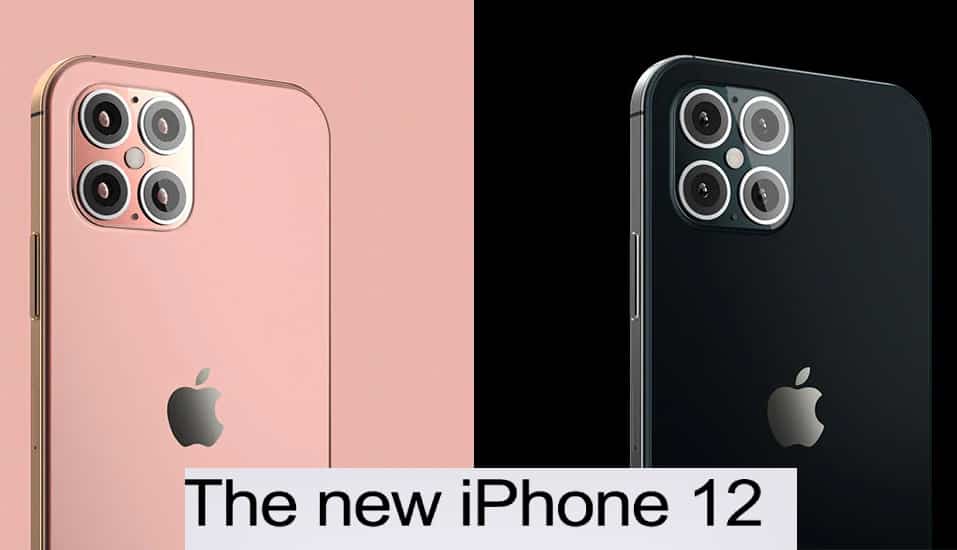 iPhone 12 and its specifications
| | |
| --- | --- |
| Release date: | September ,2020 but could be delayed |
| Models and Sizes Options: | iPhone 12 (5.4 inches), iPhone 12 Max (6.1 inches), iPhone 12 Pro (6.1 inches), iPhone 12 Pro Max (6.7 inches) |
| Prices: | $649 (iPhone 12), $749 (iPhone 12 Max), $999 (iPhone 12 Pro), $1,099 (iPhone 12 Pro Max) |
| Display: | OLED (all models) |
| Design: | overhauled design with a metal frame that's similar to the frame of the iPhone 4 |
| Battery: | 4400 mAh battery,Lithium-Ion,45 to 50 hours |
| Colors: | Space Gray, Silver, and Gold alongside the Midnight Green,or may be Navy Shade |
| Refresh Rate: | 120Hz refresh rate |
| 5G: | Qualcomm's X55 5G modem chip |
| Storage: | 128GB, 256GB |
| Cameras: | Dual Rear Camera |
| Processor: | A14 Bionic |
| Air-pods: | No |
| RAM | 6 GB |
| Wi-Fi | IEEE 802.11ay, |
New iPhone 12 Release Date
Although new Apple phones typically launch in September, multiple reports are now pointing to a delay for the iPhone 12. But resources claim that the iPhone 12 release date could be pushed back all the way until late November. That said, we can't be as confident of these dates as usual.Because there's a chance that the Covid-19 pandemic's impact. Also on the production of the next iPhone may push things back. If production is delayed, we may still see Apple unveil the iPhone in September.
But it might not be out as soon after its reveal as it has been in previous years. If we had to guess right now though, we'd say based on all the rumors that there likely will be at least a small delay.
Though whether or not that will also lead to a delay in the announcement is less clear.
Models and Size Options
Rumors suggest Apple will offer four iPhones in three different sizes, but the sizes are said to be changing in 2020. So far, rumors indicate we'll see a 5.4-inch iPhone, a 6.7-inch iPhone, and two 6.1-inch iPhones. 5.4 inches is smaller than the current iPhone 11 Pro, while 6.7 inches is bigger than the current iPhone 11 Pro Max. Rumors suggest the 5.4-inch device will be close to identical in size to the iPhone 8. One 6.1-inch model and the 6.7-inch model will be higher-end iPhones, while the other 6.1-inch iPhone and the 5.4-inch iPhone will be lower-end models and successors to the iPhone 11. The higher-end iPhones will feature newer camera systems with triple-lens setups, while the lower-end iPhones will feature dual-lens camera setups.
Prices and Storage
For reference, the iPhone 11 started at $699 / £729 / AU$1,199, the iPhone 11 Pro starts at $999 / £1,049 / AU$1,749, and the iPhone 11 Pro Max starts at $1,099 / £1,149 / AU$1,899. Now, the wild card is how much 5G support will add to the price of the new iPhone 12.
Some analysts believe that the 5.4-inch iPhone 12 with two rear cameras will start at $649, which would be quite affordable. The iPhone 12 Max with a 6.1-inch screen would cost $749.The iPhone 12 Pro, which would have three rear cameras plus a LiDAR sensor, may start at $999. The iPhone 12 Pro could also feature a 120Hz ProMotion display, but that's not a lock quite yet. Last but not least, the iPhone 12 Pro Max would feature a 6.7-inch display and cost $1,099 to start.
| Model | 128 GB | 256 GB | 512 GB |
| --- | --- | --- | --- |
| Phone 12 | $649 | $749 | Not an option |
| iPhone 12 Max | $749 | $849 | Not an option |
| iPhone 12 Pro | $999 | $1,099 | $1,299 |
| iPhone 12 Pro Max | $1,099 | $1,199 | $1,399 |
iPhone 12 price and storage
New iPhone 12 Displays
The upcoming iPhone 12 and 12 Max will sport OLED displays manufactured by LG according to The Elec. Whereas, the iPhone 12 Pro and 12 Pro Max will sport the more premium Y-OCTA OLED display panels from Samsung, which will support the 120Hz ProMotion refresh rate. It is being said that Apple has twisted its TrueDepth camera and other sensors, with which it has improved the screen-to-body ratio. This basically means that Apple iPhone 12 series will still sport a notch.
New iPhone 12 Design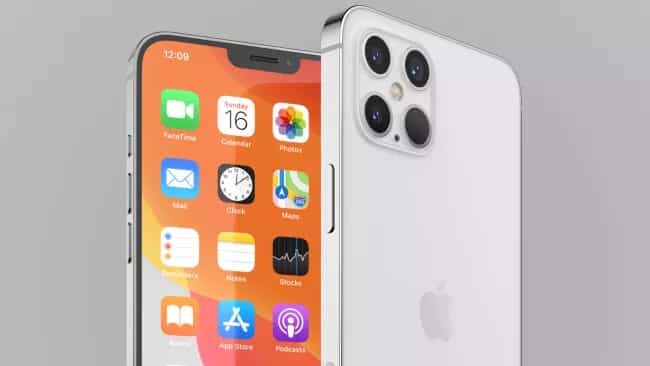 The 2020 iPhones will feature an overhauled design though, will resemble the iPhone 4 or iPad Pro with a squared-edged stainless steel frame between two pieces of glass. Apple analyst says that the new iPhones will use a more complex segmentation design, and new trenching and injection molding procedures. The new iPhone will feature a stainless steel frame, which will replace the current rounded stainless steel frame, and it will continue to use front and back glass for the body of the device.
The grooving and injection molding of the metal in the frame is said to reduce the negative impact of metal shielding on the high-frequency transmission efficiency of the internal antenna.
Some believe Apple will use sapphire or tempered glass to protect the grooves in the frame. Slightly wider antenna lines are a possibility according to one rumor, though that has yet to be backed up by a reliable source.
Thicker antenna lines at the side for 5G
SIM tray relocated to the left side of the device
Smart Connector-like input on the right
One less speaker hole on right side of the speaker grille
Slightly lower power button
There will be a Lightning port on the iPhone 12, with Apple continuing to use Lightning instead of swapping over to USB-C. The render suggests the iPhone 12 Pro Max will be 7.4mm thick, quite a bit thinner than the 8.1mm thick iPhone 11 Pro Max. The camera bump is expected to be thicker, measuring in at 1.26mm, up from 1.21mm. The notch in the rendering is the same size as the existing notch, which is not in line with rumors about a smaller notch.
New iPhone 12 Battery
So how big will the batteries used inside Apple's iPhone 12 range be? According to reports, the 6.7 inches iPhone 12 Pro Max will feature a 4400mAh battery in order to accommodate all the new features (5G, higher refresh rates) that Apple is bringing to its phones.
Apple uses lithium-ion technology for their batteries. All batteries used on the previous iPhone are rechargeable li-ion batteries with different capacities, and that will not change with the iPhone 12. Also, we know that the iPhone 12 battery will be non-removable (unless with tools), just like the latest iPhone versions. The iPhone 12 should be able to last for up to 45 to 50 hours.
Colors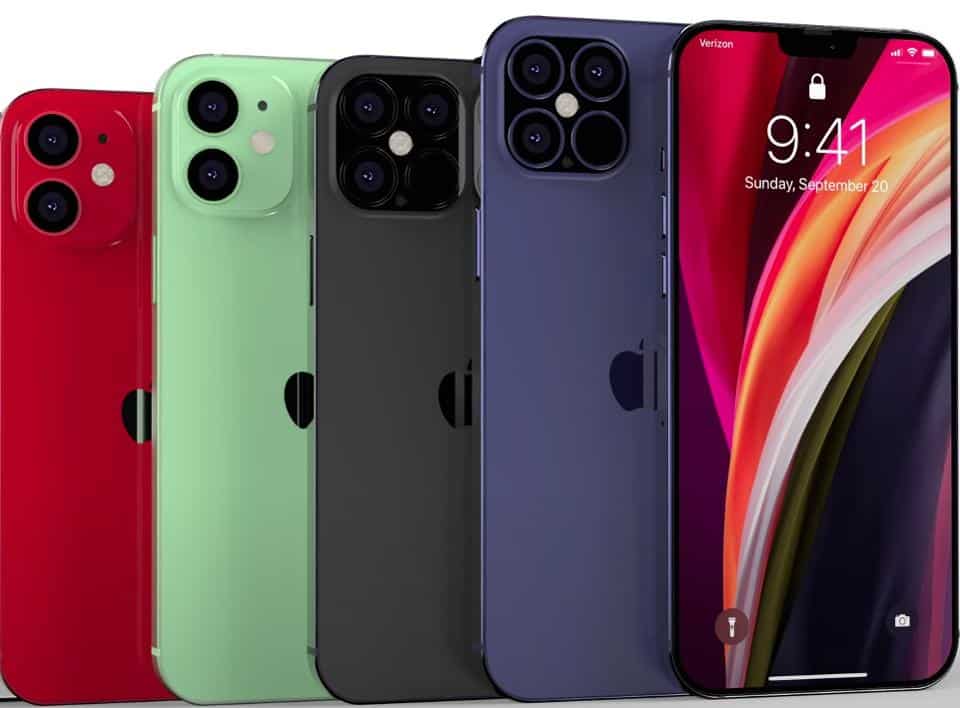 One rumor suggests that at least one of the iPhone 12 models could come with a new navy blue finish. Apple introduced a new midnight green color with the iPhone 11 Pro lineup, so it's not unreasonable to think there could be a new blue color in the works as well. We've only heard a handful of rumors on the color front, but it's a safe bet that Apple will likely follow the same pattern of the last couple of iPhone launches.
The iPhone 11 Pro and Pro Max were available in Space Gray, Silver, and Gold alongside the Midnight Green. Those shades may remain for the iPhone 12 Pro and Pro Max, but we've yet to hear any firm evidence those colors will return. As for the standard iPhone 12, we're expecting a similar pastel range to the iPhone 11. That phone is available in Black, Green, Yellow, Purple, Red, and White, so you should probably expect some of those colors to return for 2020's device.
Refresh Rate
The new iPhone 12's display could support a welcome improvement over the screens on many current smartphones. A tweet from anonymous claims that Apple is considering whether to let next year's iPhone switch between a 60Hz and 120Hz refresh rate, much like every new Galaxy S20 model can. Offering an iPhone Pro with a 120Hz refresh rate would mean a smoother scrolling display than anything we've currently seen from many rival devices, especially if Apple can offer the feature by default.
New iPhone 12 and 5G
In 2020, Apple plans to transition back to Qualcomm modem chips instead of Intel chips, using Qualcomm's 5G technology in its iPhones.All of the iPhones expected in 2020 will use 5G technology, according to an Apple analyst All four iPhones will feature Qualcomm's X55 5G modem chip. The X55 chip offers 7Gb/s peak download speeds and 3Gb/s upload speeds, though these numbers are theoretical maximums and actual speeds will depend on carrier network. The chip is Qualcomm's first 5G chip that supports all major frequency bands, operation modes, and network deployments.
5G technology is still in the early stages of rolling out, but by the time Apple releases its new iPhones, the major carriers in the United States will have laid the groundwork for connectivity in most areas. Apple and Qualcomm are working together to get Qualcomm's 5G technology into an iPhone as quickly as possible, Apple usually secures finalized modem hardware 18 months before the launch of a new iPhone.Apple may be planning to use Qualcomm's modems but not Qualcomm's RF front-end components due to time constraints, which could potentially impact maximum wireless speeds, though we'll need to see how Apple's implementation plays out to know for sure.
Camera
This iPhone 12 Pro render highlights the premium variant's slimmer bezels and notch, as well as its rumored quad-lens camera. (Image credit: Jonas Daehnert)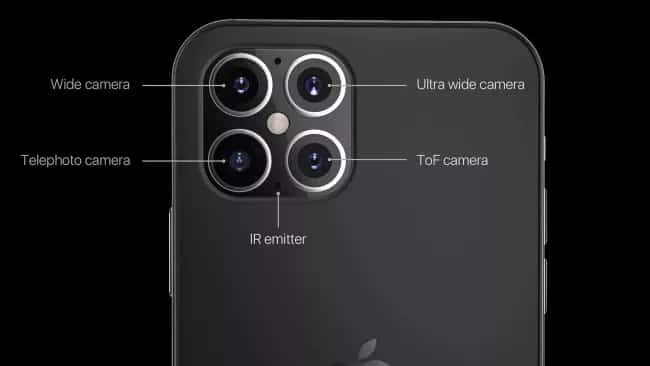 The above image shows what the iPhone 12 Pro could look like with the flat edges, a smaller notch.
Also a fourth "camera," which would presumably be a LiDAR sensor.The camera may be one area where the new iPhone excels. And the main change is likely to be the addition of a LiDAR scanner, just like we've seen on the iPad Pro 2020.
This can accurately judge distances and therefore depth and would allow for improved augmented reality and Portrait mode.We've heard specific mentions of a LiDAR scanner being included on the iPhone 12 Pro and iPhone 12 Pro Max (alongside three lenses).
While the basic iPhone 12 and iPhone 12 Max are said to have two camera lenses and no LiDAR scanner.
These claims have been made by multiple sources, and the below image shows how it could look on the iPhone 12 Pro. And, of course, the iPad Pro 2020 released earlier this year includes a LiDAR scanner, signaling Apple's plans for the iPhone 12.
But what is a LiDAR scanner?
A built-in lie detector? A more relaxed version of radar perhaps? As we'll discover, LiDAR does work in a similar way to radar.
Only it uses lasers to judge distances and depth. This is big news for augmented reality (AR) and, to a lesser extent, photography too. The more interesting question, though, is what LiDAR will let us do on the iPhone 12.
Using our experience of the iPad Pro 2020, we'll be exploring how LiDAR could open up on the new iPhones.Elsewhere, one source says the iPhone 12 might have a 64MP main camera, over the 12MP snapper on the previous few versions, which would be a huge upgrade.
This leak also suggests that the phone will have multiple lenses that support night mode shooting. Also the ultra-wide snapper could have a dedicated macro mode.
We've also heard that the top-end iPhone 12 (likely the iPhone 12 Pro Max) will get new image stabilization. This tech called 'sensor-shift', which would allow the sensor to move in order to counteract camera shake.
Plus, reputable leaker says he has heard that the iPhone 12 Pro will feature Smart HDR functionality for improved low-light performance. That's alongside a 3x optical zoom, which is an increase from the 2x zoom capability featured in the iPhone 11 range.
And we've also heard that all four upcoming models might get a camera improvement in the form of a 7-element wide-angle lens. That's one more element than current models, which could lead to fewer aberrations and less distortion. While there are lots of sources collaborating the LiDAR scanner rumors, the actual core specs of the iPhone 12 series cameras are still a little unclear .
And there's plenty more for us to learn here in the coming months.
A14 Chip
Rumors suggest TSMC will manufacture the 5-nanometer chips Apple will use in its 2020 iPhone lineup. The 5-nanometer process will produce chips that are smaller, faster, and more battery efficient due to improved thermal management.TSMC is on track to begin volume production of its 5-nanometer A14 chips designed for the iPhone starting in April. The A14 chip will focus on speeding up artificial intelligence and AR tasks, according to Bloomberg.
RAM
Many analysts believe the iPhone 12 Pro models will feature 6GB RAM, while the iPhone 12 will have 4GB RAM.UBS analysts also believe the four iPhones in development will feature varying amounts of RAM. They're expecting a 6.7-inch iPhone with 6GB RAM, a 6.1-inch iPhone with 6GB RAM, a 6.1-inch iPhone with 4GB RAM, and a 5.4-inch iPhone with 4GB RAM.
No EarPods
Apple's iPhone 12 models may not come with the wired EarPods included in the box, according to Apple analyst Ming-Chi Kuo. Kuo says that Apple may leave out the EarPods to drive demand for its AirPods. To promote the AirPods to iPhone users, Apple may offer some kind of AirPods promotion in late 2020. Perhaps offering a discount to customers who purchase a new iPhone.
WiFi
Apple's 2020 iPhones could instead support a new Wi-Fi standard known as IEEE 802.11ay, a followup to 802.11ad, which quadruples the bandwidth and adds up to four streams of multiple transmission/reception. The WiFi spec uses the 60GHz spectrum and is expected to be finalized by the end of 2020.
Conclusion
The iPhone 12 release date is still a long way away even if the September 2020 launch window stays constant. So you should probably consider the iPhone 11 series if you need a new iPhone in the next few days, weeks, or even months.
If you need a new top-tier Apple phone now, you're looking at the iPhone 11 or the higher-spec iPhone 11 Pro or iPhone 11 Pro Max.
However, the iPhone12 is yet to be released so the information provided cannot be 100 percent accurate. Apple might still fail to meet our expectations or, better still, exceed it. Nevertheless, this information is sure to give you an insight into what to expect for the battery life of the incoming new model!
We would like to hear your reviews. Do comment and share. Also do subscribe to stay updated With All The Latest News, Offers, and Special Announcements.
*Information was correct as on 10th June 2020