Google Slides make online presentations much easier, even if you are making them from scratch. The best part is you don't need to download anything beforehand, and can start making your presentation. Here is everything you need to know about Google Slides.
What you will see?
Google Slides
You can start using Google Slides right away. There's nothing to download, install, or pay for, and it is easy to use too. You can create a slideshow, collaborate with others, and present it effortlessly if you have a Google account. Slides also include a few more features, such as the ability to construct a unique URL where an audience can send real-time questions to the presenter. Google Slides is part of the Google Docs office suite and that G Suite, the for-pay version of Google Docs for businesses, includes a version of it. Google Slides is a surprisingly strong free presentation tool with a slick layout and unrivaled online sharing and collaboration tools.
For more than a decade, PowerPoint has been the standard business presentation application. However, the competition seems to be getting better every year. Google Slides and other Microsoft Office competitors provide great features at a lower cost.
Pros
Free slideshow creation tool.
Solid collaboration features.
Excellent audience question submission tool.
Easy to use.
The intuitive interface on desktop and mobile.
Cons
No desktop app.
Cannot export to video.
No audio import.
Limited transitions and effects.
Price
Google Slides is free to use if you have a Google account. To obtain a sense of the value, you might want to look at how much other presentation software costs. The free-of-cost online Google Slides service makes a good point in anyone's book. However, the issue with the free service is that all of your presentations are publically available, searchable, and reusable. That isn't going to suffice for many. When you purchase a Microsoft Office Personal subscription, PowerPoint, undoubtedly the greatest competitor in the presenting field, costs $69.99 per year. However, you get a lot more than PowerPoint for that amount. Word, Excel, Outlook, Publisher, and Access are also included.
Google Slides, like the other apps in the Google Workspace suite, is free for both personal and commercial usage. Although, companies with more than a few people may benefit from a premium Workspace subscription. This includes Slides and other Google products. More cloud storage, group-level security policies, quick tech support, customizable business emails, and other useful features are available when you upgrade your Workspace account. Subscriptions start at $6 a month per user, with custom plans available for large businesses.
Features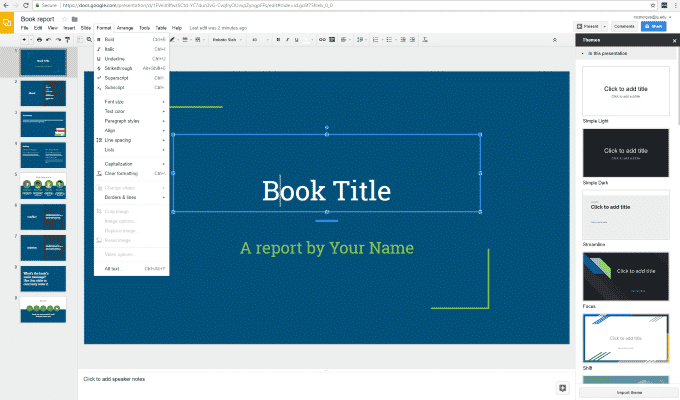 Google Slides includes all of the features you would need from a presentation tool. This includes a large library of free add-ons and the ability to export your slideshow to a variety of popular formats. YOu can export your presentation to PowerPoint and PDF. The best part of Slides is its unrivaled sharing and collaboration features that set it apart from other presentation tools. You can easily share files by copying a sharing link or giving other users immediate access. Furthermore, up to 100 users with editing access can make simultaneous modifications to the same slideshow. Also, each update is instantaneously reflected on all devices connected to the file. You can also download files locally for offline access through Google Drive. You can start a presentation or slide deck material with a template with the help of straightforward controls and simply alter and customize it.
Although, this free application doesn't have as many transitions or beautiful effects as some of its competitors. However, fresh resources are constantly being added to the internet. Teachers may quickly share slide decks with students by sending them a link or straight from Google Classroom. Teachers can also share their slide decks with others for them to edit or copy and produce their own versions. This is a fantastic technique to significantly speed up work production while also contributing to the development of creative resources. Although, Collaboration does not imply that everything in your work is editable. You can adjust it with settings like "View only," "Comment only," and "Edit," and restrict the extent of sharing. This makes it ideal for sharing while restricting what you want them to alter.
Interface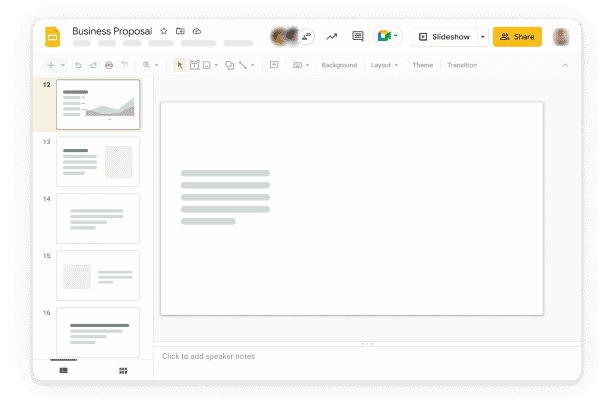 If you've ever used a presentation program before, you'll find Google Slides to be very easy. You can find the toolbars at the top, notes at the bottom, and a preview of your slides on the left. Also, your workspace for the current slide is present in the middle. Thus, making the interface simple and intuitive. The tools that require a bit extra screen space to operate will show on the right when you click it. The majority of what you'll need to make a basic slideshow is already visible or will be when you need it. When dragging elements around the slide guides will emerge to assist you in finding alignment with other elements or the page's center.
When you want to add a picture to a slide you may search for one in Google Drive or one you've already used in other Google apps. Also, when you embed a video, a YouTube search bar displays in the finder. PowerPoint (.pptx), PDF, and plain text are supported file formats for exporting a slideshow. Also, JPG, PNG, and SVG are file formats supported for single slides. Google Slides does not have the option to import audio, which may be anything from music to a pre-recorded narration. There are a lot of transitions and effects in Google Slides, but not quite as many as in PowerPoint or Keynote.
And, while it's an excellent software for making good old-fashioned slide decks, it doesn't do much else. Other apps follow suit or at least attempt to. So, if you've used other Google products, you'll have no issue adjusting to the Google Slides interface.
Performance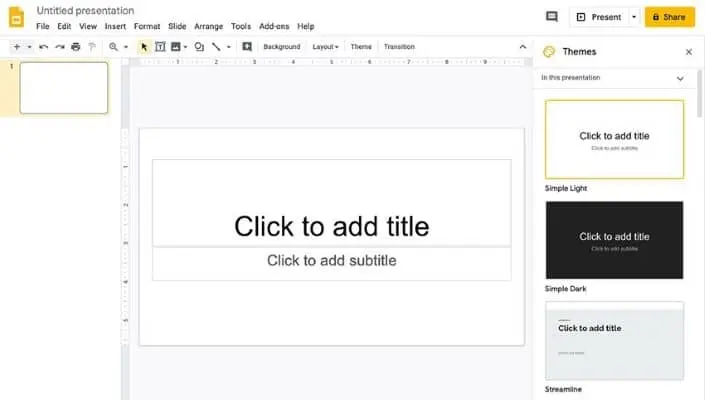 One of the most appealing features of Google Slides is its easy interface. This allows you to rapidly create a slideshow while also allowing you to go deeper into customization and unique content creation in less time. To make a blank slideshow, click the huge + icon, or choose one of the templates to fill in the pre-made presentation with your own content. You may add images, audio, and video, as well as adjust the colors, fonts, and sizes, as well as add shapes and boxes. Moreover, you can input a variety of data and even import charts that you or your partner have already generated in Google Sheets.
However, the tool's ease of use extends beyond its production and sharing capabilities. This is also extremely compatible, thus it can open a variety of file kinds. You can open PowerPoint and Keynote presentations immediately in your free Slides software since Google handles the conversion. You can also export multiple sorts of files from Slides. This helps you to create a PDF for quick and easy sharing. You can either set up Collaboration with a simple link share or work in real-time to see who is working or reading the file.
You can also collaborate with teachers in real-time, creating a presentation document without having to be in the same room. Integration with Google Drive and Google Classroom is critical because, if you utilize both, Slides becomes the most convenient way to share slides with students or coworkers. It also allows for easy integration of files from a shared Google Drive, such as photographs, audio, and video. This is ideal for someone who wants to share resources across devices in order to create new tools.
Collaboration
When it comes to collaboration, Google apps have always been strong. Other apps are catching up and incorporating more collaborative capabilities as well. You may share a slide deck with people using Slides and set permission levels for them to see, comment on, or amend the presentation. When someone joins your project, their name and complementing color are present at the top of the screen, just like in Google Docs and other G Suite apps. Their cursor position and the element being edited are highlighted when they edit. In a small chat box in the lower right corner, you can chat with collaborators in real-time. Moreover, anyone with read-only permission can also make comments on the slides.
Furthermore, you don't need to worry about recipients having the software or anything else. They only need a Google account and access to the Internet. Furthermore, because Google Slides is already online, you won't have to worry about creating anything extra with your slideshow before making it accessible.
Presenting With Google Slides
You can either present your slideshows directly from Google Slides online or export them to another format to display them in another program. However, there are a few advantages to using Google. This way you can accept questions from the audience in real-time. You may rapidly construct and publish a URL where audience members can submit questions using the Google Slides feature. Those questions are forwarded to you and you can respond to them at any time throughout your presentation. Moreover, you can see the presenter's notes without having to put them on the screen. This is something that other programs occasionally do clumsily. You can use the pointer tool in Google Slides to actively point out important aspects of your slides.
Support
You can search for any specific function from the Help menu. Google Slides has a good set of support tools for more complicated concerns and technological issues. Firstly, Slides includes a distinct instruction set for people who are transitioning from Microsoft PowerPoint. There's also a general tutorial for getting started in the Help Center, as well as other helpful articles. If you require further assistance, you can post a question on the help boards. Unfortunately, unless you have a Workspace subscription, there is no convenient method to contact Google directly.
Security
Because your Slides files are as secure as your Google account, it's critical to take precautions to protect your data. You can enable two-step authentication under account settings to boost account security. Also, remember that sharing links might become a security risk if they fall into the wrong hands. You may configure group-level security policies and use additional advanced features if you have a Google Workspace subscription. Advanced security measures, including S/MIME encryption and data loss prevention, are available to enterprise subscribers.
Alternatives
While there are a variety of alternatives to Google Slides, the majority of users use PowerPoint or Google Slides. When compared to PowerPoint, the main advantages of Slides are its free availability and streamlined file-sharing options. However, some users prefer the ease of desktop software to Google Slides' web interface. PowerPoint also includes a few features that Slides doesn't have. This includes the ability to export a presentation as a video file. Slides, on the other hand, have closed the gap in recent years by constantly adding new features.
Conclusion
Google Slides is the best free presentation online program out now. It comes with a collaboration feature and a few unique tools. Although. it lacks the effects of PowerPoint or Keynote, and you can't export your finished project as a video. However, it is a dependable program for making presentations. If you use Google Classroom or Gmail, this is an ideal solution that will naturally fit into your workspace. While Google Workspace adds many useful features for corporate customers, Google Slides' fundamental edition is still one of the best free office software options. While Google Slides may not persuade every PointPoint customer to convert, it is still a fantastic option.
Which software do you use to make presentations? Tell us in the comments section below.
Read More!