Free video editing software and apps is a gift not just to beginner and non-professional video editors, but also to aspiring filmmakers who want to avoid paying a monthly membership fee or spending a fortune on expensive programs. Content production has grown in recent years, which means that an increasing number of individuals are dabbling with video editing. However, not everyone needs Adobe Premiere Pro or Apple Final Cut Pro X for post-production needs, especially because both of these top video editors are expensive to use or own.Every video editor is unique, but one thing all of these programs have in common is that they are free to use. This means you may install them all and evaluate which one will allow you to edit video online.
Clipchamp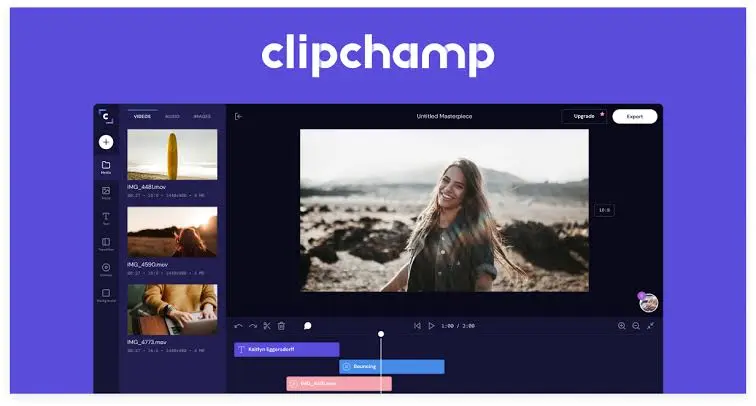 Clipchamp is a free video editing service that does not require you to upload your video to their website and easily allow you to edit video online. Unless you choose one of the company's integrated solutions, the data remain on your computer. There is no file size restriction. Services include the following:
Video flipping or mirroring
removing unnecessary video segments
File rotation (clockwise or counterclockwise)
removing undesirable video segments
Changing the hue, brightness, and saturation
In addition to the free version, Clipchamp has a handful of competitively priced commercial editions for power users.
Pros:
It is free to use.
Professional editing tools included
The editing interface resembles a professional editing program.
Cons:
You should update Chrome to the current version.
Some complex video editing tools are missing.
Movie Maker Online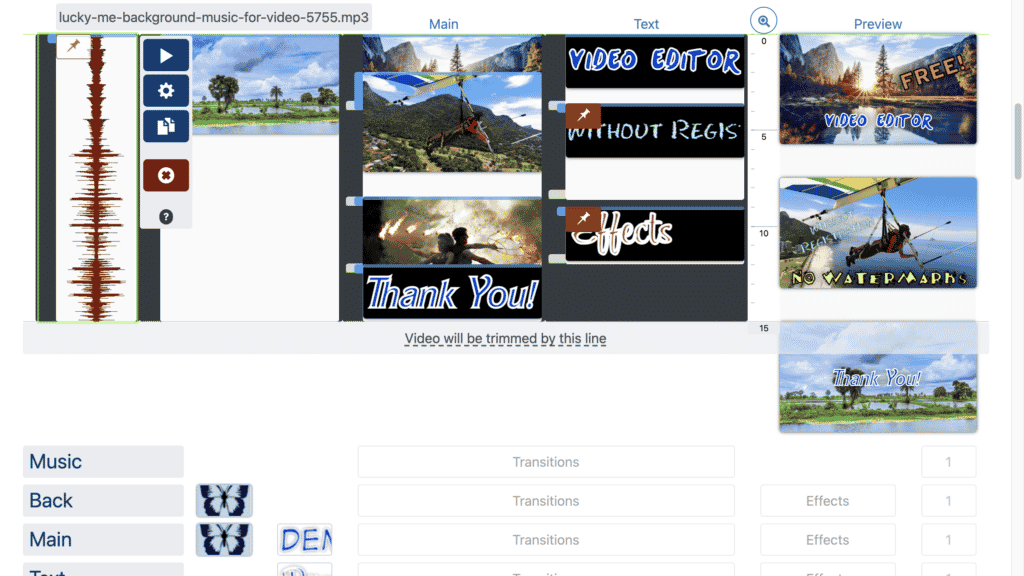 Movie Maker Online is a browser-based video editing app . To edit a video online, just drag it onto an unusual vertical project timeline, where you may cut segments and apply filters or transition effects. Other free video editors on this list are software applications that may be downloaded and installed locally. These, however, are not the only kinds of free video editors accessible. There are several excellent browser-based applications available, and Movie Maker Online is one of them.
The main benefit of using an online editor is that you can access it from any desktop computer, and you don't have to worry about content storage. Another huge advantage of utilizing an online video editor is that your computer specs don't matter as much, and the age of your hardware doesn't matter because everything happens in the cloud. If you wish to add music or still images to your video or movie, Movie Maker Online provides access to a wide database of royalty-free images that can be incorporated into your project timeline with a single click.
Pros:
On-page instructions are included.
There is no software to install.
Import a number of media files.
Cons:
Ads abound on the website.
Controls are cluttered and confusing.
LightWorks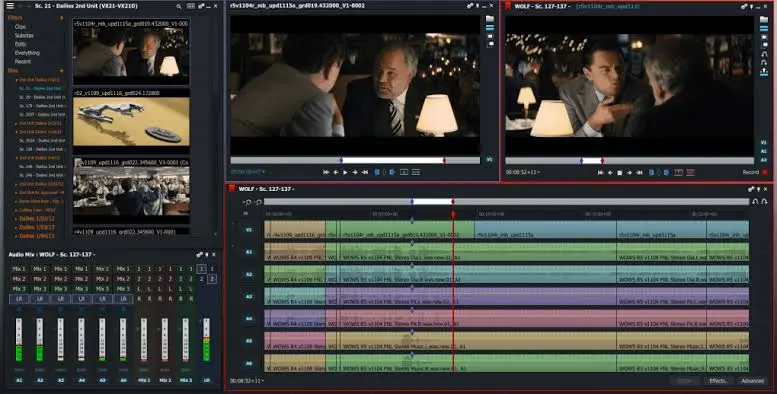 Lightworks have been utilized in Hollywood films such as The Wolf of Wall Street, starring Leonardo DiCaprio. The free and Pro editions differ primarily in output formats, with the free version limited to 720p resolution. It does not provide project templates, scrolling headlines, or other fancy features, instead of focusing on precise tools and clip management.
It imports and organizes videos into bins and racks, and editing schemes would build rooms. With various views, searching, sorting, labeling, and so on, video clip management is quite database-like. It is intended for teams of editors to use numerous workstations to make two-hour movies with dozens of scenes and hundreds of clips. With the other video editors, this would be impossible.
The editing tools are quite strong, and they provide a level of control that other video editors do not. Many video and audio tracks are modifiable individually, so you can clip a segment of video from the midst of a scene leaving the audio and cutting away to show something else, then return while the audio plays. When combining scenes, the flexibility is remarkable, and in and out points fine-tune directly in the timeline.
Transitions and other special effects are available, although TV shows and Hollywood films seldom employ anything more than simple cuts and fades from/to black. Professional video editors geared at Lightworks. Moreover, it's exciting to use a program used by Oscar-winning Hollywood film editors. It doesn't do much, but what it does is excellent.
Pros:
database-like video clip processing.
Utilizes multiple workstations to create two-hour films.
Edits video and audio tracks individually.
Cons:
no project templates, scrolling headlines, or other fancy effects.
A steeper learning curve than some.
Only outputs in MPEG format.
Video Toolbox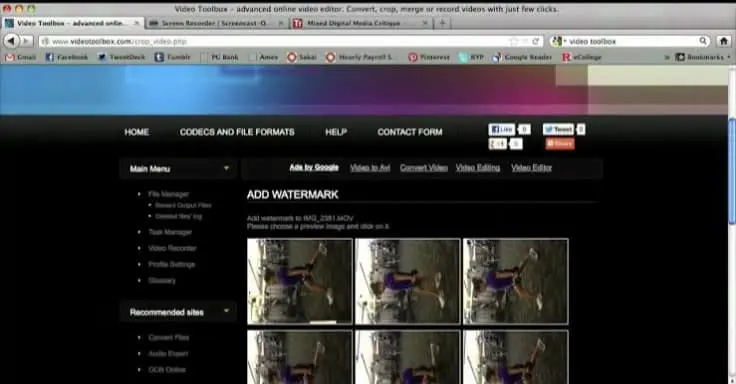 Video Toolbox is a free online video editor and video editing app that supports video files up to 1.5 GB in size. This online video editor goes beyond simple editing to do more complex operations like conversions and cropping.
Some of the features available in Video Toolbox are as follows:
Converts video files between common formats such as MP4, MOV, and MKV.
It is possible to add a text watermark to your movie.
Trims the beginning and finish of your video.
Allows you to combine videos.
Supports demuxing, allowing you to extract audio, video, or subtitle text from a file.
Downloads flash video files from a variety of video-streaming websites.
Pro:
Design of a professional website.
There are ready-to-use Graphics included.
Cons:
required registration which is free.
Blender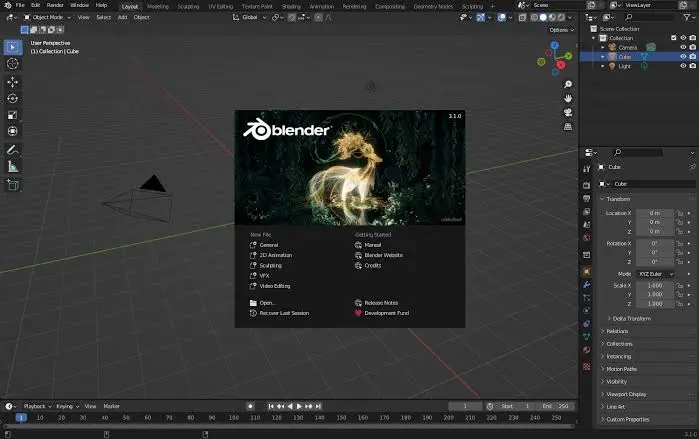 Blender is a massively powerful open-source software package. It is most capable of 3D modeling and animation. In fact, it's so capable that to generate cartoons for the History Channel, and TV commercials in several countries have used this. Special effects for Red Dwarf series 10, and NASA demonstration movies.
Aside from the ability to make animated films or shorts, Blender also has a full-fledged video editor. Clips, like any other package, may be placed on a timeline, modified for length, overlapped with others, and connected using a variety of transitions or fades. Because Blender is open-source software, the documentation can be a little haphazard at times, but thanks to the active user forums, you can generally find the solution to your query with no problem.
You will undoubtedly have many questions because there is so much you can accomplish with this program. Blender would not appear out of place if it were on sale for a couple of hundred pounds. The fact that you receive this bundle for free.
Microsoft Video Editor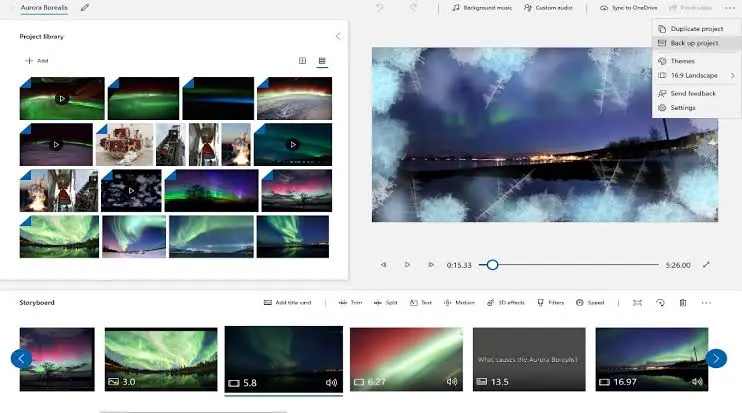 Microsoft's Photos app has integrated video editing capabilities since Windows 10. However, with Windows 11, which was released in November 2021, the functions have increased even more, especially if you want to swiftly cut a video to share over WhatsApp. DirectX 12 has enabled video for processing by using your PC's GPU in this new version, allowing you to edit videos online by drag and drop various films in 4K quality, in .mkv formats, to make a short 4K movie from the built-in Photos app.
However, additional capabilities appear to be on the way, with Microsoft acquiring Clipchamp in September 2021, a web-based video editing service for social networks. With Sun Valley 2, the first major upgrade to Windows 11 since its release, we might see even more enhancements to the Photos app to help make those fast movies seem even better with transitions, effects, and other features.
Pros
A good, straightforward range of editing tools.
The UI is simple to use.
Interesting effects.
Cons
If you don't realize it's there, it's easy to overlook.
Is there a video editor on Google?
Google Workspace Marketplace – MovieStudio video editor MovieStudio is a video editor that also functions as a movie maker, allowing you to create, edit, and record films, as well as mix videos, audios, photos, and texts. It is software for creating movies, recording videos, editing films, and modifying them with other videos that you may import.
How can I directly edit a video on Google Drive?
You may modify and trim and edit the video online to the appropriate size by right-clicking (or double-tapping) on the video box.
Conclusion
Video creation used to be unnecessarily complicated. Only specialists in the area could do it. Because everyone is doing it now, there is a surprising quantity of good video editing software and video editing apps available for free. These have a lot of the same features as the more expensive, paid video editors, so you can make professional-looking videos with animation and special effects. NASA has used some of the free tools mentioned here in the making of Oscar-winning Hollywood films and hit TV Serials like Red Dwarf.
Read More