Working remotely has been commonplace since the pandemic rocked the world, and video conversations were one of the tools that allowed firms to stay connected to their employees no matter where they were. And the top free video chat apps played a significant role in this. These free video chat apps are beneficial not only to businesses but also to families who are separated. However, when it comes to free video calling apps, most people are familiar with only a few names, such as WhatsApp or Skype. There are, however, a plethora of alternative top free video calling apps that you can utilize without difficulty. This page contains all of the necessary information.
Zoom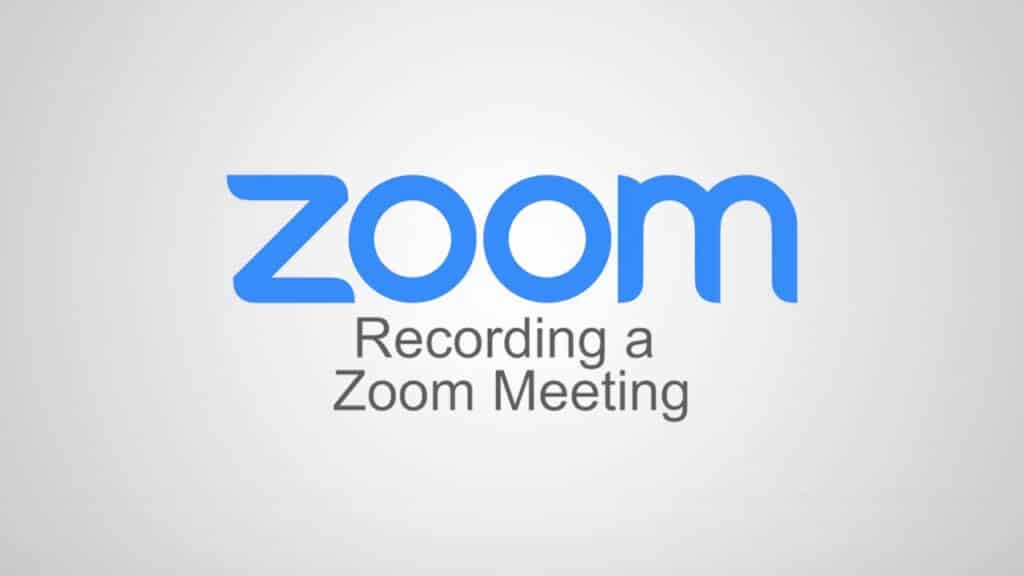 Zoom is a free video-conferencing service that lets users host and records virtual meetings, conferences, office hours, family and friend chats, and more.
Key Features of Zoom:
Aimed at users at the enterprise level.
For the first 40 minutes, there is no time limit and group calls with up to 100 individuals are allowed.
Join from any location and on any device (web, mobile devices, browser extensions)
Audio and video in high definition
Screen-sharing
Collaboration tools built-in
Polling and Q&A should be enabled.
Allow for the raising of virtual hands.
Share music, videos, or other media.
Disadvantages:
It is necessary to have a fast internet connection.
The audio quality of the iOS app is bad.
There are concerns about security.
Skype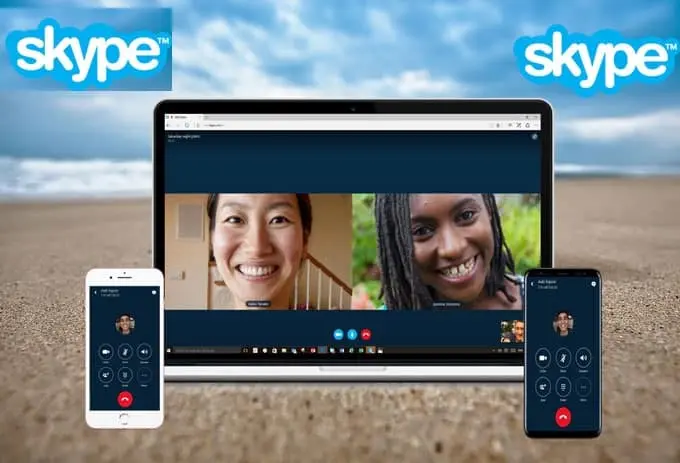 On a mobile, tablet, or computer, users can meet and collaborate with up to 50 people for free using the Skype free video call app.
Key Features of Skype:
Screen sharing in a group
Long-distance education
Options for blurring the background
File-sharing capabilities and full-screen video
Text translator supports 60+ languages and has caller ID and voicemail.
To keep conversations distinct, use split view mode.
Call recording and real-time subtitling
Messaging that works
You can connect from any location.
Disadvantages:
It makes use of a high-speed network connection.
Is it possible to be hacked?
The bandwidth determines the sound quality.
Google Meet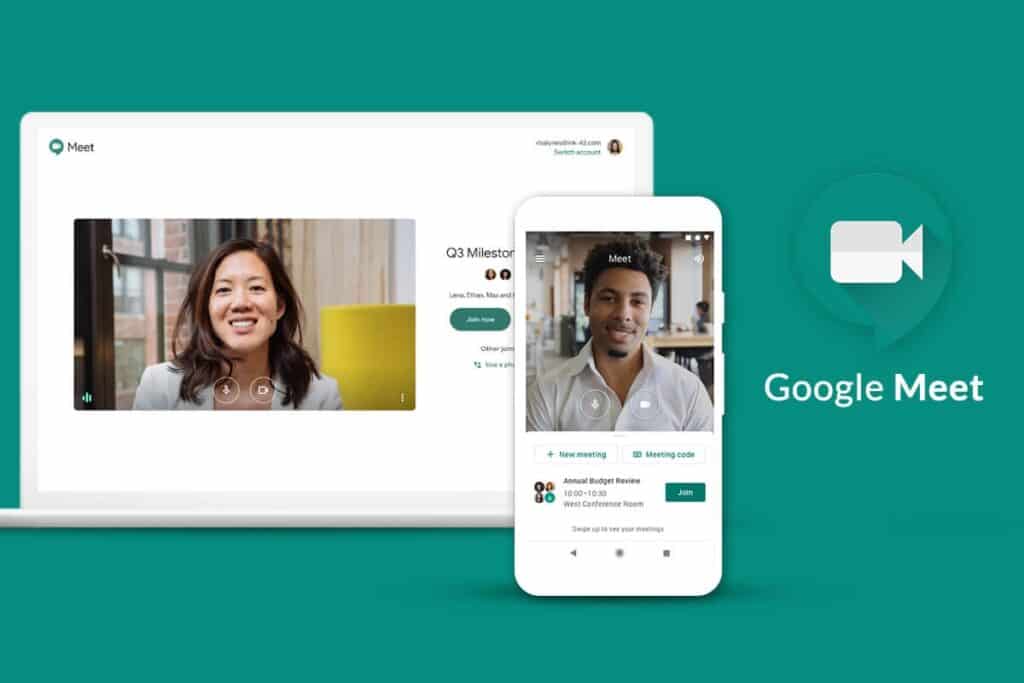 Google Meet, formerly known as Google Hangouts Meet, is free video-conferencing software that comes with G Suite.
Characteristics:
Video conferencing is free for the first 60 minutes.
Designed for all types of businesses.
Attend meetings while on the move.
Real-time collaboration is possible.
Work with documents, spreadsheets, and slides with ease.
Files can be stored and shared in the cloud.
To keep data safe, use the 'endpoint management' option.
Disadvantages:
During bigger group discussions, there are call drop-offs.
Only the Google Chrome web browser is supported.
There is no choice between whiteboard tools or poll-and-survey services.
FaceTime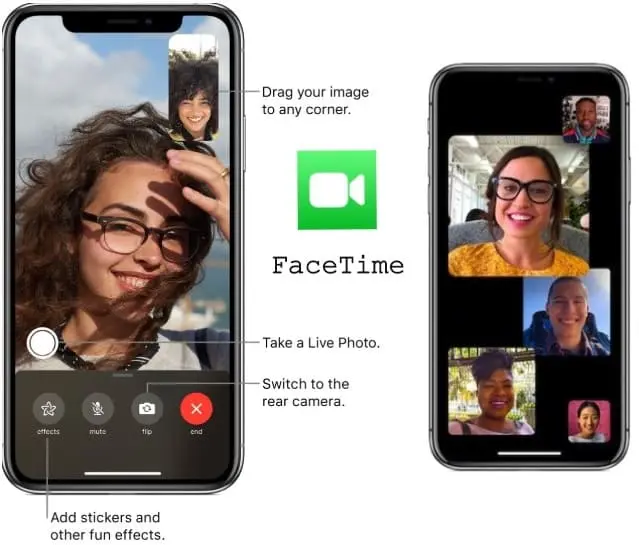 Apple customers rely heavily on this app to keep in touch with family, friends, and coworkers. Of course, being Apple-only has advantages that none of the other apps on this list have, but it is available on both iOS and macOS.
Characteristics:
Audio and video calls are available.
Effects to Enliven a Discussion.
Emojis are customizable to fit a user's mood or personality.
Use the 'Live Photos' feature to capture special moments.
Disadvantages:
Chat rooms encourage dangerous behavior.
It consumes a lot of data and is only available on Apple devices.
This app cannot make calls to landline numbers.
It doesn't have any group calling options.
Cisco Webex Meetings

WebEx is a multi-functional desktop-based video conference call tool that lets users host or joins video conferencing, online meetings, and screen sharing, among other things.
Characteristics:
You can join from anywhere at any time.
For enterprises of all sizes, a flexible conferencing solution is available.
Chat and Brainstorming Tools for Multimedia Content Sharing
Video address that can be customized
Call control and communication that is secure
Disadvantages:
Though Premium is a little on the pricey side it's difficult to manage the backend.
There is no phone conferencing available.
GoToMeeting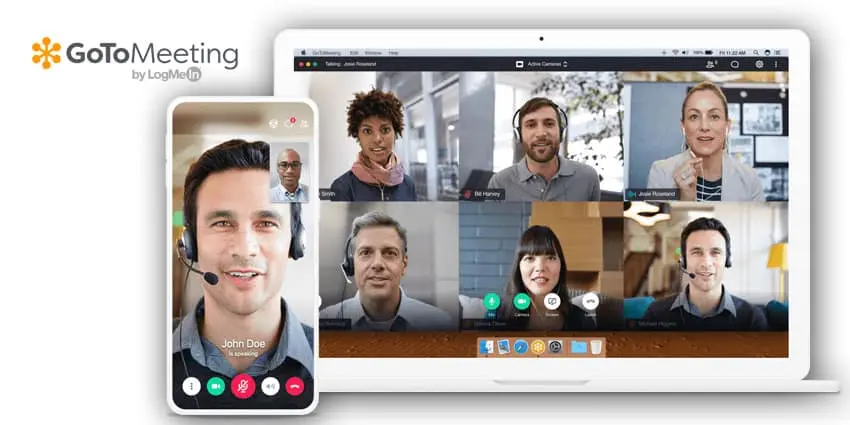 GoToMeeting is a collaboration-focused video conferencing program that allows you to meet with your team and even broadcast a webinar to thousands of people.
Characteristics:
Meetings can be held in a matter of seconds with only one click.
With the 'GoToRoom' option, you can turn conference rooms into collaboration centers.
Create business webinars.
Web conferencing that is safe and secure.
Provisioning that is automated.
However, Every user's performance measurement is based on quality.
Centers are managed with ease by the admin.
On the go, host, or attend meetings.
Voice commands and cloud recording are both available.
Disadvantages:
It only works if you have a steady internet connection.
The device's quality is important otherwise it consumes a significant amount of bandwidth.
There is a limited number of options for chatting.
Facebook Workplace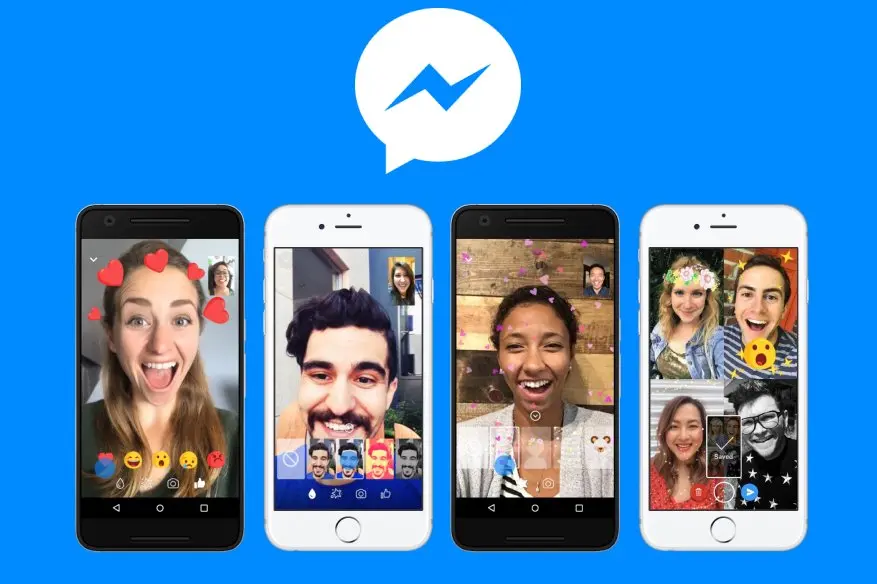 Facebook's Workplace Chat is a communication platform that allows users to have better team conversations using HD video calling right from their smartphone or desktop.
Characteristics:
Video broadcasting in real-time
Library of knowledge
Feed of News
Conversations in a hurry
Multi-firm corporations
Disadvantages:
Even if the paid edition has a lot of features, the pricing is a little excessive.
Integrations are lacking.
It's not an easy setup.
Slack video call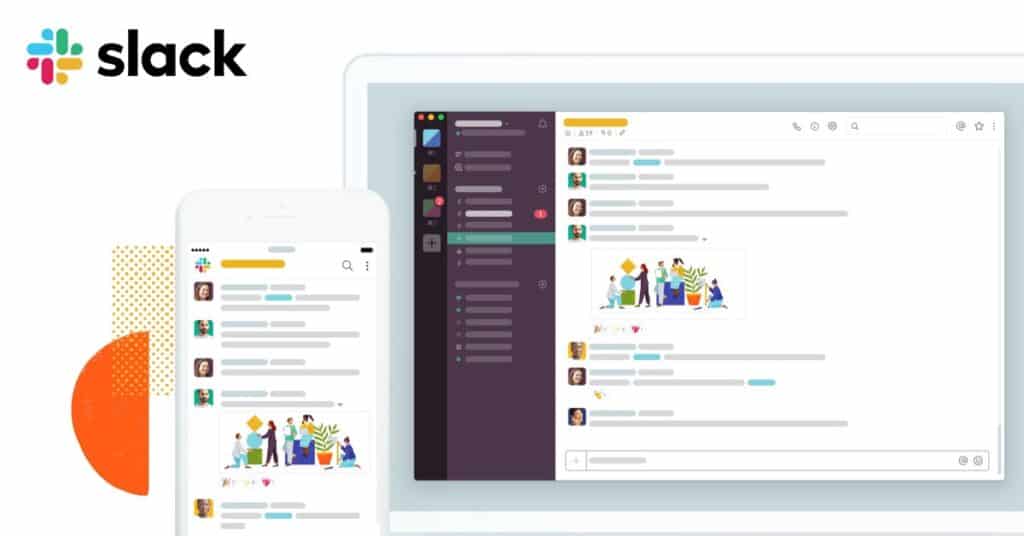 Slack is a video conferencing service that allows you to communicate information more quickly.
Slack's Key Features include:
Work together from any location.
Options for screen-sharing
Switching from texting to a one-on-one or group call is simple.
There are four subscription plans to choose from: Grids are divided into four categories: free, standard, plus, and enterprise.
Moreover, it is compatible with iOS, Android, Windows Phone, and Mac OS X, Windows, and Linux desktop versions.
Disadvantages:
It's difficult to find items within the app.
The app is a little disorganized and distracting.
The bare minimum of file storage
Microsoft Teams
It's primarily a collaboration tool for teams that don't compromise on privacy or security.
Characteristics:
Chat and meet people from all over the world.
Microsoft 365 includes a teamwork center.
It can host Audio, video, and web conferences.
A video conference with up to 100 participants is possible.
Allows for cross-company communication.
File transfer, screen sharing, recording, and calendar integration are all available.
Guests from outside the company are able to participate.
Disadvantages:
Transitioning from Outlook is difficult.
File structure confuses Users.
Setting permissions is a difficult task.
So, how can you choose the "best" free video calling software for you?
There are four essential requirements that a free video calling software should achieve to qualify in the "best" category if you aggregate the issues and opportunities that all businesses face during their early stages of development:
It should be completely free
Small firms have lower budgets, and they don't necessarily have the funds to invest in expensive video conferencing software. When you have to pay for a video conferencing program for your daily huddles and meetings, the costs can quickly add up.
We've designed this list to solely cover video calling apps with free plans in order to save you money.
You can choose to upgrade to a paid plan with extra features if you like the platform, if your team's needs develop, or if you start bringing in more money per month!
It should be simple to operate
Not many small firms will have the opportunity to hire an IT professional in their early stages. Any video conferencing technology that necessitates complicated setups, technical configurations, and thousands of manual integrations is a no-no. In addition, it's always simple to set up and use a fantastic video calling platform. It should be as simple as dialing your family and friends.
It should be capable of more than just video conferencing
When you're on a budget, you need equipment that can be used in a variety of situations. Rather than paying for a bunch of one-trick-pony tools that are inexpensive separately but more expensive when combined… Why not make your IT stack more efficient? Not only would you save money, but you would also save time and energy by not having to manage so many different instruments. A superb video calling program, for example, might also include other essential features like file sharing, team messaging, and task management.
It must be safe
Unruly strangers storming into your business meeting is the last thing you want, especially if you're on a video conference with a client. While most of the time, this is done for fun rather than maliciously. It is nevertheless a type of cyberattack that can result in major legal problems and financial loss for your company. You usually can't have everything. You'd be lucky if you could find a tool that does both. But, while it's challenging, finding the ones that are free, feature-rich, and secure isn't impossible.
Conclusion
Every user, whether a business owner or a student, expects quality, functionality, reliability, and efficiency from a remote video conferencing platform. Now that you have a list of the finest video conferencing apps and their primary features, think about what is most relevant to your needs and make your selection.
There are several team communication apps to pick from. It all boils down to factors like your company's budget, the features you require the most, and the number of individuals you have on board. Instead of sticking with the most popular platform by default, spend some time comparing options. Try out free samples before purchasing a paid subscription to avoid wasting your money.
Read More