Squarespace is one of the greatest website builder software systems on the market, and it jumps out right away. For example, the Squarespace website does not bombard you with long feature lists and high-density comparison tables. Instead, it takes a 'show, don't tell approach, giving a slew of templates and design concepts to help you grasp the scope of what's possible. And it's easy to see why, because Squarespace boasts some of the most beautiful themes available.
This isn't to say Squarespace is lacking in functionality. Intelligent SEO tools, complete social network integration, performance-enhancing CDN support, photo and video galleries, free typefaces, interactive graph controls, a robust blogging platform, a professional web store, and so on…
What we will see here?
Plans and pricing of Squarespace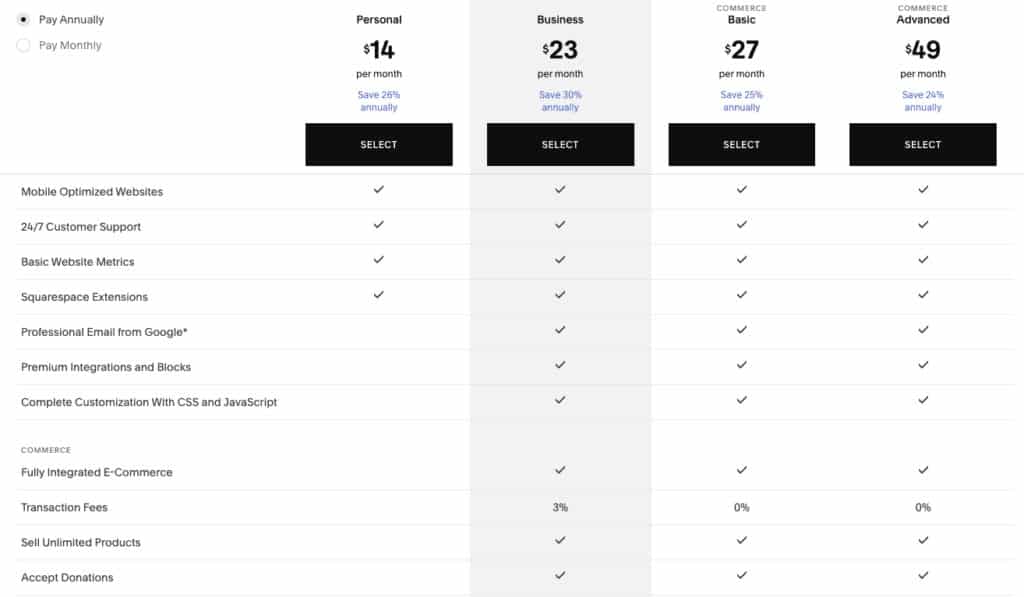 Squarespace website builder has four different options to choose from, none of which are free. Squarespace offers a 14-day free trial. But after that, you'll need to upgrade to a premium plan to continue to use the service. Here's a rundown of each of the four plans, including how much they cost and what they cover.
If you want to purchase yearly, the Personal plan costs $14.00 per month. This package includes a custom domain, an SSL certificate, strong SEO capabilities, and the ability to have up to 2 website creators. This subscription includes Squarespace extensions to aid in the management and optimization of your business.
When you purchase an annual plan, the Business model costs $23.00 per month. It has an infinite number of website contributors, complete CSS, and Javascript customization, extensive analytics, and e-commerce capabilities. On this plan exclusively, Squarespace imposes a 3% service charge on all e-commerce products sold.
The Basic Commerce plan costs $27.00 per month and includes a number of high-end features. Including the ability to sell items on Instagram, access comprehensive e-commerce analytics, and allow your customers to establish their individual accounts on your website. This plan is ideal for firms who want to sell a big number of items but don't require all of the Professional Commerce plan's capabilities.
The monthly fee for the Professional Commerce package is $49.00. (when paid annually). All of the features of the Basic Commerce plan, as well as premium delivery, consumer discounts, and the option to offer subscriptions. This plan is ideal for organizations that wish to use all of Squarespace's e-commerce capabilities.
Interface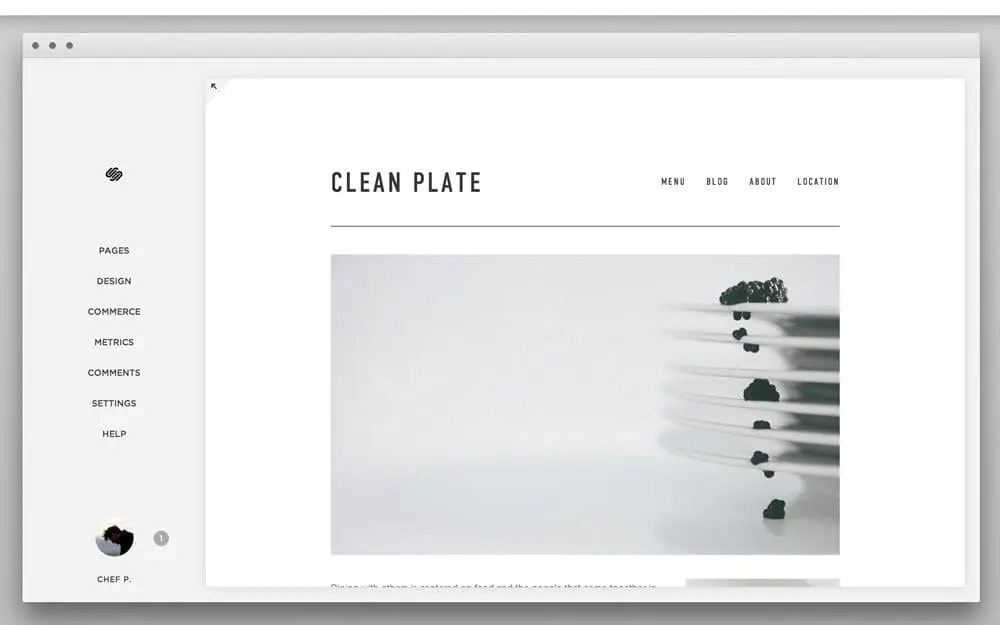 Squarespace's interface isn't as user-friendly as some other website builders. But that's primarily owing to the sheer number of options available. Before making a selection, you may examine all of the templates in their entirety. There's no need to worry about this for hours. Unlike other website builders, you can change your mind later if you don't really like the template. Squarespace website builder encourages you to establish an account by providing your name and e-mail address after you choose your favorite design.
To add a widget to a page, go to Edit, then scroll down until you see insert sections. To see all of Squarespace's choices, click on one of those, which include buttons, text, pictures, forms, video, audio, galleries, layout controls, and more.
Features of Squarespace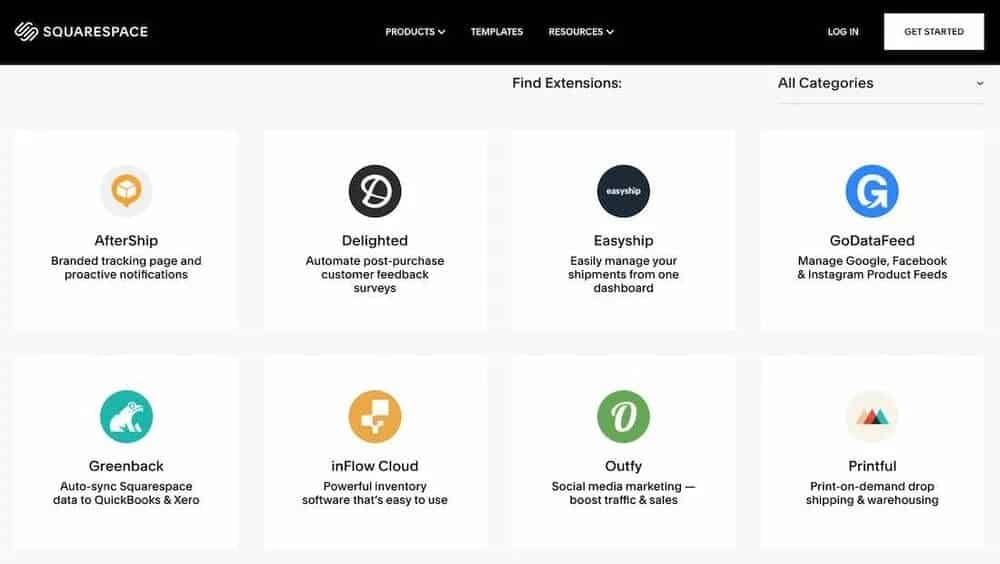 Squarespace's numerous online service connectors expand your options. For example, users may traverse an entire playlist using a SoundCloud block. Also, you can possess Squarespace website builder constantly display your latest material from Flickr, Instagram, and other sites. Alternatively, you may configure the controls to search for public photographs using a certain hashtag such as all images pertaining to your company, wedding, or any important event.
When you add it all together, we believe most users will have more than adequate media handling power. Even if you want more, an Embed Code block may enable integrations with third-party companies, as well as the Squarespace Business subscription includes Code Blocks for bespoke HTML and scripts.
Online Picture editing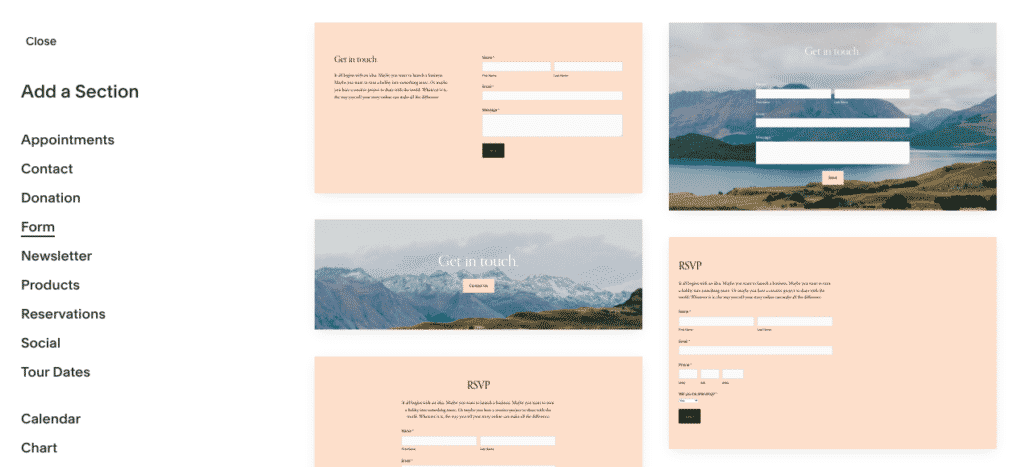 Squarespace website builder has built-in online picture altering for your uploaded photographs. This allows you to adjust brightness and contrast as well as crop them. It also allows you to search for, evaluate, and purchase Getty Images premium stock photos licenses for use on your website.  Squarespace offers a library of your pics for use on other Squarespace sites, as well as a Getty Images gallery as well as some free image selections.
You may add a gallery to almost any page or create a gallery page that uses your template's style. If you go the page route, you won't be able to customize the gallery's appearance. On-page galleries can take the form of grids, carousels, slideshows, or stacks, and they come with a variety of behavior options such as displaying the title tag when the mouse hovers over a picture, transitions, and a lightbox for grid galleries. You may also change the spacing, but you won't have as much control over the design of your galleries as you would with some other site builders. This promotes good design, but it does so at the expense of innovation.
A Mobile Website with Squarespace
Squarespace creates a mobile site for you depending on the site you created for desktop browsers. Squarespace sites look excellent on mobile, which is why their layouts restrict item placement and dimensions.
There is one setting that is only available on mobile devices: Mobile Information Bar. If you've chosen location, contact, and business hours, this is the menu that shows just at bottom of such a mobile site view. Squarespace has buttons near the top of the editing interface that allow you to see your site on a smartphone and cell phone-sized mobile devices.
Site traffic measurement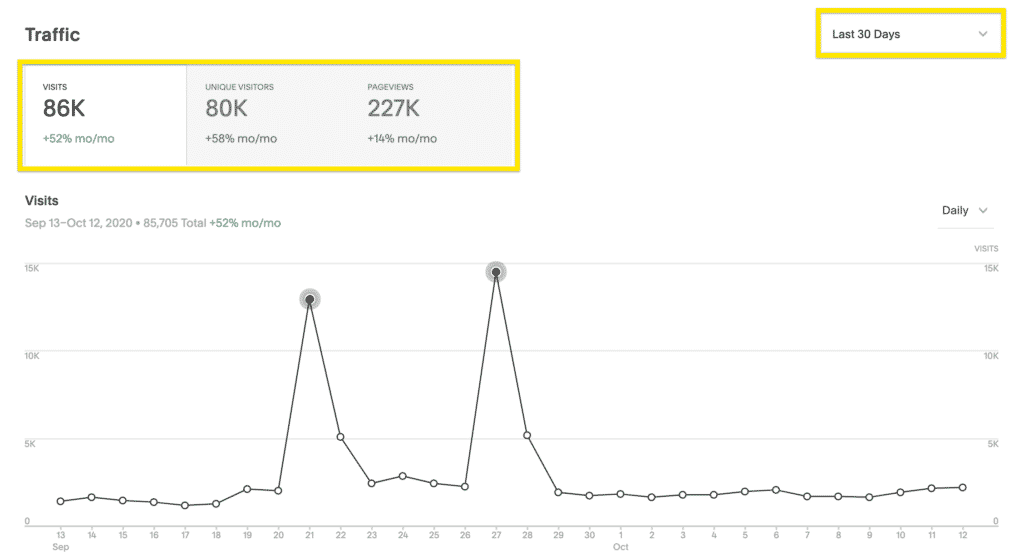 All Squarespace accounts come with an Analytics area that displays traffic information like page views, visits, and audience size on a daily, hourly, weekly, and monthly basis. Mobile site traffic, referrers, popular material, and search engine searches are also shown. After linking your profile to the Google Search Console, you may see phrases, click-through statistics, and search rankings using the Google Search Keywords and phrases panel.
The IP addresses of your visitors are shown in an Activity Log, but there is no indication of the technology they are using. Sales Overview is a new Metric available to Commerce-level accounts, which displays income and unit sales by hour, day, week, or month.
Service support of Squarespace
From Monday to Friday, 4 a.m. to 8 p.m. EST, Squarespace provides email and live text chat assistance. Unfortunately, there is no telephone assistance. The inquiry we put into the chat window is replied to by a customer support agent seconds after you press the Enter key. After a few moments, someone on another end of the screen will give you the information you need about third-party extension support. The customer service experience is satisfactory. However, it lacks the comfort of chatting with a live person. Wix, on the other hand, provides phone help, even for free customers. WordPress.com, on the other hand, only provides a base of knowledge to free users. Live chat is reserved for paying subscribers.
Competition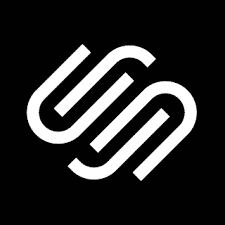 There are numerous alternative website builders somewhat on market – Wix, GoDaddy, and Webnode are some of Squarespace's key competitors. The blog editor, unlike some of its competitors, does not restrict the features you use in a post. You may include photographs, movies, maps, galleries, and everything else you'd find on a standard web page. The primary writing area has a small number of possibilities. By clicking on the post's name at the top of the page, you may add tags or categories, enable or disable comments, save the post as a draught, publish it immediately, or schedule publication for later.
Conclusion:
Individuals and small companies may use Squarespace to create an online presence. It also creates beautiful, mobile-friendly websites with plenty of room for expansion. However, due to Squarespace's recent upgrade to version 7.1, users who are still on version 7.0 will either lose out on new capabilities or will have to recreate respective sites throughout the new version.
For those looking to learn about using Squarespace, its editor and imaginative layouts make it a great web builder. While it may take a bit longer to set up than other web providers, its templates are truly unique. You won't get sick of updating your website with this website builder because it offers so many design possibilities. The e-commerce choice also comes with a slew of new features that make it easier to set up a professional business. Squarespace is a fantastic alternative for anybody who needs more than just the fundamentals when it comes to website creation.
Read more: