Surfshark is a relatively new VPN service that has created some buzz and is currently competing with the biggest providers on the market. If you are not sure about getting Surfshark VPN, here is a review of Surfshark VPN for you to learn about its different features.
About Surfshark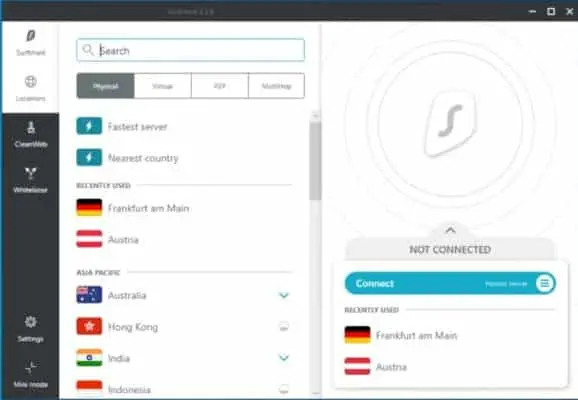 Surfshark VPN was founded in 2018 and has over 3,200 servers in 65 different locations, as well as unlimited simultaneous connections. It has industry-standard AES-256-GCM encryption and a wide range of protocols. The split tunneling feature available on PC and Mac is great for torrenting and splitting your connections. Moreover, you even get a kill switch. Beyond those fundamentals, Surfshark has tons of features. GPS spoofing, URL and ad blocking, multi-hop, extensive P2P support, additional password technology that alerts you to leaks, and an 'invisible to devices' mode that hides your device from other devices on the same network are all features available. The new Nexus feature rotates your IP address in real-time. With WireGuard, the speeds are excellent, peaking at over 790Mbps this time.
When it comes to streaming, Surfshark really shines, and you'll be able to unblock Netflix, iPlayer, Hulu, Amazon Prime Video, Disney+, and more. It even has a website unblocking the Smart DNS system for gaming consoles, smart TVs, and other devices. You may install and operate it on as many devices as you like. GPS Spoofing allows it to return the coordinates of your chosen VPN server. The company owns zero-knowledge DNS servers, and 24/7 assistance via email and live chat if something goes wrong. Furthermore, new features will be added to Surfshark Nexus throughout 2022 and 2023. Although the first is now available, IP Rotator that changes your IP address for you every few minutes without requiring you to disconnect.
Pros
Cheap introductory offer
Fresh security audit
Excellent streaming performance
Support is very helpful
WireGuard on all apps
Unblocks Netflix, iPlayer, Amazon Prime, Disney Plus
Speedy and helpful live chat support
Unlimited simultaneous connections
Cons
Rare instances of a kill switch failing
Speeds aren't class-leading
Pricing and Plans
When you consider the price of Surfshark's service on a monthly basis, it doesn't appear to be very affordable. It is, in fact, significantly more expensive than some of its competitors, at $12.95 per month. If you pay six months in advance, the price decreases to $6.49 per month. This is still quite high, but if you choose the two-year plan, the price drops dramatically. The 24-month subscription is only $2.49 per month, which is less than any other premium VPN. However, getting this 2-year plan might not be suitable for everyone. But it's such a low-cost VPN when compared to similar services that it's well worth it. You will have to make a one-time payment of $59.76 for your first two years of Surfshark access. Although when you renew, you'll be paying more, $4.98 per month to be exact. This is still less expensive than many alternatives.
Surfshark One includes the basic VPN functions as well as Avira-powered antivirus, data breach monitoring, and privacy-friendly internet search. It costs $1.49 per month, and a 7-day VPN free trial is available for Mac, iOS, and Android users. Although, there is no such option for Windows users. However, if you truly want to try out the service, you can take advantage of the 30-day money-back guarantee. There are quite a lot of ways to pay for your subscription. You can purchase Surfshark with a variety of credit cards, cryptocurrencies, PayPal, Alipay, Google Pay, and Amazon Pay. Although, keep in mind that the antivirus allows on-demand scans but does not provide real-time protection. Therefore it is not a replacement for a full antivirus app. If security is a concern, you can check the leading antivirus providers that offer VPNs as well.
Privacy
Surfshark has a lot of privacy options. All of the standard privacy features are there, including AES-256 encryption and the security protocols OpenVPN UDP and TCP, IKEv2, and WireGuard. Moreover, all the servers get private DNS. This allows users to add an extra degree of security and prevent third parties from intercepting browser sessions. A VPN chaining mechanism is also available by the service. Users can route their traffic through two different servers with this. You can activate the MultiHop button which allows users to connect to one place and exit from another.
This implies that even if a hacker gains access to the exit server, they won't be able to find your IP address. There are 15 routes available on Surfshark. Your connection location is server one. This could be the United Kingdom, the United States, Germany, Singapore, France, the Netherlands, India, or Australia. The second is the position of your departure and how it seems to anyone looking into your location. Germany, France, the Netherlands, Hong Kong, Portugal, Sweden, Singapore, the United Kingdom, or the United States are all viable options. Surfshark Nexus is an intriguing development, and the provider is predicting tremendous things, despite the fact that its only current function is as an IP rotator.
Furthermore, the Kill Switch blocks internet access and prevents identity leaks if the VPN connection fails. Surfshark is based in the British Virgin Islands, which means the firm isn't required to store logs of user activity. The service does not collect your IP address, browsing history, used bandwidth, session information, network traffic, or connection timestamps. According to the Surfshark FAQ, the company simply keeps your email address and billing information on you.
Security
The Whitelister panel in Surfshark allows you to establish whitelists of apps, IP addresses, and websites that you can use to bypass the VPN. This procedure is similar to split-tunneling, and if you discover that the VPN is interfering with an app or site, whitelisting it should resolve the problem. You can also direct only your preferred apps and websites with this through Surfshark. Surfshark's CleanWeb function blocks ads, harmful content, and site trackers. However, this function doesn't work that well. There's an option to have the VPN start up automatically when Windows starts up. Also, you may switch between different protocols based on your security needs.
The kill switch is one of Surfshark's most critical security features. If your VPN connection is lost, this allows you to automatically disengage from the internet. A change in the way the kill switch operates is a recent improvement. Previously, Surfshark's kill switch was an all-or-nothing proposition, blocking all internet traffic unless you were connected to a Surfshark server. It now works more naturally, cutting off your internet if your Surfshark VPN goes down, but enabling you to surf normally if you haven't activated the VPN.
Audits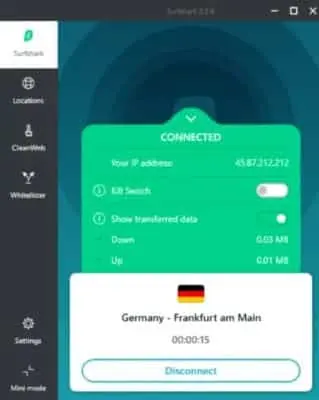 Although privacy policies are crucial, simply trusting the words of the company is not enough. However, Surfshark has undergone an independent security audit on two aspects of its service. Surfshark's browser extensions were put under a very high-powered security microscope by Cure53, a German security firm, in November 2018. Only a few minor vulnerabilities were discovered, and the business declared itself "very satisfied to see such a robust security posture on the Surfshark VPN extensions." Surfshark went even further in May 2021, reporting on a second Cure53 audit of its servers. Only four general security problems were discovered, with a maximum severity of 'Medium.'
If you're not used to reading Cure53 audits, don't worry, they're really comprehensive and constantly uncover something new. The assessment found that Surfshark had a thorough understanding of the VPN security concerns. Moreover, the results appear to be positive.
Does Surfshark keep logs?
Surfshark is currently based in the Netherlands. Although local rules do not require the provider to monitor numerous VPN-related activities, as they did in the BVI. Surfshark's logging policy details are available on its FAQ page. The service does not log IP addresses, internet activity history, VPN server location history, bandwidth usage, session information, or timestamps. They only keep an email address and billing information, as well as anonymous statistical data. They also log crash reports, statistical and performance data, and other related statistics.
Speed
Surfshark is a VPN that is unquestionably fast. You won't face any connection troubles and the connection speeds are enough. The connection speeds have considerably improved in the last few years. WireGuard speeds peaked at 792Mbps in the United States and 700Mbps in the United Kingdom. The connections are stable and maintained at the same speeds. However, this isn't the case while utilizing OpenVPN. It gave maximum speeds of only 150Mbps in both locations, it's more than enough for a casual user. Overall, Surfshark can provide fantastic connections, and if you're using a typical domestic line, it won't slow you down significantly.
Surfshark for Streaming
Many other VPN providers claim to be able to unblock streaming sites but fail to deliver, however, Surfshark keeps its promise. Surfshark has always been an excellent Netflix VPN. However, Netflix's VPN filtering technology has evolved in the last year. So, practically every VPN on the market has experienced varying results. During our testing, Surfshark was able to unblock every Netflix regions which included the UK, US, Canada, Australia, and Japan. Moreover, you can easily watch content from the United States' YouTube channel. You can even access BBC iPlayer, Disney+, and Amazon Prime. Overall, Surfshark is an excellent streaming VPN and will help you get the most out of your subscriptions. The company not only states that it unblocks Netflix, but it also lists the nearly 20 countries in which it now operates (US, France, Japan, Italy, Australia, and more).
Surfshark for Torrenting
Although it isn't one of its core tasks, Surfshark can be used as a torrenting VPN. Most of the platform's servers allow peer-to-peer (P2P), and users can pay for the service with cryptocurrencies like Bitcoin for added anonymity. Whitelisting capabilities can also aid you to use Surfshark for torrenting. You might isolate your torrent client, allowing it to use the VPN. While the rest of your internet traffic is routed through a regular connection.
Easy to Install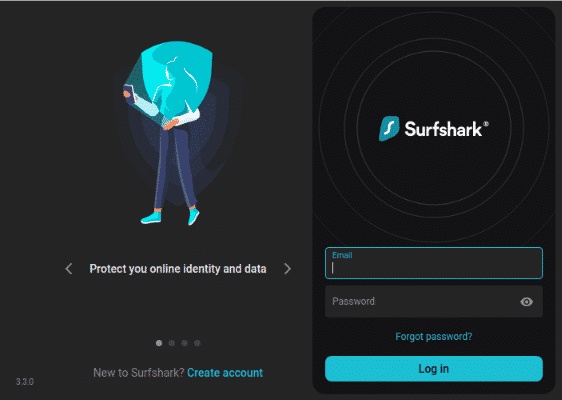 The process of installing and connecting to Surfshark for the first time is fairly simple. You can download the program from the Surfshark website. After that, you can sign up for the service and pay for it during the installation process. All you need to do is press the connect button to get the VPN up and running. Following that, you will see a notification indicating your connection. The interface then displays your IP address once you pick it up.
Desktop app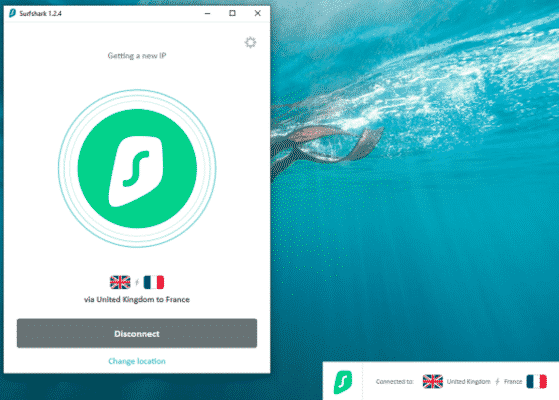 The app displays a Connect button, information about the current server status, and a menu with server locations before scaling. The interface expands to offer several options and selectable panels. Although the list of locations does not directly reveal latency, there are indicators that indicate the best options. Also, the Favorites page is a convenient method to save the locations you use the most. Surfshark has a mode called NoBorders. This ingenious technique allows you to connect to the VPN in areas and jurisdictions where they are normally outlawed, which is ideal for a China VPN. The MultiHop function, Whitelister, and kill switch are all included in the Windows client. The Mac version has the same features as the iOS app.
Windows app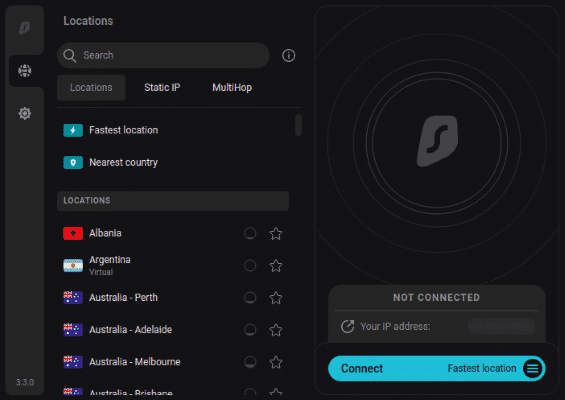 The Surfshark Windows program is simple to set up and use. The user interface is a little more complicated than usual, with tabs, icons, lists, and other features. however, the core functions are the same as any other VPN. The Connect button will connect you to your nearest server, a location list that will show you additional servers, and the Settings icon will take you to some extra features. WireGuard connections are rapid, taking only a few seconds, whereas OpenVPN connections take 8-10 seconds. However, the software keeps you up to date with desktop notifications. These tell you when you're protected (and when you're not). Countries and cities are present together in the easy-to-find location picker. Although you will have to scroll through the list, it eliminates the need to open another browser to view cities.
Surfshark detracts from the impression by not ordering the cities alphabetically, but it otherwise works well. You can't see latencies by default for locations, but you can check them with a click. There is a Favorites system to bookmark your favorite spots for later. A Static IP list allows you to connect to locations in Germany, Japan, Singapore, and the United Kingdom and receive a fixed IP from each one. This means that your IP will be from the nation you select, but it will be the same every time you connect. That could be useful in some cases, but be cautious if you're using it for security reasons, such as gaining access to an IP-restricted network. The static IP address isn't one that is unique to you, any other Surfshark subscriber might be assigned the same IP address, thus the IP alone isn't proof of your identity.
MultiHop
The MultiHop tab routes your traffic across two VPN servers. This ensures that an attacker will not have access to your real IP address even if the exit server is compromised. The first server is your original connection (options include the United States, Canada, the United Kingdom, Singapore, Germany, France, India, the Netherlands, and Australia). Whereas, the second is where you'll appear to the outside world (France, Germany, Hong Kong, India, Netherlands, Portugal, Singapore, Sweden, UK, US). A Bypasser panel allows you to define which applications, websites, and IP addresses should circumvent the VPN. This is a more advanced version of the split tunneling feature. If Surfshark is causing problems with a certain website or app, adding it to the allow list should fix the issue.
Alternatively, you can configure the Bypasser to only send your selected apps through the VPN. If you only use Surfshark for one or two things, such as torrenting, you can configure your torrent client to connect via the VPN while everything else uses your regular connection. There are numerous configuration choices available for you. Ads, trackers, and dangerous links are all blocked by Surfshark's CleanWeb feature. A NoBorders option assists you in accessing the internet in countries where VPNs have routine restrictions. Other features include the ability to activate the VPN alongside Windows or to change the protocol to WireGuard, OpenVPN UDP and TCP, or IKEv2.
Mobile app
Surfshark's iPhone and Android VPNs are both very functional and feature-rich. The apps are incredibly clean and simple to use. Small details like dark mode, make it look well-rounded and enjoyable to use. The Android app is strikingly comparable to the Windows client. The interface is comparable, the list of server locations is identical, and the split-tunneling, MultiHop, blocking, and whitelisting functionalities are also available. Multiple support protocols, including OpenVPN/IVEv2 and WireGuard, are available for mobile users, as well as the same kill switch as the desktop version. The Android software also allows you to improve speed on mobile networks, connect to the VPN automatically in specific cases, and pick between different encryption algorithms, including AES-256-GGM and Chacha20Poly1305. Moreover, if you have any problems with the app, you may email bug reports, open a ticket, or search for support questions.
All these are also available in the iOS app, excluding Android-specific features like changeable encryption choices and split tunneling. In several ways, the Android app excels the desktop editions. It contains both the 'auto-connect on reaching untrusted networks' functionality. An 'Override GPS location' matches your device's GPS position with your connected VPN server, making it more difficult for apps to know your location. Additionally, some mobile networks may benefit from a 'use tiny packets' option.
Surfshark Kill Switch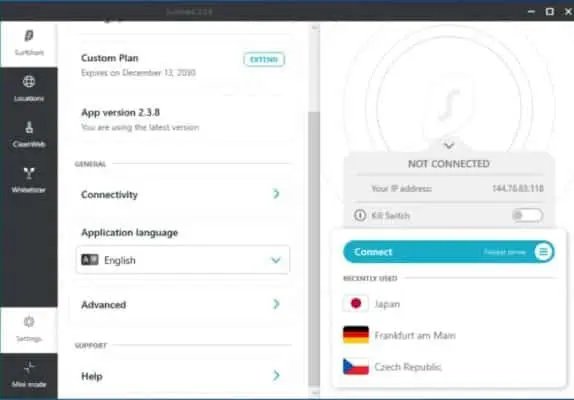 If the VPN connection breaks, a Kill Switch is available to disable your internet connection. However, there are a few drawbacks in a few uncommon cases. A recent adjustment was made to make the kill switch act in a more moderate manner. Previously, if you used the kill switch, you couldn't connect to the internet at all unless you used Surfshark. Although it protects you while you're connected to the internet, it's no longer active once you've disconnected. You can continue to utilize your normal internet connection as needed. When you disconnect the VPN, the app presents a warning that your internet was restricted and your traffic was never revealed. In the worst-case scenario, if the app or service crashes, the program will be broken to the point where you cannot access any websites with the kill switch activated. Even restarting the device will have no effect.
The software recognizes the problem and flashes the notice 'We've detected an issue with your connection' in the app window. Although, remember that crashes are kind of rare experiences. You might use Surfshark for years and never experience a service outage. Overall, Surfshark's kill switch is effective and will safeguard you from any problems that may arise.
Browser Extension
There are two browser extensions available for Surfshark: one for Chrome and one for Firefox. Although the range of functions included in Surfshark's extensions is restricted, the range of features featured in With the browser extension, you can use all of Surfshark's essential features. You can connect to over 3,200 servers in 65 countries. Moreover, you can take advantage of the provider's private DNS technology, as well as CleanWeb ad and malware prevention. Furthermore, Surfshark has implemented split-tunneling to its extensions, which is fantastic to see the developers putting effort into often-overlooked aspects of a VPN's suite.
Customer Support
Surfshark features a support webpage where you may receive solutions to a variety of questions. It has FAQs, tips, and tutorials that cover a wide range of topics, but it isn't exhaustive. Although there is some attention to fundamental running queries, most of the content focuses on setup issues. The majority of the articles are lacking in content and may benefit from being longer. There may be a lot of improvements to the articles' organization in terms of locating the information you need. If you type "iOS" into the search field, for example, you'll get a list of articles about iOS issues, such as how to install Surfshark on an iOS device. It would be far preferable to have a solution that addressed all iOS-related difficulties in a single document.
You can even connect with their qualified team of live chat experts that respond quickly and effectively. If Surfshark doesn't function for you, the support site provides tutorials for setup and installation, troubleshooting instructions, FAQs, and other resources to help you out. The information is well-structured. When you click 'Get Started,' you'll be sent to a Tutorials page with information on how to set up the apps, get the service to work on other platforms, and use its different features. These aren't the rudimentary guides that you get with cheaper VPNs. A video tutorial is included, as well as step-by-step installation instructions with screenshots, first-step guidance on selecting locations and connecting, and basic explanations of all the main capabilities.
Conclusion
Surfshark is a powerful service with lots of features and good performance. When you consider how inexpensive the first 2-year plan is, little flaws such as slow OpenVPN speeds don't feel like a problem. Surfshark works reliably and across a wide range of devices. Although OpenVPN speeds aren't the best, Surfshark shines in almost every other area. Moreover, all the servers get private DNS to add an extra degree of security and prevent third parties from intercepting browser sessions. Surfshark works wonder for streaming Netflix and even torrenting. You can easily watch shoes from different regions with the help of Surfshark. It is easy to install and has a simple easy-to-use interface. Moreover, it is compatible with Windows, Mac, Android, iOS as well as Linux. Also, if you want you can get the browser extension for Chrome or Firefox.
Which VPN service do you use? Tell us in the comments section below.
Read More!