If you are looking for remote access programs to access and control multiple devices real-time support and manage team meetings. ConnectWise Control Remote Access Software is your answer. Here is a review of ConnectWise Control for you to understand it better.
What you will see?
ConnectWise Control
For many people, gaining remote computer access to a desktop, laptop, or other devices might be beneficial. Technical troubleshooting, remote management, and the installation and configuration of new software applications are all possible with remote access.ConnectWise Control Remote Access Software provides remote customer assistance, unattended access, and machine administration features. It also comes with industry-standard security features, excellent customer support, and powerful screen-sharing options.
Pros
Great security features
Easy setup process
VoIP audio for meetings, as well as support and access sessions.
Optional browser-based Livestream support through an end user's phone camera
Agents can capture sound from a guest's device to help troubleshoot an issue
Cons
Slightly expensive
Not great in terms of performance
Not all communication tools are available at every subscription level
No support for mobile features equally across all devices and operating systems
Installation and removal may be difficult for some users
Pricing
ConnectWise Control Remote Access Software is available in two versions: Support and Access. Technicians and IT employees that require remote access to other devices may benefit from ConnectWise Control Support. Whereas, ConnectWise Control Access comes with a set of remote network management capabilities. Both these come with a seven-day free trial. Thus, allowing customers to evaluate the programme before going for the subscription. ConnectWise Control Support is available in three subscription levels. ConnectWise Control Access costs $30 per month. You can connect up to 25 remote devices with this. You can connect additional devices by paying some charges. This package does not include features like remote support or meetings.
Moreover, the majority of competitors in the market have considerably fewer subscription alternatives. Thus, requiring many consumers to pay for items and services they may never use. The restricted free option is ideal for young and developing enterprises. Per session, one tech license, three access agents, and a remote connection to one end user are all that are available.
Plans
One: This plan offers one session limit, 10 unattended access agents, remote meetings, and file transfer. Along with this you even get remote printing, a remote toolbox, remote support, and mobile technician help. This plan costs $24 per monthly user when billed annually.
Standard: This plan provides unlimited unattended access agents, up to three sessions per user. It also provides extended chat options, wake-on LAN, a remote command line, iOS, and Android mobile guest applications, and VoIP audio. This costs $39 per month per user when billed annually.
Premium: This tier costs $49 per month per user when paid annually, and it includes up to 10 sessions for each tech. Along with that it even provides a remote diagnostic toolkit, ConnectWise View, video auditing, and a reporting dashboard.
Access: If all you need is remote access, the Access package is for you. This package has eight subscription options, with prices based on the number of unattended access agents, with annual customers receiving discounts. The features are the same for all Access pricing options. The entry-level package covers 25 unattended access agents for $30 per month if paid annually or $38 monthly if paid monthly. Whereas, the most expensive offered plan covers 2,500 unattended access agents and costs $1,250 if paid annually or $1,575 if paid monthly. For teams of 25, 50, 100, 250, 500, 750, 1,000, and 2,500 people, scalable pricing is available. For pricing, enterprise-level enterprises with more than 2,500 agents should contact a ConnectWise sales representative.
Features and Utilities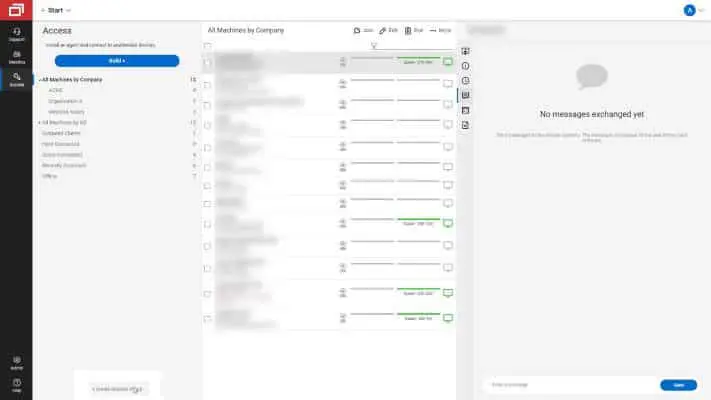 The remote desktop connection manager in ConnectWise Control Remote Access Software allows users to execute a variety of tasks. You can watch the screen of one device on another device and provide remote support at the most basic level. Unattended remote access and monitoring can help with more complicated difficulties. ConnectWise Control Support also comes with a number of remote meeting tools. With basic screen sharing, you can show your computer to a group of people that are connected. You can also share files with other members that are connected to you. There are also a number of easy-to-install extensions and integrations to help you. Employees who work remotely must be able to communicate information from their computers in the same way that they would if they were in the office. This can be used to resolve technical issues that necessitate contact between the specialist and the user.
Usability
ConnectWise Control is a collection of three products – Access, Help, and Premium. All these work together to provide individuals, remote workers, and IT teams with remote access and technical support. While working in a hybrid-remote work scenario we need access-related features to control our unattended PC for a variety of tasks. Connecting to your remote device for full use takes only seconds. All you need to do is to go through the different security permissions required for your second machine to hand over remote access.
One reassuring security feature is the cautionary notice that you get on your second PC. It informs you that you have received a link from a ConnectWise. This way you can report any malicious activity, demonstrating the company's commitment to security. ConnectWise Control automatically removes the support client at the end of each remote session with a customer. This is done to reduce the risk of leaving the device vulnerable to an attack.
Setup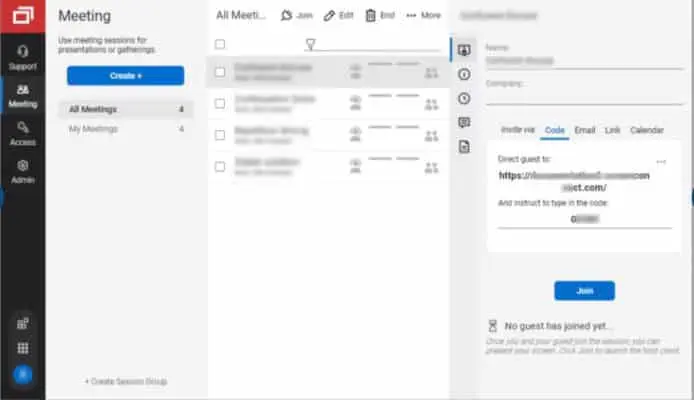 You can easily create a new ConnectWise Control account. You can sign up for a free trial with little or no personal information and no payment information. After you've completed the registration process, you'll be directed to a web client. There you can generate a ConnectWise session with a unique URL and passcode. The device you wish to connect to will need to go to this URL and enter the code. Depending on your operating system, you may be requested to download a desktop or mobile app. Simply navigate to the relevant option on the screen and follow the directions to set up a remote access session or conference.
Setting up a second workstation for remote access necessitates a number of permission changes. You might feel that this is a laborious task. Although, these adjustments are not very difficult to understand, and you can set up remote access with a second computer in a matter of minutes. Because the client setup file does not come straight from the App Store, macOS cannot verify that it is "clean from malware." So, if you are a Mac user, to access the installation file, you need to go to your security and privacy settings in the System Preferences menu. This additional security safeguard isn't unique to ConnectWise. It is a typical procedure for any installation file that isn't downloaded through the App Store.
Interface and Performance
Although the process of starting a ConnectWise Control session is simple, the user interface isn't the most user-friendly. The web interface is cluttered, a text-heavy interface is one feature that stands out. The required tools are available, but getting started might be difficult. The actual screen share interface, on the other hand, is significantly more beginner-friendly. You'll be able to see and interact with the device you're connected to, depending on your permissions. Moreover, the icons at the top of the screen provide access to a variety of functions, including a chat option. The user interface is extremely slow and jerky. The time it takes for actions taken on the connected device to appear on the screen can be annoying.
Compatibility
ConnectWise Control runs on a variety of operating systems, browsers, and mobile devices. Windows 7, 8.1, 10, and 11 are supported. It also supports Windows Server 2008, 2012, and 2016, macOS and Mac OS X, and Linux (requires x86-64 architecture and Glibc 2.17 or higher). Web browsers such as Firefox, Safari, Chrome, and Edge benefit from the high level of interoperability. There is also a mobile app for Android and iOS to access and maintain these computers and browsers.
Integrations
More than 100 integrations and extensions for productivity, communication, administration, configuration, translation/localization, and other ConnectWise platforms are available in ConnectWise Control. You can even add third-party connectors for apps like Zendesk, Acronis, Freshdesk, and Microsoft Outlook. The extension developer tools can also be used to create, amend, and implement the extensions. Also, the numerous templates make it very simple to build custom solutions.
Security
ConnectWise Control gives you access to a variety of security measures. AES-256 encryption protects all data transfers between devices. Furthermore, the application is completely self-hosted, ensuring complete security. Moreover, it provides a number of solutions to prevent unwanted logins. Two-factor authentication, brute-force attack avoidance, and session timeout are among them. While the industry standard is 256-bit AES encryption, the ability to regulate access at every level is unique. This includes role-based security. This lets administrators assign user authorization to certain features, functions, and groups of unattended devices, as well as IP address restrictions.
Multiple forms of authentication are used to limit access, including Windows and Forms, as well as two-factor authentication for further layers of protection against attacks. Session timeout, server-level auditing, and self-hosting possibilities are some of the other features that set ConnectWise Control apart.
Support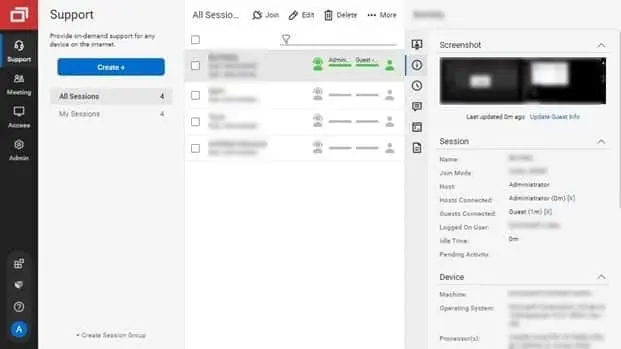 ConnectWise Control's excellent support tools can come in handy if you need assistance setting up or managing your new remote access. Unlike many small software companies, it provides live chat assistance 24 hours a day, seven days a week. The service is a touch slow, but the agents are helpful and courteous. ConnectWise's customer service is above average. ConnectWise University offers an online learning center with a large library of instructive how-to videos, webinars, courses, and recorded shows. Support is also provided via an online form, and three of the company's four global offices are conveniently accessible via phone.
Drawbacks
One disadvantage of ConnectWise Control Remote Access Software is that if you don't also uninstall or delete it via the ConnectWise Control dashboard, it can be difficult to completely remove the software from an unattended workstation. You'll need to be comfortable working with a cleanup script to uninstall the program if an account expires or if the equipment changes hands. This is a pretty hard operation for a user without some basic coding knowledge. Another potential drawback is that, while IT professionals will likely have no trouble using ConnectWise, it is more difficult for novice users to set up.
Conclusion
With a few limitations, ConnectWise Control is a solid remote computer access tool. Its pricing structure is straightforward. Although, with the cheapest plan starting at $19 per month, it isn't the most cost-effective option available. It comes with an array of extra capabilities for remote access, support, and team meetings. The web user interface can seem cluttered and significant slowness might be a problem at times. ConnectWise Control has good customer service and strong security features, but be cautious of its limitations. Furthermore, it enables individuals, remote employees, and IT teams to operate productively from anywhere by providing immediate and secure remote access to attended or unattended PCs.
If you have any questions you can ask us in the comments section below.
Read More!