Formerly it was knows as Youtube Red.The service now is bundled with YouTube Music Premium and also offers some other perks as well.Also includes access to You Tube Originals – exclusive shows.It has been launched since two years.However have not gained much popularity .The relentless sign up pop ups certainly didn't help. But there are other things to look at even, in favor of subscribing.Here,we will see everything related to Youtube Premium-its pros,cons,ups and down.
What is Youtube Premium?
YouTube is the largest video-sharing platform on the web,provides free content to millions of users. But then So, why is there a premium version and what does it offer?Youtube Premium is a paid You Tube service.It is ad-less service launched in May 18, 2016.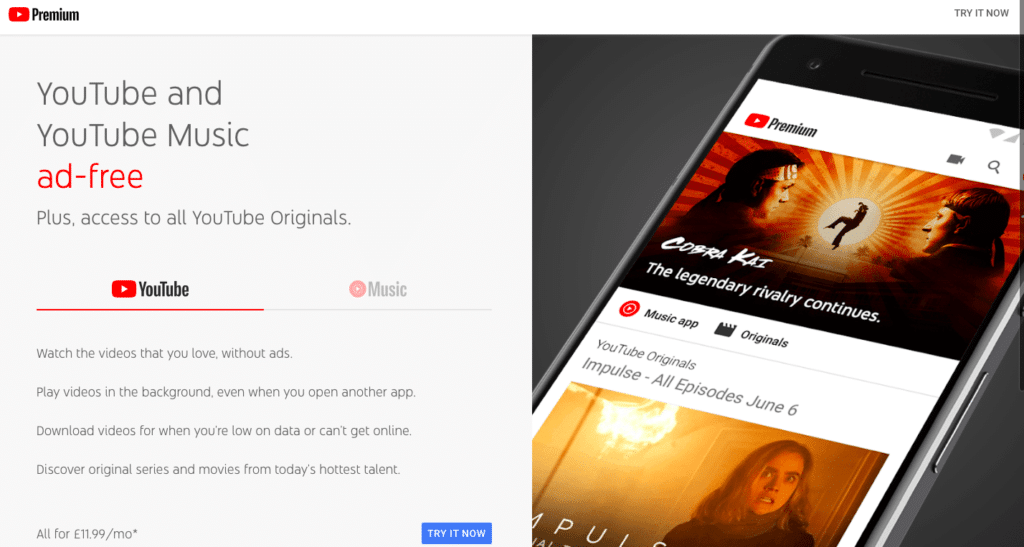 For just a few dollars each month, YouTube Premium removes ads from all videos, allows you to save videos for offline viewing, and also grants you access to YouTube Music Premium and You Tube Originals. It's the best YouTube experience you can get.
What services it provide ?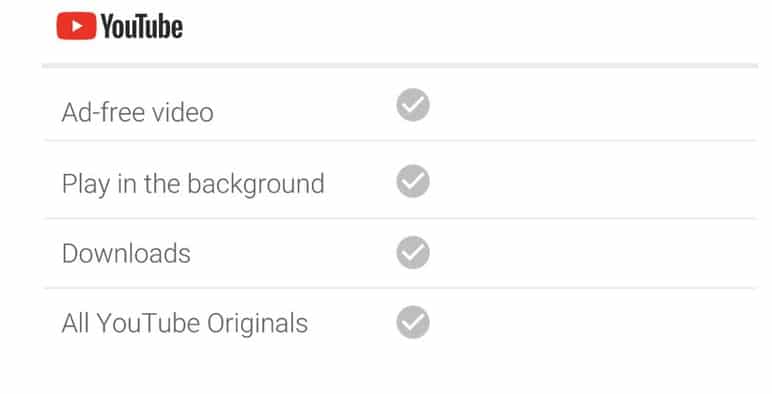 Ad-free streaming
Revenue for content creators
Download videos offline
Background Play
Youtube music premium
Youtube Originals.
Ad-free streaming
No ad-breaks on any content on any device logged into your Premium account.Many of us use ad blockers on our PCs, but advertisements are much harder to escape on mobile. With the implementation of double pre-roll and unskipabble ads, Premium's ad-free experience is pretty much a necessity for anyone that spends a significant amount of time on the platform.Watching your favorite creators on the big screen of your TV when casting or using the smart TV app is also a lot more pleasant without constant interruptions. The experience is truly ad-free too.Also,you get no trailers for YouTube originals or anything of the sort.
Revenue Sharing
For the creators,YouTube Premium has another great advantage which is not mentioned enough: revenue sharing. A Premium subscription supports the YouTubers you love because You Tube shares a portion of the revenue for every view they receive from subscribers. This supposedly also includes demonetized videos too.
Download videos Offline
You can download videos for later offline viewing.
Background play
You can listen to long videos, podcasts and also the music with your screen locked.A very helpful feature,we guess!Background play allows videos and music to keep playing in the background, even when you open other apps or turn the screen off on your mobile device.
YouTube Music Premium
Ad-free access to the dedicated music app and its catalog of millions of songs.The access to Premium Music included in your subscription is underrated to say the least. The service has a huge catalog of songs. Even if some weren't available as song files, I could still listen to the music videos with my screen locked.The variety of genres and artists would please even the most snobby music fans. For them, a Premium subscription could be worth it for the tunes alone. It only costs $2 more per month than Spotify Prremium with additional YouTube perks to boot.
YouTube Originals
Ad-free Originals and also access to exclusive Premium content.
Price Range
YouTube Premium costs $12/month, and you can cancel or change your plan at any time. However, YouTube now has a second, more affordable option you can check out called YouTube Music Premium.
For $10/month, you can just subscribe to YouTube Music. But that monthly fee gives you full access to the YouTube Music app, including ad-free music, the ability to listen to music in the background, and the option of downloading your music. It's essentially YouTube's version of a Spotify Premium subscription.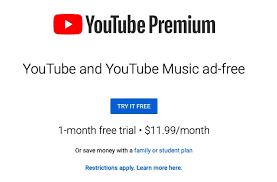 That's good but spending the extra $2 each month for all of that and the additional features for YouTube is a far better value. It makes the most sense to not bother with YouTube Music Premium and just go for the full YouTube Premium package.
However,if you subscribe to YouTube Music but decide you want to upgrade to YouTube Premium later on, you can make that change at any time.
Where is it Available?
It is available in almost 50 countries.
Argentina
Australia
Austria
Belgium
Bolivia
Brazil
Bulgaria
Canada
Chile
Colombia
Costa Rica
Cyprus
Czech Republic
Denmark
Dominican Republic
Ecuador
ElSalvador
Finland
France
Germany
Guatemala
Honduras
Hungary
India
Ireland
Italy
Japan
Luxembourg
NorthMacedonia
Mexico
Netherlands
NewZealand
Nicaragua
Norway
Panama
Paraguay
Peru
Poland
Portugal
Romania
Russia
South Africa
SouthKorea
Spain
Sweden
Switzerland
Ukraine
United Kingdom
United States
Uruguay
Is Youtube Premium and Youtube Music Premium same?
No ,Youtube Premium and YoutubeMusic Premium are not the same.
Youtube Premium prices at $11.99 .It provides Ad-free streaming, Revenue for content creators,Download videos offline,Background Play,Youtube music premium and Youtube Originals.
While Youtube Music Premium prices at $9.99. Facilities it provide are full access to the YouTube Music app, including ad-free music, the ability to listen to music in the background, and finally also the option of downloading your music. It's essentially YouTube's version of a Spotify Premium's subscription.
How to sign-up for the Youtube Premium?
Signing up is as easy as can be, and to get started, but here's what you need to do.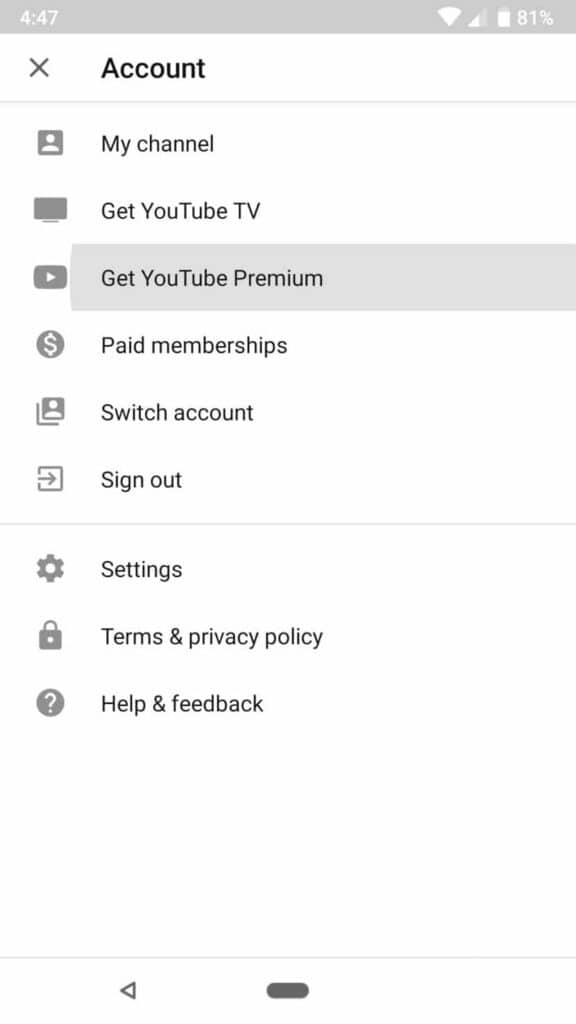 Open the YouTube app
After that,tap the profile icon at the very top right.
Click  Get YouTube Premium.
Tap Try It Free.
After selecting your payment method and completing the transaction, you'll then see a splash screen welcoming you to YouTube Premium.
Tap the red Let's Go button, and you'll see that your subscription is now live because of the Premium tag at the upper-left corner of the app.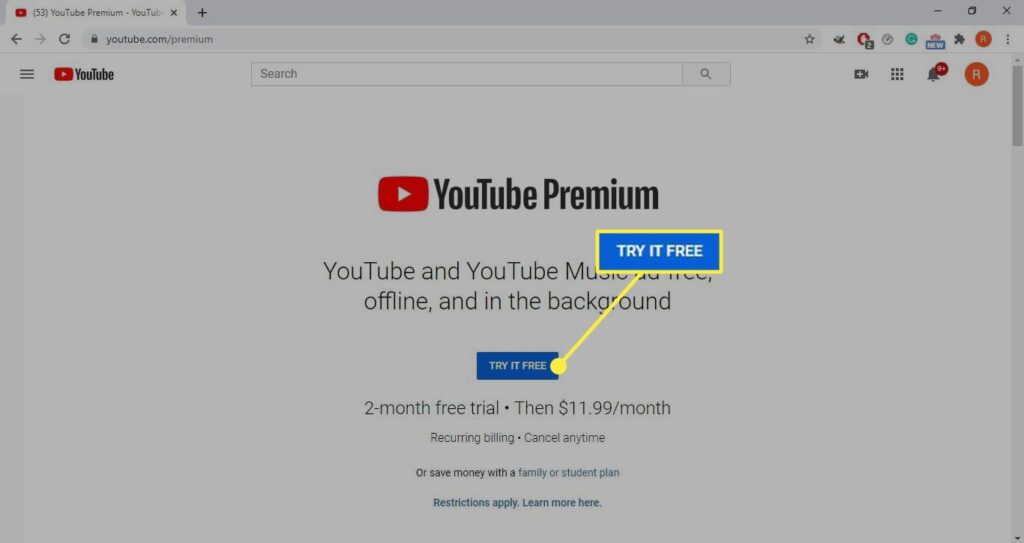 Our Final Opinion-is it worth?
Alright if you want a more than decent music streaming service and also a better viewing experience on YouTubeapp, you can't go wrong with this Premium. If you are looking for a Netflix or Hulu substitute, we would then not recommend it to you.But as a viewer,it makes your Youtube experience enjoyable.
If you have any more doubts regarding the above,please do comment and communicate.
Like,share and also do subscribe.Regards!
Trending :